WhatsApp Business API by Sendinblue
Sendinblue now offers WhatsApp Business API for Marketing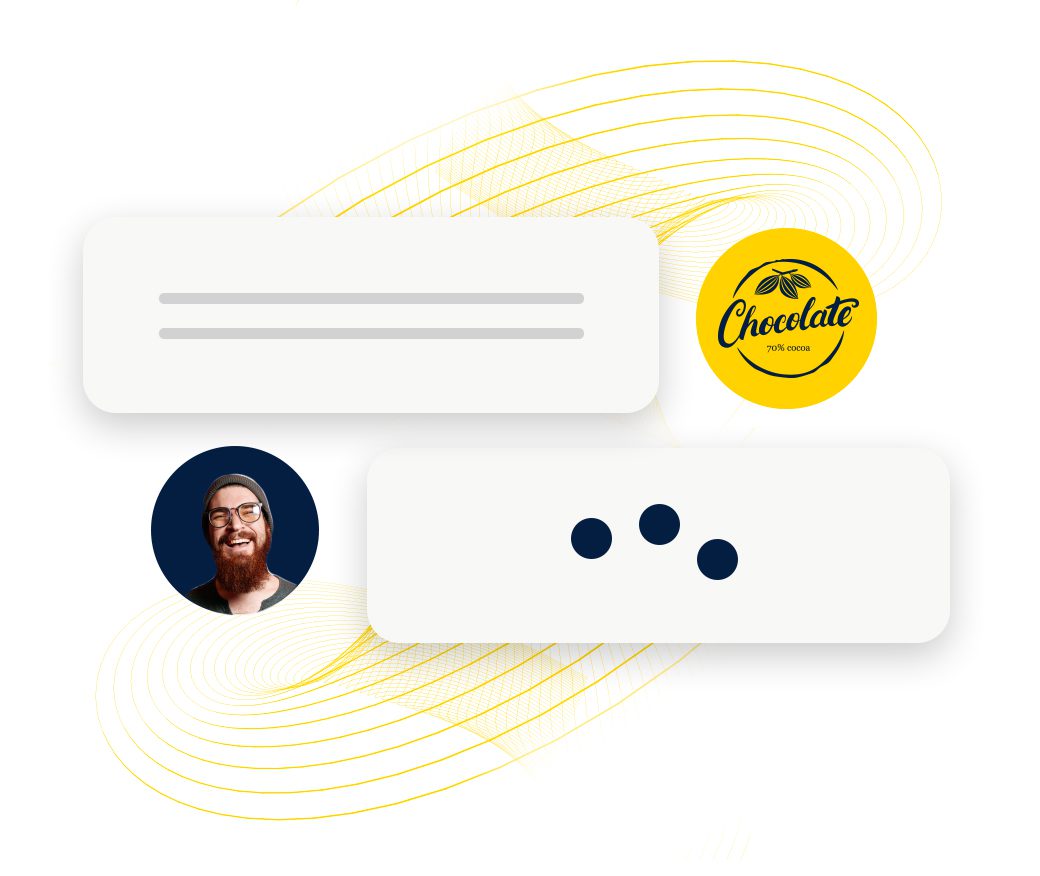 Why Use the WhatsApp API?
The WhatsApp Business API gives you full access to all WhatsApp Business Platform features. Add a cutting-edge communication channel to your mix with no coding at all!
Build marketing campaigns, send personalized messages, and connect directly with customers and leads. Use as many devices and phone numbers as you need to scale your customer care and marketing communications.
The WhatsApp API is free and the firsts 1,000 messages each month too! Perfect for ecommerce, small business, and enterprise alike.
Sendinblue: Business Solution Provider (BSP) of the WhatsApp Business Platform
The WhatsApp Business Platform powers WhatsApp campaigns on Sendinblue.
Integrating WhatsApp with Sendinblue lets you make the most of both tools. Create WhatsApp messages without coding in seconds, manage contacts in your CRM, and start business-initiated chats with your audience. The API is also the only way to get a green tick next to your display name.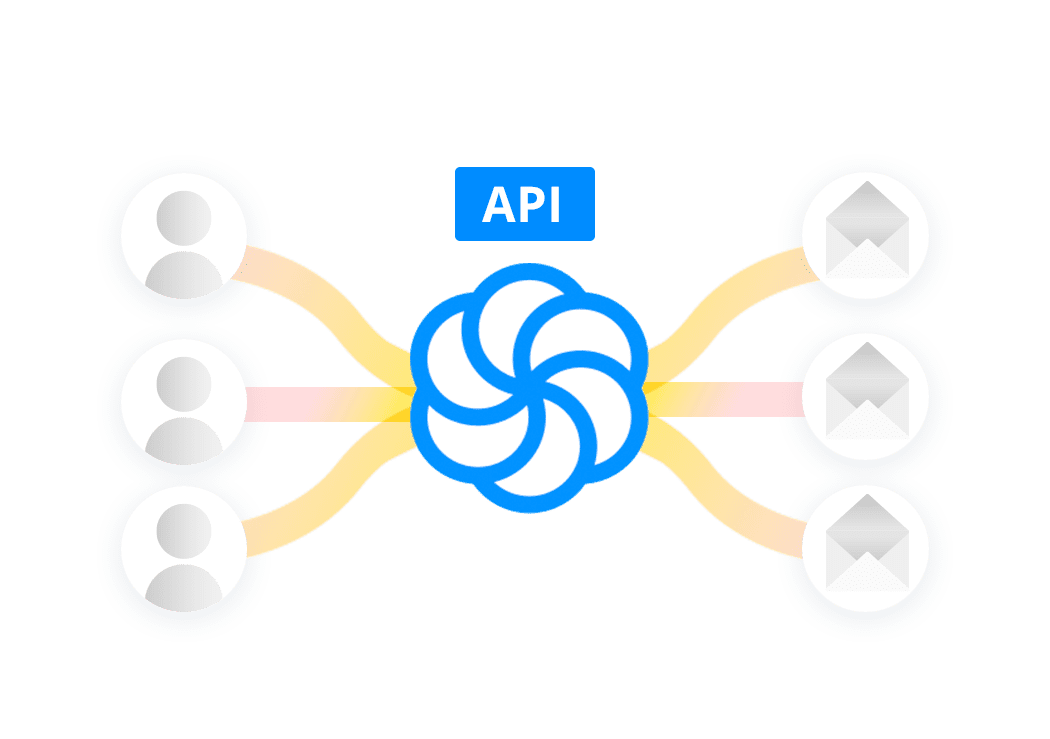 Seamless WhatsApp API Integration
Integrating WhatsApp Business to Sendinblue is quick and easy, designed for non-technical marketers and business owners who want to start sending WhatsApp messages in no time.
Native integration within Sendinblue — no need to switch between platforms
Create your WhatsApp Business Account (WABA) through our embedded signup process
Create, send, and manage message templates without any coding!
Try it for free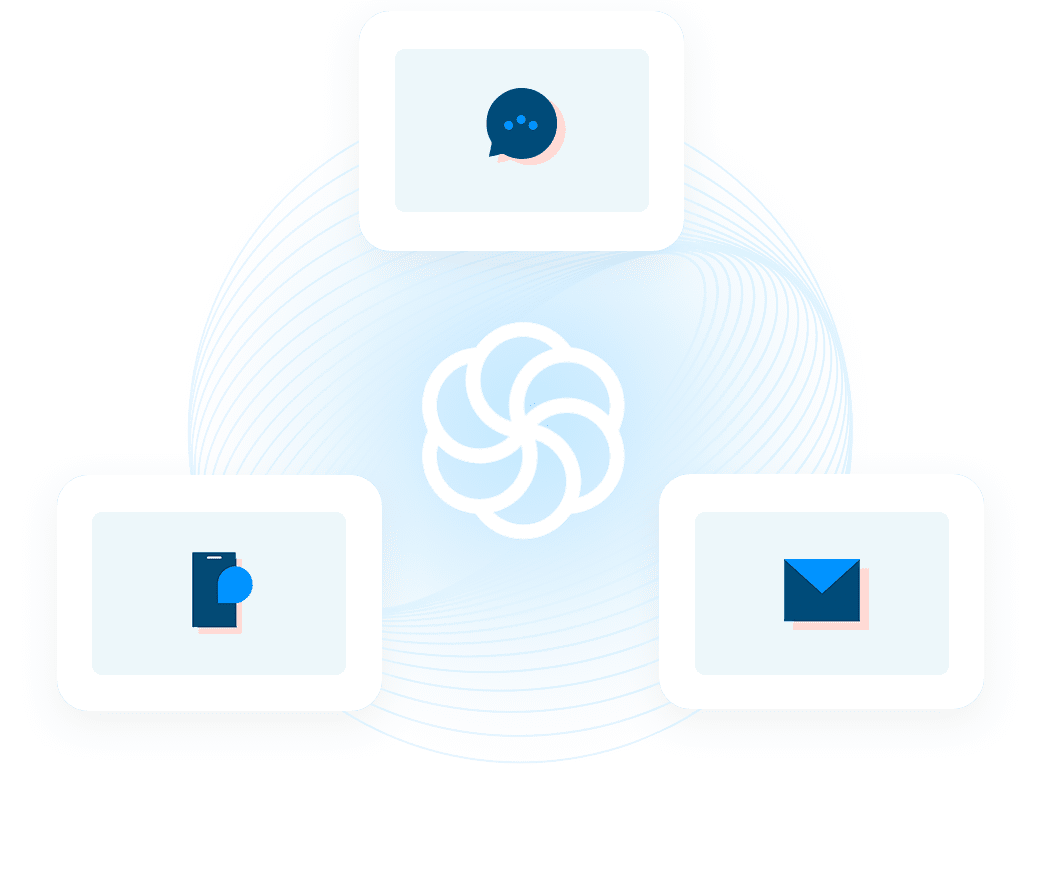 Level Up Your Multichannel Marketing
An WhatsApp Business API account through Sendinblue makes use of the platform's full functionality for seamless multichannel marketing.
Collect consent with integrated opt-in forms
Manage WhatsApp lists in the Sendinblue CRM
Use Sendinblue segmentation to tailor WhatsApp campaigns
Try it for free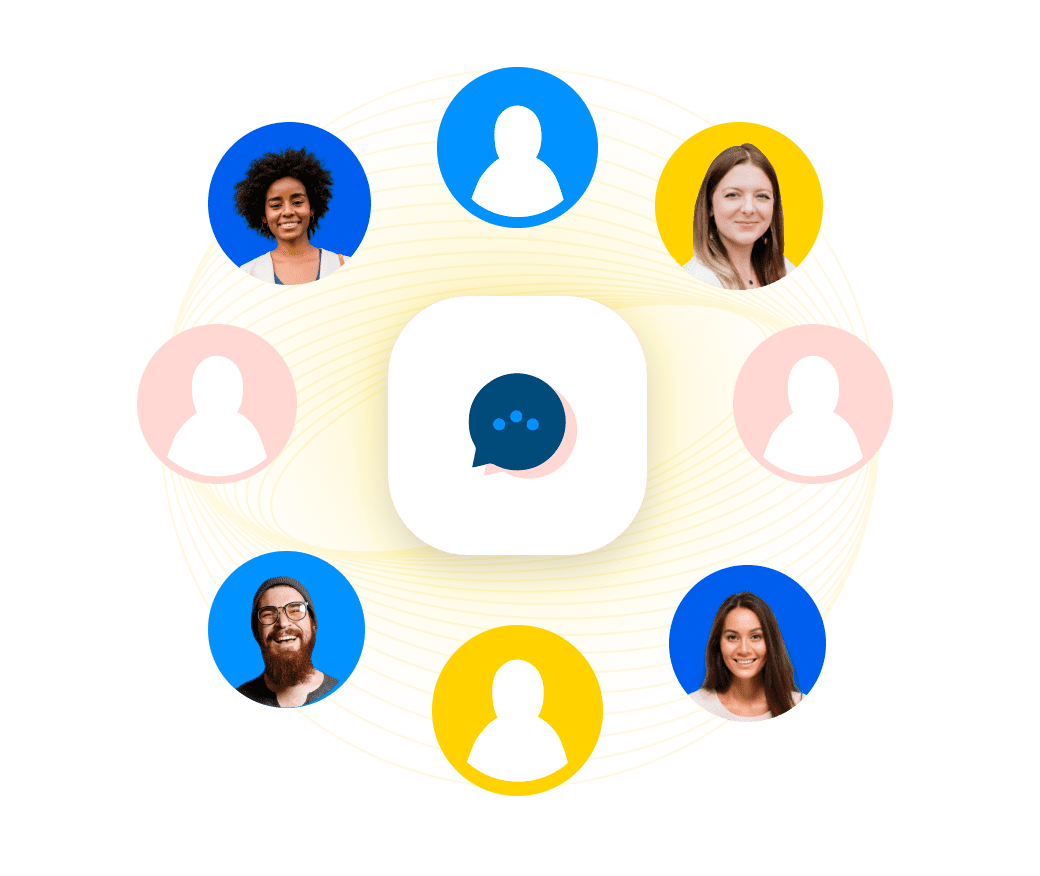 Run WhatsApp Marketing Campaigns at Scale
WhatsApp Business API is at the intersection of email marketing and SMS business messaging. It enables you to run both mass and one-to-one campaigns, scheduled or in real time for maximum customer engagement.
Promote product catalogs, give company updates, and announce sales
Send purchase alerts, notifications, and confirmations
Guide user onboarding and answer FAQs quickly
Try it for free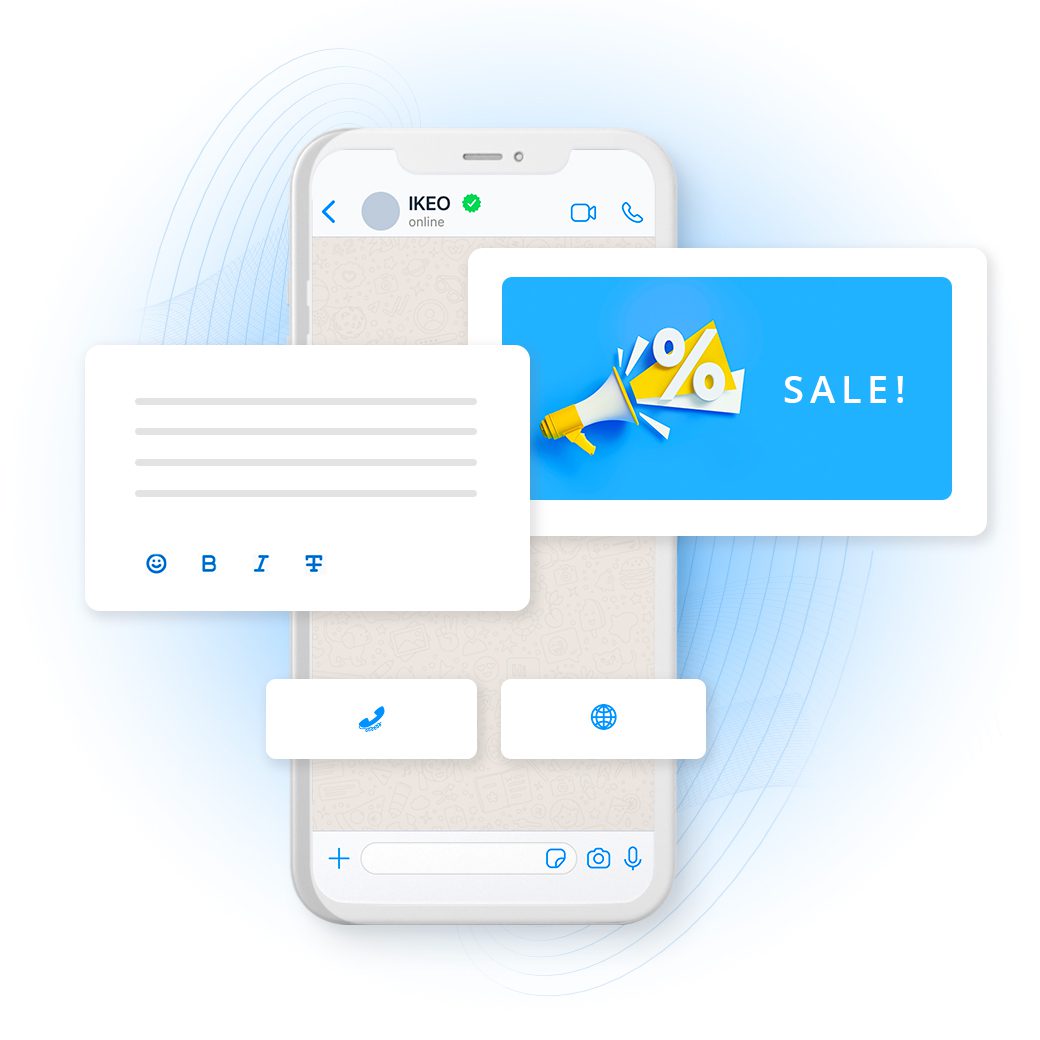 All Types of Messages Supported
Sendinblue's WhatsApp Business API integration supports all formats of messages made possible by Meta.
Plan text messages with emojis and images
Interactive messages with quick reply buttons
QR codes
Try it for free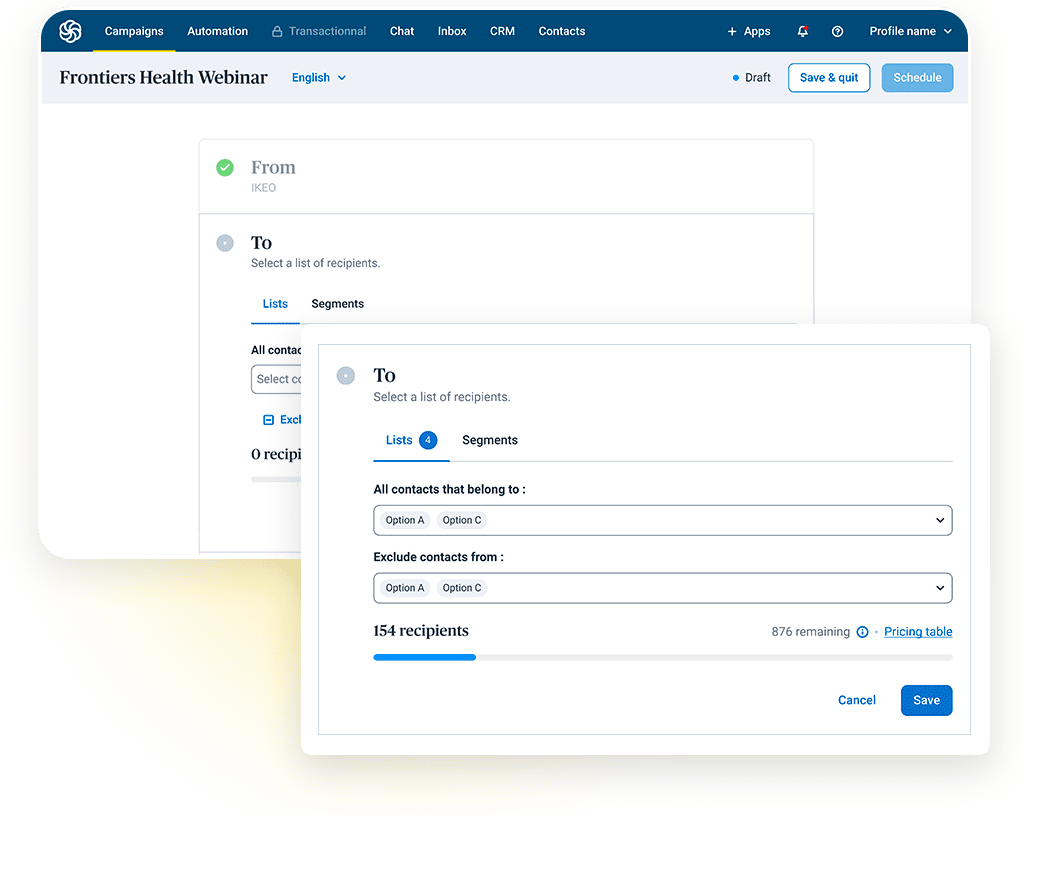 For Growing Businesses and Teams
The WhatsApp Business Platform enables both your marketing and customer support teams to do more with the Sendinblue platform.
Unlimited sending and contact storage

Easy list management and contact tagging with the Sendinblue

CRM

Use up to 25 different

WhatsApp numbers

on the same business account
Try it for free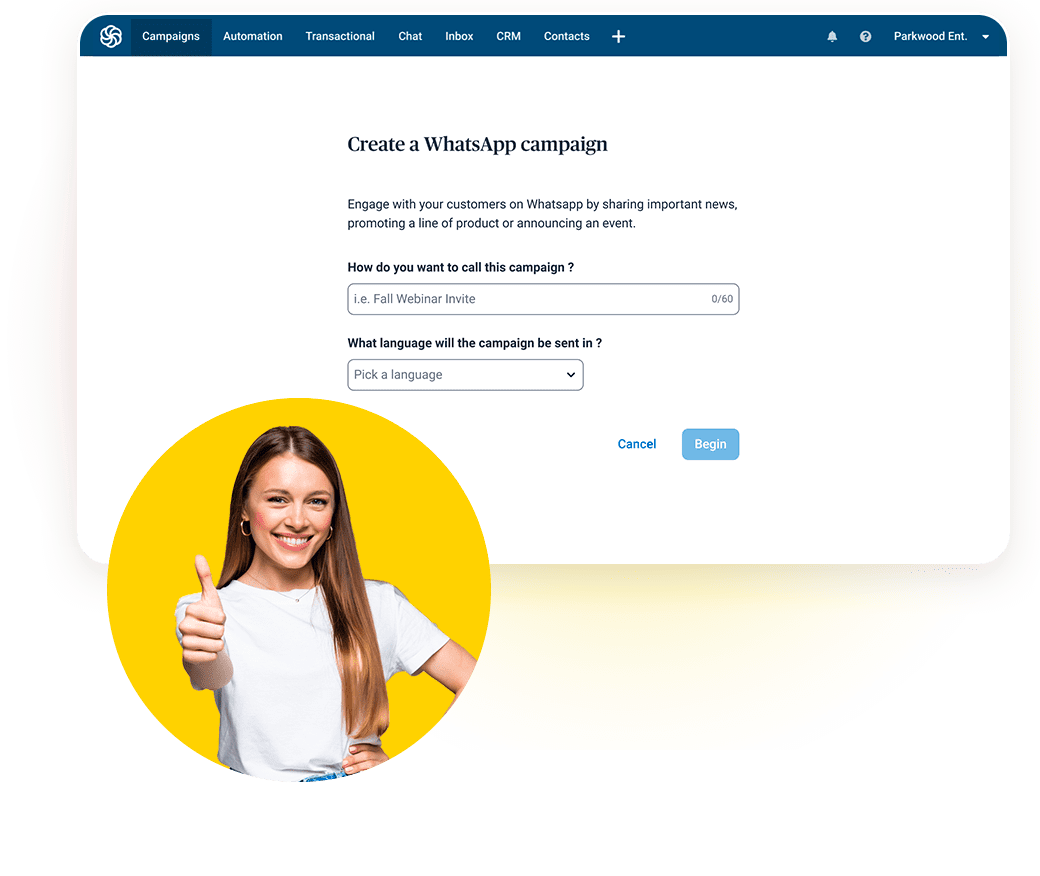 No Limits for Your Campaigns

The WhatsApp Business API gives small and large businesses alike access to the full range of marketing features by WhatsApp.
Message unlimited contacts in any of Meta's supported languages
Get extra exposure with the branded WhatsApp Business profile
Speed things up with quick reply buttons and bots
Try it for free
Market on the Most Popular Messaging App

WhatsApp for Business connects you to a huge audience with sky-high engagement rates.
2 billion WhatsApp users worldwide
98% open rate
5 minutes average read time
Try it for free
WhatsApp Business API Pricing
The WhatsApp integration and your first 1,000 messages each month are free. Then, it's conversation-based pricing. You only pay for what you send, no setup or licensing fees. Prices depend on the recipient's country. Simple and transparent!
Coming Soon: WhatsApp Automation and Transactional Messages
We're working to add even more marketing features via the API: triggered messages, quick replies, personalization based on CRM attributes, transactional messages, WhatsApp chatbot and two-way messages are all coming to our WhatsApp integration this year!
Try WhatsApp campaigns on Sendinblue
Test-drive our free plan today. No credit card required.
Get started for free