Reading time about 11 min

Looking to start sending an email newsletter for your WordPress website? This article will show you how to accomplish this in just a few clicks with Sendinblue WordPress newsletter plugin.
Email newsletters are one of the best tools for building a loyal audience on your WordPress site. They're easy to set up and they enable you to:
Generate recurring traffic to articles and pages on your website
Maintain regular contact with your followers
Promote high-converting content to generate more sales
Now that you know the benefits, we will go over everything you need to know to start sending your own newsletter on WordPress:
Installing the Sendinblue – WordPress newsletters plugin
Building your contact list
Creating your newsletter campaign
Monitoring your email marketing KPIs
Additional tips for creating a successful newsletter
1. Install the best WordPress newsletter plugin
Installing the WordPress newsletters plugin from Sendinblue is very simple. All you have to do is:
Log into your WordPress site as an admin
Go to "Plugins," then "Add New"
Search for "Sendinblue"
Install the plugin "Sendinblue Subscribe Form and WP SMTP"

You can also install the plugin manually after downloading it directly from the WordPress newsletter plugin directory page.
Once you have installed the plugin, make sure you click "Activate." Then, navigate to the setup page where you will see instructions on how to retrieve your API key to connect your Sendinblue account to the plugin (you'll need to create a Sendinblue account if you don't already have one).
2. Build a subscription form for your WordPress newsletters
With the help of the Sendinblue – WordPress newsletter plugin, you can easily integrate a newsletter subscription form into your WordPress site to allow visitors to sign up for your newsletter.
Build a custom subscription form in Sendinblue
To create your own newsletter subscription form for your WordPress site, simply click on the Sendinblue WordPress newsletters plugin menu in WordPress and select "Forms."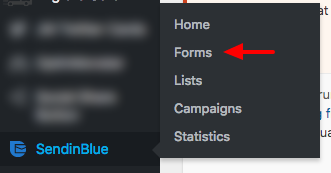 Once here, click on the button that says "Add New Form."
The form creation interface is comprised of three components:
HTML text editor for modifying the markup code for the form design directly
A simplified menu for adding new fields and customizing certain options in your form
A preview window for visualizing any changes that you make to the form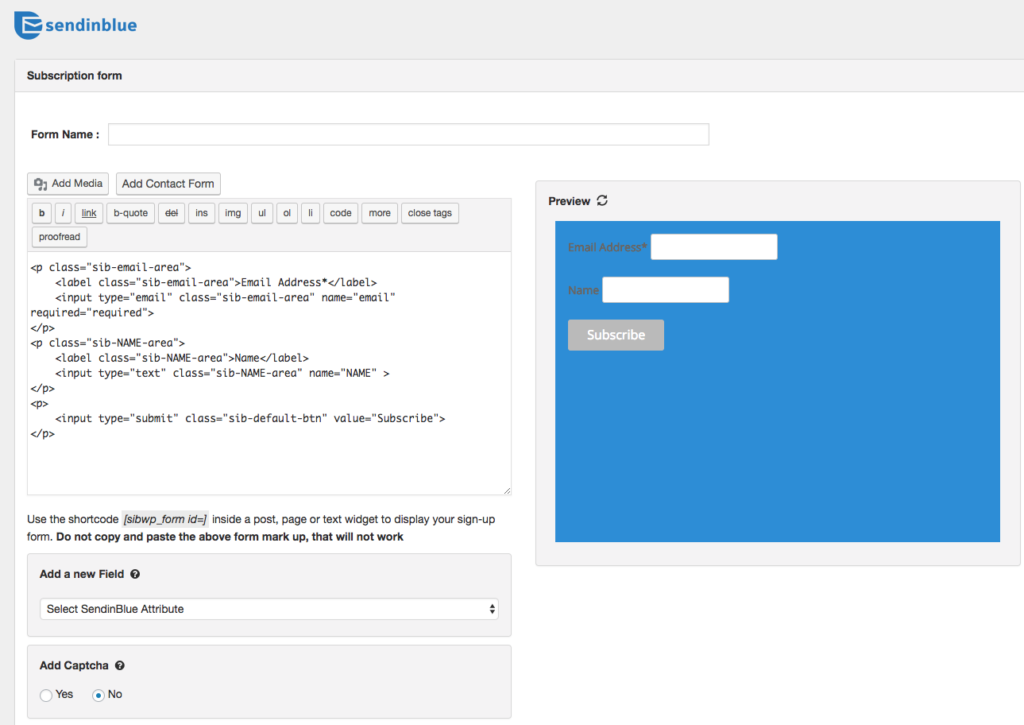 To add a new field to your form, you just have to select one of the contact attributes that you have set up in your contact database in Sendinblue (e.g. age, gender, country, etc.). If you don't see the attribute that you want to use in your form, it may be because you haven't added it as an attribute in your Sendinblue database.
To fix this, just log into the Sendinblue platform directly and add the attribute that you wish to use for your form. Then, you can go back into the form builder and select this attribute for the new field.
Further down the page, there are a few more options for customizing your WordPress newsletters subscription form:
Adding a Captcha
Adding a Terms & Conditions acceptance checkbox
Personalizing the theme of the form
Configuring the signup process for new contacts
Once you have created the form design, you'll need to define the signup parameters:
Which contact list new subscribers will be added to after filling out the form
Whether or not to send a confirmation email
Whether or not to use a double opt-in process
URL for the subscription confirmation landing page (if you have one)

Add the form to your WordPress site
To integrate your newsletter subscription form into your site, go to your WordPress dashboard and navigate to the menu Appearance >> Widgets.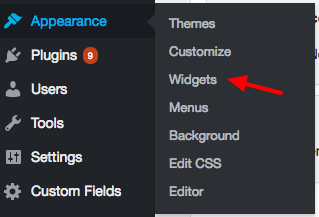 From there, you can add the "Sendinblue Widget" to the menu of your choice (e.g. sidebar, footer, etc.).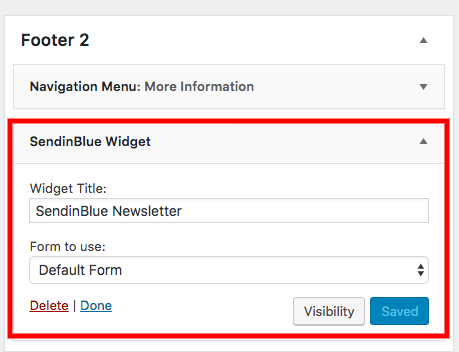 From there, all you have to do is select the form that you just created and you're good to go!
3. Create your first newsletter campaign
The newsletter WordPress plugin from Sendinblue lets you create newsletters directly from the admin panel of your WordPress website.
To get started on creating your newsletter, go to the "Campaigns" menu in the WordPress email newsletter plugin and click on the green button that says "Create an email campaign."

After assigning the setting up the different parameters of your newsletter campaign (subject line, sender name, etc.), you'll have a few options for starting your email design:
Creating a new email template from scratch with the responsive Drag & Drop Editor
Using a recent message or saved template as a starting point
Starting with one of our free customizable templates located in the "Template Gallery"
If it's your first newsletter, it might be a good idea to choose one of the newsletter templates from our template gallery and customize the text, colors, and images in our Drag & Drop Editor to create the message you want to send.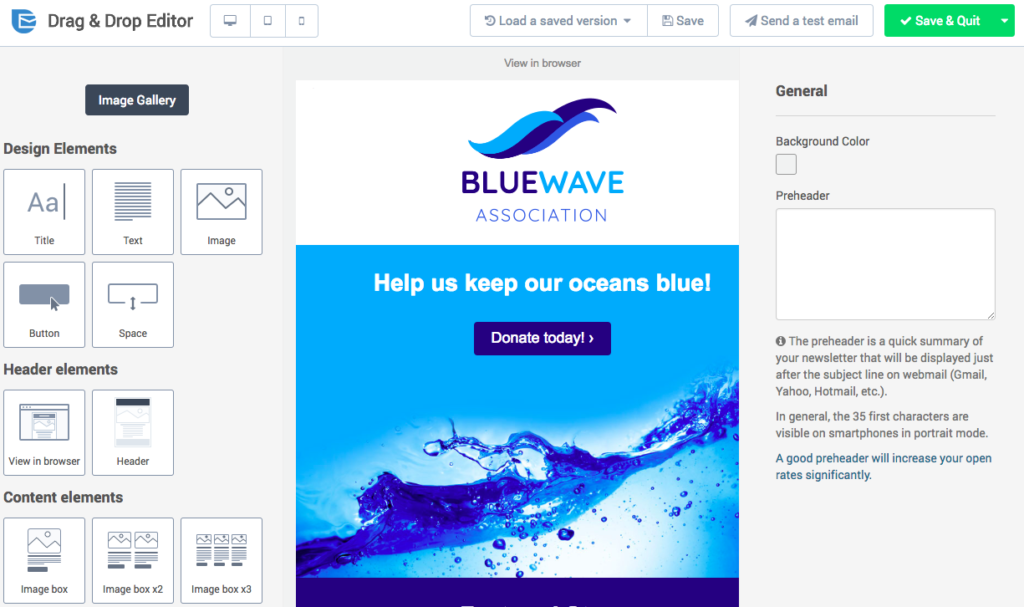 If you're looking for more of a fresh start, you can also just go straight into the Drag & Drop Editor and create your own design by dragging the pre-formatted blocks into your design and adding in your content.
After completing your email design, you'll reach the "Recipients" step. This is where you select which list you want to send your newsletter to. You can also select specific segments of contacts within a list based on different attributes (gender, age, geography, previous email engagement, etc.).
For example, you can select all of the contacts in a list who opened your previous campaign.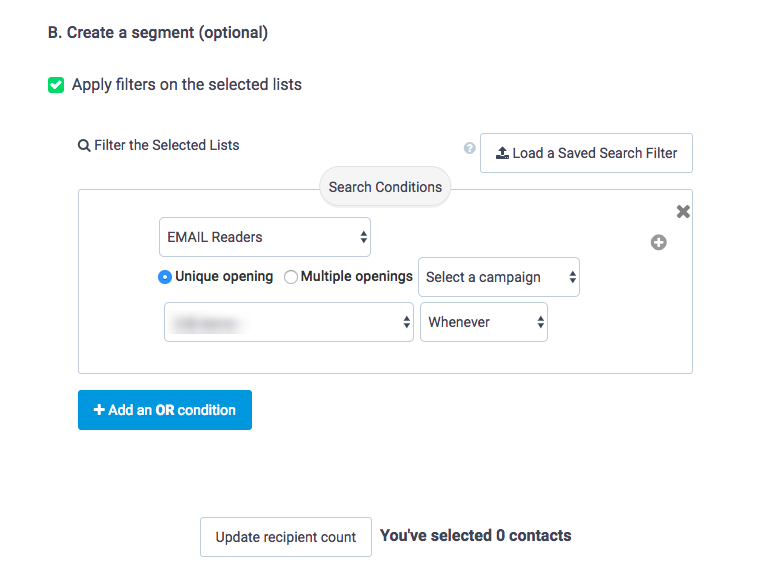 Once you've defined your segmentation conditions, click on the button "Update recipient count" to see how many contacts are in your segment. From there, you can decide if you need to adjust your targeting or not.
4. Monitor your email marketing KPIs
With the newsletter plugin for WordPress from Sendinblue, you can also follow real-time results of your newsletter campaigns directly from WordPress thanks to the advanced statistics feature.
Access the stats for all of your email marketing campaigns by clicking on the "Report" button that's next to each campaign in the plugin after navigating to the "Statistics" menu in the "Campaigns" section of the plugin.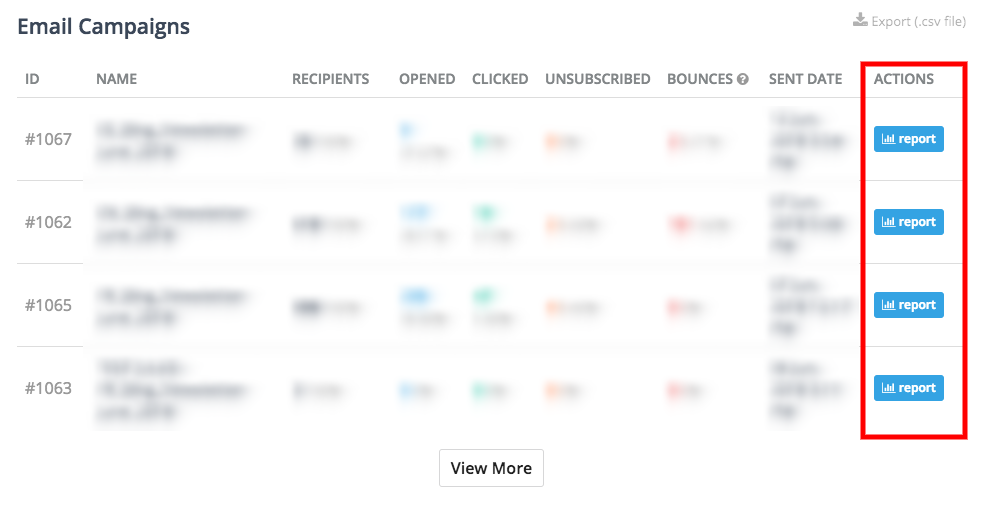 For help negotiating the different statistics in this report, check out our article going over the main email marketing KPIs.
5. Tips for sending a successful newsletter
You should now have a clear idea of how you can integrate a subscription form on your website and set up your newsletter directly from your WordPress site.
But before you hit send on your newsletter campaign, here are a few tips to ensure that your newsletter makes a lasting impression with your subscribers and keeps them coming back for more.
Include only your best content
Choose the content or products that you think are most relevant to your readers' interests and your business goals.
When starting a newsletter, it's very common to want to overload the message with all of the content that you have. But, your readers only have a small amount of attention that they can afford to give. You have to prioritize quality of content over quantity if you want to keep recipients engaged.
Rather than including too many links to different pages and articles, try adding certain product promotions or articles according to a specific theme — or better yet, tie the content in your newsletter to what's actually new with your business. It is a NEWSletter after all. 😉
If you're looking for having trouble finding the right theme for your newsletter, you can always go with seasonal events (e.g. end of the school year, winter holidays, etc.). For example, if you have a fashion blog, you might want to focus your June newsletter on the hottest trends for summer fashion. Then you can use warm colors and imagery invoking the beach and sun to create a timely theme that's more engaging for your readers.
By varying your guiding theme for each newsletter you send, you can start to find your brand's editorial voice in order to form a deeper connection with your audience.
Tell a story
Make sure your newsletter is highly engaging and unique by including original content directly in the email.
If you really want your readers to see the value in your newsletter, you need to treat it like a completely separate channel for editorial content rather than just a catalog of links pointing to various pages on your site.
Take for example the Daily Carnage email newsletter sent out by the Carney marketing agency. They provide unique content in every one of their newsletters to explain the linked content to the readers and increase engagement rates.
Although Carney uses editorial newsletter content to summarize articles and boost clicks, you can also create completely new content in your newsletter. For example, having a quick intro note to address the overall theme of the newsletter.
You can choose the content you think would be best for your audience, just make sure that it provides value for your readers.
Work the subject lines
Your newsletter subject line needs to be clear and enticing. This is the only way to guarantee solid and consistent engagement.
The email subject line is probably the single most important element in determining the open rate of your newsletter.
In the case of newsletters, the subject line should be both:
Alluring: Reading the subject line should make readers want to open your email.
Informative: It should give the recipient an idea of the theme or content of your email.
Over time, you should strive to create unique subject lines for your newsletters that are different yet still evoke the same voice that's recognizable to your readers.
Use a consistent sending frequency
Set expectations with your customers on when they will hear from you by sending your newsletter at a regular frequency (e.g. weekly, monthly, quarterly).
Much like a newspaper or periodical, your newsletter should be delivered to your recipients on a fixed day and time. This allows readers to create a habit around when they can expect to receive your newsletter in their inbox.
Conversely, if you send your newsletter without any rhyme or reason as to the timing, you risk having increased unsubscribe rates because your contacts won't be expecting to hear from you.
Once you choose the frequency that you want to use, it's always a good idea to announce this frequency to new subscribers at the time of signup (or even before signup as part of the CTA in the subscription form itself). But, once you announce this frequency, it's essential that you stick to it so that you don't fall short of your readers' expectations.
Conclusion
With the Sendinblue newsletter WordPress plugin, you can start sending a professional-caliber newsletter with:
Responsive design
Optimal deliverability
Advanced segmentation
Detailed statistical reports
Ready to discover the potential of sending your own WordPress newsletter? Create a free account and start sending up to 300 emails per day!