If you're looking into WhatsApp Business API, congrats on a sound business decision! WhatsApp is the most popular messaging app with a 98% open rate. 🤯
This makes it a must-have channel for customer engagement and support. There are numerous benefits of using WhatsApp Business. But which of the three WhatsApp solutions should you choose? There's a big difference between WhatsApp and WhatsApp Business. The WhatsApp Business API adds even more layers of functionality for marketing.
So,
What Exactly is the WhatsApp Business API?
An API connects two software tools together so they can talk to each other and share data.
The WhatsApp Business API connects a marketing platform or CRM with the WhatsApp business solution. Access is granted through official WhatsApp business partners, mainly marketing SaaS providers.
In short, your software needs a WhatsApp integration to be able to use WhatsApp API to send messages. Check out WhatsApp Campaigns by Sendinblue available now!
This is because the WhatsApp Business API isn't a stand-alone software program, but uses the interface of the partner for campaign creation, performance tracking, and list management.
Thus, the WhatsApp Business API adds a wide range of marketing capabilities to your marketing toolbox and opens up a lot of opportunities, including:
Sending transactional messages (order confirmations) and alerts (e.g. appointment reminders, shipping updates)
Providing real-time customer support
Answering FAQs via autoresponders
Sending WhatsApp marketing messages, e.g. WhatsApp broadcasts
Creating multi-channel automation workflows (in addition to email, SMS, and Facebook Messenger, for example)
The WhatsApp Business API is a robust integration, built for mid-sized and large businesses with bigger customer care teams and more complex customer engagement tactics. You'd be able to communicate directly with each customer as needed, providing better customer experience and saving time thanks to the automation capabilities.
Read more: 10 Best WhatsApp Marketing Software in 2022
How can you start using the WhatsApp Business API?
The easiest way to get access to the WhatsApp Business API is through a business solution provider. This way, you get to use the more user-friendly interface of the platform and don't have to integrate the API directly to your backend. No developer skills needed!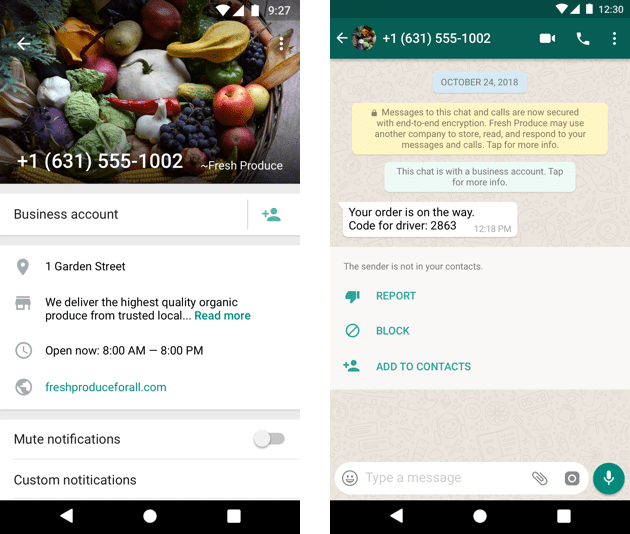 Without an Official Business Account, the display name is subtly shown next to the phone number, not instead of it.
Here's a quick overview of the steps needed to get started with WhatsApp for business:
Find a WhatsApp business partner to provide you with API access. (Sendinblue users stay tuned for updates! 😉)
Use the provided embedded signup to connect your WhatsApp business account (WABA) and phone number(s) to it. If you've been using the WhatsApp Business app before and want to switch to the API, you can migrate the phone number and associate it with the API instead.
If you don't have a WhatsApp Business account, you can also create it in this step directly from the partner's platform.
Go through business verification. This is a compulsory step for consumer protection. WhatsApp requires proof that you truly are authorized to represent the brand you're claiming. All business accounts undergo this authenticity check to protect users from illegitimate business outreach. More info here.
Optional: Apply for an Official Business Account. It's the next level of authentication, additional proof of credibility. It's indicated with a green tick next to your brand name in your WhatsApp account. Unfortunately, it's hard to get and granted only to very well-known brands.
Submit display name for review (to be shown instead of phone number in chats, see image above) following these guidelines. This option is available only for Official Business Accounts. Otherwise, the name will appear in smaller font next to the phone number in contact view.
Create message templates and submit them for approval through the API. The approval is mostly handled by AI so it only takes minutes.
Build an opt-in WhatsApp contacts list. This can happen on your website, via a CTA button on Facebook, a QR code or through an ad. Here are WhatsApp's opt-in requirements.

WhatsApp button on Facebook
WhatsApp Business API Features
So what can you do with the WhatsApp Business API?
Business profile
The business profile in WhatsApp is like a business card. You can add your logo, address, business hours and even products directly. So when people look you up on the app, they can see all this info without going to your website.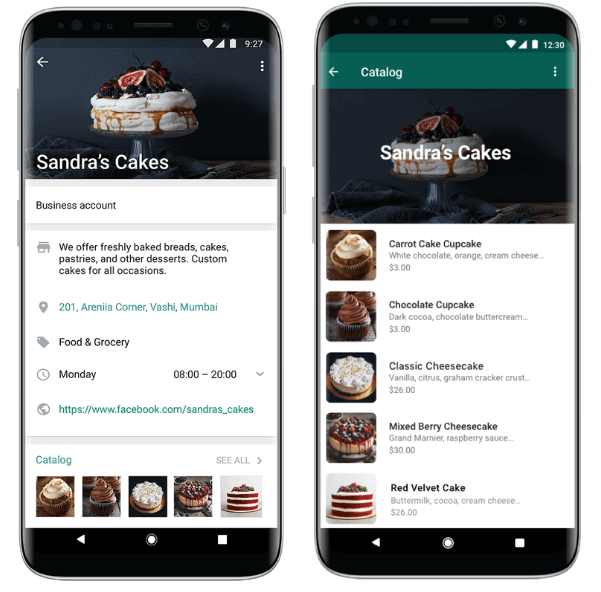 Types of WhatsApp messages you can send
Understanding the types of messages WhatsApp supports is important both for using it to its full potential and to budgeting the costs.
First, there are outbound and inbound messages.
Outbound (also called notifications or templated messages) means from business to consumer. These can only be sent to opt-in contacts and need to fit pre-approved templates.
Inbound are messages from people contacting the business. No opt-in is needed for them, it's assumed that they agree to receive your answer over WhatsApp if they contact you there. Inbound messages can be free form.
One big advantage of WhatsApp messages over SMS is that it supports interactive messages, including images, video, attachments, reply buttons, products, and lists.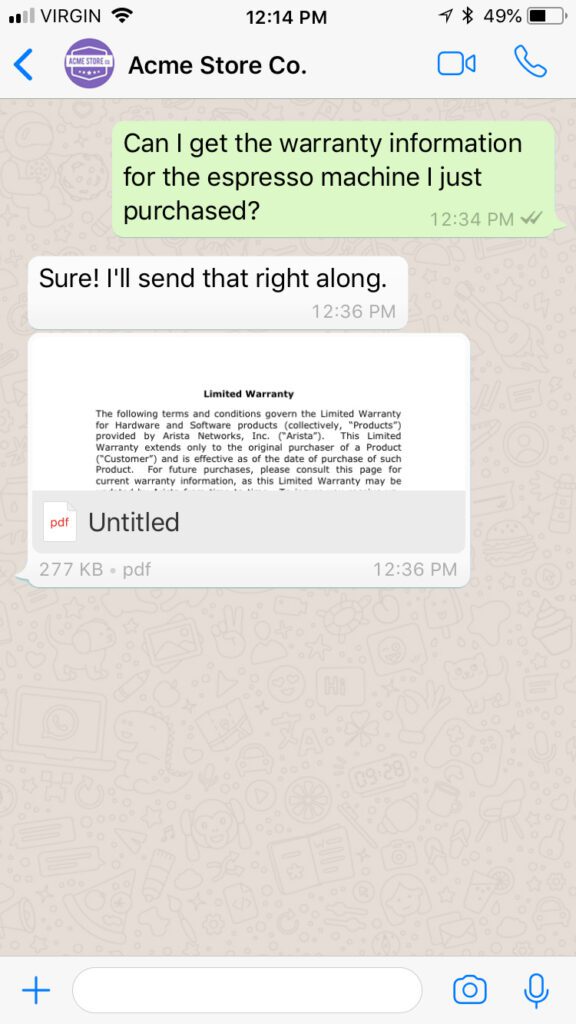 An inbound message and an answer with file attached
Another important aspect of WhatsApp Business API is the 24-hour sessions. They're key to pricing and what's allowed.
So if a user contacts you on WhatsApp, you have 24 hours to answer in a free form message or exchange as many messages as needed. If more than 24 hours have passed since the customer's last message, you can reopen the conversation with a template message. This is to ensure end users only get high-quality messages as per WhatsApp guidelines.
If you want to start a conversation, this is outbound messaging and needs to be done with a template. Templates can be created in the Facebook Business Manager or using the WhatsApp Business API partner's interface. Below, you can see some of the templates available. For now, templates cannot be edited, only deleted. It's best to use a test account to avoid the need for editing.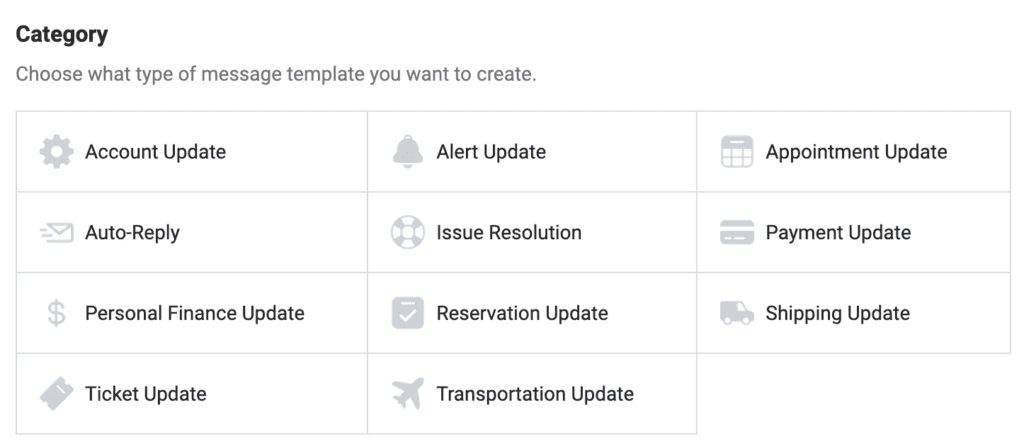 WhatsApp campaigns
Since the WhatsApp Business API taps directly into your CRM, you can use customer behavioral data to send timely and relevant WhatsApp messages.
Just some use cases ideas for you:
Speed up login resets and two-step validations
Promote your product catalog
Set up quick replies to FAQs
Set up automated messages outside customer care team working hours
Create onboarding flows
Send appointment or reorder reminders
Communicate shipping and status updates
Push new products to loyal customers
Proactively reach customers for feedback
WhatsApp Business API Pricing
You'll be charged for the messages delivered and a markup for the WhatsApp Business API service provider.
Meta calls it "conversation-based pricing". This means one charge per 24-hour conversation, no matter how many messages are exchanged during this window. Rates depend on the country of the customer, and whether it was a business-initiated or user-initiated conversation.
The first 1,000 conversations per month are free. You also won't be charged for conversations that start when a user clicks on an ad or a Facebook CTA button (ads are paid separately however). There is progressive discount on volume. Here are all the details how the WhatsApp API pricing works.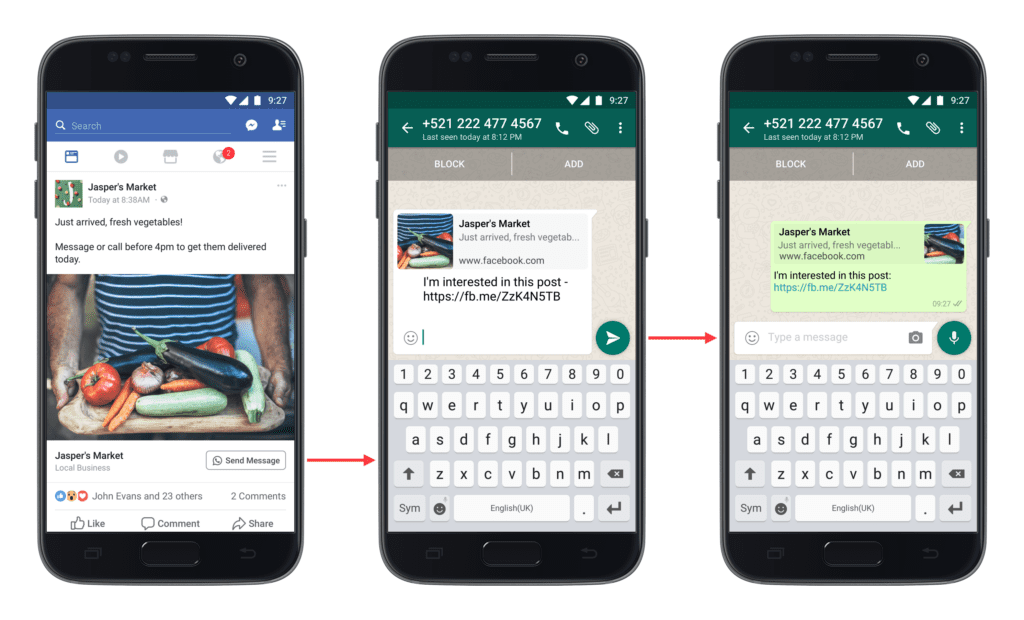 User contacts a business via a WhatsApp CTA on Facebook, source: techcrunch
WhatsApp Business API Limitations
WhatsApp has strict policies in place to keep the customer experience positive and to avoid becoming a spam channel. Here are what you should keep in mind.
Messages can be up to 1k characters. You can have up to 250 templates and up to 25 phone numbers per WABA, but unlimited WABAs in one Business Manager.
Quality rating is WhatsApp's way of measuring the customer experience you provide. Similarly to sender reputation in email marketing, it's measured by the recipients' reaction to your messages — if they read and respond, or block and report them. Lower quality rating will impact your ability to send notifications when you need to. To avoid that, follow WhatsApp's best practices.
Messaging limits are imposed. They depend on the quality of your outbound messages and the volume you send. If your rating isn't low and you increasingly reach more customers, you'll get bumped up to a higher tier. Here's a detailed explanation of the process.
Sendinblue WhatsApp Campaigns Are Here!
Try WhatsApp Campaigns by Sendinblue for your business
Seamless integration, no coding required, signup forms to grow your WhatsApp list and unlimited contact storage! Pay only for messages, no setup or license fees.