Reading time about 15 min

This beginner's guide will explain what email marketing is and how it works. Once you've finished reading, you'll have a solid grasp of the basics along with the know-how to launch email marketing for your business.
What is email marketing? Email marketing is the act of targeting consumers with a commercial message through email with the goal of driving sales, increasing customer loyalty, or communicating important information. It's a form of a direct marketing that, in the past, was commonly used to target mass groups of people. However, modern email marketing is based on the principles of consent, segmentation, and personalization.
Email marketing is the most profitable direct marketing channel, capable of generating up to 30 times your initial investment. This makes it a key pillar of any digital marketing strategy.
Failure to include email marketing in your digital marketing strategy would be unwise given the potential ROI at stake.
In this article you will learn:
What is email marketing and the business goals it can help you achieve
How to get started
Different types of emails
Legal requirements and other aspects to consider
Why is email marketing important today?
From order confirmations to newsletters, emails are an essential aspect of the growth and management of your business.
Email marketing is about informing, persuading, and winning the loyalty of a contact base that's interested in your product or services.
Marketing emails contain a specific call-to-action destined to generate sales or bring traffic to specific pages of your site. It's also a powerful tool for creating a community, as discussed at length in our guide to building relationships with email.
Business goals achieved by email marketing
Email marketing can help achieve 3 categories of objectives:
Conversion (selling your products and services)
Customer loyalty
Brand awareness
Email is a great channel because it has a certian degree of intimacy attached to it. For many people, the inbox has become a curated space filled with messages from their favorite brands.
By communicating directly into a contact's email inbox, you have a unique opportunity to be present in their day-to-day lives. This is a lot more impactful than a social media post, where you can't be sure if someone has seen the message at all.
Apart from intimacy, email has the necessary formality when it comes to communicating important messages. This would explain why email was the channel of choice for brands sending crisis communications during the COVID-19 pandemic.
Email plays a role in every stage of the buyer cycle: at the information and prospection stage, during conversion, and later on for customer retention.
One of the major benefits of email marketing is its scalability. This refers to the fact that emails can be deployed on a large scale to a wide number of recipients.
The state of email marketing in 2020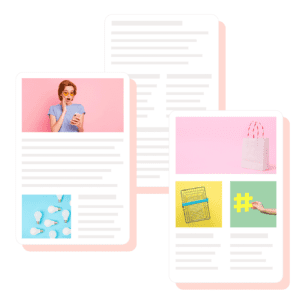 Email isn't a new technology. In fact, it was one of the very first means of digital communication to arrive on the scene back in 1971. But at almost 50 years old, email marketing is more widely used today than ever before.
One of the great things about email is its accessibility.
Email lets you reach a wide range of different audiences, including those who are not necessarily comfortable with using the internet. This makes it the most mainstream form of marketing.
As well as that, email marketing creates an opportunity to establish long-lasting relationships with your customers and leads.
Just take a look at some of these statistics:
According to the 2018 Inbox Report by Fluent, 80% of Americans check their email at least once per day, with nearly a quarter of them checking their personal email several times a day.
Consumers who purchase products through email spend 138% more than those that don't receive email offers.
86% of business professionals prefer to use email when communicating for business purposes.
Given the figures, it's not surprising that email is hailed as the most effective channel in B2B marketing.
Not having an email marketing strategy means missing out on sales opportunities and the chance to strengthen your ties with customers.
Now's the time to get your email marketing up and running – and we're going to explain to you how.
Getting started: choosing the right email marketing solution
Benefits of emailing marketing software
The first step towards implementing an effective emailing strategy is choosing an emailing marketing solution.
Here are some of the reasons why it's worth investing in a dedicated email marketing service for creating and sending marketing emails.
Email marketing platforms (like Sendinblue) have the necessary infrastructure in place to ensure email deliverability – something you can't guarantee when sending an email campaign from a regular Internet Service Provider like Gmail, Yahoo, or Outlook.
If you're curious about how to send a mass email with Gmail then check out this guide – but we don't recommend it.
Another advantage of an email service is being able to manage your email subscribers and segment them into email lists.
On top of that, when it comes to designing marketing emails, you'll find that most email services offer ready-made templates and easy-to-use email editors. A few clicks and you can easily create a newsletter. No graphic design or HTML coding skills are necessary.
You'll also get insights into email campaign performance thanks to advanced reporting and statistics. You'll see which emails were most successful and learn more about your audience thanks to open rates, click-through rates, and reactivity insights.
Comparing different solutions
There are several different emailing solutions to choose from. In order to choose one that's relevant to your business, here are some questions to consider:
How many contacts do you have now and how many are you planning to gain in one year?
How many emails are you planning to send?
What kinds of emails do you wish to send? Promotional, transactional, or both?
What's your budget?
Another factor to take into consideration when comparing email services is scalability and the associated costs. When you start email marketing for your business, it's likely that your contact list will be small – but ideally it will grow as time goes on.
While many providers have super cheap base plans for those with few contacts, be wary of how prices will increase with that provider as you gain more subscribers. This jump can be quite steep (as is the case with Mailchimp) and the last thing you want is to end up overpaying for email.
With Sendinblue, you'll only pay for the amount of email sents – not the amount of contacts stored.
Test-drive Sendinblue's email marketing software for free
Access all our email design features, store unlimited contacts, and send up to 300 emails a day on our free plan!
Different types of marketing emails
Promotional emails
Promotional emails are sent as and when required, in line with the rhythm of your business.
Newsletters present news related to your business (new milestones reached, new product capabilities) or to highlight a product use case. It's a way of staying in the forefront of your contacts' minds and inspiring them to further engage with you.
Email campaigns are more focused on sales and marketing. Typically, a campaign could consist of 3 – 10 emails sent over several days or weeks. These kind of emails are sent with a specific purpose in mind – be it to promote special offers, encourage the downloading of a white paper, or sign up for a webinar.
Automated emails
Automated emails can save you a lot of time and do wonders for growing customer relationships.
An automated email can be as simple as a welcome email sent to a new newsletter signup or a personalized email based on customer behavior or existing information.
What's great about automated emails is that nobody needs to be physically present to hit 'send'.
Sendinblue's email automation feature lets you set up automated email in that are sent out in response to specific 'trigger' event that's pre-defined by you.
This event could be a newsletter signup, a birthday, or an abandoned cart on your website. There are lots of email automation possibilities.
Different types of automated emails
Digging a little deeper into automated emails, there are two different types you should be aware of:
Automated marketing emails: These are the ones we've just discussed above. The content of these emails is dictated by actions a contact has taken in relation to your product or service.
Usually, the contact has already given their explicit consent to receive these promotional emails from you via an opt-in form.
Transactional emails: As the name suggests, these are sent following a transaction. Examples include order confirmations, shipping updates, and appointment reminders.
Transactional emails are essential for managing customer relationships, especially if you're an ecommerce business. Imagine buying a product online and not receiving any order confirmation – you'd probably think you've been scammed.
Because of their importance, transactional emails are often sent from a different IP address to promotional emails. If your business relies heavily on transactional communication, you'll need to carefully assess any potential email provider's transactional capabilities.
Sendinblue caters for both promotional and transactional emails thanks to our powerful SMTP service.
Email marketing best practices
Now that you know more about different types of emails and their benefits for your business, it's time to tackle some of the most important aspects of email marketing.
The following points require careful attention from you as they will help ensure that your email marketing is done legally.
Collect email addresses legally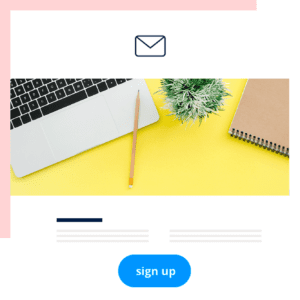 If you're going to send emails, then you're obviously going to need email addresses. However, the way in which you collect those addresses is very important.
The GDPR is a regulation in EU law which protects the personal data and privacy of consumers, including their email addresses.
In order to legally collect email addresses, you need to put in place what's called an 'opt-in' process.
This is a procedure by which a customer or lead gives you their consent via an online form to collect and use their data.
Further reading: How to set up an email signup form in 5 easy steps
Segment your mailing list
As your email list expands, it's likely to contain diverse buyer profiles.
Segmentation refers to cutting down your list and creating smaller sub-lists of contacts who have something in common.
Among the many different possibilities for segmentation, some examples include age, geographic location, lead score, first-time purchase, etc.
This allows you to continue proposing content that is both personalized and relevant to each individual on your mailing list.
Optimize your deliverability
Email deliverability refers to the ability of an email to land in a subscriber's inboxes. It's an important concept for marketers as it signifies that emails have correctly reached their destination, rather than ending up in the junk mail folder where they are unlikely to be read.
Email deliverability depends on both technical and behavioral factors. For instance, the quality of your emails is going to significantly influence deliverability.
To ensure this quality, there are a number of best practices to follow:
Ensure that your email subject is spam-free. Did you know that certain words and phrases are triggers for spam filters? Have a look at this list of words to avoid.
Keep your contact database up to date at all times by removing unengaged users and inactive addresses.
Always include an unsubscribe link. In accordance with the GDPR, a contact has the right to dictate how their data is being used. The act of unsubscribing falls fully within those rights so this option should always be available.
Further reading : 11 Best Practices to Improve Email Deliverability
Choose an email design that works for your brand & audience
When it comes to email marketing, the design is just as important as the content.
Capture your contacts' attention with an email design that's both on brand and visually appealing.
Remember: The look and feel of your email is going to communicate a message about your company and its values. This is worth spending time on.
A good email design is going to support your email content by making it clear, legible, and structured. Having a structure that naturally draws the reader to your call-to-action will drive conversions.
Save time with email templates
No need to call in a designer as most email marketing solutions today have built-in easy-to-use email editors.
Our top tip to ensure consistency and time-savings from the very beginning is to create reusable email templates.
Choose a template and personlize it to match your brand. Once that's done, you'll only have to modify the text each time for your different emails.
Sendinblue has over 70 templates in its email template gallery. There are also plenty of free email templates available from other sources.
Further reading: How to maintain brand personality in your email designs
Personalize your emails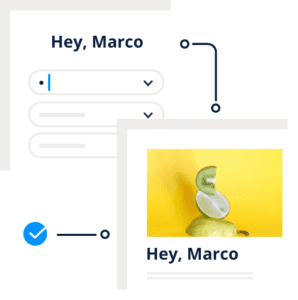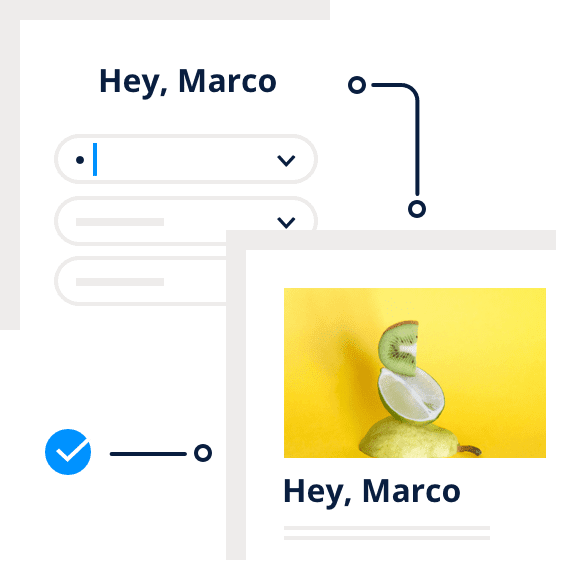 We all like to be made feel special, especially when it comes to our favorite brands.
We appreciate it when brands add personal touches and pay attention to small details. A little extra effort goes a long way in making us feel valued and understood.
This also rings true in the case of email marketing.
Personalizing emails is essential for building trusting relationships with your leads and customers.
Given the importance of personalization in the modern era, you need to make the most out of it at every opportunity.
Some personalization ideas to get started
Use your contact's name ("Hello Tom")
Take into account a contact's location when scheduling the send time (Sendinblue does this automatically using Send Time Optimization)
Segment your contacts
Use behavior-triggered emails based on how your customers interact with your product or services
Small considerations like these are going impact your open, click-through, and conversion rates in a positive way.
Launch your email marketing with Sendinblue
Now that you've got the basics of email marketing, are you ready to move on to the next step?