What is an email autoresponder?
An email autoresponder is a form of marketing automation software that automatically sends an already prepared email to contacts on your mailing list. The sending of the email is triggered when contacts fulfill certain predefined conditions that can either be characteristic (e.g. date of birth) or behavioral (e.g. contact fills in a subscription form).
There are a number of advantages to setting up an email autoresponder for your business.
Not only do you save time because you're automating repetitive tasks, it's also a great way to nurture leads and build stronger relationships with your contacts.

If you think that autoresponders are only for large companies with sizeable marketing budgets, then you're very much mistaken.
These days, there are plenty of autoresponder solutions that are accessible to small businesses with equally small budgets. There's no better time to launch your own email autoresponder workflows.
Set up your own email autoresponder with Sendinblue >>
In this article we introduce the concept of an autoresponder, explain how it works, and provide you with a step-by-step guide to setting up your first autoresponder email with Sendinblue.

Here's what you need to know.

What is the purpose of an email autoresponder?

There are several reasons to put in place an autoresponder:

Your contacts still receive important messages from you without you having to be there to manually send them
It moves leads along the marketing funnel
To send tailored messages to specific groups of people on your contact list
To generate income by driving engagement and conversions
Here are some examples of when an autoresponder is used:

Sending a special offer or discount code to contacts on their birthday
Sending a welcome email to your new subscribers
Sending a reactivation email to a customer who hasn't been engaging with your previous attempts to reach out
Sending out abandoned cart emails to encourage contacts to complete purchases
So how does an email autoresponder work, exactly?

Put simply: You write an email once, schedule it, and it gets sent automatically.

But is it as easy as it sounds? Well, yes actually – if you're using the right marketing automation solution. 😀

First, you have to create a marketing automation workflow. In other words, put in place a set of rules that are going to 'trigger' the email autoresponder.

Then you define the entry point for your workflow, i.e. what is the specific condition or situation that is going to set the workflow in motion.

Next, you determine any remaining trigger conditions in the workflow and the subsequent actions to be taken.
You choose the order and the frequency of the emails. For example, you're going to hit new subscribers with a welcome email at the time of sign-up and then a series of onboarding emails in the following days.

Your email is automatically sent once a contact fulfills a condition, as depicted in this schema:

Set up your first autoresponder emails with Sendinblue

Sign up to Sendinblue and you can try out the autoresponder function for free.

Select the 'Automation' tab on the Sendinblue dashboard and then click '+Create a new workflow'.

Sendinblue gives you two options for creating effective email autoresponder workflows. You can either:

Create a custom workflow from scratch OR
Use one of the preset workflows from the Sendinblue Workflow Library – a collection of templates suitable for any company (to which you can also add certain custom conditions).
Setting up a custom email autoresponder workflow

Step 1: Set a goal for your workflow
Remember: Before you start writing emails, you need to set a clear end-goal for your workflow. This will help you decide the type of emails you need to create.
For instance, if your goal is lead-nurturing then you're going to need welcome and onboarding emails, case studies, white papers, etc.
If your goal is to increase sales then you'll be looking towards abandoned cart emails, sales/promotional emails, special offers, cross-selling emails, and so on.
For some examples of autoresponder emails read our article on How To earn Loyal Customers With Automated Emails.
Step 2: Write & design your emails
Once you know what kind of email you need, write the email content and choose the design and format.
Sendinblue provides all the tools you need to design your email thanks to its handy 'drag & drop' editor and a selection of ready-made email templates. No need to call a graphic designer!
Step 3: Save your email templates on the Sendinblue platform
You're going to need them for later.
Step 4: Select a workflow type
On the Automation tab of the Sendinblue dashboard, click '+Create a new workflow' and you will see the following screen.
Select 'Custom workflow'.
Step 5: Define the entry point for the workflow
There are several different triggers to choose from:

Email activity: a contact opens an email or clicks a link in an email
Contact details: using characteristics (e.g. age, birthday, location) to trigger the autoresponder workflow
A contact submits a form: e.g. when a contact subscribes to receive email updates from you. Just so you know, you can use Sendinblue to create custom subscription forms for your site and set up double opt-in confirmation which is advised for GDPR compliance.
Website activity: Filter contacts based on them visiting a particular page or group of pages on your site.
Step 6: Add actions to the workflow

Choose the resulting actions you want the contact to experience in the workflow.

To set up your email autoresponder select 'Send an email'.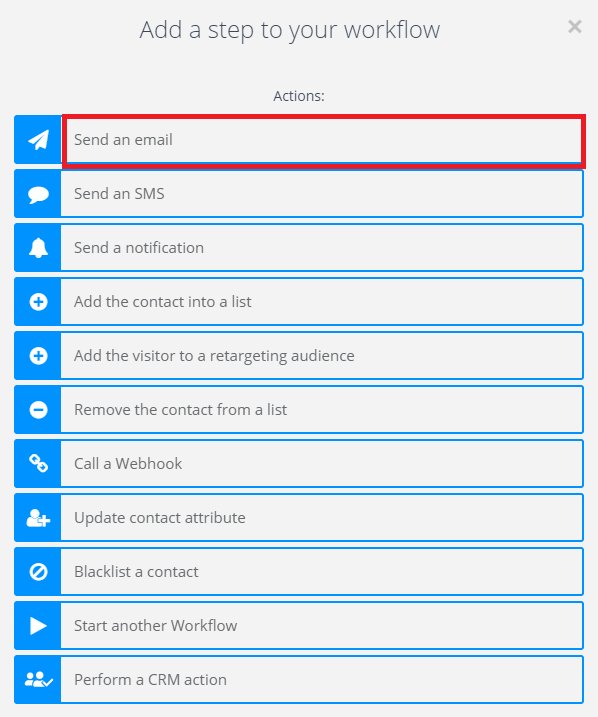 Step 7: Add your email template

Select the template you saved earlier or create a new one.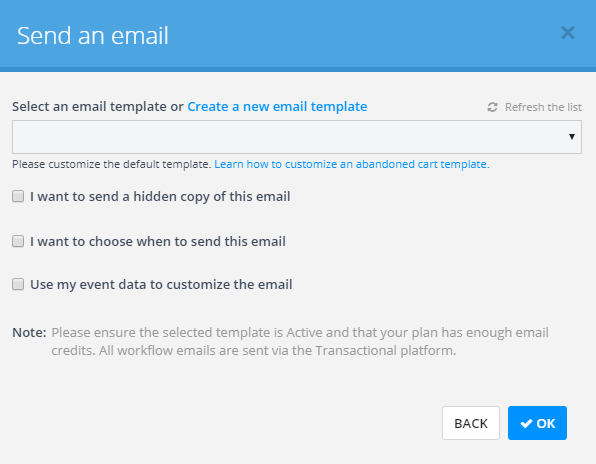 You can also add some additional conditions to your workflow.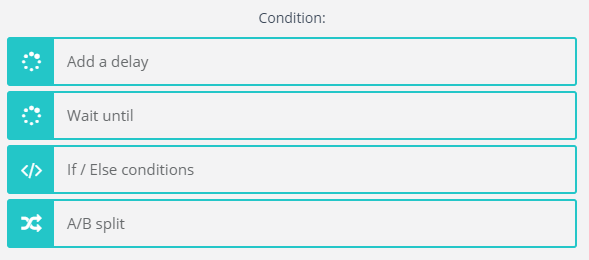 Once you have created your workflow, you can activate it by editing the workflow and selecting "On".
Further reading: 8 Strategic Marketing Automation Workflow Examples for High Conversions
Using a pre-made workflow template

To make things easy for you, Sendinblue has some pre-made templates for common scenarios which will help you build an effective workflow step-by-step.

Step 1: Select a workflow type
In the Automation tab of the Sendinblue dashboard select '+Create a new workflow'.

Choose a workflow template from the following options:
Step 2: Identify your target contact list
After selecting your template, a new screen will open where you will be asked to identify the target contact list for your workflow.

Step 4: Set the time delay
After selecting the target contact list, you are going to set the time delay it will take for the contact to receive the autoresponder email.

Step 5: Choose an email template
The final step is to select the email template you want to use for the workflow. You would have created this in advance and saved it on the Sendinblue platform in your email template folder.

As an example look at how the above steps are summarized in the case of the Welcome Message template below:

Why you need to start using autoresponder emails

By now you know how autoresponder emails work and we've shown you how incredibly easy it is to set up automated emails with Sendinblue.

If your business is not using autoresponder emails yet, then here are a few reasons why you should:

Lead-nurturing: Feeding your leads with content that interests them is going to help move them along the sales funnel.
Increased engagement: Contacts are more likely to engage with content that is relevant to them. Contact segmentation gained as a result of autoresponder filters will make your email campaigns more effective.
Better communication with customers: Autoresponder emails are an efficient way for the customer get to know you, stay informed of your news and offers, and most importantly, not forget about you!
Stronger customer relationships: Personalized autoresponder emails with tailored messaging are going to boost your customer experience which in turn will build trust.
Time-savings: Imagine how long it would take to send all those emails manually! 😱
It's nowhere near as complicated as you think! If you've read the step-by-step guide in this article then you know that setting up autoresponder emails with Sendinblue is a quick and easy process.
Looking for an email autoresponder that's not going to break the bank?

Open an account in Sendinblue, which has one of the best email autoresponder features and you can send up to 300 emails a day (or 9000 per month) without paying a single cent. If your emailing needs are greater than that, we have a range of paid plans to suit all budgets.

Further reading: Marketing Automation Guide: Definition, Benefits, and Examples