Thanksgiving is just around the corner! Gather around — it's time to serve the perfect Thanksgiving email marketing campaign.
Thanksgiving is one of America's most beloved holidays. 🦃 It's the time of year to see loved ones and eat delicious food. Thanksgiving is also when the holiday season starts to pick up speed.
Turkey Day is a great opportunity to boost engagement and drive sales. In fact, the Thanksgiving holiday weekend drew 180 million shoppers in 2021 alone. 💰
This Thanksgiving, entice customers and ramp up your holiday email marketing strategy. Here's how to send a Thanksgiving marketing email that your audience will gobble up.
What to expect?
8 Thanksgiving Email Examples and Tips
Grab your audience's attention with a festive Thanksgiving email campaign. Express gratitude for your customers. Share Thanksgiving wishes. Offer delicious Turkey Day deals.
Here are a few Thanksgiving email examples and tips to get you started.
Reach US customers
American Thanksgiving is a national holiday. So to ensure the success of your Thanksgiving email campaign (and avoid unhappy people writing back offended), segment your user base to reach US customers specifically. Simply filter by contacts' address or city you have on record.
This way, you'll reach the most people celebrating the holiday without ruffling feathers among your other customers. Email list segmentation allows you to engage subscribers in a more personalized way.
Email marketing services like Sendinblue make it easy to target the right customers.
Show gratitude
Thanksgiving is a time to show others that you appreciate them. Businesses can do the same.
In your Thanksgiving campaign, send a heartwarming email message. This can be a simple "Happy Thanksgiving" greeting. You can also thank loyal customers for their support.
Don't be afraid to get into the Thanksgiving spirit. A little bit of gratitude goes a long way! Just check out this Thanksgiving campaign from Sakara:
Promote upcoming sales
Thanksgiving marks the start of the holiday season — and the start of holiday sales. Black Friday and Cyber Monday come right after Turkey Day. Many customers also shop for Christmas gifts around this time.
Promote your sales in your Thanksgiving marketing email. Target holiday shoppers with early bird deals and big savings. 🛒
This Thanksgiving email from Guess invites customers to their Black Friday sale.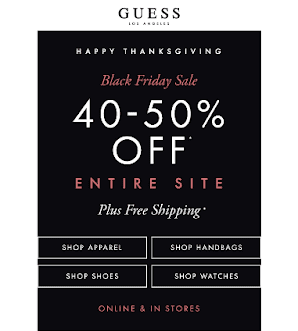 Give back
Thanksgiving is a time for giving thanks and giving back. This year, partner with a cause that's important to your business. 🤝 This is a great way to connect with customers and spread some good.
Want to go even further? Consider running a Giving Tuesday campaign on the Tuesday after Thanksgiving.
For inspiration, look no further than this Thanksgiving marketing email from Leesa:
Offer special Thanksgiving deals
Thanksgiving offers countless opportunities for holiday deals! This year, get the most out of the festive Turkey Day vibes. Entice your subscribers with special Thanksgiving savings. 💸
Nothing attracts customers like a Thanksgiving sale. This Thanksgiving marketing email from Delivery.com is a great example: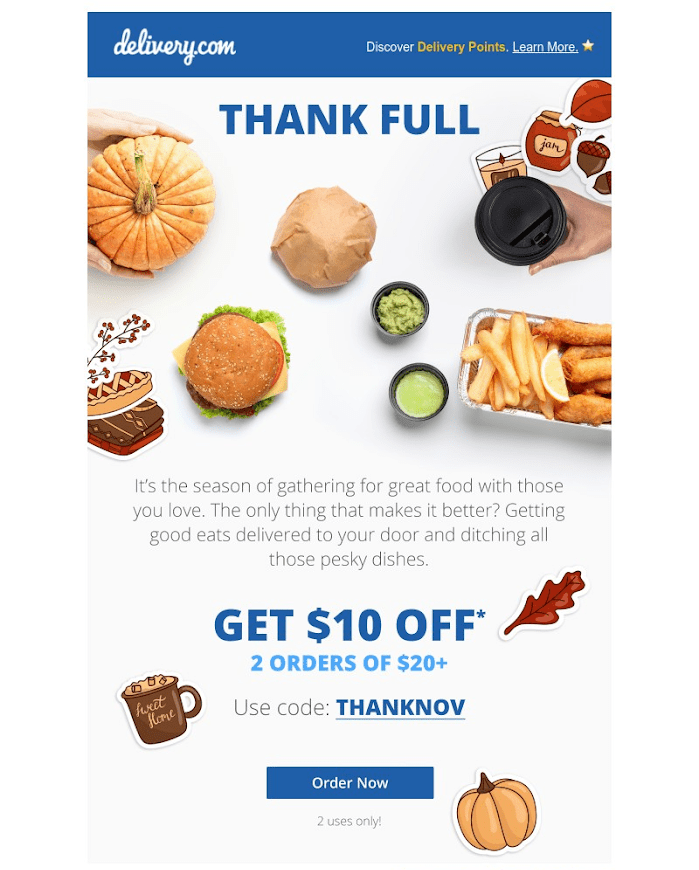 Give thanks with a Thanksgiving gift
Show your appreciation with a special Thanksgiving gift. After all, Thanksgiving is a day for generosity.
Reward your customers with limited-time discounts and Turkey Day freebies. This will delight your customers. You'll also stand out from the competition.
This Thanksgiving marketing email from Morning Recovery is a good example: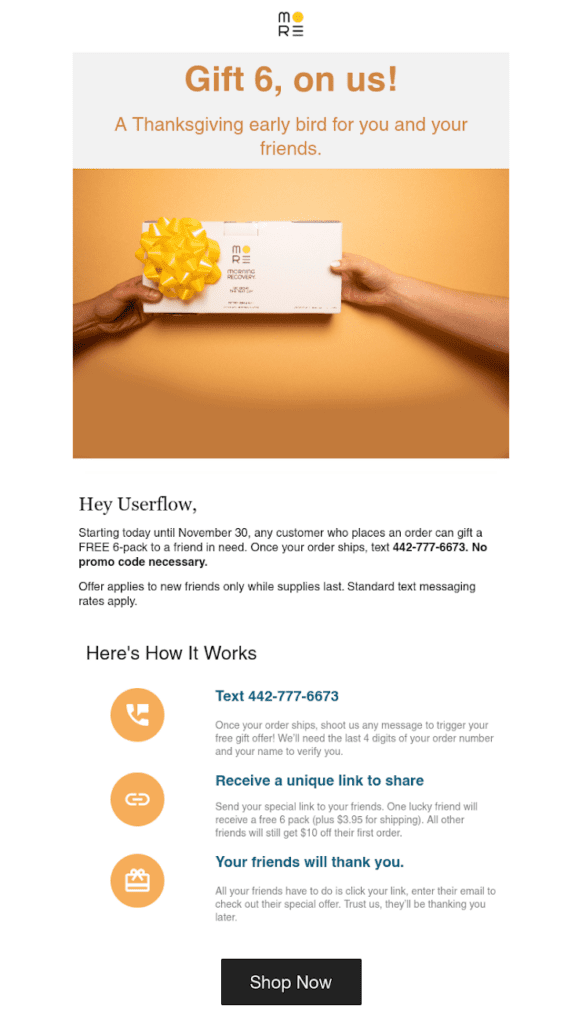 Share ideas for Thanksgiving Day
Cooking a Thanksgiving Day feast can be stressful! Make your customers' lives easier. Post hosting tips and decor ideas. Share a guide for the perfect Thanksgiving dinner. 🥧
Helpful Thanksgiving content will inspire your customers — and they'll be sure to thank you for it!
Plated shares a downloadable Thanksgiving cookbook in this example: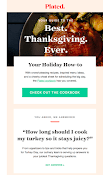 Use a Thanksgiving email template
Grab your customers' attention with a Thanksgiving email template. Tempt them with roasted turkey and pumpkin pie. Use fall newsletter colors in your email design! 🍂
It's easy to create beautiful Thanksgiving campaigns with Sendinblue. Use the Drag & Drop editor or choose from one of our free holiday email marketing templates.
Don't know where to start? Check out this Thanksgiving email example from Casper for inspiration: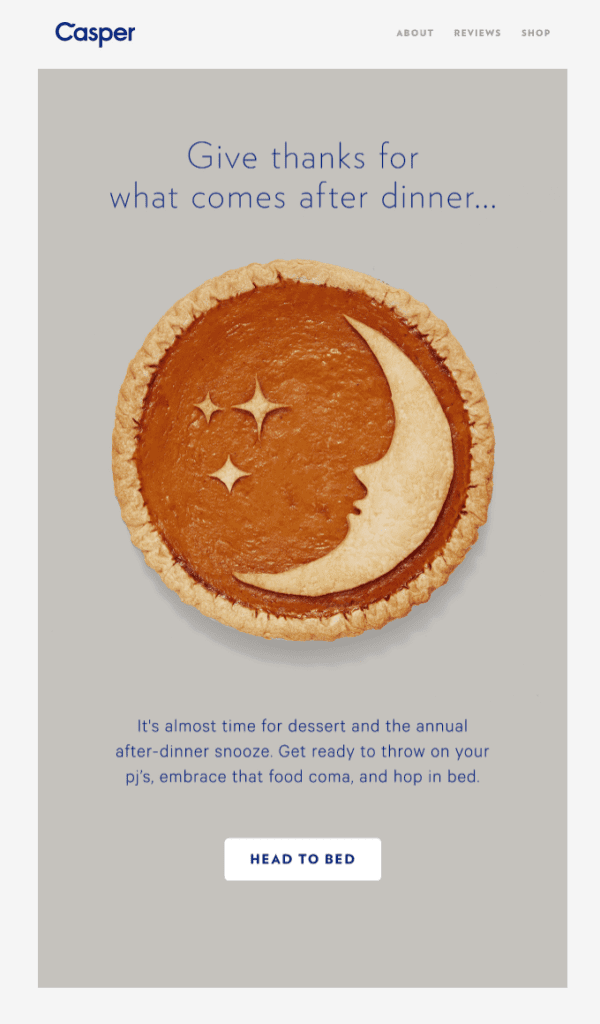 Related: Christmas Email Marketing: Examples & Ideas to Captivate Customers
25 Thanksgiving Email Subject Lines to Boost Engagement
Boost open rates with eye-catching Thanksgiving email subject lines. Use emojis to stand out in a busy inbox. Put your own twist on Turkey Day puns. When it comes to Thanksgiving email copy, the possibilities are endless.
Here are 25 Thanksgiving email subject lines to inspire your campaigns:
Happy Thanksgiving from our family to yours!
A special thank you treat for you 🎁
Thanksgiving prep made easy
Give thanks! 30% off everything
Save some room for Thanksgiving savings
Free shipping on our Thanksgiving collection 🎁
Don't miss out on these Thanksgiving deals
The Art of the Thanksgiving Table
Gobble this up: 25% off Thanksgiving essentials 💰
These leftovers won't last long!
Last chance for Thanksgiving savings ⏳
Thanksgiving sale ends TONIGHT
Thanksgiving hosting must haves
Give them something to gobble about 🦃
Your guide to the perfect Thanksgiving
Start a new Thanksgiving tradition
Dress your Thanksgiving table up in style
Your Thanksgiving starts here
We're thankful for these yummy recipes 🍗
A big thank you and even bigger deals!
Be a star this Thanksgiving
Good Gravy! 50% off store-wide
Fall into Thanksgiving deals 🍂
Our best-kept Thanksgiving secret
Thanksgiving meal prep ideas 🥧
Serve Up the Perfect Thanksgiving Email Campaign
Thanksgiving is a time for family and a time for gratitude. It's also a chance to connect with customers. Use Thanksgiving email marketing to grow your business and connect with customers on this special holiday. 📈
Send a Thanksgiving marketing email that gets results. Anyone can run a great Thanksgiving campaign — whether you're an ecommerce site or a small business. Get started today!
Send the perfect Thanksgiving email marketing campaign 🦃
Get started sending email campaigns with Sendinblue. Free plan includes core email marketing features, unlimited contacts, 300 emails/day, and over 40 email templates.