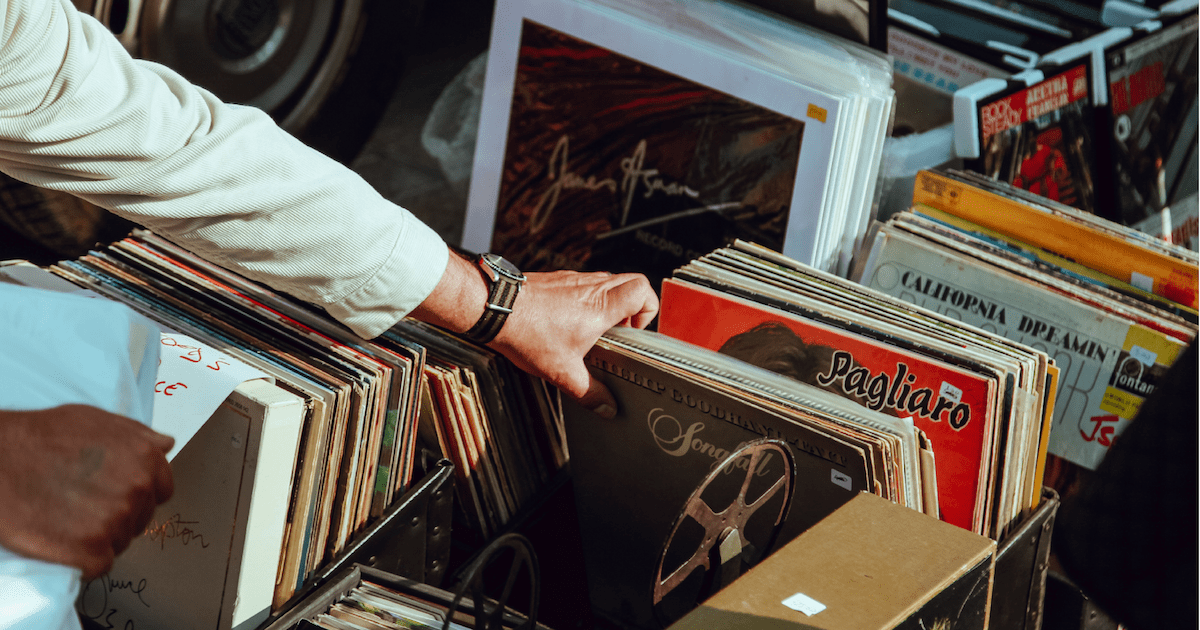 The music you like can say a lot about your personality.
So, it makes sense that a music streaming company like Spotify, which has data on every user's music preferences, would know a fair amount about its users.
But, what do you do with all of these customer insights?
Use them in your marketing of course!
Marketing is all about connecting with your customers (and prospective customers) in a way that matches their needs with your solution. That is why personalization is the key to marketing success.
With email marketing, personalization is even more important. This is because you are accessing a direct line of communication with your customer (as opposed to ads, which tend to be more general). By providing more relevant content, the recipient will be more likely to click through because his/her needs are more directly addressed.
If you take a look at Spotify's email marketing strategy, you will see this concept on full display. They leverage every bit of customer data that they have to provide a personalized email experience with the goal of driving in-app engagement.
You may be thinking, "Great, but we don't have anywhere near the amount of customer data that Spotify has."
That's okay!
In this email marketing case study, we will examine how Spotify uses personalization to create engaging email campaigns. Then, we will show you how you can apply some of these best practices to your own strategy, even if you don't have the seemingly endless mountains of customer data that Spotify has.
Email Marketing Best Practices from Spotify
Listening to Customers' Email Preferences
The best way to give your email subscribers what they want to ask them.
This may not seem very groundbreaking or exciting, but you would be surprised how many email marketers fail to give subscribers a say in the content they receive.
By giving contacts the choice to set preferences on the types of emails they want, it gives you insight into their interests. This lets you provide a more relevant experience with which contacts are more likely to engage.
Spotify does a really great job of letting users set their specific preferences on what types of emails they would like to receive.
By creating this extra layer of information on their users, Spotify makes sure that they are not wasting anyone's time or inbox space.
Key Takeaways:
Giving your customers a say in the email marketing process makes it easier to provide relevant content and increases the likelihood of engagement.
Contact preferences can also give you feedback on what topics your audience finds the most interesting. This can help determine future promotional offers and drive content development.
Sending relevant updates to customers
One of the best things about tracking customer data is having insights into what they like. Using these insights to send relevant emails to your contacts is the best way to increase engagement with your email marketing campaigns.
One example of how you can leverage these customer insights is to send them updates on topics with which they have engaged before.
In Spotify's case, this means keeping users up to date on all of the latest music from their favorite artists (did I just sounds like a Spotify commercial?).
Whenever an artist that you follow releases a new song or album, users get an email that looks like this: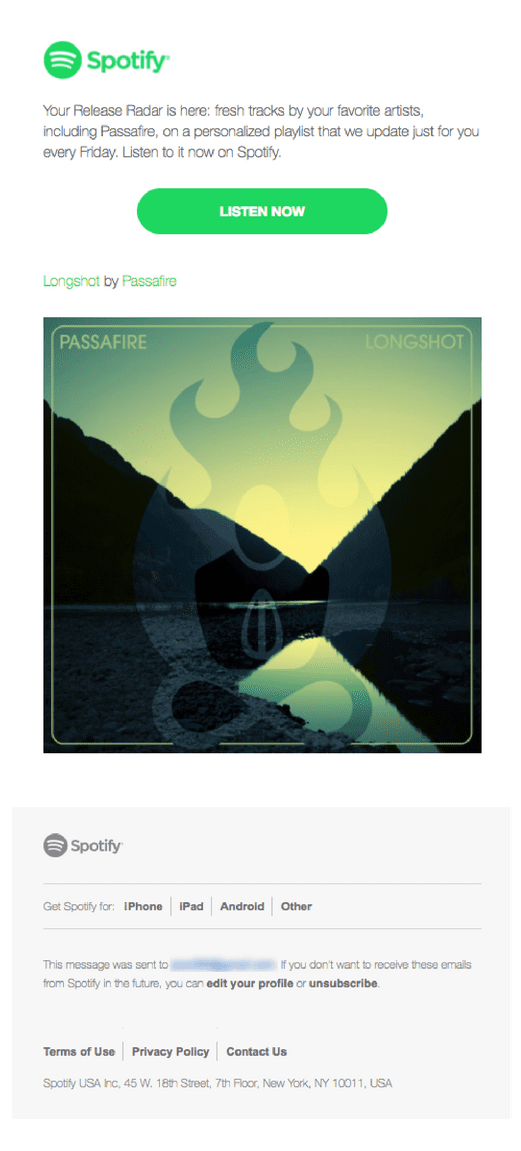 This is a great example of providing relevant and valuable information to a customer that drives them back to your product.
Key Takeaways:
Leverage customer data that you already have from their behavior to provide relevant updates.
Make sure updates are timely to improve your credibility and to ensure that customers actually receive value from the information.
Providing Value that Goes Beyond the Product
The goal of email marketing should always be to provide value to your subscribers. Valuable content makes your contacts happy and increases the likelihood of engagement.
But, many businesses still focus all of their email content on their own business objectives.
While this makes sense in a business sense, it can also be a good idea to add value outside of just bringing people back to your business. This can add to your credibility and make people want to engage more in the future.
One way to engage users beyond just driving them back to your business is to provide content about complementary products, events, or services. A great example of this is Spotify's "upcoming concerts" emails.
Every two weeks, Spotify sends users an email that looks like this:

The best part: Spotify uses your listening history and location to provide super relevant recommendations based on your preferences.
This is a great email because it helps users enjoy music even more (beyond using the Spotify app), and it provides an incentive for touring artists to have their music listed on Spotify. This builds up Spotify's overall credibility in the music industry and adds value to the user experience.
Not top shabby for a simple email.
Key Takeaways:
Position yourself as a leader in your industry by providing information that is complementary to your offering. (This could be as advanced as creating software integrations and partnerships to announce, or as simple as curating relevant content in a newsletter).
Always make sure that whatever content you include in your emails adds new value to the recipient's experience.
Promote partnerships that further enhance customer experience
So, by now it should be clear that you always want to find ways to add value to your contacts' experience when crafting email content.
In addition to providing information that engages customers outside of your particular offering, you can also provide content that lets customers engage directly with your business in new ways.
Spotify also does a great job of this. Part of their email marketing program involves sharing your registration information with qualified partners (only if you opt-in in your preferences of course). Here is an example: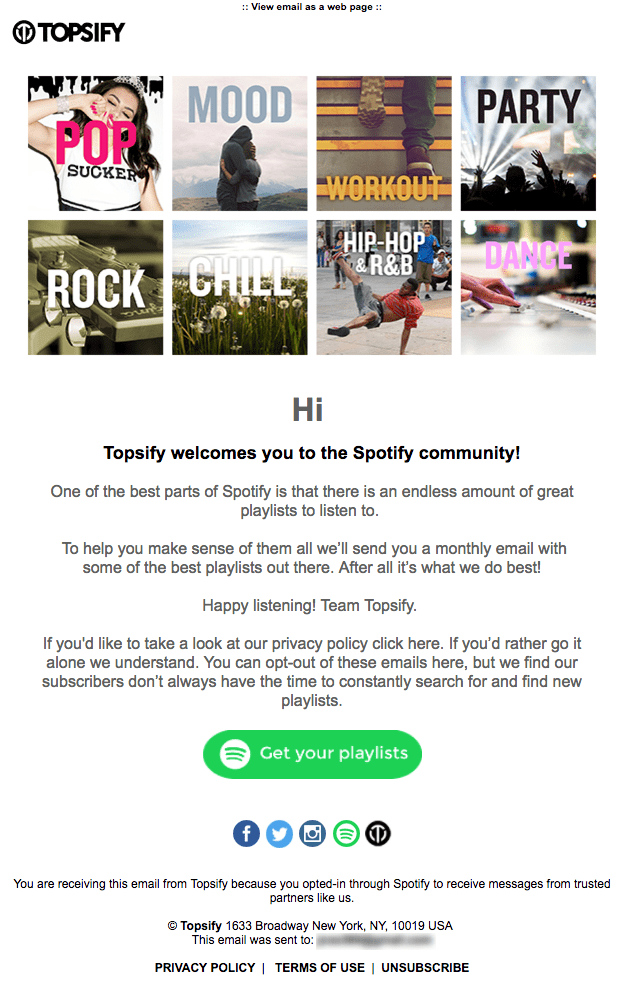 As you can see, this is an email that promotes a complementary product that has (presumably) partnered with Spotify.
Now there are a few things to note about this email:
It is not actually from Spotify, but rather an approved partner that serves a complementary function.
It was only received because I opted in to receive messages from "trusted partners," when I registered with Spotify.

The service (potentially) adds value to a Spotify user's experience with Spotify itself.
The reason that Spotify allows this service to email its contacts is that the other company's service (in this case, curating top playlists for Spotify users) actually drives their own user engagement.
It is also likely that Spotify is receiving payment from partners who wish to have access to their email contacts. That means they are driving user engagement and adding another revenue stream — definitely a big win for Spotify. It is also a win for Topsify because they now have access to tons of interested customers.
While allowing other companies (even if they complement your product) to contact your customers isn't usually a great idea, it can sometimes be a good marketing tool.
This is only possible if you are completely transparent about your intentions when contacts sign up for your email. Also, these promotions should always add real value to your customers' experience in a way that complements your business. If this isn't the case, you can expect a LOT of people to hit unsubscribe.
Key Takeaways:
When considering this type of email, make sure that your users have opted into this type of communication. This is especially true if you are allowing partner advertisers to contact your customers.
Make sure that the partnership satisfies your business goals and addresses your customers pain points. If the partner does not add value to your customers, there is definitely no point in emailing them about it.
Now It's Time for You to Ramp Up Your Email Marketing Personalization
One of the best ways to learn is by watching the pros — and email marketing is no different.
Spotify is one of the most popular apps in the world, and they do a great job of leveraging email to drive in-app engagement among users. By utilizing customer data, Spotify is able to increase the effectiveness of marketing emails by providing the most relevant content to users.
Although you may not have as much data on your customers, these examples should give you a better idea of how you can apply the same email marketing personalization principles to your campaigns.
Jumpstart your email strategy with Sendinblue
Free plan includes all core email features, 300 emails/day, 40+ email templates, signup forms, and access to forever-free Sales CRM to personalize emails with contact insights.