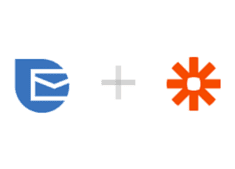 It's here! We're excited to announce a new integration between Sendinblue and Zapier. Now you can use Zapier to quickly and simply connect your favorite apps with Sendinblue! 
And there's even more good news: we've created a series of predefined integrations between Sendinblue and other popular apps to make your life even easier. Explore the possibilities here and let us know your favorite integrations by leaving a comment! 
What is Zapier? 
Zapier enables you to automate repetitive tasks between online apps (like Sendinblue, Salesforce, Basecamp and Gmail). This helps you use complementary apps side-by-side. And it's easy to setup, even if you have zero technical experience.
How can I use Zapier with Sendinblue?
There are many ways to use Zapier — you can integrate Sendinblue with hundreds of apps! Check out Zapier's application directory to see all available integrations. 
When you use Zapier to create connections between two apps, those connections are called "Zaps." Zaps are composed of two parts: an action and a trigger. For example, say you want to connect Shopify and Sendinblue: 
Trigger: an event in Shopify occurs, such as adding a new customer to your Shopify store
Action: this triggers an automatic action in Sendinblue, such adding the new customer to a specific Sendinblue contact list 
Currently, there are several available Sendinblue triggers and actions:
Sendinblue Triggers
New Subscriber – Triggers when a new subscriber is added to a list.
New Campaign – Triggers when a new campaign is created on your Sendinblue account.
Sendinblue Actions
Add Subscriber – Add a new subscriber to a specific list
Some Shared Example Zaps
Curious how other users are using Zapier to connect with Sendinblue? Here are some recent Zaps created by Sendinblue users just like you!

Ready to Get Started?
Now that you've been inspired by other users, it's time to get creative with your own Zaps! First, create a Zapier account — you'll get access to all available app integrations.   Next, add your Sendinblue account to Zapier. (You'll be asked to login to Sendinblue and insert a Sendinblue API Key associated with your account.) Then you'll be ready to connect Sendinblue to a library of apps available through Zapier!  For more details about getting started, check out this helpful guide on the Zapier Help Center.