Interactive questionnaires or email surveys can be the perfect tool for building a bigger audience and engaging with current subscribers and customers.
By creating authentic, engaging, and personalized interactions with your subscribers through email surveys, quizzes, or other interactive forms, you can collect valuable insights. This data can guide the continued improvement of your product or service, email campaigns, lead conversion, and customer relationships.
Did you know that interactive content generates DOUBLE the amount of conversions, compared to passive or static content?
Despite great engagement, it can still be difficult to follow through with these lead interactions. Many marketers spend a lot of time building surveys to learn more about leads or customers but don't have the time to follow up on the analysis or use any of the insights gleaned from this engagement.
With forms, surveys, and other types of interactive content used to collect emails, it often takes time and planning to perform this analysis. You have to store the collected data, aggregate and analyze the results, distill the results, and then factor in the right marketing tools to do the follow-up!
Luckily for us, there are helpful software integrations that will do some of this work for us!
The Basics of the Sendinblue/Survey Anyplace Integration
About Sendinblue
Sendinblue empowers businesses to build and grow relationships through marketing campaigns, transactional messaging and marketing automation. The platform combines a robust suite of email and SMS messaging services within a single, user-friendly solution.
About Survey Anyplace
With a survey maker like Survey Anyplace you can say goodbye to boring surveys. The questionnaire tool allows you to build interactive, enticing surveys, quizzes, and assessments or forms that will get you better engagement and data in return.
The connection between Sendinblue and Survey Anyplace is set up through Zapier, which is a tool used for pushing data between different applications via their APIs.
Zapier functions off of triggers that initiate data transfers between the connected apps. These transfers are known as "zaps."
As soon as an action activates the zap's trigger, it will push all the necessary data to the connected app. In the case of Sendinblue and Survey Anyplace, the trigger occurs when a survey response is submitted. After that, the zap sends the submitted data automatically to your Sendinblue contact database.
How to connect Sendinblue to Survey Anyplace
For this setup, you'll need to create accounts with Sendinblue, Survey Anyplace, and Zapier. As soon as those are up and running, you're ready to get started.
1. Create your survey & activate the Zapier integration
You'll want to start by creating a survey. Surveys can be used for:
Lead generation magnets (interactive quizzes, content downloads)
Community engagement (triggering targeted marketing automation workflows, customer feedback survey)
Once you have this created, you can use the URL of the survey as the identifier to set up your zap.
Based on the questions you ask in your survey, you'll be able to enrich your contact with all kinds of additional data (location, industry, company size, etc.).
Within the integrations section of your survey, you'll find the zap template for Sendinblue already waiting for you!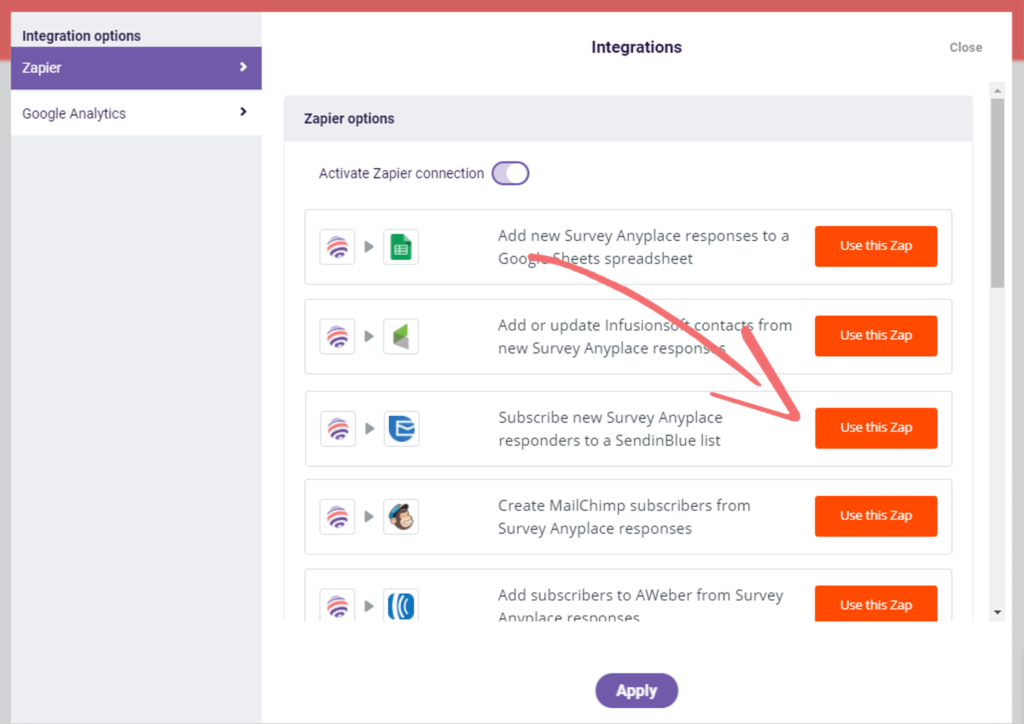 2. Create your zap
Clicking on this template brings you directly to the editor page in Zapier. From here, you can set up the specifics for your connection between Survey Anyplace and Sendinblue.
Obviously, you should select survey response as your trigger for the zap.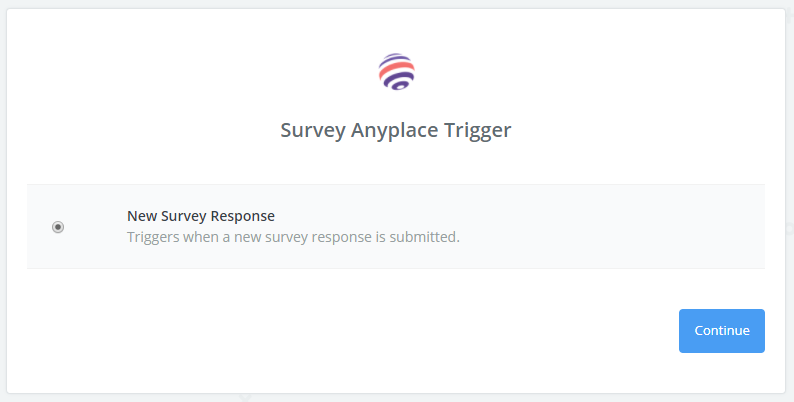 After that, just choose the correct survey that you want to connect to Sendinblue. Thankfully, the titles of your surveys will appear in a handy little drop-down menu.
Important note: You'll need to have a submitted sample answer added to your survey so that Zapier can easily test the connection with Sendinblue. For the purposes of this tutorial, I created a response from our fictional friend "Chris," so you'll be seeing him appear in a few of the screenshots below.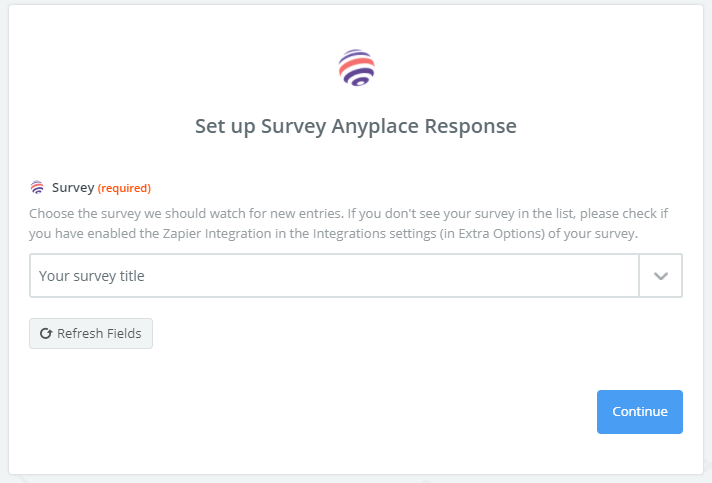 With that, step one of your zap is completed!
The second part of the zap requires you to specify the action to take in Sendinblue after the trigger. Because this is a template, you only have one option: "Add Subscriber."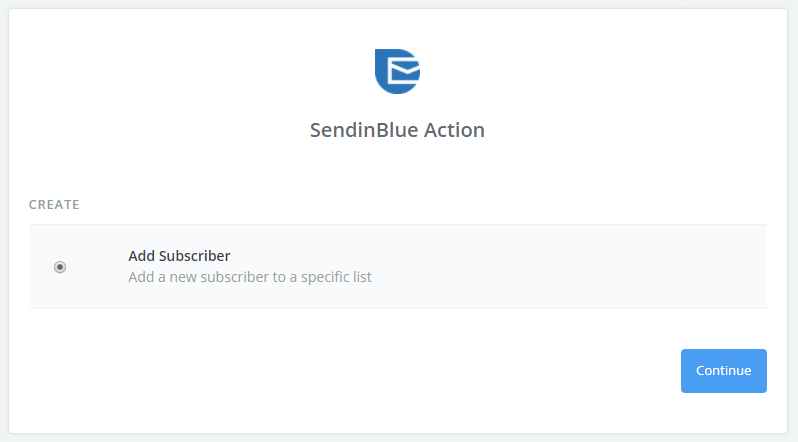 If you haven't worked with Zapier yet, you might need to authorize the app to connect to your Sendinblue account. You can do this by retrieving your Sendinblue API key and adding it to the field.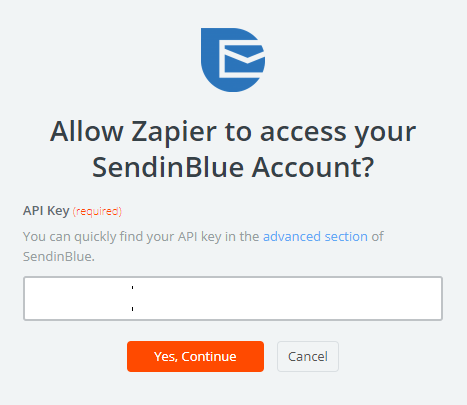 After connecting your Sendinblue account, you can start setting up the template to assign each of the responses from Survey Anyplace to an attribute in Sendinblue.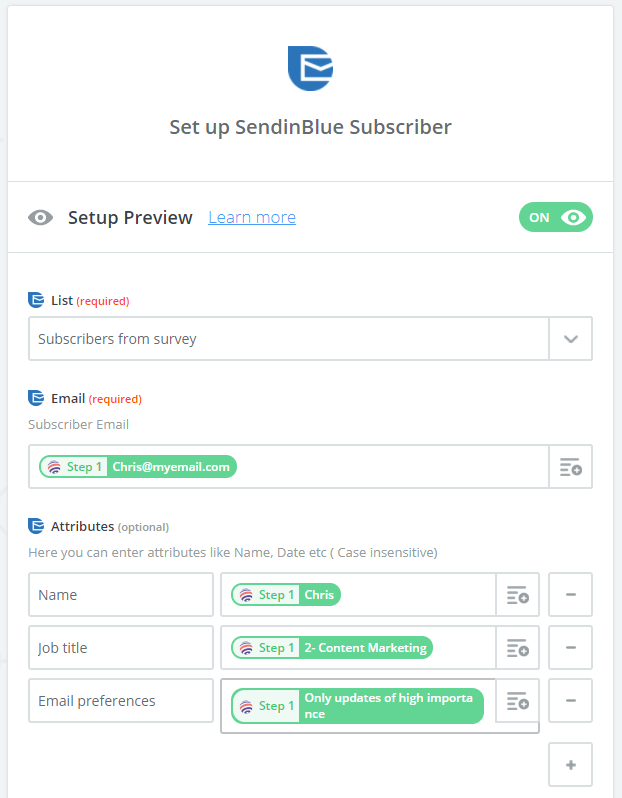 Consider the example above. I have a 3-question survey that asks a contact for first name, work title, and their preferred frequency of receiving emails.
After selecting the target list to which I want to add my new contacts and mapping the contact attributes to the responses, my newly created template returns a test that looks like this: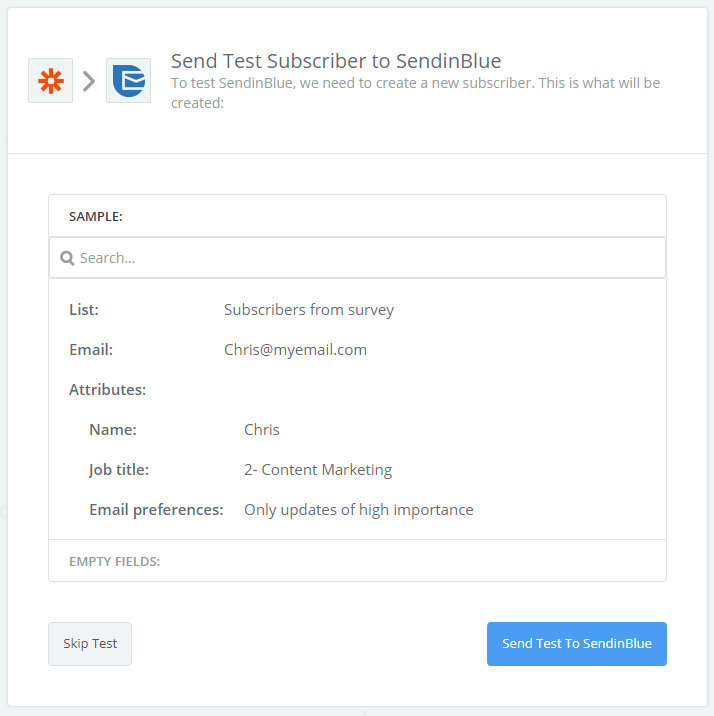 All from a single survey response!
3. Activate your zap & check the result
After connecting the different responses to the target attributes in your Sendinblue contact database, you should be ready to go. The only thing left to do is to activate the zap!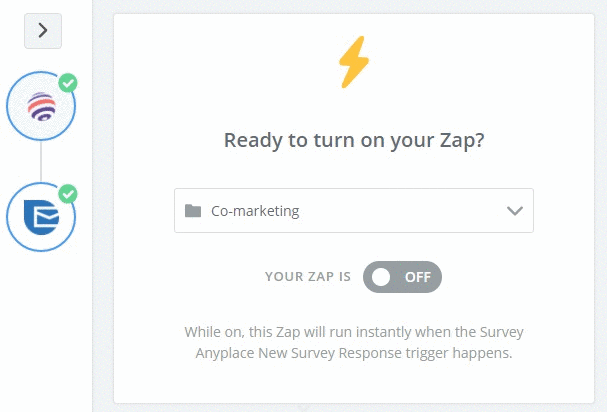 You can now log into your Sendinblue account to make sure that the test contact was properly added to the list in your contact database. Hey, there's Chris again 😉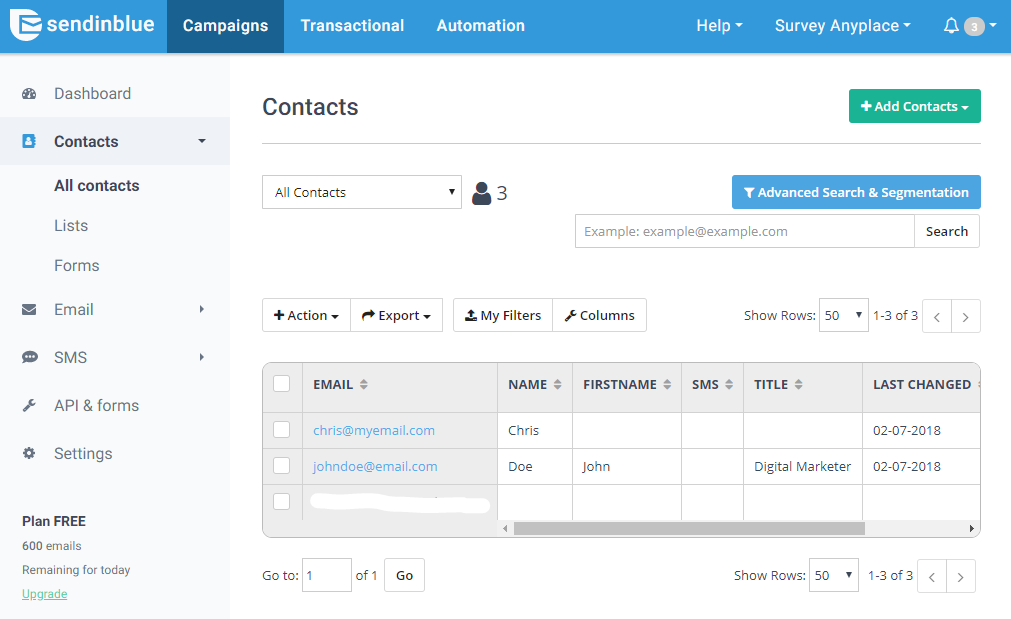 Piece of cake!
What makes the integration so useful?
It will not only allow you to build your email list, it's also a great way to enrich your user data with new survey responses.
The integration can help you register preferences based on given answers to build even more personalized email marketing campaigns through segmentation.
You can also use Sendinblue's marketing automation feature in conjunction with your survey zap to trigger even more complex automation workflows like lead scoring.
About the author
Sofie Nelen is a Digital Marketer for
Survey Anyplace
. She loves working out new tips and ideas that can make content more interactive and marketing more efficient. She's ever curious for new ways to automate marketing processes and hack growth.