Don't you wish you could just send your email at the optimal send time for each of your contacts to increase the likelihood of engagement?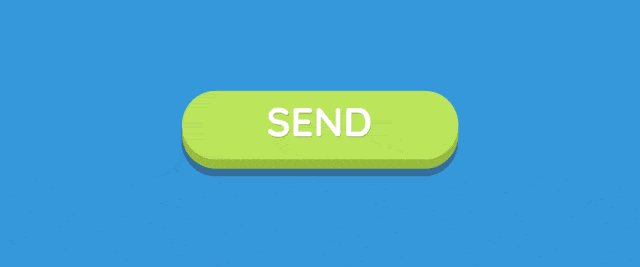 Now it's possible to do exactly that with the click of a button using our latest feature: machine learning-powered email Send Time Optimization!

Send your email campaign at the perfect time
Whether you're managing a monthly newsletter or daily promotional campaigns, it's very important to send your emails at the right time. Too early and it will drown in the daily email deluge of your inbox competitors, too late and it might not be opened at the opportune moment!
The new feature "Send Time Optimization" solves this problem without you having to do any work or planning beforehand by simply "learning" the best time to send to each of your individual contacts based on their past behavior.
It does this by essentially examining when each of your contacts open messages they receive in the inbox and using this information to determine the best time to send to that individual for optimal engagement.
When selecting "send at the best time" option at the time of scheduling your campaign, Sendinblue will automatically choose the best time within a 24 hour window to send you campaign to each of your contacts based on the analysis described above. That means you'll no longer have to worry about when you should be scheduling your campaigns to be sent to your entire list in order to get the most engagement — which can take time to learn and perfect. Let our machine learning algorithms do the work for you!
The result? Your campaigns will be sent out to each of your contacts at the perfect moment to encourage more opens and clicks — ultimately driving more conversions and revenue for your business.
How to use "Send Time Optimization" in Sendinblue
After creating your email campaign and selecting which email contact list or list segment you want to receive your campaign, click on the "Schedule" button on the confirmation page.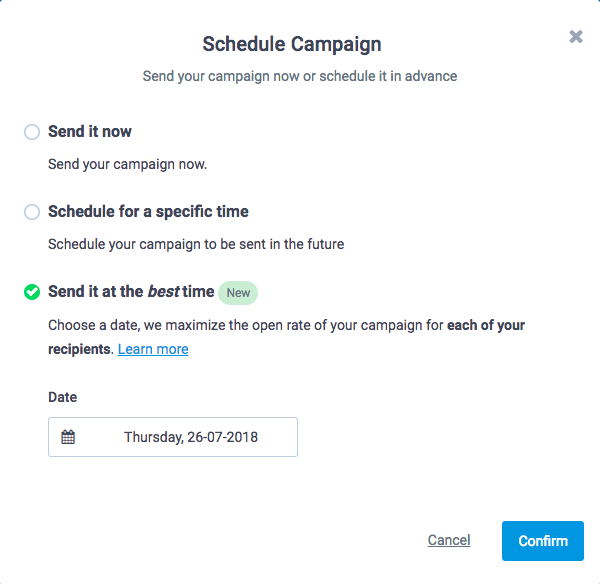 From the "Schedule" menu, you will still be able to select the legacy options of sending your campaign immediately or scheduling the entire campaign to be sent at a specific time on a specific date. But you will also notice an option to "Send it at the best time," which prompts Sendinblue to use the available data for each of your contacts in order to calculate the optimal send time for that recipient:
If your contact has received campaigns from you in the past, the feature uses the information related to these past campaigns to determine an optimal send time and send your message accordingly.
If your contact is new and has never received an email campaign from you, your message will be sent according to an aggregate "optimal send time" that is based on the majority of your contacts' previous engagement. In time, the feature will gather individual data on this contact as well, developing a more precise optimal send time for your future emails.
If this is your first email campaign using the Sendinblue platform, we recommend that you send your campaign in bulk at a scheduled time rather than using this feature. It's better to let the system learn more about your contacts and how they behave if you want to see the best results.
Conclusion
If you want to learn more about the Send Time Optimization feature in Sendinblue, read our detailed tutorial on the topic in the Sendinblue Help Center.
Get started with Sendinblue today and start optimizing the timing of your emails!