Reading time about 10 min

Getting the results you want when you're emailing leads can sometimes feel impossible. How do you get people to open your emails? What do you need to do to get them to click and convert?
Whether you're a professional salesperson or just writing your first sales emails, the right sales email sequence is essential.
A great email sequence can set the stage for valuable calls and meetings. Emails can build strong relationships and customer trust, as well as bringing more revenue to your business.
In this guide you'll learn how to write a sales email sequence that will help you build your sales funnel and get results.
The secret to sales emails that sell
Getting sales isn't easy. There is a lot of multitasking and time management. It takes a toll, reaching out every day to cold leads who aren't interested, or even polite sometimes!
There's just one secret to great sales emails: Start with what your customer wants.
You know the hardest part of your day. How much do you know about the hardest part of your target audience's day? If you're sending the same email to every contact, it will be tough to find success with your emails.
You need to know who your contact is so that you can understand their problems and offer your product as a solution. Keep in mind, B2B and B2C are different.
B2B versus B2C
B2B is more transactional. You need to know enough about the person you're emailing to send them an offer that's worth their time. Your offer needs to provide value to both the company they work for and to your contact in their particular role.
For B2C, it's about the offer for the recipient. You also want to build trust with every email. To do this, include believable research in your emails.
And yes, this takes some time. If your list is too big to do research on each individual, do some industry-specific research. This little bit of homework about what that contact is doing and why will help you segment your lists to get your messaging right.
With Sendinblue, you can use dynamic segmentation to segment your lists. This handy automation makes targeting future emails easier and faster.
Don't use a sales email template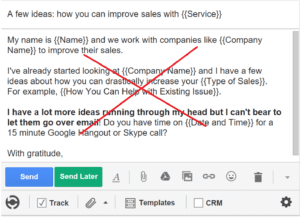 If you really read them, most email templates don't really say anything. Templates are easy and polite, but at the end of the day, it feels like a template, which means most people check out before they get your message. 
Instead, start a collection of emails you like. Read these before you begin writing to get inspired.
Another suggestion? Voice type your sales email.
If you're a great salesperson, chances are you're better at connecting with a person over a quick conversation than writing long emails or reports.
Voice typing your first draft is a great way to get out your best pitch. Those ideas that are easy to forget when you're worrying about writing a perfect sentence or avoiding spelling errors.
It's easy to voice type with most word processing tools. In Google Docs, go to Tools > Voice Typing. When the microphone turns red, you're recording!
A few more important things to consider as you write your sales email sequence:
1. Email subject line
Start your sales email with your subject line. You will probably rewrite it, but your subject should inspire, not summarize, the message in your email.
As you write your subject line and preview text, think about different inboxes. It's not just the subject line, but the way the subject line, preheader, and the first line of your email work together to form a first impression.
You'll also want to think about how your email might look in different inboxes. Be sure to look at every email on mobile before sending. If your email looks too long on mobile it's too long.
2. Email Structure
Many sales people approach email structure like a high school english paper. It makes sense to fall back on habit, but you'll want to rethink this if you want sales emails that sell.
Sales email structure should include only two things:
How you can give your customer what they want
Why they should believe you
If you have a little extra room, the rest of your email should anticipate and erase any objections.
Some people write better. when they say more and edit down, others like to get it all down at once and refine.
A great sales email is as short as possible. Start with the bare minimum you think you need to include in your email and then do the Coco Chanel trick- remove one more thing.
3. Make a connection 
Whether you tell a short story or send them a compliment, you want to connect to your email recipient right away. This is where your research is essential.
Some other ideas to make an immediate connection:
Share something interesting and personal
Share why they stood out to you
Talk about a time you saw their company mentioned in conversation or while traveling
Mention a mutual acquaintance or group you're both part of
4. Call to action: One email, one goal
Always include one simple call to action. The best CTA will make complex requests simple. You want to do the work for your lead so they don't have to.
As you write your CTA, think about where you want your reader to click and why they would click. Then, make sure you create a great experience after clicking.
For example, if you want to schedule a meeting, include a link that makes it simple to schedule a time to meet. If you want them to sign up for a trial, send them to a simple landing page that doesn't have a lot of extra information. You want the experience to feel easy and seamless.
Also important – include a deadline for your CTA and let the recipient know what will happen afer that deadline, then stick to it. 
5. Write the right cold email
B2B buyers receive hundreds of sales emails every day. B2C buyers get more emails than they know what to do with. It can sometimes feel like you have to close the sale on the first email. 
That might happen every once in a while, but the best sales email sequences give your leads a little more time. For a great cold email, there's just one question you want to answer. 
How can your first sales email help you learn more about your prospect?
Make that your single goal, and you'll get more responses and warmer leads.
Sales emails for emailing leads
You've gotten it before. Someone signs up for your list, you send your first email, and then get an outraged email in return.
Leads forget they've signed up all the time, and when you're emailing leads you need to find a way to:
Remind them why they signed up 
Get them excited again
As you write your first email to a "warm' lead, make your subject line about the one thing you want your lead to get from your email.
If you want your leads to sign up for a trial, focus on a specific problem that leads can solve during their trial.
For example, say your lead responded to a lead magnet about Google Ads for their ecommerce site. In your first sales email, send them instructions for how to update their Google Ads from your dashboard. This immediately gives them personalized information that they can use.
How to write a great sales follow up email
Timing is everything for a great sales follow up email. You'll want to use email marketing automation to make sure you're reaching out to your leads at the right time.
If your leads are opening emails more than once, or clicking links and attachments, that's a sign it's time to follow up.
As you write your follow up emails, think about where your sales emails fit in your buyer journey.
What other emails are they getting from your company right now? How did this lead get to you and where do you want them to go next?
If you're emailing a big list, spend more time personalizing your follow up email than you did on the first big send. Then, show your lead that you've done a little more research so you have something to offer that they want.
Here are a few things you can offer in a follow up sales email:
Send a video. Your email will hit more inboxes if you add a video to an image instead of embedding the video.
Offer to promote their product on social media
Share helpful articles, advice, or books to help them solve a problem
Provide an introduction to someone that could help them out
Offer feedback on a new product or service
Putting it all together
A sales email sequence is just that – a sequence. Each sales email in your sequence should come together to form something greater than your individual emails can be on their own.
Each email should offer something more useful and targeted until your lead is ready for a conversation.
To start, you'll want 3-5 emails that run over 1-4 weeks. Then track your results and adjust based on what works best for your audience.
You can automate your sales emails, but it's best to do things manually until you have a strong understanding of how our emails are performing.
Sales Email 1
This is a cold email. You probably got this lead from a paid list, so you don't know much yet.
What's really important here is getting some information about this lead. That way, you can start to segment and personalize your next emails.
Sales Email 2
Now you're emailing leads, not just a random person from a huge list. In this email, you'll want to focus on a problem that many leads have, and show how your product can solve the problem.
Sales Email 3
If your lead is still on your list, but you haven't had a conversation or conversion, it's time to dig into some research. Who is this lead? Where do they work? What is their role and how would they use your products? Tailor your sales email to their wants and needs.
If this doesn't work the first time, approach their role from another angle, and offer something extra.
This email should absolutely include a deadline, and what will happen next if they don't respond.
Sales Email 4
This is the final email in your sequence. It should be gentle but honest, and include one more offer to get a conversation started. This email should also help your lead understand what communication they can expect from you in the future.
You've written your sales sequence! Be sure to test it to make sure everything looks and sounds good on multiple devices. Then, get ready for conversions!
Jumpstart your sales email strategy with Sendinblue
Free plan includes access to all core email features, 300 emails/day, 70+ email templates, and customizable signup forms to grow your email list.