Mother's Day email marketing campaigns are a nice way to connect with your customers and drive purchases by helping them choose the perfect gift for their mothers.
It's that time of year again… The frantic scramble to find the perfect gift that says, "Thanks for putting up with me all these years, mom… and sorry I never call."
It's time to start preparing your Mother's Day email marketing strategy to help those of us, myself very much included, who are gift-giving-challenged.
But sending an effective Mother's Day email is no walk in the park.
The goal should always be to provide your customers with useful information to help them find the right gift. Like any other holiday email campaign, you have to find the right balance between being helpful and being promotional.
With that in mind, we put together 4 Mother's Day email marketing tips to help you create an email campaign that is sure to delight your contacts.
How to create an effective Mother's Day email campaign
As we said, it's important to strike the right tone between helpful and promotional with your Mother's Day email marketing.
To achieve that, here are a few things you should consider including in your strategy:
1. Give readers gift ideas
One of the hardest things about Mother's Day (at least for me) is finding the right gift.
There are so many options out there, and moms are always too nice to tell you what they want. But, we all know those clay pots we made in first grade won't last forever, so something's gotta give.
That's why email is the perfect opportunity to help your customers with this problem. Use the content of your email to highlight products in your store that would make a good Mother's Day gift. This eliminates the decision work for your customers and makes it much easier for them to buy something.

In the example above from Forever 21, they do a nice job of showing off products that would make great gifts. They also include the price, making the email content even more actionable to the consumer.
2. Focus on outcomes or benefits
While including gift ideas is great, you can do even more to help people make the right gift decisions.
When people are shopping for gifts, sometimes it can be hard to match a product with a person. To help with this, focus your copy on how the product is used or what benefits it provides.

You can see how Apple highlights each of their products as a possible gift idea. But, instead of including the price, they include text that highlights why the product would make a good gift for mom.
This is a great psychological tactic for increasing purchases. The idea is that by highlighting the benefits of the product, readers will match that benefit with the gift recipient (i.e. their mom). Of course, everyone wants their mom to stay "active, motivated, and in the know," so they're going to read that and want to purchase it for their mother.
You can do the same thing with your business by focusing on the positive aspects of receiving your product as a gift.
3. Use simplicity and personalization
If you offer a wide variety of products, it might not be the best idea to simply showcase all of your products as gift ideas. Instead, you should simplify the process as much as possible.
There are two ways that you can do this:
Email List Segmentation: Send different emails to different groups of customers based on their interests, behavior, or demographics.
Personalized recommendations: Take in user input on what they're looking for in a gift and provide recommendations that are more targeted.
Because people are shopping for someone else rather than themselves on Mother's Day, it's probably better to go with the second option.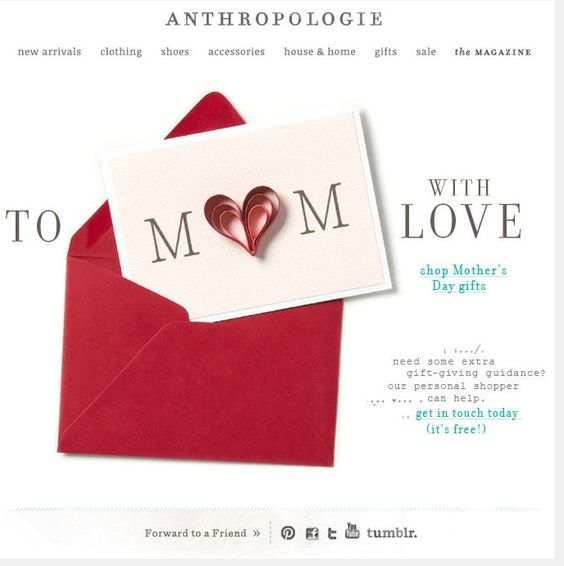 Anthropologie's email is very simplistic, but they do a nice job of highlighting their free personal shopper service. This is an excellent example of focusing on helping customers rather than being promotional.
If you can't afford to personally help customers with their shopping, you can still create a similar solution with better scale. Use a landing page that categorizes your products neatly with navigation to help guide customers to the right option.
4. Use humor in your Mother's Day email
Making people smile is one of the best ways to increase email engagement. Mother's Day is no different.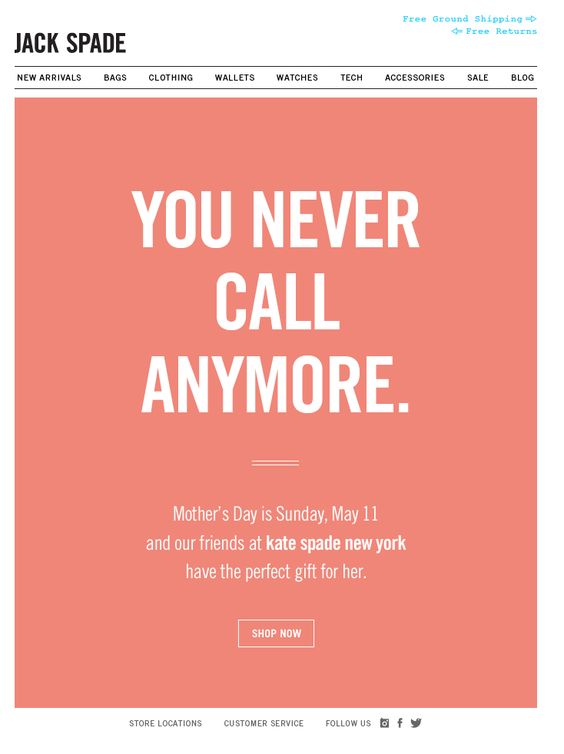 Here you can see a very simple email with a clear call-to-action example. The text is light-hearted and also a not-so-subtle reminder that the reader needs to buy a Mother's Day gift.
Anytime you can inject a little humor and personality into your emails is great because it humanizes your brand, disarms the reader, and comes off as less promotional. This can go a long way in boosting your conversions.
Send your Mother's Day email campaign with Sendinblue
Hopefully, these examples gave you some inspiration on how you can boost Mother's Day sales by helping your readers find what they're looking for!
If you're looking for an affordable email marketing service to send your Mother's Day email blast, check out Sendinblue. Get the most out of your email campaigns with our advanced email marketing and deliverability features.
Take Sendinblue for a test-drive and send up to 300 emails per day on our free plan.
For more marketing tips, subscribe to our newsletter and follow us on Twitter.