Reading time about 17 min

It might be the most well known brand in the email marketing world but before hopping on the bandwagon, have you had a look at Mailchimp alternatives? Whether it's your first foray into email marketing or you're switching services, here are 8 Mailchimp competitors that could be your ticket to major business growth.
Since its arrival back in 2001, Mailchimp has built up one hell of a reputation. Of course, it's easy to be drawn in by the power of a brand…but this can mean missing out on a better deal elsewhere.
Because here's the thing: there are literally hundreds of Mailchimp competitors on the market today – the comparison site Email Vendor Selection showcases an overwhelming 425 of them on its list of email service providers ?.
In 2021, email marketing is a competitive and innovative space. If Mailchimp doesn't have that one feature you really need (and at the right price), chances are someone else has. You maybe just haven't heard of them yet.
The ESP that ticks all the boxes is going to be most effective in growing your business. That's why you should always shop around to find that best fit.
To help you see what else is out there, we've put together 8 of the best Mailchimp alternatives, highlighting the key features you won't find with Mailchimp.
Ready? Let's see who made the cut.
Mailchimp Alternative #1: Sendinblue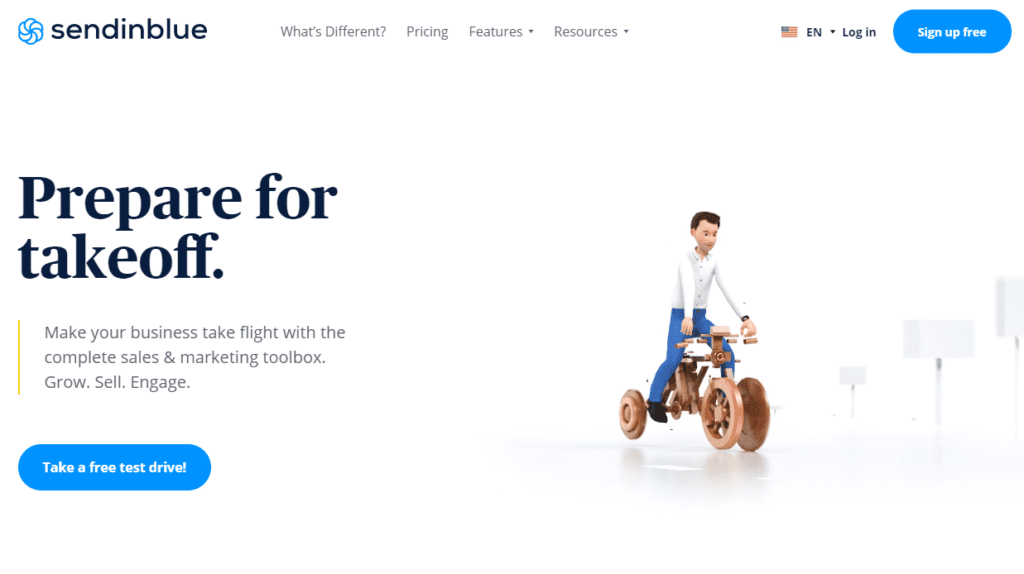 Sendinblue offers a robust email marketing service as part of its all-in-one sales and marketing toolbox. Alongside all the necessary email marketing tools, you'll also get marketing automation, CRM, SMS, chat, and Facebook ad features.
Here's what users love about Sendinblue as a Mailchimp alternative:
Pricing based on the number of emails, not contacts: Sendinblue lets you store an unlimited number of contacts across all its plans. No matter how big your email list grows, this will not impact the pricing. Mailchimp, on the other hand, charges per contact stored and once a contact is on two lists, it counts as two contacts. As one user describes Sendinblue: "No need to worry about growing your database and seeing your costs explode."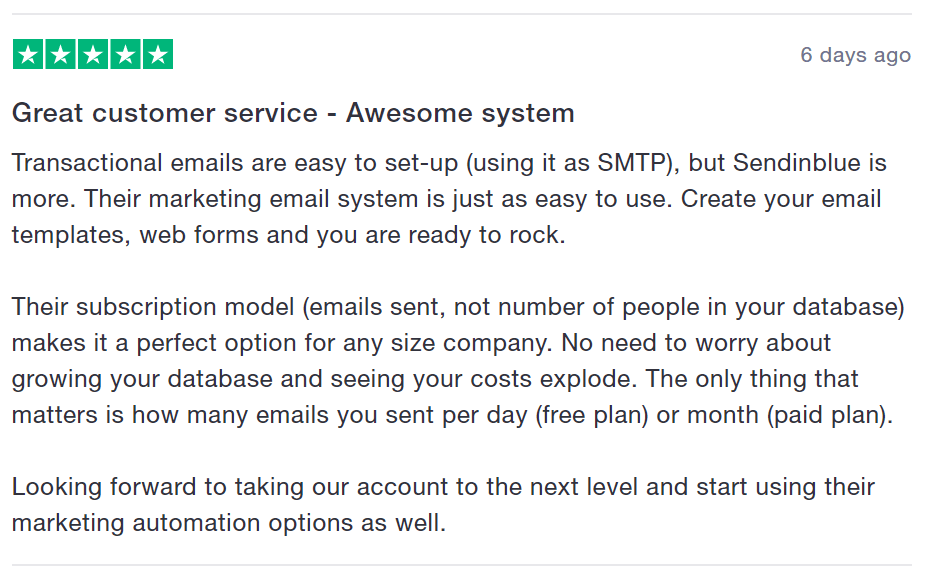 Sendinblue review on TrustPilot. See more Sendinblue reviews here.
Transactional emails included in each plan: You can send transactional emails (like order confirmations, shipping notifications, password resets, etc.) over Sendinblue's SMTP server as part of your monthly plan. With Mailchimp, the transactional SMTP/API is a paid add-on on top of your existing plan.
Sendinblue is cheaper for high volume senders: If you're sending bulk emails to a large number of contacts each month, there are some serious savings to be made with Sendinblue. It can work out up to 4 times cheaper than Mailchimp in certain cases. For example, take a monthly newsletter sent out to 75, 000 contacts. This'll cost $66 with Sendinblue but $399 with Mailchimp. ?
Sendinblue Pricing
If you want a cheaper alternative to Mailchimp, you can easily test-drive Sendinblue by signing up to the free plan which lets you send 300 emails/day. Paid plans then start at $25 for 40,000 emails/month. The number of contacts is unlimited and doesn't affect the price.
| | | |
| --- | --- | --- |
| Sendinblue | No. of emails | Subscribers |
| Free | 300/day | Unlimited |
| $25 | 40,000/month | Unlimited |
| $39 | 60,000/month | Unlimited |
| $66 | 120,000/month | Unlimited |
| $173 | 350,000/month | Unlimited |
Read our Sendinblue vs Mailchimp guide for a detailed comparison of pricing and features.
2. ConvertKit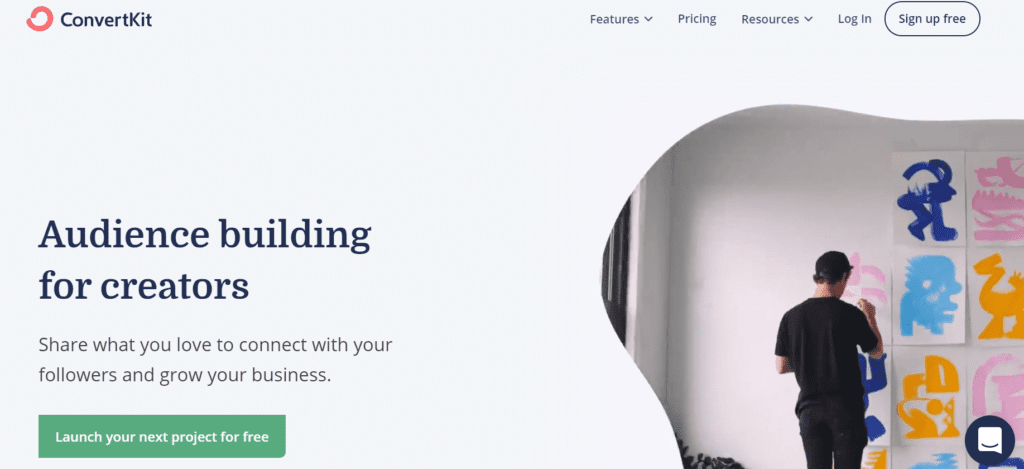 Convertkit promotes itself as the email platform for creators – bloggers, artists, musicians, Youtubers – basically anyone running a creative business.
What stands out about the brand (and what's pretty cool, actually) is that the Convertkit team itself is full of creators. As a result, their email marketing tool is optimized with this audience in mind.
Here's why you might prefer Convertkit to Mailchimp:
Access to an online creator community: Convertkit has built a large online community around its product. If you like the idea of connecting with and getting support from other creators, then you'll be very much at home here.
Create multiple forms for different opt-in incentives: Convertkit lets you create an unlimited number of custom opt-in incentive forms for all your different content assets. It's super easy to create a new form and add your content upgrade — cheat sheet, ebook, or whatever it may be — to the confirmation email. Content upgrades are an effective email list building tactic.
Concierge migration service: If you have over 5000 subscribers, the team will help you move from your current service for free.
Convertkit Pricing
Convertkit has a free plan for up to 1000 subscribers. Pricing after that starts at $29 for 1000+ subscribers.
| | | |
| --- | --- | --- |
| Convertkit | No. of emails | Subscribers |
| Free | Unlimited | 1000 |
| $29 | Unlimited | 1000+ |
| $49 | Unlimited | 3000 |
| $79 | Unlimited | 5000 |
| $179 | Unlimited | 20,000 |
| $499 | Unlimited | 75,000 |
Their pricing calculator goes all the way up to $3,999 for 900,000 subscribers. Anything above that requires a custom quote.
3. HubSpot Email Marketing
If you want a tool that will power up more than just your email marketing, HubSpot is a great Mailchimp alternative to consider. HubSpot's email marketing tool uses marketing automation and CRM, backed with a full suite of marketing tools, to help you create unique, personalized experiences for your audience.
Here's why HubSpot is one of the best alternatives to Mailchimp:
Marketing automation: HubSpot's automation features go well beyond simple autoresponders. While Mailchimp offers automated kickback emails and drip campaigns, HubSpot lets you create automation workflows to manage your contact database, pass off leads to other teams, and even automatically create support tickets. You can also add delays and conditional logic.
Growth platform: As we mentioned before, HubSpot is much more than just email. With forms and popups, live chat and bots, ad management, landing pages, and more, HubSpot has everything you need to kick off your marketing strategy, as well as more advanced features that you can grow into. HubSpot also supports your sales and customer service teams for a seamless cross-functional customer experience.
More languages: HubSpot supports six languages (English, German, French, Spanish, Portuguese, and Japanese) while Mailchimp only supports English.
HubSpot Pricing
HubSpot has a free plan that allows you to send up to 2,000 emails per month. After that, pricing starts at $50 per month and the number of emails you can send will depend on your contact tier.
| | | |
| --- | --- | --- |
| HubSpot | No. of emails | Subscribers |
| Free | 2,000 | Unlimited |
| $50 | 5x contact tier | 1,000+ |
| $800 | 10x contact tier | 1,000+ |
| $3,200 | 10x contact tier | 10,000+ |
Each paid plan includes HubSpot's full suite of marketing tools and advanced features.
4. Privy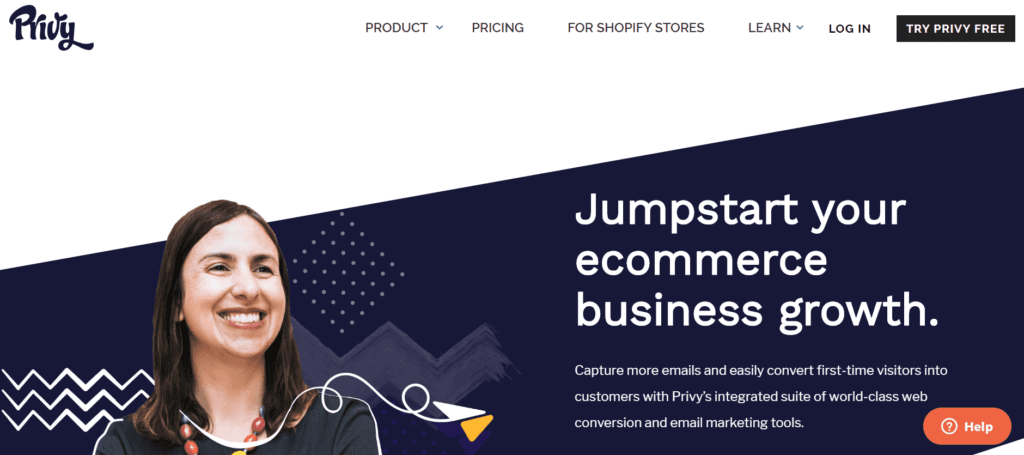 Privy was built with ecommerce businesses in mind. Their product offers on-site displays, email marketing, and SMS messaging. With Privy you can expect to increase sales through abandoned cart emails, landing pages, embedded forms, pop ups, and on-site banners.
Here's why you might prefer Privy as an alternative to Mailchimp:
Set up workflows to engage new signups: Privy lets you automatically sync new sign ups to email, SMS, loyalty, and retargeting platforms. This provides an integrated approach to customer engagement.
Easy integration with ecommerce platforms: Since Mailchimp no longer has a native integration with Shopify, you need to go through a third party or use custom code to connect Mailchimp to Shopify. Connecting Privy to Shopify is a lot less hassle. Privy is a certified Shopify partner and integrates seamlessly with Shopify and other platforms like BigCommerce.
Privy is a good call if you want a Mailchimp alternative that also has lots of options for optimizing the conversion rate of your ecommerce website.
Privy Pricing
Privy offers a 15 day free trial.
Pricing for Privy email marketing starts at $10 a month for 1000 subscribers. The onsite display features will be an added cost on top of this.
| | | |
| --- | --- | --- |
| Privy | No. of emails | Subscribers |
| $10 | Unlimited | 1000 |
| $15 | Unlimited | 2000 |
| $30 | Unlimited | 5000 |
| $155 | Unlimited | 30,000 |
| $505 | Unlimited | 100,000 |
| $1005 | Unlimited | 200,000 |
5. Aweber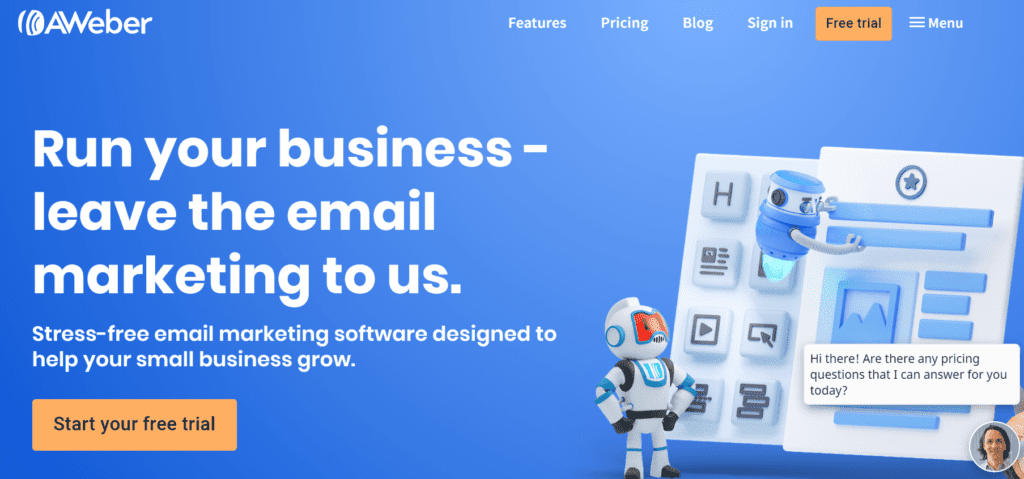 Aweber has been around since 1998 and is still a popular email marketing service for small businesses, bloggers, and entrepreneurs. It offers a huge gallery of ready-made email templates and gives lots of options for email automation and personalization.
Here's why Aweber is one of the best Mailchimp alternatives:
An all-inclusive pricing model: With Aweber you get access to all features, no matter what plan you're on. With Mailchimp, a limited number of features are available on the cheaper plans. For example, A/B testing and advanced segmentation are only available as you move up the different pricing tiers.
Customer support via phone, chat and email: Aweber customers have a number of options to contact its award-winning customer support 24/7. Mailchimp, on the other hand, has no direct contact support options for its free users, and phone support is a luxury that's only available on the premium plan (starting at $299).
Aweber Pricing
Aweber offers a 30 day free trial. After that, prices range from $19 for up to 500 subscribers, $149 for 25,000 subscribers, to a custom quote for over 25,000 subscribers.
| | | |
| --- | --- | --- |
| Aweber | No. of emails | Subscribers |
| $19 | Unlimited | 500 |
| $29 | Unlimited | 2500 |
| $49 | Unlimited | 5000 |
| $69 | Unlimited | 10,000 |
| $149 | Unlimited | 25,000 |
6. Klaviyo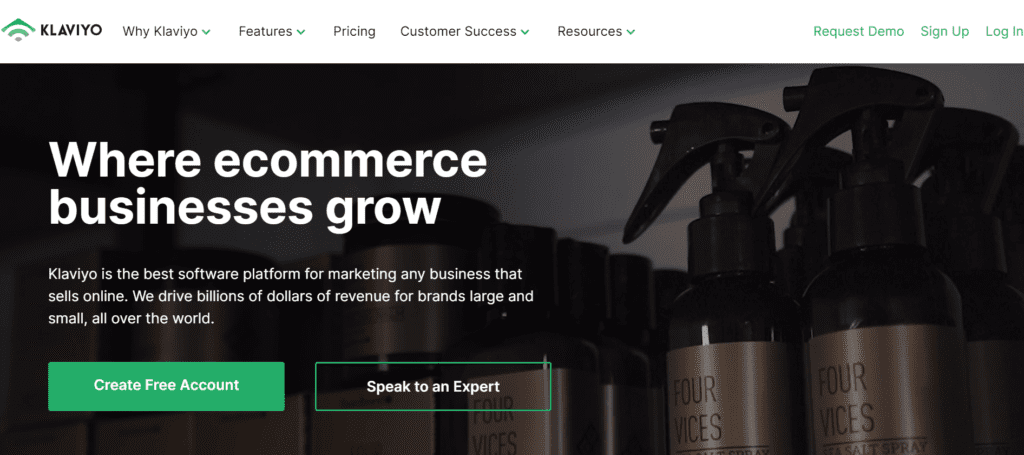 Klaviyo is another email marketing service built for ecommerce and integrates easily with Shopify. Klaviyo particularly excels when it comes to advanced analytics and insights. If you want a tool that lets you dig deep into data, Klaviyo is one of the best Mailchimp alternatives for this purpose.
Here's where Klaviyo beats Mailchimp:
In-depth segmentation possibilities: Klaviyo lets you dig really deep into behavioral and transactional data to segment contacts. It even has predictive analytics to determine Customer Lifetime Value (CLV) and the risk of churn. In comparison, Mailchimp segmentation is basic and only available on the premium plan starting at $299.
Pre-built templates for automated workflows: You'll save time setting up automated workflows thanks to Klaviyo's library of ready-made templates for your abandoned cart, welcome, and win-back flows.
Measure email marketing ROI: Easily track all the sales coming directly from your email marketing efforts.
Klaviyo Pricing
Klaviyo has a free plan for 250 contacts and 500 emails. Pricing from there starts at $30 for 1000.
| | | |
| --- | --- | --- |
| Klaviyo | No. of emails | Subscribers |
| Free | 500 | 250 |
| $30 | Unlimited | 1000 |
| $60 | Unlimited | 2000 |
| $150 | Unlimited | 10,000 |
| $600 | Unlimited | 40,000 |
| $1200 | Unlimited | 100,000 |
If you're a high-volume sender or have a large number of contacts, Klaviyo is not a budget-friendly option. 146,000 contacts will set you back $1,700 and anything above that will require a custom quote.
7. Postmark

As mentioned earlier, Mailchimp doesn't include transactional emails in its regular email marketing plans – these are a paid add-on. If your business relies heavily (or even entirely) on transactional email, this needs to be at the front of your mind when choosing an email provider.
Do you send a lot of password resets, account confirmations, order confirmations, and shipping notifications? If yes, then you might be interested in Postmark. Postmark is an expert in transactional email because, as they say themselves: "transactional is all we do".
Postmark will take care of your time-sensitive emails by ensuring a quick time to inbox via their SMTP or email API. The delivery times to different email providers are even displayed on a status page. If transactional emails are critical to your business, this data is reassuring.
Postmark Pricing
To get an idea of the cost, here are some examples of different Postmark pricing packages:
$10 for 10, 000 emails,
$50 for 50,000 emails
$300 for 200,000 emails
$1200 for 5,000,000 emails
8. Omnisend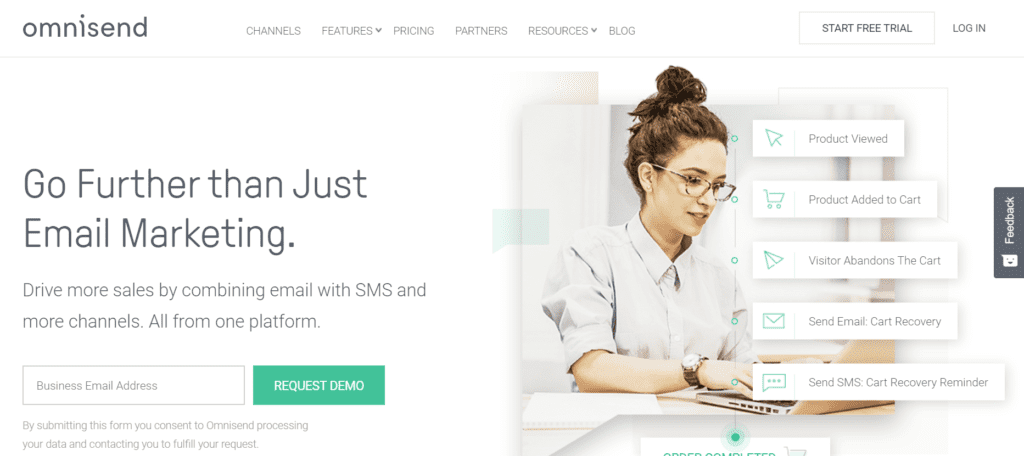 And here we have yet another email service that's specifically built for ecommerce. When it comes to ecommerce, Omnisend is more sophisticated than Mailchimp and has all the tools to help you scale your ecommerce email marketing.
Here are some of the things you can do with Omnisend that aren't possible with Mailchimp:
The ability to generate native discount codes
Use the Omnisend product picker to pull products directly from the store to include in email campaigns
You can add gamified elements to your emails for higher engagement (e.g spinnable Wheel of Fortune sign up forms, scratch cards, and gift boxes)
Dynamic email signup popups (signup forms with games)
Highly visual automation workflow builders to avoid any confusion
Omnisend Pricing
Omnisend has a free plan for up to 15, 000 email sends a month and then three other plans: Standard, Pro, and Enterprise.
Standard starts at $16 per month for 500 subscribers and includes automation, advanced segmentation, SMS, product imports, and recommendations. Here are some examples of pricing on the standard plan:
| | | |
| --- | --- | --- |
| Omnisend | No. of emails | Subscribers |
| Free | 2000/day (15,000 max) | Unlimited |
| $16 | 15,000/month | 500 |
| $20 | 15,000/month | 1000 |
| $60 | 60,000/month | 3000 |
| $102 | 124,800/month | 10000 |
| $228 | 240,000/month | 20,000 |
9. GetResponse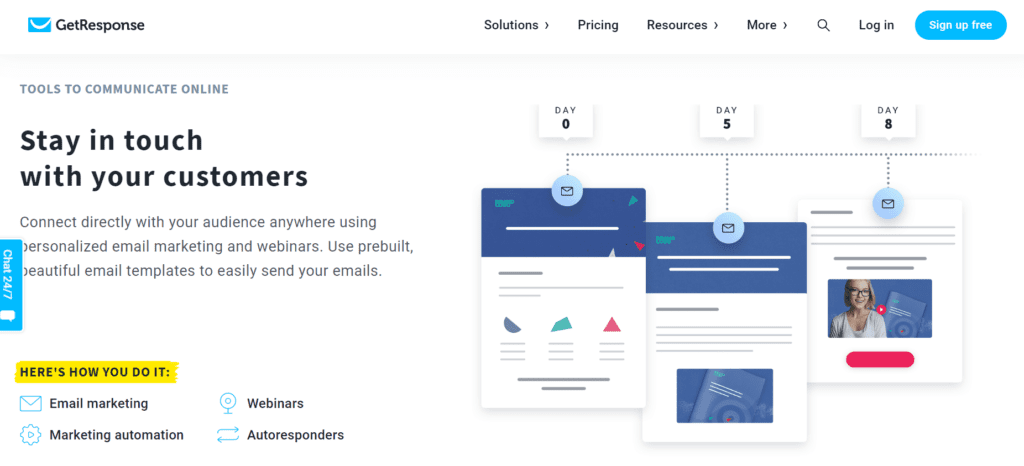 If you're a small business or blogger looking for a more advanced tool than Mailchimp, Getresponse is another option. It offers lots of features to engage your contacts including email marketing, automation, autoresponders, landing pages, and more.
Getresponse has evolved into an all-in-one marketing solution and here are some features that give it an edge as a Mailchimp alternative:
Webinars for up to 500 attendees
A 'fill in the blanks' conversion funnel builder
Ecommerce plugins to populate your product inventory on landing pages and in emails
More features available on the baseline offering including autoresponders and the option to code your own templates
GetResponse Pricing
GetResponse offers a 30 day free trial. The Basic plan starts at $15 for 1000 contacts but most of the features mentioned above will be on the 'Plus' plan which is $49/month for 1000 contacts.
| | | |
| --- | --- | --- |
| Getresponse | No. of emails | Subscribers |
| $15 (Basic) | Unlimited | 1000 |
| $59 (Plus) | Unlimited | 2500 |
| $79 (Plus) | Unlimited | 5000 |
| $145 (Basic) | Unlimited | 25,000 |
| $299 (Plus) | Unlimited | 50,000 |
| $450 (Basic) | Unlimited | 100,000 |
The must-ask questions when choosing a Mailchimp alternative
It's normal to be overwhelmed by all the choices when it comes to email marketing services, especially if you're completely new to it. But here are some questions you can ask yourself to narrow down the selection:
Extra features
Do I just need email marketing or could I also benefit from an 'all-in-one' tool with other marketing capabilities?
All-in-one platforms are a great way to centralize your marketing operations, reduce the size of your martech stack, and cut down on your marketing expenses. You're also set to save a lot of time switching between tools.
As lots of email providers branch into more comprehensive offerings, it's well worth your while to check out the non-email related features.
Email needs
Will I be sending promotional email campaigns, transactional emails, or both?
As we've seen in our list of Mailchimp alternatives, email marketing services differ greatly in how they manage (and charge for) transactional emails. Some services like Sendinblue offer both promotional and transactional under the one plan, whereas others like Postmark only handle transactional.
If time-sensitive transactional emails are vital to the success of your business, you need to check how a potential email provider manages such emails and be clear up front on how much this will cost you.
Predicted growth
How many email subscribers do I have and how fast do I predict this list to grow?
As we've seen, most email services base their pricing on the number of contacts stored. Be aware that base plans are often super cheap starting out but rise sharply once you hit the 1000 subscriber mark.
This is where you need to look ahead and be conscious of the higher pricing tiers. Are the next prices up along still going to suit your budget? Or would you prefer a more flexible, scalable option that isn't based on the number of contacts but on the volume of emails?
Skills and strategic goals
Do I need a basic 'get the job done' tool or something more sophisticated?
This is where you should assess your email marketing goals and skills as a marketer. A lot of small businesses are just looking for simplicity, efficiency, and affordability. If you fall into this category, it's likely the most basic email package will suit.
But if you're a marketer or more into the tech side — and want to rapidly scale business growth — you'll probably want something more sophisticated. Services with advanced automation, segmentation, and analytics possibilities will speak to you more.
Time to test some Mailchimp alternatives!
The best way to find the ideal email service provider is to test, test, test!
Take advantage of free plans and free trials to really get a feel for the software. You'll quickly start to notice the differences and learn your own preferences.
We hope this guide has helped you discover some lesser known Mailchimp alternatives.
Once you've made your choice, you might want to start thinking about your first newsletter. Here are some resources to get started:
Keep up to date with our latest articles on Twitter and Pinterest.