Magento is one of the most popular eCommerce CMS tools on the market. If you're using this solution for your own online store, you might want to consider using a more advanced to handle your emails and newsletters.
Sendinblue has created a plugin specifically for the purposes of sending professional emails and newsletters from Magento!
The Sendinblue Magento plugin gives you the power to more effectively manage all of your Magento email communications directly from your dashboard:
Create and send your email newsletter
Import and sync contacts with Sendinblue
Segment customers based on their purchasing behavior
Design, send, and track performance on all of your transactional emails
Send transactional or bulk SMS marketing messages
Installing the plugin
To install the plugin, you can search for "Sendinblue" in the Magento marketplace or download it directly by going straight to the Sendinblue email plugin for Magento page.
You can also follow our detailed tutorial for manually installing the plugin.
Once the plugin is installed and activated, you'll need to connect it to your Sendinblue account using a v2 API key (you can find this by selecting the "SMTP & API" option from the account menu.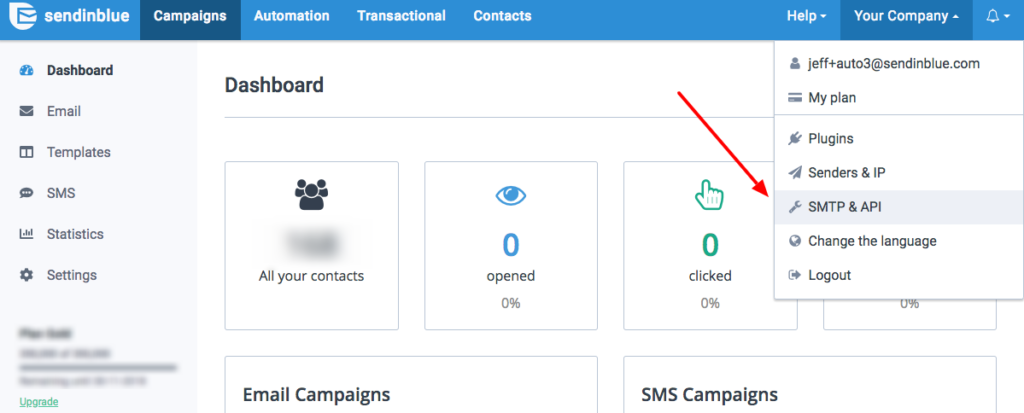 From the API menu, select the option to "Create a New API Key," then select v2 and give it a name to let you know the purpose for which the key is being used.

You can think of this API key like a set of login credentials for your plugin to access your account — but instead of a username and password, the plugin just needs this "key."
Go ahead and copy the API key that you just created, then paste it into the Sendinblue Magento email plugin dashboard: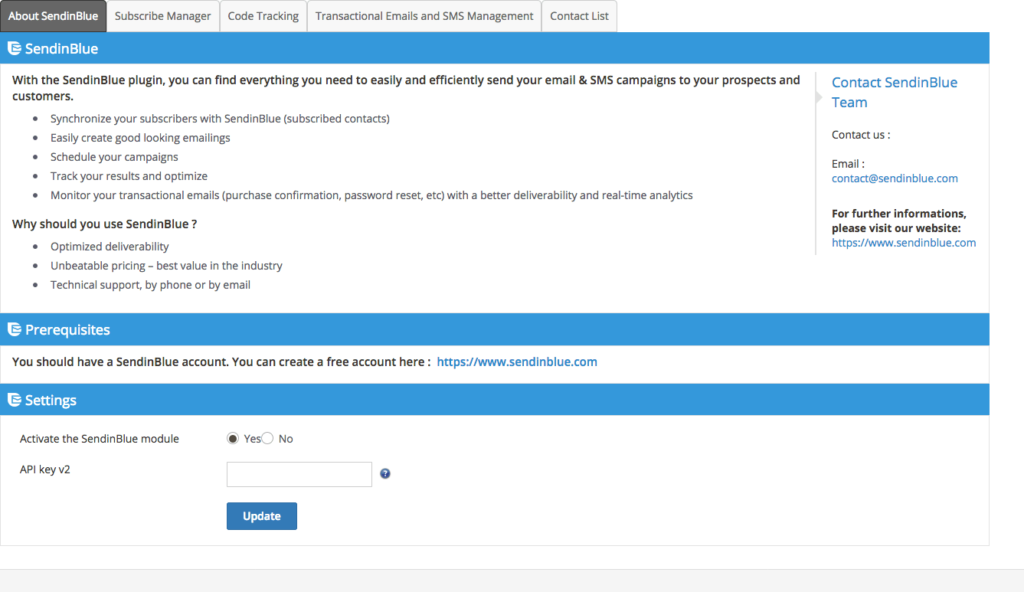 Note: In order to successfully use all of the plugin's functionalities, you need to ensure:
Plugin features
The Sendinblue plugin for Magento email was built to let you manage your email marketing directly from your eCommerce store instead of having to constantly switch between tools.
Subscription and contact management
The first tab after the main "About Sendinblue" setup tab is the "Subscribe Manager," and it's all about handling and syncing contacts between your store and Sendinblue account. All you have to do is check the option "Activate Sendinblue to manage subscribers," and you'll be able to add new subscribers from your store directly to a list in Sendinblue.
Once you check this box, choose the specific list that you want to add new contacts to and define the confirmation method:
"No confirmation" – The contact does not receive a confirmation email.
"Simple confirmation" – The contact receives a confirmation email telling them that they've been added to your list.
"Double opt-in confirmation" – The contact receives an email containing a link that they must click in order to confirm their interest in subscribing and actually be added to the list.
You can also sync your Sendinblue contacts with the Magento platform by clicking the link at the bottom of the page. This is a manual operation, so you will need to click on this link every time you want to sync your contacts again — it won't update automatically.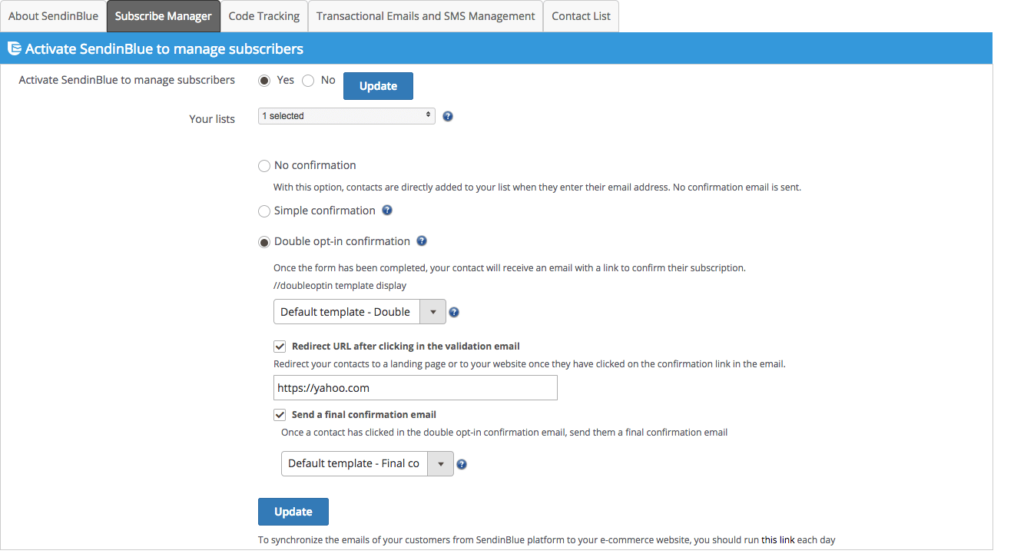 You can then see the contacts that were imported into Magento in the last tab that is labeled "Contact List."

Order tracking
The next tab, labeled "Code Tracking," lets you collect and store data regarding the purchases your customers make in your Magento store. This will enable you to better understand who your best customers are and they're buying.

You can then use this data in your Sendinblue account to create more targeted email lists and improve conversion rates with content that is more relevant to your contacts' interests based on their previous purchases.
Transactional emails
Order confirmations, password reset emails… Transactional emails are a core element of the proper functioning of any successful eCommerce store. To ensure that you have the best deliverability possible and your contacts actually receive your messages, you can activate the transactional email feature of the Magento plugin to send your emails from Sendinblue's dedicated email servers.
Transactional and promotional SMS marketing
If contacts give you their phone number (and permission), you can also send them SMS messages directly from Magento with the help of the Sendinblue plugin.
There are a few different types of SMS you can send to your contacts:
Order confirmation SMS
Shipping notifications/updates
SMS campaigns (one-to-many message)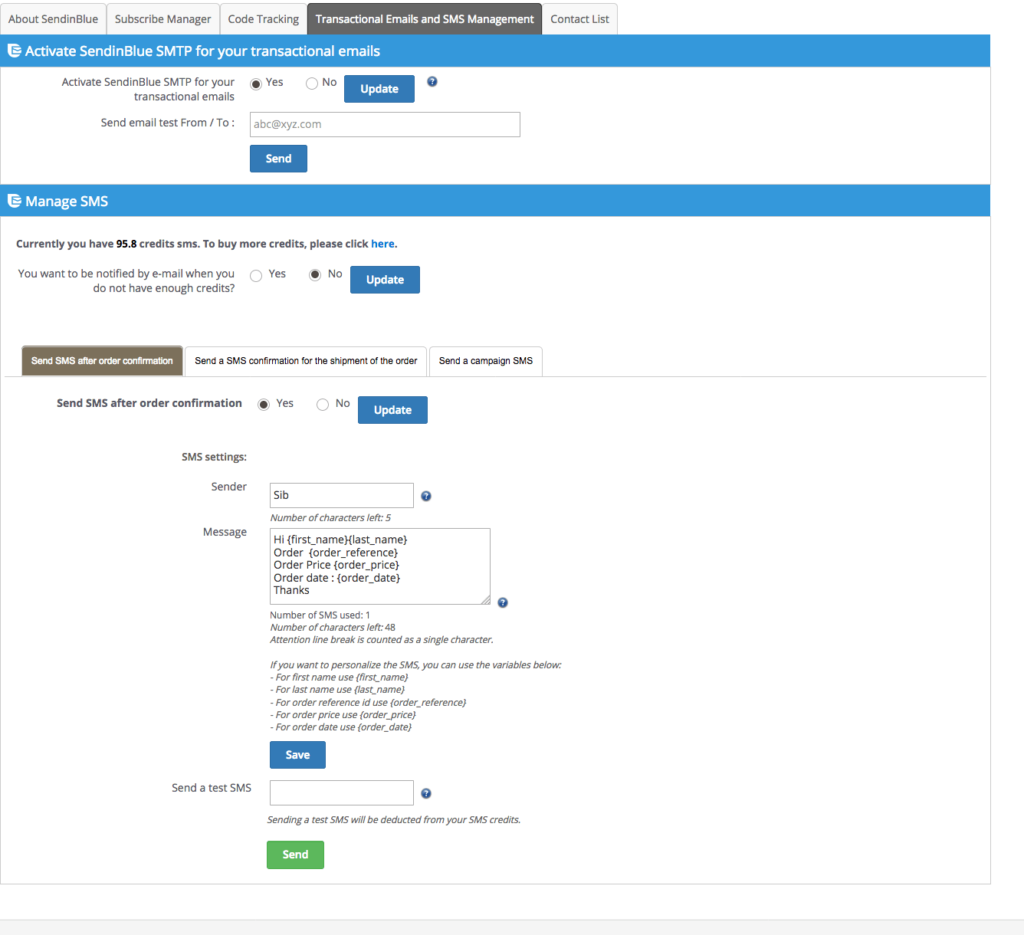 Tips for improving your email marketing on Magento
Set up marketing automation
If you want your clients to keep coming back to your site without any extra effort on your part, Marketing Automation is the tool for you!
With Sendinblue, you can set up several marketing automation workflows that enable you to automatically send emails to your clients:
Use welcome emails to showcase everything you have to offer to your new contacts and bring them back to your site.
Send a birthday email to customers with a discount to boost customer happiness while also encouraging them to come back and buy something from you.
Follow up with shoppers who leave your site while they still have items in their cart and haven't finished making their purchase by sending an abandoned cart email.
These workflows will do all the work of bringing contacts back to your website without you having to do anything but set them up! So what are you waiting for?!
Add emojis in your email subject lines
Catch your contacts' eye in their email inbox.
Emojis have become a staple in online communications these days — and not just with young people! So if you're looking to add some color to your emails while customers are still deciding whether or not to open them, adding emojis to your subject line could be the answer you're looking for!
But, before you go crazy with your emojis, keep these implicit rules in mind:
Don't abuse it. You shouldn't have more than two emojis in your subject.
Use emojis that relate to the context and content of your message
Make sure emojis are a good choice for your industry. Customers in the luxury goods, professional services, banking, or other similar industries might not appreciate emojis in emails from these companies.
Don't use a noreply return email address
Why cut the conversation with customers short?
There are times when your customers might have a question for you after receiving your newsletter or transactional email. If you're using a noreply email address these customers will have to search out a way to actually get in contact with you — even though you were the one who started the conversation!
While this might not be a big deal to the vast majority of customers, it can be a seriously frustrating experience for those truly in need. It's best to avoid creating this type of frustration and just keeping the line of communication open.
Conclusion
The success of your eCommerce store depends greatly on your ability to communicate effectively with customers. Email is an essential piece that that communication, so you should always be thinking about ways that you can improve it.
Ready to start sending beautiful emails for your Magento site?! Sign up free for Sendinblue today!