Reading time about 13 min

Klaviyo is one of the most popular email marketing services out there. It can be a powerful tool for ecommerce — but its pricing and features might not suit every business.
It's always smart to check what Klaviyo alternatives are out there. Comparing prices and capabilities will help you choose the best tool for your own needs.
We've selected the top email marketing solutions that can be called Klaviyo competitors in terms of features and pricing plans. Check out the price comparison table and explore how each one compares to Klaviyo to decide whether or not to switch.
What Are the Top Klaviyo Alternatives?
Here are a few of the best alternatives to Klaviyo:
What Klaviyo Offers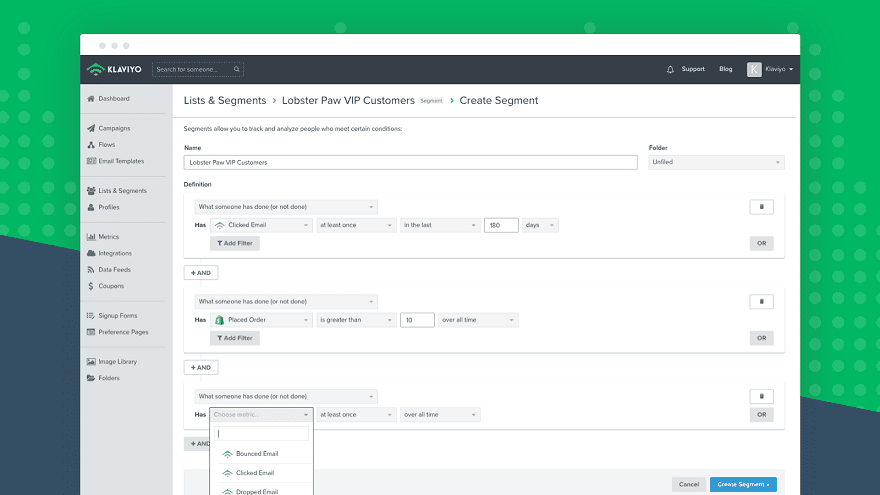 Ecommerce focused
SMS Marketing
Automation — advanced triggers, split flows, combine emails and SMS
Segmentation — behavioral and transactional data, customer profiles
Personalization thanks to extensive data
Forms — including multi-step ones
Reports — focused on revenue, not email metrics
predictive analytics — predict certain customer metrics and attributes
Email templates available
Integrations with all major ecommerce platforms, special focus on Shopify
Klaviyo pricing
This is an overview of Klaviyo's pricing for different contact list sizes. This is only for emails, texting comes on top.
| | | | | | | | |
| --- | --- | --- | --- | --- | --- | --- | --- |
| Contacts | Up to 250 | 300 | 1,000 | 2,500 | 5,000 | 10,000 | 25,000 |
| Price / mo | free | $20 | $45 | $70 | $110 | $175 | $425 |
Klaviyo downsides
Here are a few reasons you might consider Klaviyo alternatives:
Steep pricing: Emails and SMS to 10,000 contacts a month will cost you $265. If you have or want to grow to a large contact list, price can be prohibitive.
Limited SMS: Only available in the US, Canada, UK, and Australia.
Less support: Customer reviews most often mention dissatisfactory customer support and insufficient onboarding.
No free email solution: What's more, they no longer support free users via email. All you get is a 60-day trial of the email support perk, after which you have to pay to get help.
Complexity: It might have features that are too complex for what your small business needs, e.g. predictive analytics.
Different target user: If you don't run an ecommerce store where email campaigns can pay for themselves directly, it might be too expensive for its worth. And because of its high price, complexity, and a tendency to push you to talk to sales, it feels like more of an enterprise solution.
Klaviyo Alternatives to Switch To
This is a price comparison table of the top alternatives to Klaviyo. It looks at the monthly price of sending email marketing campaigns only. Keep in mind that each platform provides different features (e.g. automation, logo removed) at different price tiers.
*Prices above are based on pricing pages accessed in Feb 2023, and take email + SMS plans where available (SMS credits not included) for the closest possible comparison to Klaviyo.
Now, let's look at alternatives to Klaviyo. Read about how each competitor compares to Klaviyo to help you choose.
1. Sendinblue
Sendinblue is an all-in-one digital marketing platform much like Klaviyo. It combines email marketing and automation tools (incl. transactional emails), SMS marketing, WhatsApp marketing, Sales CRM, live chat, push notifications, shared inbox, ecommerce analytics, and landing page and signup forms builder.
Sendinblue is a comprehensive email marketing platform , offering all email features you'll ever need:
Intuitive Drag & Drop email builder
Huge range of dynamic content for email personalization
A/B testing beyond the subject line
Library of free, responsive email templates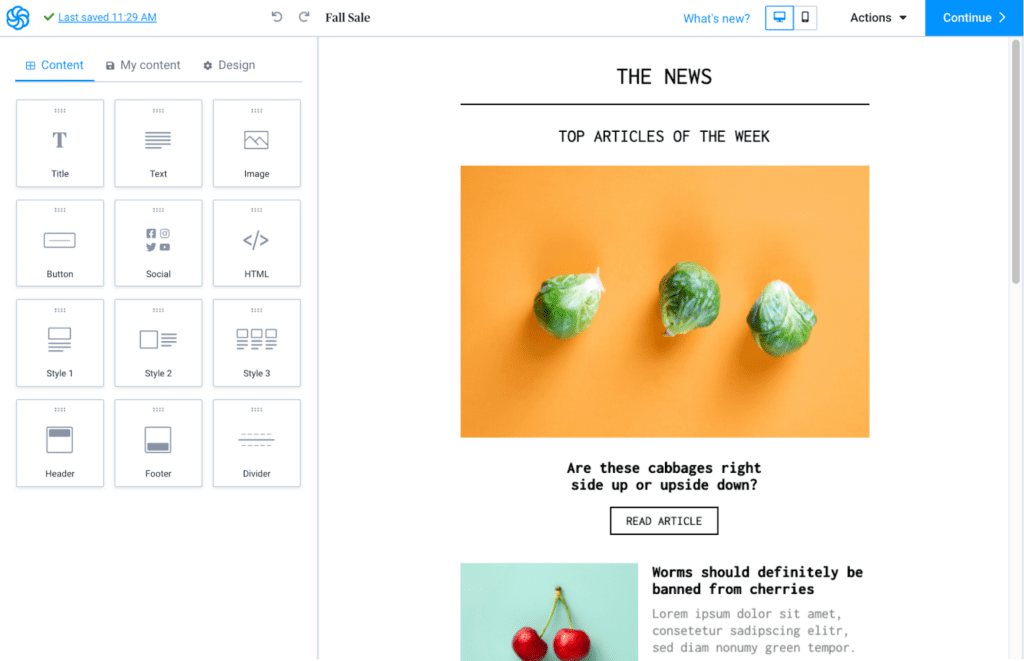 Other features provided by Sendinblue are:
Multichannel automation (email + SMS + contact management)
Pre-built automation flows (abandoned cart, product purchase, welcome message, interaction with a campaign, anniversary or birthday, etc.)
Advanced segmentation for your contact lists
GDPR-compliant and multi-step forms
What Sendinblue offers that Klaviyo doesn't
Attractive pricing: Sendinblue doesn't charge you for your contact list size. You pay only for the number of emails sent to unlimited contacts. Sendinblue's mission is to help small businesses grow — not charging for contact storage is one way we do that. 
Dedicated transactional email capability: Klaviyo lets you send those through the email marketing automation, which is not ideal for deliverability and might take too much time. In contrast, Sendinblue offers you four ways to make sure your customers get those essential emails on time: a dedicated SMTP server (Simple Mail Transfer Protocol), API, ecommerce plugins, or automation. Pick the best option for your website and business!
Email testing and previews: Test campaigns on different email clients.
Send Time Optimization: end email campaigns at the best time for each individual contact.
Built-in GDPR compliance: Stay compliant with Sendinblue's focus on GDPR across features.
Additional marketing channels: Enhance the customer experience withlive chat, landing pages, WhatsApp, push notifications, and more.
Reasons to choose Sendinblue over Klaviyo
First and foremost, Sendiblue's way more budget-friendly than Klaviyo, while providing comparable service and tools. It even offers a generous free plan! See a simple price comparison:
Why switch from Klaviyo to Sendinblue?
Depending on your budget and needs, you might consider Sendinblue as a Klaviyo alternative. Other reasons to switch from Klaviyo to Sendinblue are:
Sendinblue is better for reaching European customers. It has EU-based servers and all the consent tools to help you be GDPR-compliant.
Klaviyo is aimed at ecommerce stores. For service-based businesses, non-profits, consultants, SMBs, offline businesses, or businesses with a longer sales process, Sendinblue can better answer your needs.
If you run a small business, non-profit organization, or otherwise want to engage your audience rather than sell directly, Klaviyo won't pay for itself. Sendinblue is more suitable for sending mass emails to unlimited contacts to engage them at a better price.
Sendinblue offers unlimited customer support via email — even to free users!
Here's a detailed comparison of Sendinblue vs. Klaviyo to help you decide.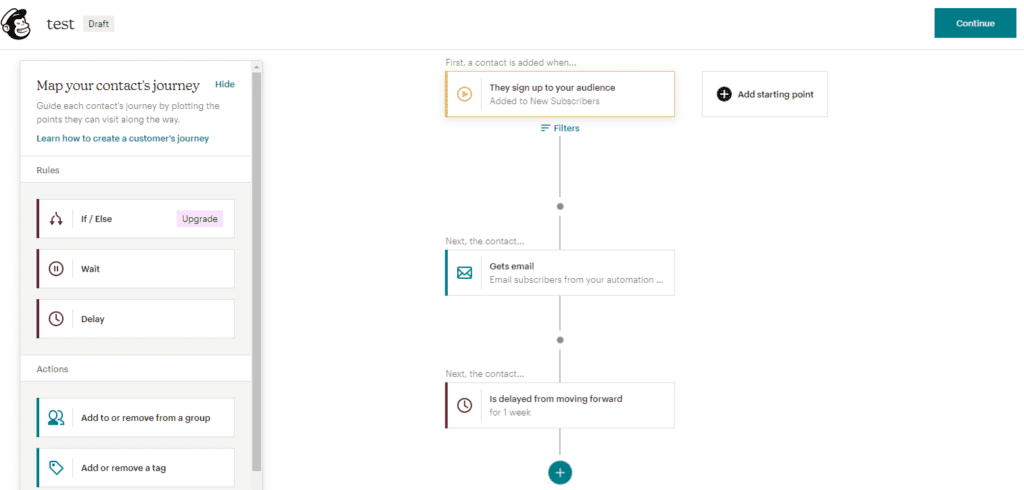 Mailchimp offers all core email features and is wildly popular. Its ease of use is great for beginners just starting out with email marketing software. 
Some noteworthy features are:
Import of branding elements from your site for easy and quick customization of email campaigns
Predicted demographics
Website builder, forms and landing pages
Send time optimization
Surveys for gathering feedback
Subject line helper
Benchmark to peers
A few cons of Mailchimp:
No SMS marketing offered
Ready-to-use email templates are available only on paid plans
Advanced features like dynamic content are only available on more expensive plans
Mailchimp vs Klaviyo pricing
Like Klaviyo, Mailchimp's pricing isn't based on the number of emails you send as much as the number of contacts you store. For those just starting out, this isn't much of a problem. But once your business grows, you'll quickly have to upgrade your plan.
For ecommerce businesses, note that Mailchimp changes transaction fees on all purchases it handles in addition to making its users foot the credit card processing fees. To avoid this, consider these Mailchimp alternatives. 
Other than that, Mailchimp is more affordable than Klaviyo (see table above), especially if you don't sell online.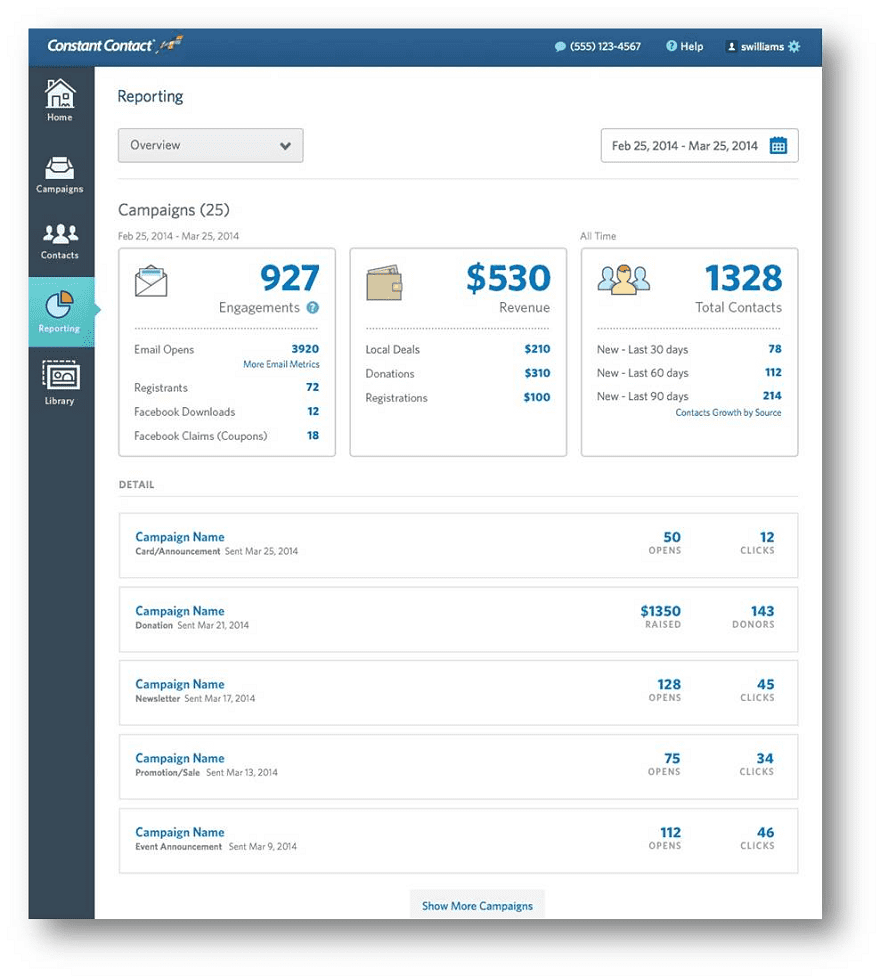 If you have a small business, non-profit, or organize events, Constant Contact might be the Klaviyo alternative for you.
In addition to essential features such as a drag-and-drop editor and subject line A/B testing, it lets you collect feedback, request donations, and ask for RSVPs in emails. You can also manage events and even collect email addresses on the spot through Constant Contact's integration with Eventbrite.
A landing page builder is available for both lead generation and shoppable product display. CC doubles as a social media scheduling tool, too. You can post on Facebook, Instagram, Twitter, and LinkedIn, and monitor performance and engagement.
If you're looking for a more affordable alternative to Klaviyo, though, be warned that if you sell anything online, Constant Contact charges you 1.5% of all your online sales on top of the subscription plan. That's a lot for ecommerce businesses! The good thing is you can take up their 30-day trial to see if you like it enough.
Read more: Constant Contact alternatives
ActiveCampaign is yet another Klaviyo alternative. It tries to position itself as a marketing automation platform for small businesses, non-profits, tech companies, bloggers, real estate, and more, but mostly highlights its ecommerce functionality.
Regardless of your industry, you can take advantage of ActiveCampaign's advanced automation features that let you set up complex sales funnels with conversion goals such as webinar sign-ups. This can be a challenge for beginners as much as it's useful. Luckily, ActiveCampaign's big library of pre-built automations and email templates can help.
Additional features include live chat and sales tools like pipeline management for companies with complex sales processes.
Two reasons to choose it instead of Klaviyo:
ActiveCampaign's SMS marketing works outside of the USA.
They offer you a price lock for 2 years, which gives you some room to grow your email list before you have to move to a higher tier.
5. Omnisend
Omnisend also positions itself for online stores. It offers email, SMS, and automation just like Klaviyo. It's also closest to it in terms of pricing.
Omnisend has most features an ecommerce marketer would need under one roof:
Pop-ups and forms
Segmentation
Push notifications
Reports
Its best feature is the ability to create multichannel automations, including email, SMS, Facebook Messenger, push notifications, and Google retargeting. Omnisend also offers a wheel of fortune sign-up form.
One downside of it is that there's a limit on the number of emails that can be sent despite the pricing being tied to email list size. For example, with 5,000 contacts you can only send up to 60,000 emails unless you upgrade.
6. Drip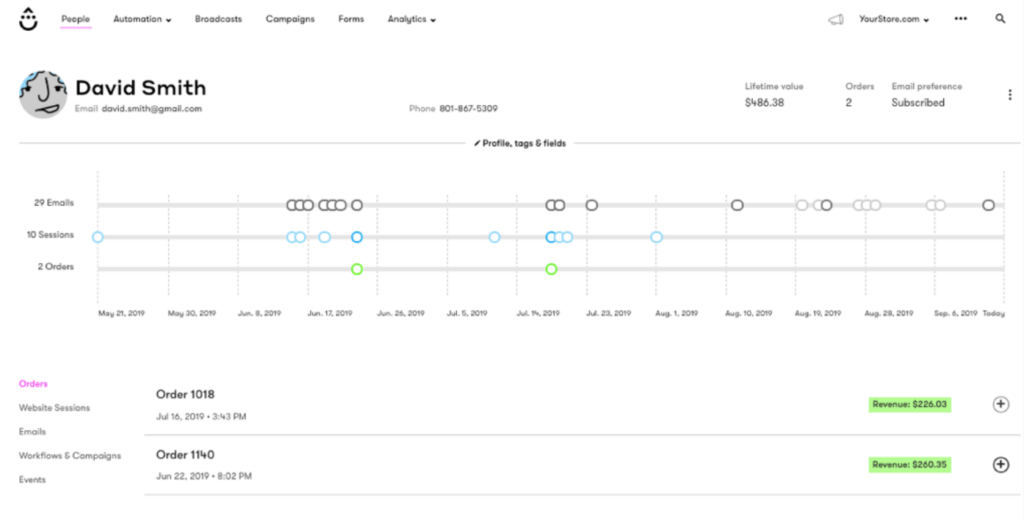 Drip is another close Klaviyo competitor. It is also focused on SMS & email automations (as the name suggests) for ecommerce businesses.
It offers ready "playbooks" or automation workflows for most common ecommerce scenarios such as abandoned carts and welcome series. Powerful segmentation and advanced split testing let you run as many different campaigns as you can think of. Drip's point-and-click visual email editor might be an inconvenience if you're used to the drag-and-drop editor offered by Klaviyo and most other email marketing tools.
However, overall, compared to Klaviyo, Drip possibly has a friendlier interface. The pricing of the two is comparable, especially for bigger contact list sizes.
Campaign Monitor is a user-friendly Klaviyo alternative. Its main focus is a drag-and-drop design tool that lets you create beautiful emails and email automation for optimal customer journeys.
Campaign Monitor also connects with your website, apps, and other sources to pull customer data to be used in campaigns. It also provides detailed email analytics to help you improve campaign performance. A nifty little feature Campaign Monitor has is Link Review — it checks your emails for broken links so you can update them.
It's worth mentioning that Campaign Monitor offers delivering each email at one and the same local time across geographies. Last but not least, they do have transactional email capabilities.
More: Campaign Monitor Alternatives
Try a Klaviyo Alternative
Klaviyo's digital marketing tools can help you grow your online business. However, one of Klaviyo's biggest downfalls is its price. 
While it's  a comprehensive tool, you can find cheap email marketing services that offer the same features. Even better, why not switch to  a free Klaviyo alternative?
Get started with email marketing for free
Free Sendinblue plan includes access to all core email features, 300 emails/day, 40+ email templates, signup forms, chat and unlimited contacts!