Is it really worth investing in an email newsletter when you can promote your blog content for free through social media? Is email actually more effective than other marketing strategies?
According to Data & Marketing Association, email performs way better at converting customers than social media. Reports show that 66% of people have made a purchase from an email marketing message or newsletter. And, as it turns out, email is not only a great way to reach young people, but it also converts much better among the consumers at the ages of 45-54 as well.
In short, email is an all-rounder when it comes to online marketing channels. If you can only invest in one tactic for your marketing strategy, it should be an email newsletter because it brings you the highest ROI.
The only problem is most bloggers and small businesses often struggle to grow their email list and give up halfway through the campaign. Small business email marketing is certainly unique, but converting your website visitors into subscribers is far from impossible if you use the right strategies and tools.
Try these proven and effective strategies and you'll be able to improve your conversion rates in no time.
1. Use Attractive Incentives
A person's email is like a part of their online identity. You shouldn't expect someone to just hand it to you by just asking. Instead, you can do an exchange. You can give out something for free in exchange for their email. After all, who doesn't love free stuff, right?
It could be something as simple as a free case study, an eBook, an email course, or access to a webinar. Whatever you do, don't cheap out when offering an incentive. You should show your subscribers how much you value their email by giving them something valuable.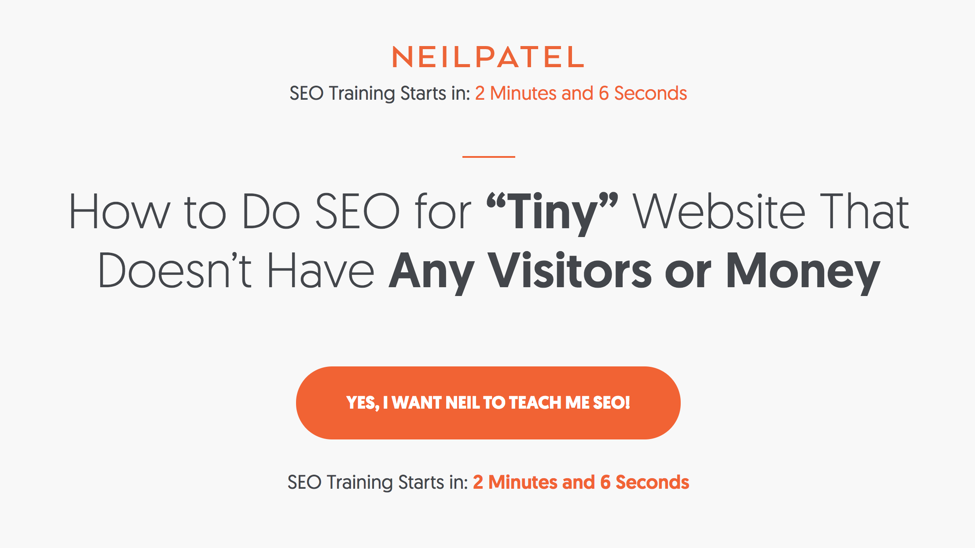 For example, Neil Patel gets people to subscribe to his email list by giving them access to an exclusive webinar where he shares his top strategies on traffic generation and SEO. Isn't that a great way to grab people's attention?
For businesses with customers in the European Union, it's important to remember that you still have to follow GDPR requirements when implementing a system like this.
2. Create Plenty Of Landing Pages
Did you know that companies that create more than 40 landing pages tend to generate 12X more leads than the companies with less than 5 landing pages?
Well, we're not saying you should create 40 landing pages. But, creating just one or two extra landing pages will greatly increase your email subscriber conversions. You can also try converting your homepage into a landing page as well.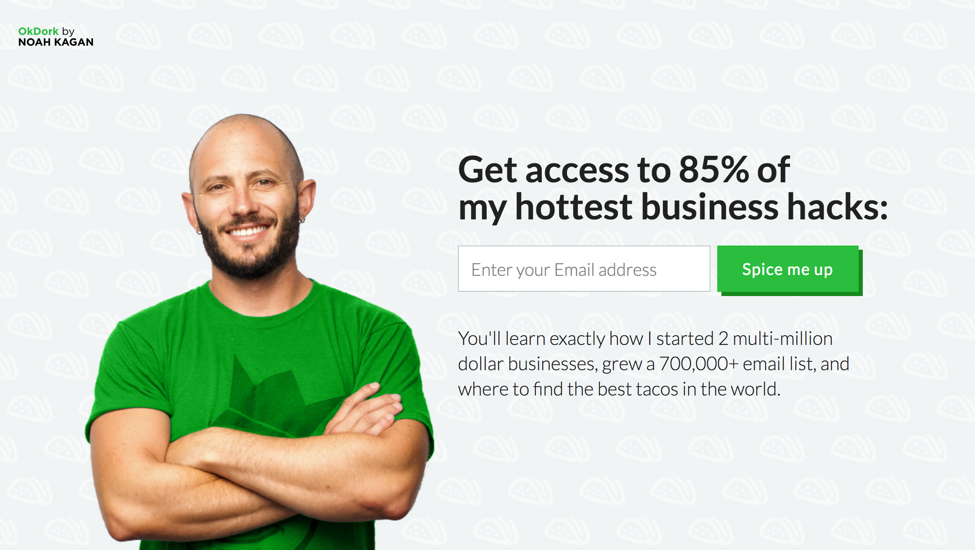 Noah Kagan is one of the many experts who use his blog homepage as a landing page to promote his email list. As for the incentive, he gives out his top business secrets to anyone who subscribes to his email list.
3. Leverage Content Upgrades
Content upgrades allow you to attract more subscribers by giving your blog readers an additional gift for reading your blog posts.
There are many types of content upgrades you can use to get the attention of your visitors. It could be a PDF version of a blog post, a checklist, a list of resources, or even an exclusive video. Including these content upgrades with your blog posts will help you generate more email subscribers with minimum effort.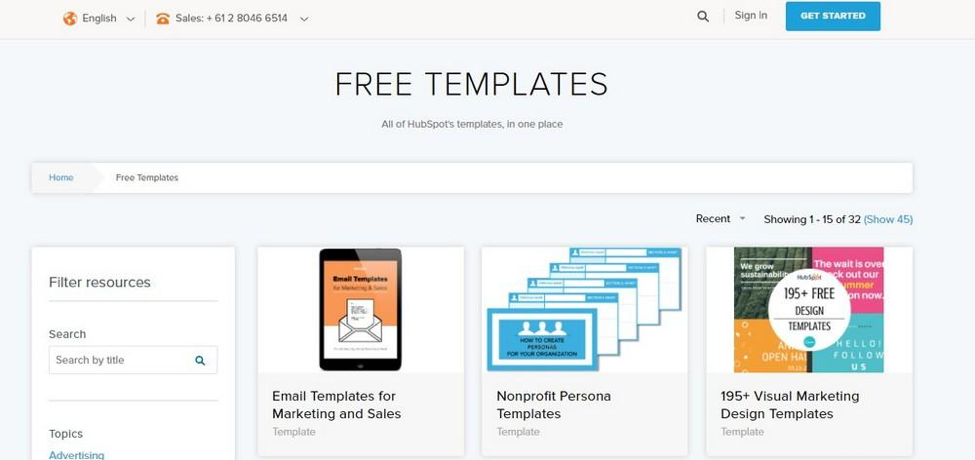 The best place to get new subscribers is your content. And by planning smart email marketing for your blog, you can drive back subscribers as extra traffic. You can use content upgrades throughout your blog by giving their readers free stuff, such as templates, guides, and more.
4. Embed Opt-In Forms Inside Blog Posts
Pop-up messages are great for instantly grabbing the attention of your website visitors, but embedded forms are actually better at converting visitors.
How? Because when you're reading a blog post you're completely focused on the content. As a result, you'll also easily give more attention to the opt-in forms that are embedded within that content.
You can use an email opt-in plugin like OptinMonster to embed beautiful inline or after post opt-in forms inside your blog posts and between paragraphs to generate more leads.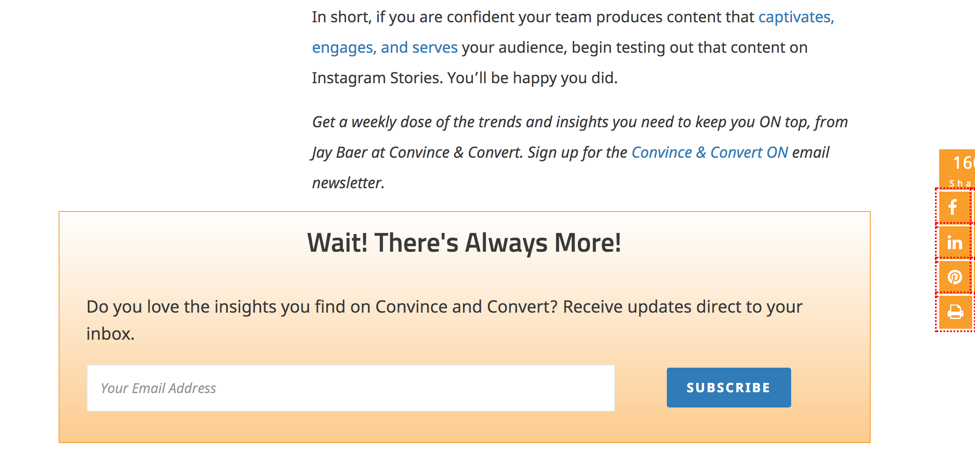 Convince and Convert blog uses this strategy to get more people to subscribe to their newsletter by embedding opt-in forms at the end of every blog post.
Conclusion
Of course, these strategies wouldn't work if you don't have the right email opt-in plugin for your website. The quality of the opt-in messages and embed forms goes a long way when it comes to showing authority and professionalism.
And remember, you can't generate thousands of email subscribers overnight. It takes time. So, be patient and continue promoting your blog to keep growing your email list.
For more advice on growing your blog readership through email marketing, check our complete guide to email marketing for bloggers.
About the author:
Syed Balkhi is an award winning entrepreneur and co-founder of
OptinMonster
, a powerful conversion optimization software. He is also the founder of
Awesome Motive
the company behind several popular small business software that collectively power over 3 million websites and serves billions of pageviews every month.