Reading time about 24 min

Looking for information on how to create a newsletter but don't know where to start? Don't worry! With the right tools, it's super easy and won't cost you anything. This guide will take you through the steps on how to make a newsletter your customers will love and keep them coming back for more.
Why send an email newsletter? If you're managing a business website, blog, or ecommerce store, newsletters are a powerful and indispensable communication tool for building relationships with your contacts, readers, or customers.
Sending a regular email newsletter can help you achieve several objectives:
Promote your products or services
Give updates to customers about your latest company news
Highlight your best editorial content
Build customer loyalty through consistent engagement
Generate recurring traffic to your website or blog
If you want to see these benefits in action, check out these awesome email newsletter examples or build your own with one of our free customizable newsletter templates!
Learn how to create a newsletter from start to finish with this comprehensive guide. We'll take you through all the steps and give you tips to make sure you get the most engagement possible!
Create my free newsletter with Sendinblue >>
Planning your email newsletter strategy
What is a newsletter?
An email newsletter is a marketing email that is regularly sent (weekly, monthly, quarterly) to a list of subscribers who have signed up. The content is usually designed to highlight news about a business's latest offerings or editorial content that educates readers on a specific topic.
Before you create a newsletter, here are a few tips to maximize the potential success of said email newsletter.
So you've made up your mind — you want to send an email newsletter to your website visitors and customers. Considering that newsletters are one of the most effective tools for building customer loyalty and driving visitors back to your website and business, we think you made the right choice ;).
But, don't just dive in headfirst without thinking!
Define the objectives for your email newsletter
When you create a newsletter you should always have clear goals and make it part of a larger, well-thought-out email marketing strategy. To have long-term success with your newsletter, it needs to be more than just a notification you send to your customers by default every week or month.
Before your start an email newsletter, take the time to think through your newsletter's editorial strategy just like you would for a website or blog.
Ask yourself these questions:
Who am I sending this newsletter to? (What is my target audience and what are their needs?)
What are the goals of my newsletter? (e.g. generate web traffic, increase sales, build better customer relationships, create a loyal following for your content, etc.)
What am I going to send to my subscribers? (e.g. exclusive content, new articles from the blog, promotional deals, updates, etc.)
How frequently should I send my newsletter? (weekly, monthly, quarterly, etc.)
What value are my customers getting from my newsletter? (Why should they subscribe?)
Clarify these points for your readers so your email newsletter doesn't end up as "noise" in your subscribers' inboxes.
Once you've clarified the goals of your newsletter, you can think more about the content and operational strategy you want to deploy.
Get ready for the next seasonal campaign with this Father's Day email marketing guide.
Deciding how your email newsletter will add value
Essentially, you want your newsletter to be expected and welcomed by your contacts, not banished to the spam folder with the weight loss scams and unsolicited "male enhancement" emails.
To accomplish this, you have to provide add real value in the content of your email newsletter content and send it at regular intervals.
Choose a fixed sending frequency (e.g. every Monday, the first Thursday of each month, etc.)
Put together your best newsletter content ideas and most interesting offers
Figure out your tone, design theme, and editorial line that will be recognizable to your readers
Differentiate yourself from your competitors
Further reading: The Best Summer Newsletter Ideas to Engage Your Readers
Building your newsletter email list
Now that you have your goals and value proposition down, it's time to find an audience for your email newsletter!
Having a well-thought-out plan for your newsletter is great… but it won't mean much if you don't have a list of subscribers to send it to! Here are a few tips to help you get started on building your email newsletter list:
Create compelling email opt-in forms
Email opt-in form example, The Daily Carnage newsletter (source)
The first step of the process is to create an opt-in form (or several forms). Without this, you have no way of collecting contact information from the visitors on your website.
When considering the copy and CTA that you include on your opt-in form, be sure to keep in mind:
Clarity: Being clear about the value your newsletter will bring subscribers and the frequency at which you will send it helps set expectations and ensures that you get the right people signing up to receive your email newsletters.
Friction: Make the signup process easy remove friction by only asking for the information you need (i.e. an email address and maybe a first name).
Confirmation: Consider implementing a double opt-in process to ensure that your list consists of only people who genuinely want to receive your email newsletter.
Place signup forms strategically across your website
After creating your forms, you need to add them to or link to them from your website so you can begin gathering subscriber email addresses.

You should try to find the right balance between giving visitors as many chances as possible to see your form and signup, while also being mindful of the user experience.
You don't want to be disruptive because this can hurt the number of signups, and it can also hurt your rankings in search engines like Google (e.g. if you use disruptive popups before giving the user time to interact with the page).
Including your form in the sidebar or footer is always a safe bet, but you may need to try a few different places before you find the option that works the best for you.
Remind readers to sign up for your email newsletter
Wherever you end up placing your newsletter subscription forms, there will inevitably be people who miss them. That's why you should find ways to encourage more signups directly from your content!
This actually makes a lot of sense because it's usually when people are reading your articles that they see the true value they would receive by signing up for your email newsletter.
Plus, people are always more willing to do something if you ask them directly rather than just hoping they'll do what you want!
Promote your newsletter signup form on social media
Along the same lines as the previous point, you should ask more than just the people consuming your content — social media followers also probably want to hear about your email newsletter!
Schedule a recurring Tweet or Facebook post that promotes your newsletter signup form and include links to the signup form in your profile description as well. This will ensure that you don't let anyone who might want to subscribe fall through the cracks!
Did you know that you can also add a signup form to your Facebook business profile as an additional tab?
How to make an email newsletter that delights readers
Here are a few tips on how to create a newsletter using the Sendinblue drag and drop editor.
Adapt and create your newsletter design to match your brand identity
To make your newsletter more credible and recognizable to your audience, it should align with the brand identity you've created on your website or blog.
The simplest way to do this is to include your logo front and center at the top of your email header. This way your subscribers will know immediately that this newsletter is coming from you.
The default template in the drag and drop design tool already has a block included for this, so you can easily just add your logo right away.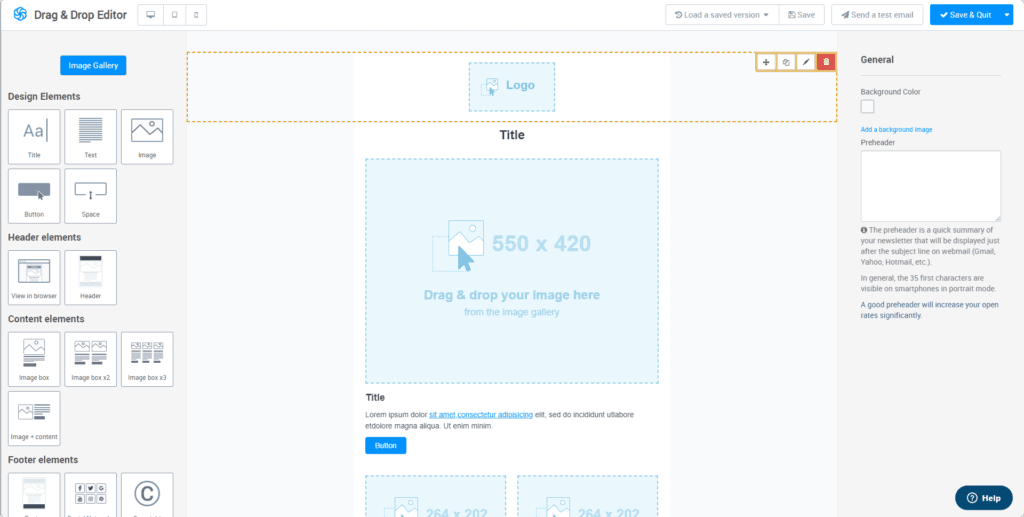 For the rest, just use whatever fonts and colors you have on your website to give a cohesive experience between your website and newsletter.
Want to use fancier fonts? Check out our tutorial on how to import fonts to the drag and drop newsletter editor.
Start with the most important information
Create your newsletter according to the "inverted pyramid" writing style, with the most important message appearing at the top.
📝 The inverted pyramid is a journalistic writing style that entails starting with your conclusion or most newsworthy information and following up with supporting details. The concept has been adapted in the digital space for web writing as well due to short user attention span.
When your readers open your newsletter, they often don't have a lot of time to read every last detail (though some may come back or take the time occasionally).
That's why you have to make sure you organize your message to prioritize the most important information first. This could be a promotional offer, an important piece of news about your business, or an article you want to highlight.
Put it at the top of your newsletter above the fold so your users don't have to scroll in order to see it.
📝 The fold is the virtual line above which contains the visible immediately content a reader sees without scrolling further down the screen.
By placing your most important block above the fold and leaving the information that is less important for further down the newsletter, you can be sure that your readers will pay more attention to the content you want them seeing.
Pay special attention to your calls to action
Calls to action are what make your newsletter achieve their goal of getting readers to visit your website or make a purchase.
📝 A call to action (or CTA) is a button or prompt aimed at getting the reader to perform a specific action (e.g. clicking through to an article, visiting your site to make a purchase, etc.)
Calls to action are responsible for driving traffic to your site, generating sales, or getting more shares on social media. They're one of the most important aspects of your campaign, so be sure to optimize them when creating a newsletter.
How to make a newsletter CTA that converts
Choose a color that stands out from the rest of the newsletter
Use action words that encourage readers to do something
Strategically place it so that it's highly visible to readers
It might be that your newsletter has a larger objective than just driving sales for one particular product or category. An example of this would be promoting multiple pieces of content from your blog or several different categories of products that are on sale.
In this case, the CTA buttons will be especially important because they'll send customers to the specific article or product they want to see. Make it obvious so users know exactly where to click to see the different items.
Hesitating between different CTAs? You can always use A/B testing to determine which one works best.
Include links to your social media profiles
When you make a newsletter, you should think of it as part of your overall digital marketing strategy. That means you should also try to push them to connect on other platforms like social media.
When you're sending a newsletter, keep in mind your broader digital communication strategy as well — build a loyal and engaged audience across all channels.
Social media platforms are one of the best ways to connect with your customers directly and promote your content, so why not integrate them into your newsletter strategy?
Do this by including CTAs in your newsletter to drive people to your social media pages. This will add to your credibility and help you build your following on social, creating another touch point with your customers.
With Sendinblue's drag and drop editor, you can easily do this by selecting the "Social Networks" block from the bottom of the left menu.
Once you've done this, click on the edit icon and a column will appear. This is you'll add the relevant links.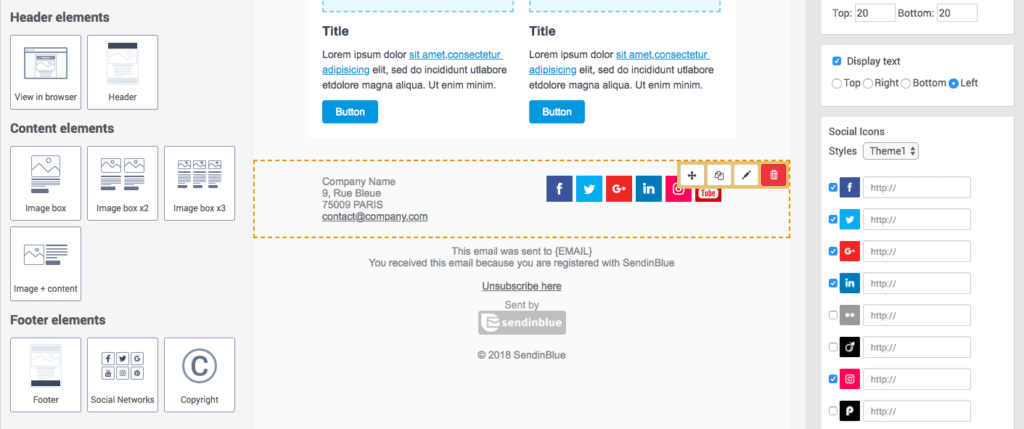 All you have to do now is check the box next to the icons of the platforms you want to add, then input the URL of your profile page on that platform in the field next to it. Once you've set up the logos, you should also consider adding text to encourage visitors to follow you.
Create a newsletter in 4 easy steps with Sendinblue (completely free!)
It's super easy to make a newsletter with Sendinblue's newsletter software. It's free for up to 300 emails a day with unlimited subscriber storage. Learn how to send a newsletter today by following these 4 simple steps.
Now, you might be wondering if you can just send a newsletter with an email provider like Gmail or Outlook. It's not a good idea because their system of servers and IP addresses isn't set up for sending bulk email.
You need an email marketing service like Sendinblue that has the technical infrastructure for sending marketing newsletters to a large group of people.
If you send mass email with a regular email client like Gmail it's likely you'll run into email deliverability issues.
Sendinblue's free plan offers:
A responsive email newsletter design tool (be sure your newsletter looks good on mobile devices)
A library of free email templates that you can customize to match your brand
Signup forms that integrate directly onto your site so visitors can easily subscribe to your newsletter
Contact management tools including advanced segmentation possibilities
Analytics dashboards to track email performance in real time (open rates, click rates, deliverability, etc.)
1. Create a Sendinblue account
Start by creating and setting up an account in Sendinblue.
Creating a Sendinblue account won't take you more than about 5 minutes:
Enter in your information on our signup page
Check your inbox and click on the link in the confirmation email
Complete your profile by entering in all of your information in the required fields
Open my free Sendinblue account >>
Once you've created your account, you'll have to complete two more steps to have your account validated:
Import 10 or more contacts into your database
Create and schedule your first email campaign (you won't be sending it quite yet though!)
2. Import your contacts into Sendinblue
If you already have a list of contacts who opted into receiving your email communications, here's how to import them into your Sendinblue database.
To import your contacts in Sendinblue, start by clicking on the Contacts option in the left-hand menu. Then click the button on the top right that says Import contacts.

From there, you'll have a few options to add contacts in Sendinblue:
Import files (.csv or .txt)
Copy/paste contacts from your .xls file
Synchronize and import from another platform
You can also simply manually add contacts by selecting Add a contact.
For more detailed instructions on how to upload contacts to your email database, read our tutorial.
3. Create an email newsletter list opt-in form
Before creating your first email newsletter campaign, it's important to give your website visitors a chance to sign up for your email list. You can do this by creating a subscription form in Sendinblue and adding it to your website.
The Sendinblue platform lets you easily create opt-in forms to add to your website.
Create a newsletter subscription form:
On the Sendinblue platform, navigate to the Contacts tab and click Forms. You'll have the option to create your first subscription form, as shown below:
Give your form a name so that you'll be able to find it within your account.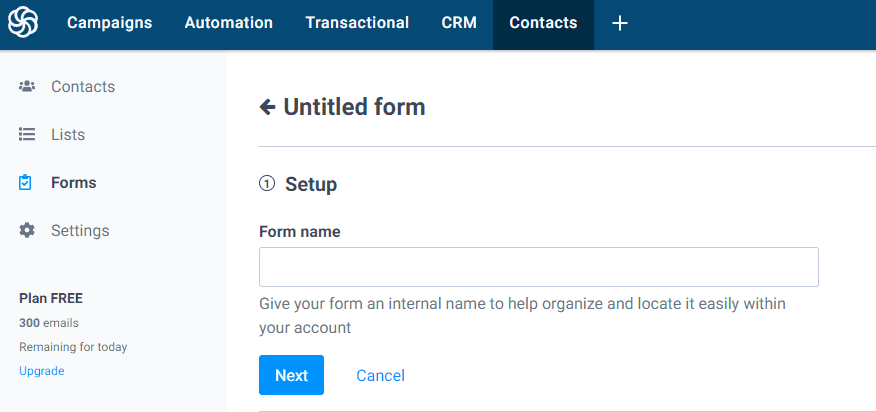 The next step will take you to the subscription form editor.
All you have to do from here is personalize your newsletter subscription form with CTA text, colors that match your brand, and all of the form fields that you want subscribers to fill out.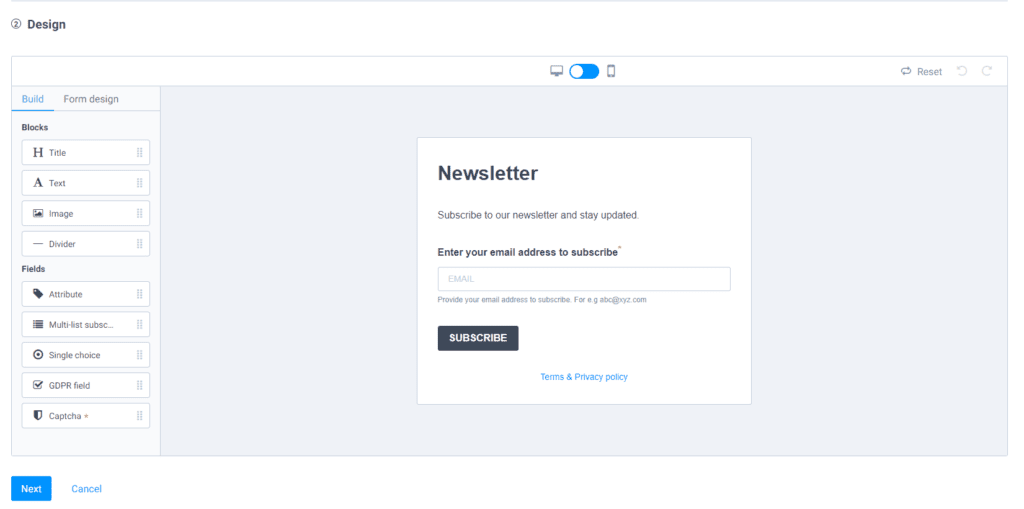 Once you've personalized your form, it's time to choose from one of the three options for email subscriber confirmation: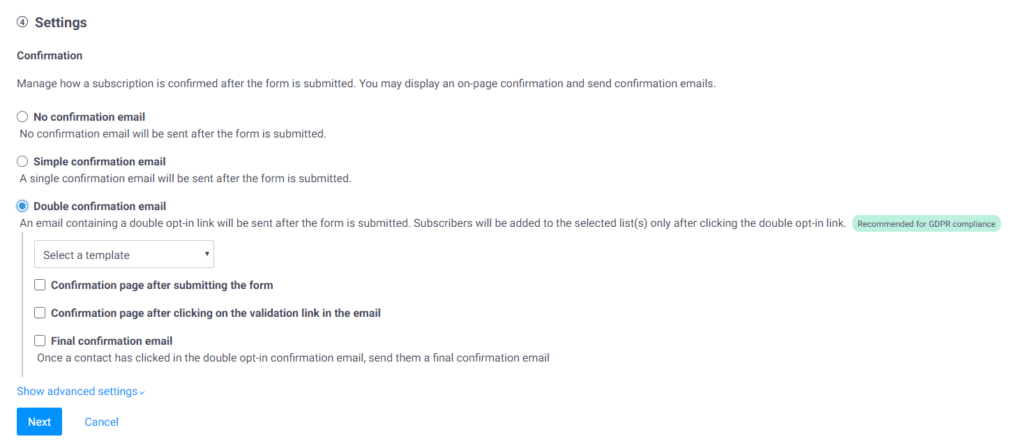 No confirmation email: The contact is immediately added to the list without sending a confirmation email.
Simple confirmation email: The contact is added to your list and a simple confirmation email is sent to notify them.
Double confirmation email (recommended): The contact is sent an email with a link to confirm the subscription. After clicking on the confirmation link, they'll be added to your list.
Our recommendation would be to use a double opt-in process because this guarantees that your contacts actually typed in their correct email address and really want to receive your emails.
Trust us, this will improve your deliverability and sender score down the line. Why? Because it prevents hard bounces from misspelled email addresses and lack of engagement from uninterested contacts.
After setting the parameters for signing up, the last thing you have to do is select the list to which you'd like to add your new contacts. After that, just hit "Save" and you're ready for the next step.
Add the newsletter subscription form to your website
To add the newsletter opt-in form to your website, click on the Share tab below the newsletter editor. You'll arrive here:

You've several options to share your signup form. You can get a link that takes you to a page where the form is hosted, as well the HTML code to embed the form in your site's HTML (the most simple of which is the "iframe" option).
For a more detailed explanation on how to create a newsletter subscription form, set up a double opt-in system, and integrate the form into your website, read our tutorial.
4. Create your first newsletter campaign
This next section explains how to make a newsletter with the help of our drag and drop email campaign editor.
Okay, so you've got your account created, your newsletter subscription form set up on your website, and you've started gathering contacts in your email list.
The only thing left to do is dive straight in and create a newsletter. To get started, click on the Create an email campaign under the Campaigns section in your Sendinblue Dashboard.

To create an email newsletter campaign in Sendinblue, there are 4 steps:
Setup
Design
Recipients
Confirmation
1 – Setup
On the first screen, you can define the settings of your campaign: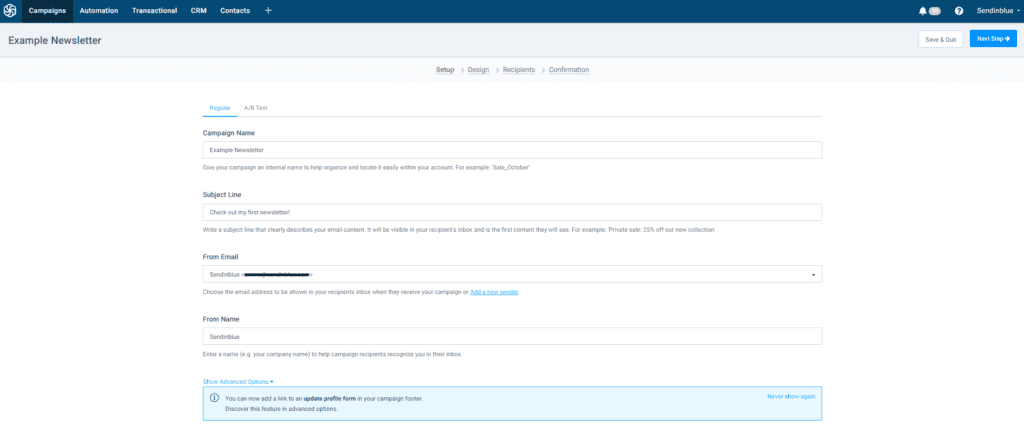 Campaign Name: Make it easy to find and edit inside the platform. Your contacts won't see this.
Subject Line: The email subject line text that your recipients will see in their inbox
From Email: The email address that is visible to your contacts as the "sender" of your newsletter.
From Name: The email sender name that shows up in your recipients' inboxes before opening the email.
Take extra care to make sure you have a great subject line. This is the first impression that your contacts will see from you in their inbox, and it is one of the only factors — and by far the most important — in helping them determine whether or not they will open it.
For tips on optimizing your email subject line, check out our article.
The From Name is also an important element in getting your contacts to open. Make sure you choose something that will let your contacts easily identify that it is from you.
2 – Design
There are 3 different options that you can choose to create an email newsletter design in Sendinblue:
Drag and drop editor: An intuitive interface to make a newsletter email campaign using drag-and-drop blocks or customizing pre-made templates.
Rich Text Editor: Choose this option if you want to create simple plain text emails without images or HTML.
Paste Your Code: Choose this option if you already have an email design in HTML that you've already created elsewhere and just need to paste it into the platform.

If you want to create your first newsletter and you don't have any design experience, you should choose the drag and drop editor for the easiest route.
How to create a newsletter using the Sendinblue Drag & Drop tool
To create your newsletter, choose design blocks from the left column and personalize them with your original copy, images, and brand colors.
Take for example the "Image + Content" block: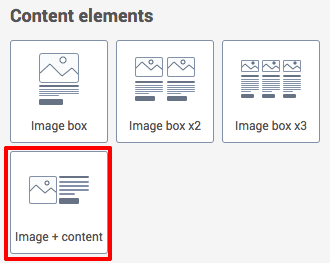 Drag the blog from the left column into your email template design. You can then edit different elements of the block (e.g. font, color, etc.) by clicking on the "pencil" icon.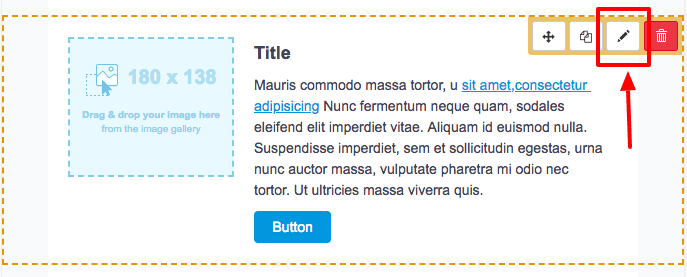 Create your newsletter from a template
The drag and drop editor also lets you choose from our library of email templates and customize them to your needs.
To access the template library, click on the drop-down arrow on the Save & Quit button and click on the second option Choose another template.

Once you choose a template, just add the content that you want and personalize the colors and images to match your brand and needs!
For a more detailed explanation of the drag and drop editor, read our tutorial.
3 – Recipients
This step involves choosing and segmenting the audience that will receive your newsletter.
For this step, choose the list that corresponds to the contacts who have subscribed to your newsletter via the form you have set up on your website.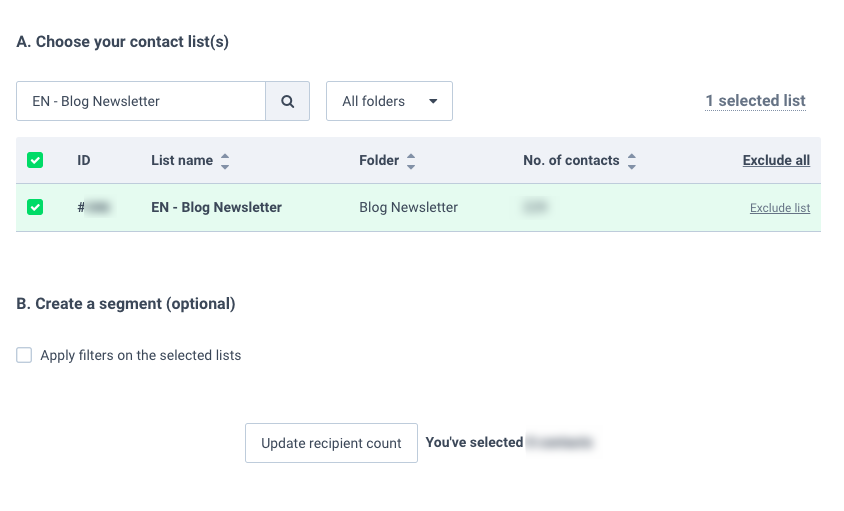 You can get even more targeted by using the Create a segment option. For example, this would enable you to send your newsletter only to contacts in your list who have opened one of your previous newsletter campaigns.
4. Confirmation
This is the final step before sending your newsletter, and it's the last opportunity to make sure everything is set up correctly and you didn't forget anything important.
One of the most important things you can do during this final step is to send yourself a test email to make sure that everything in your campaign looks good in the inbox: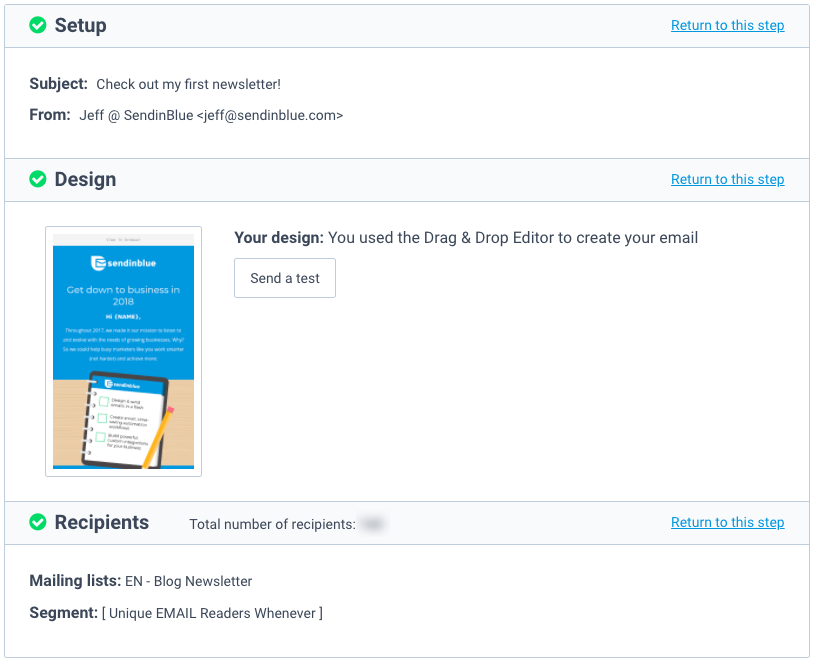 Once you're sure that everything is ready to go, you can click on the green "Schedule" button at the top right of the screen. Before you hit send though, it might be a good idea to go over all of the key aspects of a campaign using our 20-point email marketing checklist!
5. Monitor performance
Congratulations! You know now how to create a newsletter and send your first email newsletter campaign! Now it's time to check on how it's performing.
If you want to learn more about the different performance statistics that you can monitor for your email campaigns, take at these email marketing kpis and industry benchmarks.
Create a newsletter to drive business goals
And there you have it — the complete guide on what is a newsletter and how to make a newsletter without the hassle or cost.
Contrary to popular belief, newsletters are something that anyone can start sending for their business, no technical skills required! So now that you know that, you should be ready to start sending.
Sign up for a free Sendinblue account today and launch your first newsletter.
For more content like this, subscribe to our newsletter and follow us on Twitter!