The holiday season is approaching, which means it's time to plan for your online store's busiest part of the year.
Before your peak season is in full swing, take this opportunity to set up a few simple automations to help ease your mind and ensure you won't miss any sales due to human error or crossed wires.
Automations help your online shop run automatically and seamlessly, so you won't have to worry about manually managing incoming orders, cataloging inventory, or queuing up email marketing campaigns. Instead, you can spend your time on bigger-picture items that will keep customers happy.
And who knows, with day-to-day items off your plate, you might even be able to squeeze in a quick round of eggnog with family and friends this year! 🙂
With that being said, here are five automation tips to help you stay ahead of the curve and get ready for the upcoming holiday shopping season now. But first, a quick look at a couple tools we'll talk about and that you can pair with Sendinblue:
1. Allow interested customers to subscribe directly from checkout
With an eCommerce store, it's important to be able to communicate with your customers just as if you had a physical retail location.
By staying in contact with customers, you can incentivize them to come back with special sales, discount coupons, or new inventory. But, in order to stay in contact, customers need an easy way to give you their contact information without losing interest.
Thankfully, the Sendinblue plugin for WooCommerce allows customers to do just that.
After installing the plugin, you can easily set up a checkbox optin that your customers can select during checkout and choose the list to which they will be added after subscribing.

This allows new customers to sign up for your emails directly from checkout and gives you a great chance to stay in touch and hopefully turn them into loyal, repeat customers.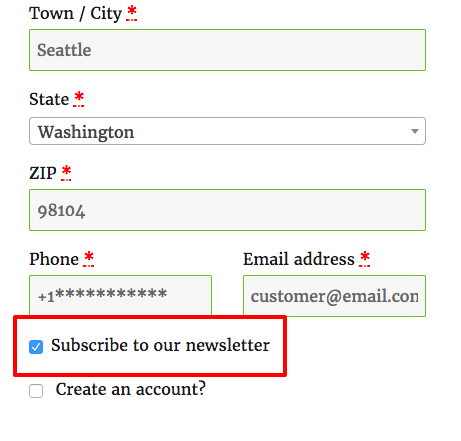 2. Add New Orders and Support Tickets to Your To-do List
Centralizing all support requests and customer questions can help you move faster.
With pings via email, orders streaming in from WooCommerce, and questions coming through your support platform, it can be dizzying to keep everything straight as you switch between tools multiple times a day.
Instead, try setting up Zapier automations called "Zaps" that send all new emails, orders, and questions to one place, such as a to-do list in Trello, Todoist, or Asana.
Try it out:
3. Subscribe New Leads to Your Sendinblue List
If you're running paid ads on Facebook, you'll want to get new leads into the proper email list so you can keep them warm and make sales.
Instead of exporting your Facebook leads and importing to Sendinblue, you can connect leads directly to your campaigns and skip the export/import dance altogether.
Try it out:
Not running ads? Maybe you're collecting customer emails via a form tool like Typeform or Wufoo. You can use Zaps to automatically subscribe those leads to a list, too.
Try it out:
4. Pull Data from Your Store to a Spreadsheet
Sometimes, nothing makes you feel more organized than a spreadsheet. From your spreadsheet, you can sort orders, track payments, and easily share the data with your team.
Connect your WooCommerce store to a spreadsheet tool like Google Sheets to keep an ongoing tally of new orders made this season instead of manually exporting this data later.
You can access everything at a glance or use the data in the spreadsheet to kick off another automation.
Try it out:
5. Install Marketing Automation on Your WooCommerce Site
There's nothing better than sending the exact right message, to the right customer, at the right time. The only realistic way to do this at scale is by using marketing automation.
For easy setup, you just need to install the Sendinblue WordPress plugin. After activating the plugin through WordPress, you simply type in your API key to login, then select "Yes" under the martketing automation section of the plugin settings.

This automatically installs the automation tracking code on your website so you can start tracking user behavior. That way, you'll know if customers perform specific actions (visits a page, abandons a cart, makes a purchase, subscribes to your email list, etc.) and you can automatically react accordingly with the right message.
Further reading
If you're interested in learning more about marketing automation, take a look at these articles:
With these simple automation tricks, your online store will become a well-oiled machine, ready for the holiday season. Sit back and watch your online orders roll in!