It's no secret that the holiday shopping season is huge for both ecommerce and brick-and-mortar retailers. For many retailers, 20-30% of their annual sales are generated during the holiday season (according to the National Retail Federation).
Thanks to email marketing's effectiveness and strong ROI, its popularity among holiday marketers continues to increase. According to Salesforce, a whopping 3.5 billion emails were sent on Black Friday 2018, followed by another 4.1 billion on Cyber Monday.
With so much riding on a single shopping season, it's more important than ever to think strategically about how your email campaigns can stand out in the sea of holiday messaging.
Thankfully, you've got friends on the inside! Here are four tactics to incorporate into your holiday email marketing strategy that are sure to boost your holiday email open rates.
👉 Psst! Looking for an email marketing service to better manage your holiday emails? Send 9000 emails per month (or 300 per day) for free with Sendinblue.
Send holiday emails with Sendinblue! >>
1. Send targeted holiday emails using segmentation
A targeted and personalized holiday email will have a much higher engagement rate than a generic mass email. Segmenting your list is the most effective way to tailor messages to a customer's specific interests and buying patterns. Successful segmenting criteria for holiday email marketing include:
Interests

– Separate subscribers into groups based on previous purchase categories, or sections browsed on your website.

Year-round vs Seasonal Shoppers

– Engage Q4 shoppers differently than loyal, year-round shoppers because they have different relationships with your company. Consider their needs and motivations for shopping, so that you can customize the frequency, content and timing of your next follow-up campaign.

Coupon Lovers – Identifying customers who frequently (or only) purchase with coupon codes will help you effectively engage your most price-sensitive shoppers. Similarly, creating this segment will help you avoid offering discounts to subscribers who would otherwise have purchased at full price.

Frequent Cart Abandoners

– Segmenting these shoppers enables you to to reengage and entice them to finish their purchases.

A good email marketing solution will provide you with many different options to segment your email list for effective targeting.
Further reading: Using Segmentation in Your Email Marketing: A Comprehensive Guide
2. Leverage marketing automation for holiday email success
Reaching the right people, with the right message, at the right time, is the best way to increase email open rates and engagement. And marketing automation is your secret weapon for serving relevant content to your contacts at the perfect moment.
In addition to sending engaging content, Sendinblue's marketing automation can be used to support your CRM efforts by smartly cleaning, enhancing, and segmenting your contact lists. Use these Automation strategies to get the most from your holiday emails:
Set up abandoned cart automation workflows – Send abandoned cart email reminders to visitors who did not complete their purchase on your site. This type of email generates twice the open rate of a regular email campaign, making it a great way to convince any indecisive holiday shoppers.
Target warm leads at the right moment using lead scoring – Leveraging engagement details for customers and scoring contacts is a great way to build consumer profiles, so that you can better segment your contact for holiday email marketing. Sendinblue automatically tracks user actions such opening an email or clicking an email link, and lets you enable lead scoring based this data. This way you'll know who your most engaged contacts are, and reach out to them with the right content at the right moment.
Modify contact lists based on behavior – Once you have a picture of how subscribers engage with your emails, you can set parameters to determine whether a user is demonstrating high or low engagement and use automation to modify your lists based on those behaviors.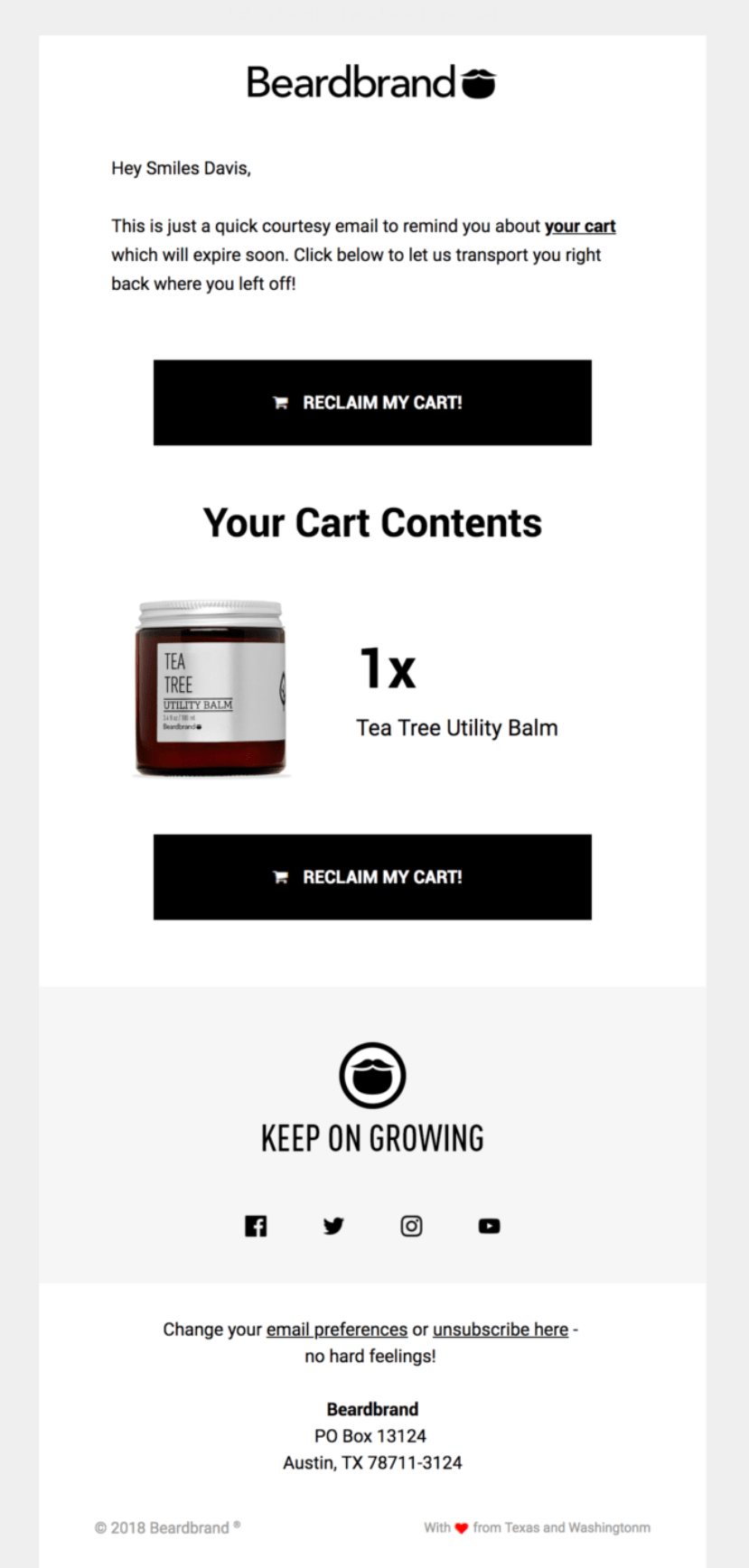 This kind of automation can work together with your list segmentation to create highly targeted groups for more effective holiday email marketing.
3. Build a smart holiday email marketing schedule
Marketers have heeded the warnings not to wait until the last minute to start their holiday marketing, and now some have taken it too far! The culture of sending many "holiday" shopping emails well before the normal holiday shopping period can cause general "email fatigue". Now, more than ever, timing emails strategically is vital to engaging subscribers.
When is the best time to start holiday email marketing?
Research shows that Black Friday emails sent right before and just after the holiday have substantially higher open rates than those sent earlier in November. Similarly, the sweet spot for Christmas seems to be in the few weeks leading up to the holiday and in the days after in December.
Email timing can vary based on industry and target goals, so consider these factors when building your holiday email schedule:
Your buying cycle

– Determine when to start sending emails by working backwards from the holiday using your average time to purchase. Then allow yourself a week or so on top of that. For instance, if your buying cycle is typically 1-2 weeks, start sending emails between December 4

th

and 11

th

to target buyers for Christmas.

Use logic – Shoppers still navigate the typical "purchase funnel" during the holidays (like any other season). Build campaigns to respect their stage of the buying cycle, starting by creating product awareness, then focusing on specific product features and benefits, and finally offering a promotion or incentive to get shoppers to convert.
Follow Up

– After the holiday, follow up with an email campaign designed to plant the seeds for future purchases.
With the right schedule in place, you'll have a solid plan for how and when to approach your holiday email campaigns. This strategic planning will also lay the groundwork for the holiday emails that you'll need to design.
4. Focus on holiday email content
Up until this point we've focused on the behind-the-scenes work that you should be doing to improve email engagement. Now it's time to build the holidayemails that will take center stage — you'll need to layer your strategy with content that actually makes the sale!
Create emails that people will actually want to read by:
Using fun, festive, and engaging holiday email designs – Sendinblue gives you access to 25 responsive holiday email marketing templates when you create a free account.
Spending time on your email subject lines – Get your subscribers to open your holiday email by using attention-grabbing subject lines. For inspiration check out our 40 Black Friday email subject lines post.
Differentiating yourself

– Think about what's expected from your competitors and find a way to stand out and delight subscribers.

Providing value

– When you send an email, you're making a request. You're asking the recipient to take the time needed to open, read, and (hopefully) act on your email. To make it worth their time, you need to provide something of value. If your emails don't pass the "what's in it for me" test, then you need to go back to the drawing board.

Communicate important holiday information

– Sure, subscribers want exclusive offers, but they also want information. Use your emails to communicate important information like when the last day is for shipping in time for Christmas, when Black Friday promotions end, or when inventory is running low on popular products

Starting small – If you've been quiet over email this year, don't send a big wave of holiday emails all at once! It's better to start small and ramp up your efforts as the holidays approach. A good rule of thumb: don't increase your year-to-date email frequency by more than 3X during the holidays, otherwise your emails will start to look like spam, and can result in unsubscribes.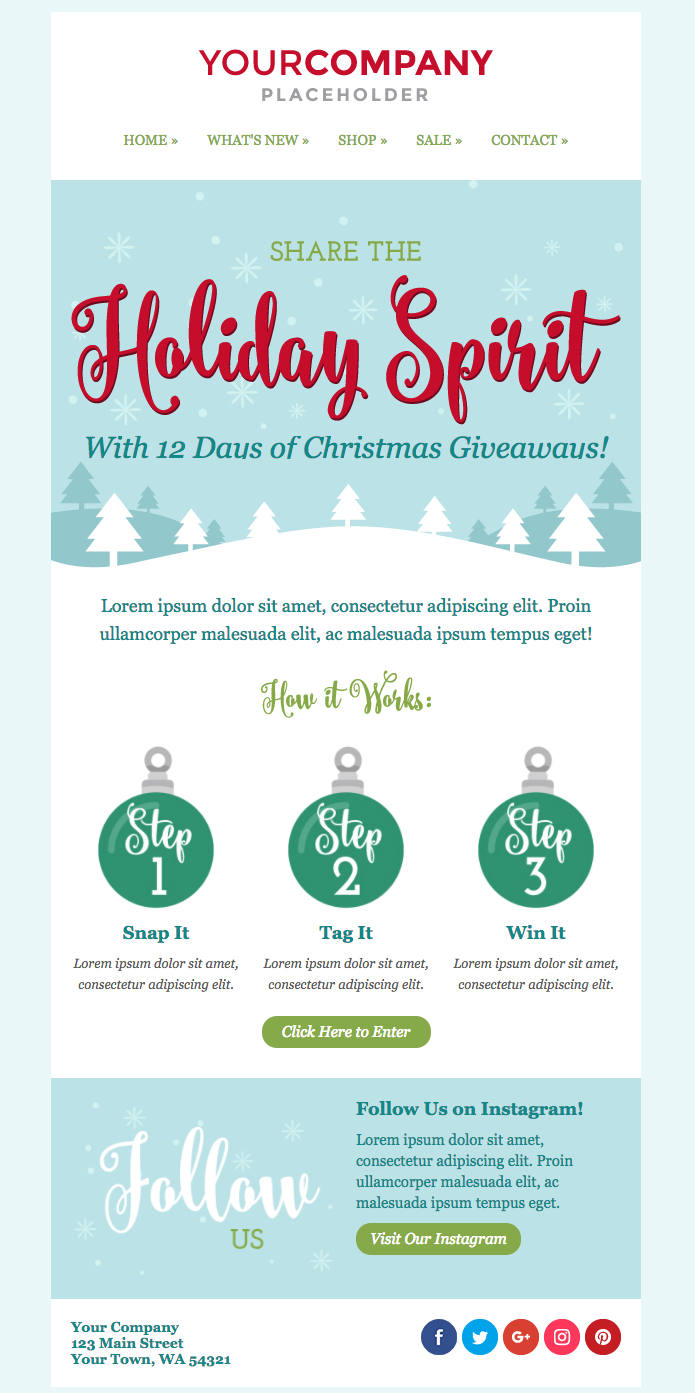 Start preparing your holiday email marketing campaigns today!
Here at Sendinblue we want to be sure that you get the most out of your holiday emails! Have you read our other articles on holiday email marketing yet?
Happy Holidays… and happy sending!