For ecommerce retailers, there's great news on the horizon! According to the National Retail Federation, holiday ecommerce sales for 2017 are expected to increase 3.6-4% over last year.
When you couple that exciting prediction with the fact that holiday ecommerce sales account for as much as 30% of annual ecommerce sales, the result is a huge gold mine of revenue opportunities.
So, how do you take your slice of this ever-growing pie?
Year over year holiday email marketing continues to rise among online retailers due to its exceptionally high ROI. As you ramp up your marketing efforts across the board this holiday season, don't forget about email marketing!
Here are 5 proven holiday email strategies to boost your ecommerce sales:
1. Segment Email Lists
The best way to increase email engagement is to use different types of segmentation on your overall email list to make smaller, more focused contact groups.
Grouping subscribers by similar characteristics or actions gives you a solid foundation for creating targeted emails that will appeal to consumers and drive conversions.
Some of the most common ways to segment your list include:
Purchase History
Follow up with customers that have purchased specific items to offer deals on complementary products and alert them to new product arrivals.
If the items that were purchased need to be bought regularly, you can also remind them when it's time to place another order.
Behavior
Monitoring trackable events like email opens, click-throughs, and video views, gives you a sense of how subscribers commonly interact with your emails.
You can then use this data to tailor emails to their preferences, such as omitting videos from emails to subscribers that don't typically watch them.
You can also segment email lists by what consumers do when they arrive on your site, like if they visit certain product categories. Using this information, you can encourage them to return and finish shopping.
Knowing when customers buy from you is another helpful piece of the segmentation puzzle because your messaging to seasonal shoppers versus loyal year-round shoppers can (and should) vary.
Preferences
If you ask email subscribers for information on their preferences at signup (we definitely recommend you do!), you can use that information to customize emails.
For instance, subscribers that have indicated that they prefer to receive emails with deals or coupons versus new product launches should be marketed to with those preferences in mind.
Regardless of how you choose to segment your email lists, you can give your emails that extra edge by including in-email countdowns or time-sensitive offers to compel shoppers to complete their purchases right away.
These types of emails are especially effective during the holiday shopping season when shoppers are trying to sift through many different holiday email promotions and get items in time for time-sensitive celebrations.
2. Promote the Right Products
Strategically choosing which products to feature in your email marketing is always important, but it's even more critical in holiday emails where time is limiting factor.
To get the best ROI from your email marketing, focus on:
Top Sellers
New Product Arrivals
Limited-Time Offerings
Hot Seasonal Products
But, don't get too carried away! Your subscribers may really love your products, but that doesn't mean that they want to be sold to constantly.
Remember to send non-promotional content as well to balance out your efforts. Regardless of the time of year, subscribers still appreciate helpful guides, interesting updates, and heartfelt thank you notes.
3. Optimize for Mobile
According to comScore, 80% of cell phone users now have smartphones.
And, American shoppers don't just have smartphones, they live on their smartphones. That means that if you want to attract these consumers, your email marketing better be mobile-friendly!
Using a responsive template ensures that your emails will render correctly on many different types and sizes of devices.
The content in your emails should be mobile-friendly too. Keep email text short to help minimize the need for scrolling, and use pithy calls to action. Furthermore, ensure that the overall content is easy to read and actionable above the fold.
4. Invite Shoppers Back to Visit Abandoned Shopping Carts
Shoppers abandon their carts for many different reasons! They may have been surprised by the cost of shipping, are in the process of comparison shopping, or simply got distracted.
Regardless of motive, incentivizing these shoppers to return with coupons and other promotional offers is a highly effective strategy for boosting sales. This is an especially savvy strategy during the holidays when shoppers are pressed for time and more likely to be looking for deals.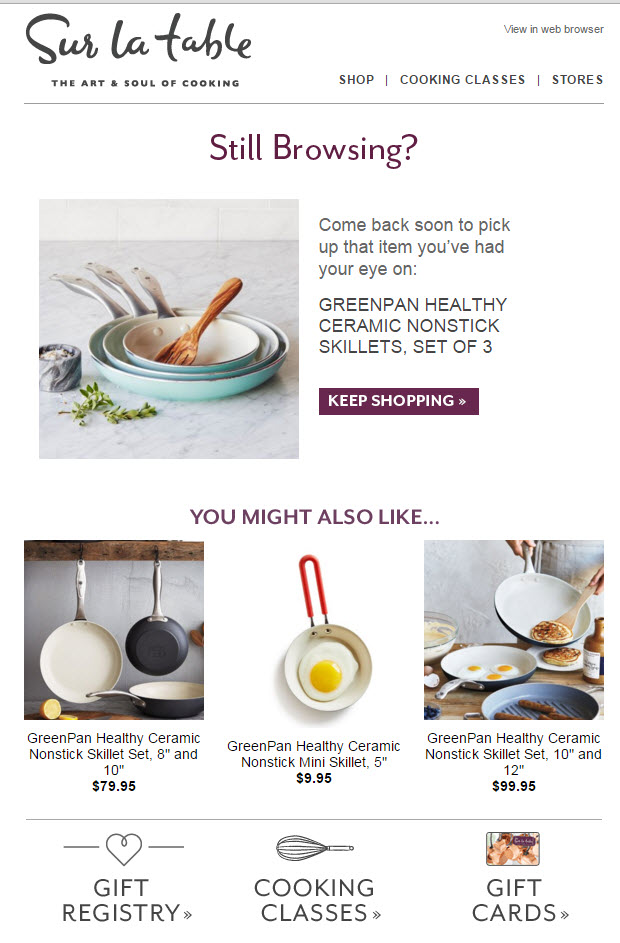 Sending targeted abandoned shopping cart emails enables you to capture revenue that would otherwise have been lost and also test the effectiveness of various types of offers on shoppers that are likely price conscious.
5. Time Emails Strategically
Don't start emailing subscribers too early, or your emails will be ignored. Instead, opt to gradually increase your frequency as the holiday shopping season approaches.
Be aware of your average buying cycle when planning your holiday email marketing strategy. Ensure that you leave shoppers with enough time to effectively shop for and receive products in time for the holidays.
Send the most emails right before and just after the holiday for maximum engagement.
The biggest mistake that ecommerce retailers make is that they take a break from sending emails as soon as the Christmas is over.
However, doing so means missing revenue from shoppers celebrating other holidays later in the season, as well as consumers that received money as a gift and are now looking to shop for themselves.
With these proven holiday email marketing tactics in your pocket, you're sure to finish the year strong! But, if you're still looking for the secret advice that will edge out the competition, we've included a bonus tip…
Bonus Tip: Including Shipping Information
Include shipping cutoffs to drive more immediate action from recipients during the long holiday shopping season.
You should also provide information as it differs by delivery type and location, where applicable. Reiterate this information on your website so that shoppers don't have to find the original email to look up holiday shipping deadlines.
If you want more content like this, subscribe to our newsletter below and follow us on Twitter!

Follow @Sendinblue