Abandoned carts are one of the most common pain points felt by all eCommerce businesses. The most effective method for recuperating lost revenue from these would-be sales is to follow up with an abandoned cart email.
If you're running an eCommerce store, you're likely all too familiar with the concept of abandoned carts. But, just in case, let's quickly cover the basics.
Set up abandoned cart emails with Sendinblue today >>
What is an abandoned cart?
Abandoned cart is a digital marketing term used to refer to a situation in which a potential customer adds products to the shopping cart in your online store, but leaves right before completing the purchase. Cart abandonment usually occurs right before or during the payment/checkout process.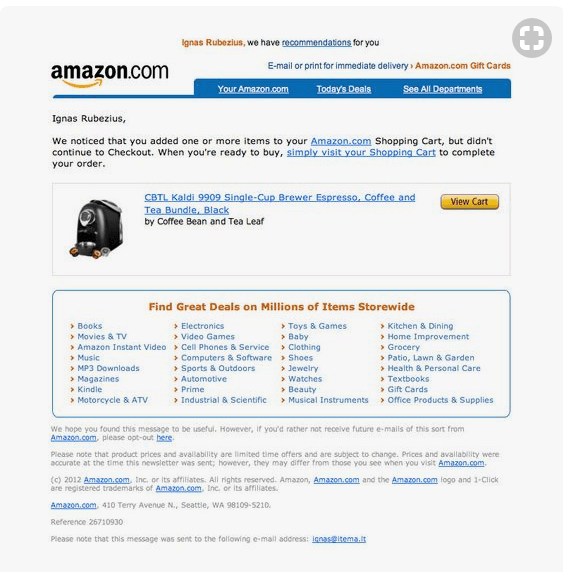 The rate of abandoned carts vary from sector to sector. Flight Tickets, Holiday tours, Hotel bookings, Furniture, Gadgets etc. are major purchases for a shopper, whereas clothing, groceries, cosmetics, and other accessories do not require a long research process.
Why do eCommerce customers abandon carts
There are many reasons why a customer might end up not buying from a certain eCommerce store. Some of these include:
Not ready to buy
Shipping costs or duration
Return policy concerns
Found a better deal
Wanted to buy at a brick and mortar store
Wanted to do more research
The prices were too high
Waiting for a holiday sale
And these are just a few examples. There are many other possibilities, and the reasons can depend on the type of business or product that you have.
What is an abandoned cart email?
Abandoned cart workflows usually consist of one, or possibly a series of automated, triggered email reminders sent to convince a customer into recovering their cart and completing an unfinished purchase.
In order to send these messages, you need to have your customers' email address.
This can be achieved by optimizing the checkout process, triggered emails, or exit-intent popups. The more emails you can capture, the more carts — and therefore, revenue — you can recover.
The campaign is generally composed of one or several triggered emails. They are sent out a short time after the cart is recognized as abandoned according to the criteria you've established for this. Each email can contain a new message with personalized product recommendations or discounts based on the items they previously abandoned.
Such emails must be personalized; relevant to the items left in the abandoned cart, purchase history, and personal profile of each recipient. Another important factor is to generate those emails in real-time, making sure contacts receive the right message at the right time.
Why Abandoned Cart Emails prove to be Effective
Improve conversion rates
Cart abandonment is a major issue in the e-commerce industry with abandonment rates as high as 71.39% per year. This abandonment rate results in a ton of lost potential revenue, totaling up to approximately $18 billion per year.
The most obvious benefit of abandoned cart emails is that they help recover these lost sales by driving shoppers back to where they left off in the purchase process, improving the store's conversion rate and mitigating the impact of abandoned carts.
Save time and money
Sending out automated emails can save you time and effort, allowing you to focus on other marketing tasks and be more precise and efficient.
This is possible because the email content motivates shoppers to return to your store by addressing any potential concerns, increasing the number of people who complete their order. These emails are also very helpful because the content has answers to every possible concern that a shopper might have. For example, these emails could:
Abandoned cart email examples # 1.

Act as a simple friendly reminder about the items in the cart. This works best for forgetful customers or those who left the shopping for later.

Abandoned cart email examples # 2.

Showcase other relevant items that the shopper might like. This is a great way of reaching out to hesitant or indecisive customers

.

Abandoned cart email examples # 3.

Incentivize them by offering a discount or a free gift. Price sensitive customers are targeted through this strategy.
These are ways eCommerce businesses can retain their old/ existing customers without having to spend more to acquire new shoppers.
Build better customer relationships
Apart from driving lost sales back to the website, abandoned cart emails play a great role in building a personal, bi-lateral communication between your brand and your customers. The content in these emails is highly relevant because each message is tailored according to each contact's browsing/purchase history, as well as their personal profile.
The emails could act as a great ice-breaker if an old or a forgetful customer has not visited the website or made any purchase in a while; this is a great way to show that the brand values their customers' needs.
Since abandoned cart emails are not mass emails, these messages are a great way to re-engage with passive shoppers, ultimately building a stronger relationship with them using one-to-one communication and increasing the likelihood that they'll make a purchase.
Craft a better customer experience
With the information collected from the abandoned carts, marketers can develop a better view of why the cart was abandoned in the first place.
Use this strategy as an opportunity to improve your customer experience by finding a custom solution to the problem addressing common potential issues up front during the checkout process, reducing the overall cart abandonment on your site and giving you a second chance.
How to implement an abandoned cart workflow in Sendinblue?
If your eCommerce store is connected to your Sendinblue account, it's easy to follow up with customers who have abandoned their carts on your site. Just follow these steps:
Create a Sendinblue account if you don't already have one.
Design the email that you want to send as your abandoned cart email message by navigating to the "Email" >> "Templates" section of the Sendinblue platform from the left-hand menu and clicking on the green "New Template" button.
After building your email template, navigate to the "Automation" tab at the top of your Sendinblue account and then select the green "Create new workflow" option. From here, you can set up your abandoned cart automation workflow using the abandoned cart workflow template during the setup process.
Select your previously created email template as the email that will be sent out to shoppers who abandon their cart.
Activate the workflow and watch your sales increase!
For a more detailed tutorial, you can also visit our help center article on the topic.
Conclusion
Abandoned carts are a major concern for almost every business owner and marketer in the eCommerce world. But, while there isn't any quick or direct way to resolve this issue, the negative effects can be greatly mitigated and improved using the right techniques.
Abandoned cart emails are a proven tactic for reducing cart abandonment rates and even recovering lost sales. They also contribute to more brand loyalty, stronger customer relationships, a positive brand reputation, and more trust among customers.
Don't miss out on this opportunity to drive more conversions!