With just under two weeks left, it's a good time to start sending out your Father's Day email campaigns to showcase your best products for gift shopping.
Arriving just one month after Mother's Day, Father's Day offers another great opportunity for you to drive sales to your store and make your customers happy by sending an email campaign for the occasion.
Much like Mother's Day email campaigns, Father's Day emails are all about adding value for your customers and highlighting exactly why your products are the best. If your emails don't strike the right tone, your contacts won't want to engage with your offer — even if it's the perfect option!
That's why you have to have a plan before you send out your Father's Day email. In order to give you a little head start, we have 4 tips that you can reach your full potential with audience engagement.
4 Father's Day Email Tips to Drive More Sales
1 – Make your subject line clear and engaging
We say it all the time, but it doesn't make it any less important: the email subject line is absolutely essential to the success of your email marketing.
The email subject line is your contacts' first impression of your email campaign. If it's not enticing or relevant to your readers, they aren't going to open your email. That means they'll never even get the chance to see your great Father's Day offers, let alone go to your store and make a purchase.
For holiday email campaigns, in particular, subject lines play a particularly important role because these holidays generate a ton of similar email campaigns, making it harder to stand out from the pack with your subject and offer.
With all of the extra competition, you really need to focus on optimizing your email subject line:
Consider using an emoji if it's relevant to your audience and offer
Make it clear why you're sending the email
Don't use clickbaity or spammy tactics just to generate more engagement up front — your readers won't be happy.
2 – Help customers find the right gift
Shopping for someone other than yourself can be very challenging. Make this process easier for your customers with your email campaign.
Whether it's for Christmas, a birthday, or a holiday like Father's Day, it can be really hard to shop for someone else — even if that person is your dad! It takes a ton of time to find something that is original, and it's likely that most of your customers don't have that kind of time.
However, this can be a real opportunity for you to provide value for your customers by saving them time and giving them tips on how to find the right gift for their dad in your Father's Day email.

The example above from Everlane is a really nice example of how you can easily showcase a large sample of your products in an easily digestible way. This adds value for customers because it makes it easier to find something that fits their gift-giving needs quickly without having to think or take too much action.
If you don't want to take this broad approach, you can also go the other way and be much more specific with your recommendations. This requires you to demonstrate the real value of the product as a gift for dad though, so make sure you think about the needs of your customers when creating content like this.
3 – Provide something original
Distinguish yourself from your competitors with original offers that actually add value for your customers.
The era of gifting mugs, ties, and unfashionable button-ups is over. People are looking for more original ways to show their appreciation and affection for their dads. Give them some encouragement and inspiration by offering something unique and original in your Father's Day email campaign.
If your store has products that only you offer, promote these to your customers and offer them a discount so they can delight their father with something that they'd never expect. An example would be a product that customers can customize on their own and add a personal message that makes the gift more meaningful.
4 – Be authentic
Taking an overly salesy approach in your Father's Day email (or any email campaign for that matter) can be very abrasive for the reader.
You should always be trying to make real connections with your customers by being yourself and appealing their emotions and interests.
Emotion and values play a big role in the decision process for making a purchase. This especially true when it comes to gift-giving for a holiday like Father's Day. The more that you can emotionally connect with customers, the better your chances are of getting them to make a purchase.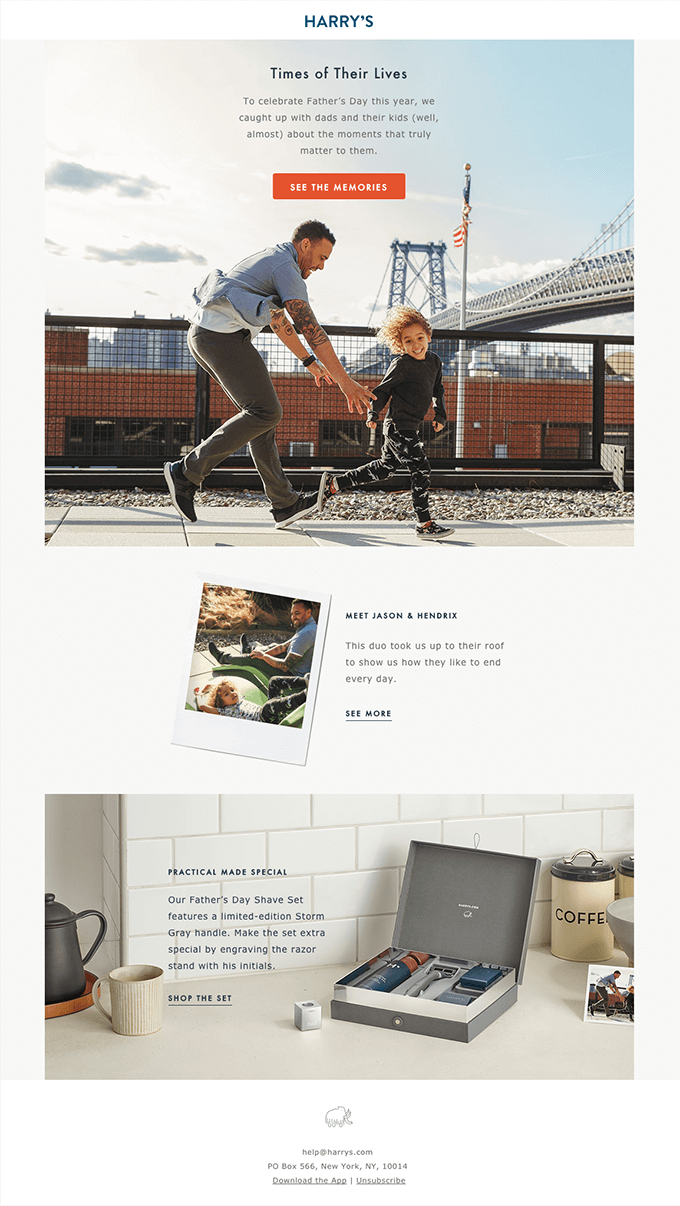 In this example from Harry's, you can see that they really try to appeal the emotions surrounding the Father's Day holiday. The main CTA isn't even about their product, but rather about telling stories that demonstrate why Father's Day is really special.
At the bottom of the email, you can still see that they recommend their shave kit as a good Father's Day gift, but it's not really the main focus of the campaign. This type of authenticity really works well with contacts because it shows them that you care about more than just getting them to buy your product.
Conclusion
Now that you've got the tips, you should be ready to start preparing and sending your Father's Day campaigns!
If you want more tips like this feel free to subscribe to our blog newsletter at the top of the page or follow us on Twitter.