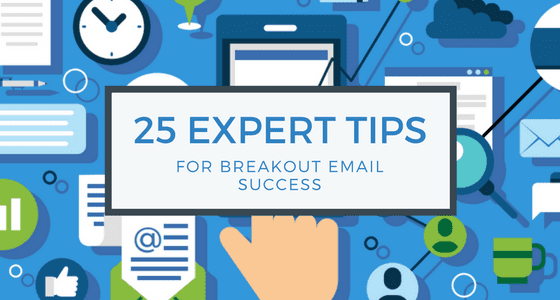 Looking for fresh email marketing tips? You've come to the right place! Sendinblue is proud to present our first eBook: "25 Expert Tips for Breakout Email Marketing Success." Inside, you'll find all of the advice you need to get a jumpstart on your marketing goals for 2018!
In this eBook, you will find advice that will help you:
Get more opens
Grow your email contact list
Save time and boost conversions with marketing automation
Make sure your emails are performing at their absolute best in terms of deliverability and engagement rates
25 Expert Tips for Breakout Email Marketing Success
Optimize your email campaigns for maximum engagement in 2018!
Download the eBook >>
The email marketing tips you need to launch your 2018 strategy on the right foot!
Email marketing is an art that's continuously evolving. Whether it's through the use of tactics like segmentation and personalization, or advanced technology like marketing automation, marketers are constantly required to find new ways to capture the attention of their target consumers.
To help you get ahead of the curve, we took a moment to reflect back on the best tips and advice from the previous year to put together a resource that will give you everything you need to meet your 2018 goals.
For example, this book will give you advice on:
How to increase open rate and improve deliverability with the help of your contact (tip #1)
Increase your subscription rate by replacing your optin link with a form on your website menu (tip #5)
Leverage the marketing potential of your transactional emails (tip #13)
Boost abandoned cart conversion rates even more with automated follow-up emails (tip # 21)
In addition to the tips you'll find in the email marketing eBook, we've also included several other downloadable resources, such as an email marketing checklist to make sure you never miss any important element of your email campaign before hitting send.
We hope you find this book helpful and enjoy reading it!
Happy sending!
The Sendinblue Team