Email marketing is a powerful strategy. Unlike other marketing activities, it allows you to land directly in the inboxes of your leads and customers and build a direct one-to-one connection with them.
The influx of tools and software today allows marketers to get really creative and provide a truly enjoyable experience for customers without things getting too complicated.
And it's worth it – the ROI on a well thought-out email marketing strategy is high. In fact, it reaps a higher ROI than any other marketing method, with a median of 122%.
But, to get good results, you have to create a strategy that consistently converts.
This means putting a series of email marketing tactics into place throughout the sales funnel so you can tweak, measure, improve, and continue to provide a great experience for subscribers.
It's not enough to write up a couple of emails and send them sporadically throughout the year. Instead, we've put together some key strategies you can use to improve your campaigns and make them a powerful marketing asset.
12 Effective Email Marketing Strategies to Improve Campaigns
1. Email Segmentation
Segmenting your subscriber list into groups of like-minded people allows you to send emails that are hyper-relevant. You might decide to segment based on behavior, interests, actions, or customer persona information, like where subscribers live or the job role they have.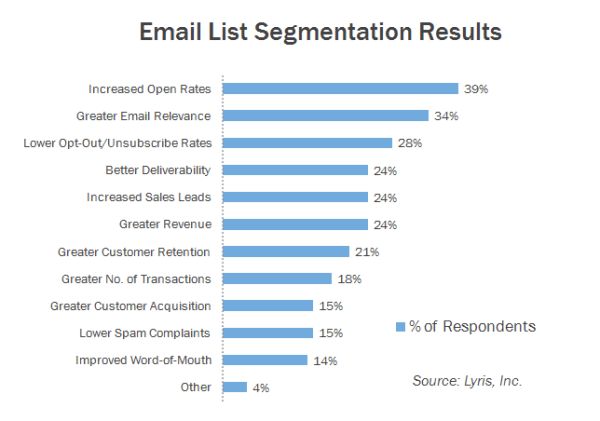 Grouping your email subscribers greatly eliminates the risk of sending content that's not relevant and ultimately turning leads off. Research also shows that segmentation can increase revenue by up to 760%.
Start by thinking about the different types of people that make up your email list and begin to group contacts based on similar characteristics.
You can use your signup form to gather this information, like asking for their job role, track behavior within your emails, like grouping people based on the links they've clicked, and segment your list based on the lead magnet subscribers signed up for in the first place.
Read our detailed guide to email segmentation.
2. A/B Testing
A/B testing (or split testing as it's also known) lets you experiment with different content and subject lines in the same email to see what performs better.
The information you glean from each A/B test can be used to fuel future campaigns. For example, if subject lines with questions get opened more than those without, make sure future campaign subject lines feature a question.
Elements of your emails you might want to test include:
Email subject lines
Content of the email
CTAs
Links within the email
When you send emails
For best results, only tweak one element at a time so you can see what's really making a difference.
3. Personalization
70% of brands aren't using email personalization – that is, using subscriber names to greet recipients and personalizing content. As a result, they're probably missing out on a large chunk of revenue, as 52% of consumers say they'll find somewhere else to shop if an email isn't personalized.
Personalization is simple but key, and can include:
Using subscriber names in the email subject line and body
Content that's relevant to the subscriber's interests
Suggestions for products based on the subscriber's past purchases
4. Spend Time on Your Subject Line
Your subject line is the first thing your subscribers will see (35% of email subscribers open an email based solely on the subject line). If it's not compelling enough, they won't click through and you might as well have not sent the email in the first place.
This is why it's important to spend time on your subject lines – it can mean the difference between a lot of click throughs and none.

Consider:
The length of your subject line (6-10 words is the sweet spot)
Using powerful, action-based words
Setting up expectations for the body of the email
Using subscriber names in the subject line
5. Send Emails at the Best Times
An email that arrives during the day is going to have a very different open rate to one that arrives in the middle of the night.
Think about when your subscribers are most likely to check their emails. If you're aiming to catch them while they're at work, sending your emails between 9-5 is likely to reap better results than sending them on a Saturday morning.
Experiment with sending your emails at different times and logging open rates and click throughs. Sendinblue has a special Send Time Optimization feature that uses a machine learning algorithm to find the best time to send.
6. Test Email Content
Mix up the content of your emails and share links to different types of content. Try sending subscribers to valuable blog posts, longer case studies, video series, and other media that will resonate with them.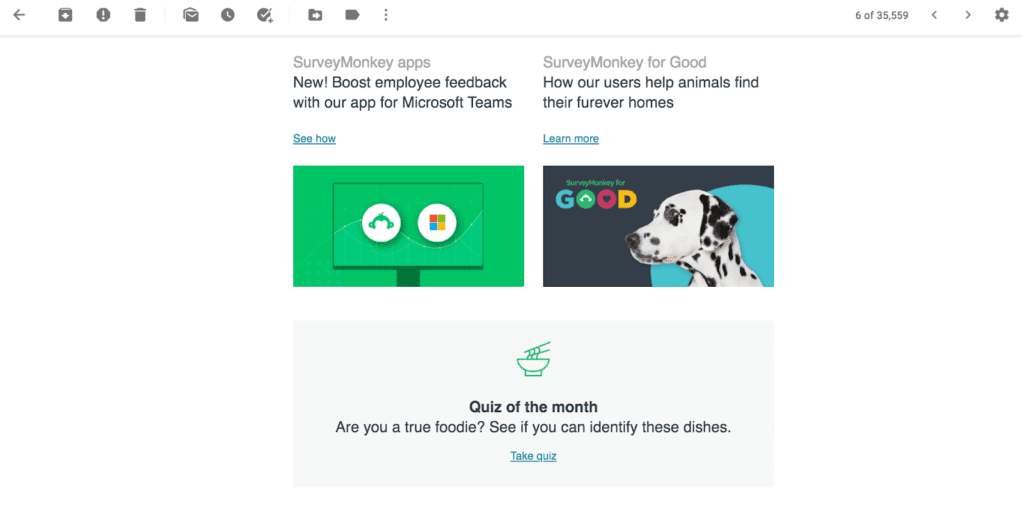 SurveyMonkey invites its subscribers to take a food quiz.
This will not only keep things exciting for your list, but it will allow you to track what types of content perform best with your audience.  
Team up with a Sendinblue Solution Partner
Want to take your email marketing to the next level? Our Sendinblue Solution Partners will help you with email design, automation, ecommerce email strategy, and more.
7. Provide Value Every Time
If you consistently provide value, your subscribers are going to consistently open and read your emails. In fact, they might even start to eagerly anticipate your messages landing in their inbox.
Think about what your customers want and need from you and build your email strategy around that.
You can also get first hand information by:
Surveying customers to see what they want to get from you
Asking subscribers to respond to your emails with their ideas and opinions

The key is to make sure each and every email as at least one valuable nugget that leaves subscribers wanting more.
8. Make Sure Your Emails Are Mobile-Friendly
61.9% of all emails are opened and read on a mobile device. This means that more than half of your subscribers will be viewing your emails from a smaller screen. As a result, you should make sure your emails are responsive and mobile-friendly by:
Optimizing images
Making sure text doesn't run off the screen
Ensuring text is big enough to read and links are clear
Your subject line still packs a punch when clipped to fit mobile devices
9. Re-Engage Inactive Subscribers
Subscribers that haven't opened your emails in a while can still become valuable customers. They may have just forgotten about you and need a reminder about who you are and what you can offer.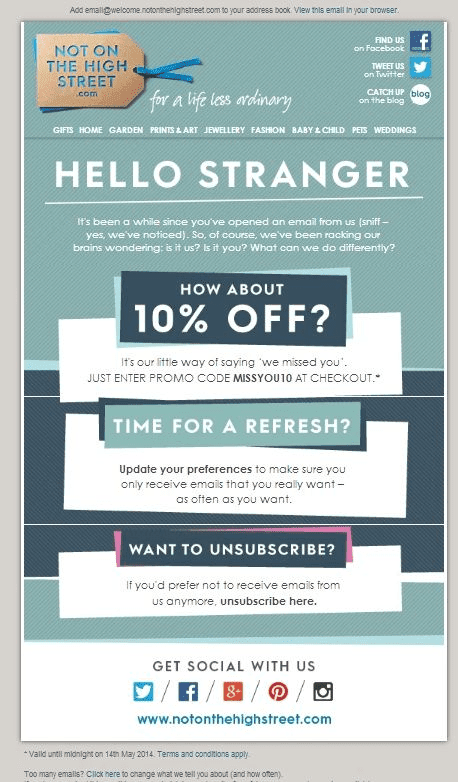 Create a re-engagement email campaign strategy with the aim of warming up cooler subscribers. This might include:
A message reminding them about you and the value you can offer them
An exclusive offer
A brand new piece of content
Inviting them to reply to a question
10. Create Powerful Calls-to-Action
Your calls-to-action (CTAs) can dramatically affect the click through rates of your emails. A weak CTA means less visitors and, ultimately, less sales so it's worth spending time on your CTAs to make sure they pack a punch.
Experiment with using buttons and text CTAs and focus on making sure the words you use are compelling enough for subscribers to click on.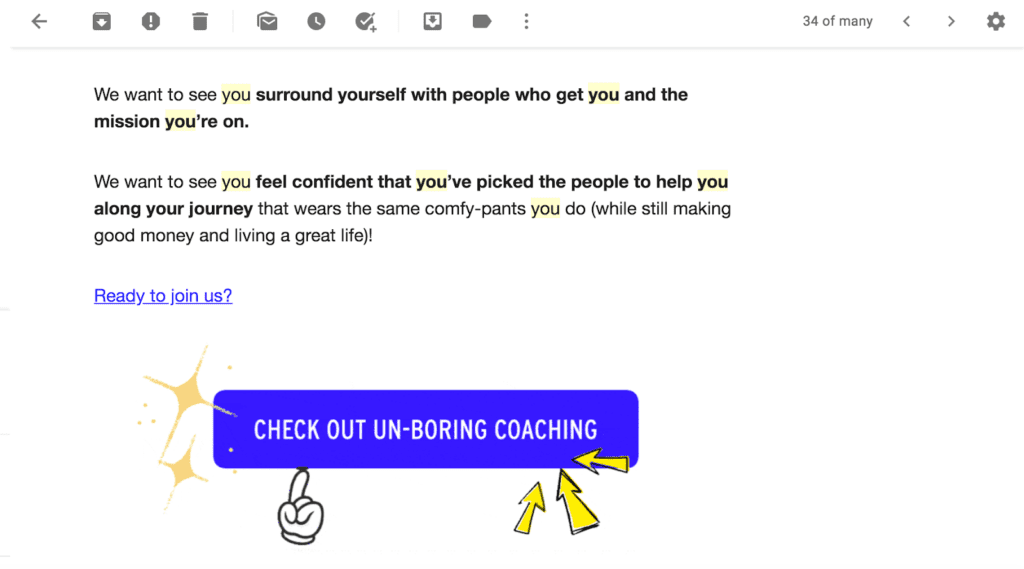 Here are some top tips for making your CTAs as powerful as possible:
Start with a strong command verb, like "shop", "buy", or "download"
Evoke emotion
Give subscribers a reason to click, like "buy now to get 50% off"
Tap into FOMO, like "grab your seat – only 5 spots left!"
11. Run Trigger-Based Campaigns
Trigger-based campaigns run off your subscribers' actions.
For example, a link to a piece of content in one email might trigger a series of three follow-up emails that go out only to subscribers that clicked the link.
This can work in reverse, too.
If you send an email and a subscriber doesn't click the link, you might send another email with a question or a piece of content they might like instead.
12. Share User-Generated Content
Word-of-mouth marketing is an incredibly powerful tactic, and user-generated content (UGC) is basically the digital version of this. When subscribers see that other customers are enjoying your brand and products, they're going to want to find out more.
Integrating things like customer created photos, videos, reviews, and stories in your emails creates a sense of community and encourages more click throughs. According to research, UGC drives a 73% increase in email click through rates.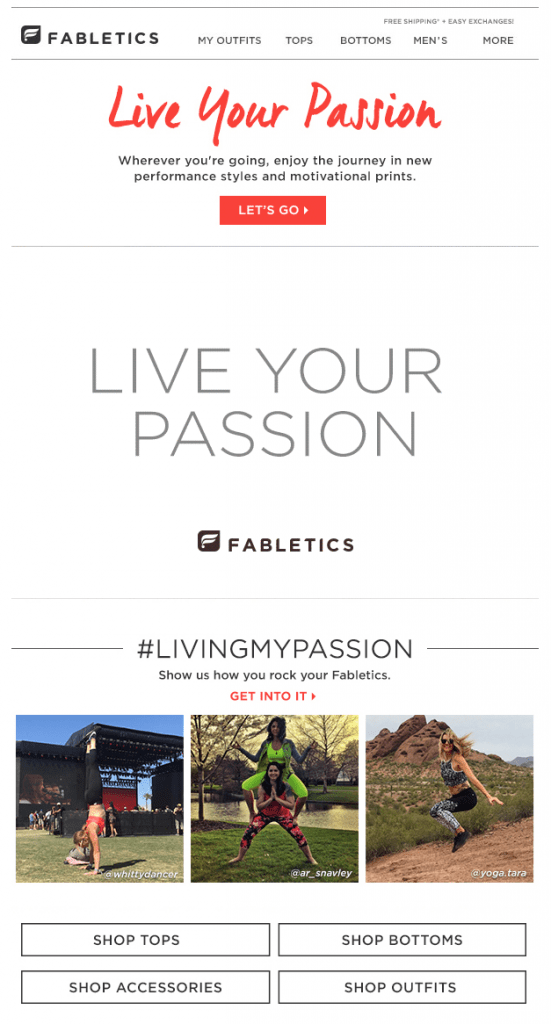 Make Your Emails Work Harder For You
Your emails are the central hub of your marketing strategy. They're how you connect with your audience, drive sales, and build a community around your brand. The key to a successful email marketing campaign is to optimize every element, from the subject line to the content and CTAs.
Use an email marketing service like the one we offer at Sendinblue to do all the hard work for you. Segment subscribers so you send only the most relevant content, A/B test emails to determine what elements perform best, and build out trigger-based campaigns that are highly personalized.
When you do this, you'll notice that your email list will become far more engaged, you'll see an uptick in click throughs and, ultimately, you'll drive more sales.