Reading time about 14 min

Looking for the best email marketing service that fits all your needs for the best price? In this comparison, we'll take a look at the features and pricing of four of the top email marketing service providers to help you figure out which one is best for you.
Comparing email marketing services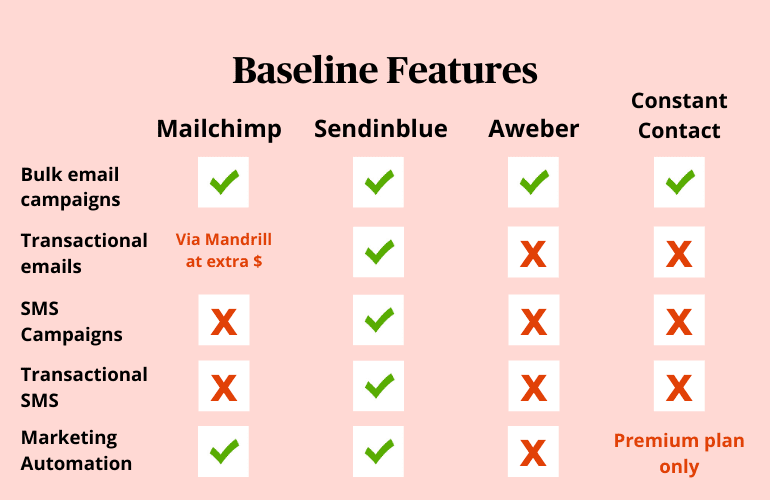 Whether you're just starting your business or you've already started collecting contact information from your clients and you want to start communicating with them online, there comes a time when you need to switch from sending your emails with Gmail or Yahoo to one of the dedicated email marketing services out there.
But, when it comes time to make that decision, finding the right solution can be a real challenge. There are many different software platforms that provide email marketing services, and the features, pricing, and benefits can differ substantially between them.
Depending on your specific needs and plans to grow scale, there is likely an email marketing software that better fits your current situation and allows you the room to grow as well.
Launching your first newsletter on a budget? Check out these free email marketing tools.
Since email marketing is so essential for businesses of all sizes these days, it's only a matter of time before you start using an email marketing service to send your marketing messages. So it's definitely worth looking into since you're in it for the long haul.
How to define your email marketing needs
To start, the research process off on the right foot – you need to define your needs. To do that, answer the following questions:
How many emails do you send every month?
How many contacts do you have in your list?
Do you send transactional emails?
Once you've done that, you can also consider comparing the marketing automation functionality of each tool as well. Marketing automation is feature that can help you save tons of time and make your marketing much more powerful by automating repetitive communications and tasks at scale.
For a quick overview, take a look at the tables below for a more detailed comparison between the best email marketing services out there.
Choose the email marketing service that fits your needs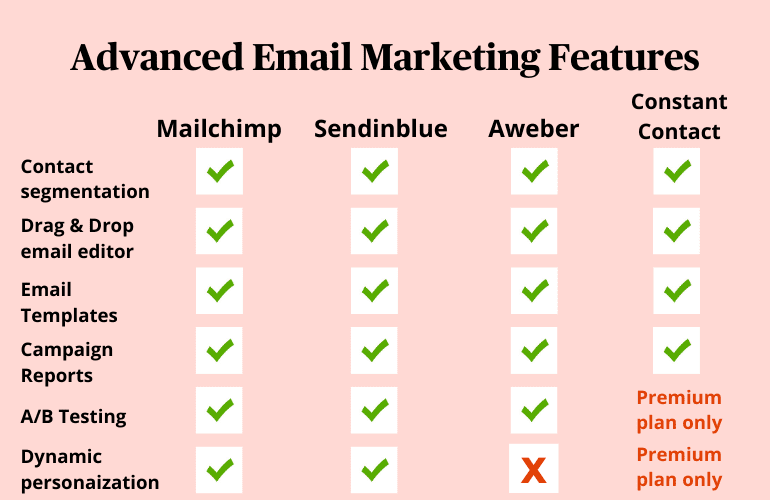 The key differentiators in email marketing services
All of the email marketing services presented in this comparative offer the key base functionalities, including:
Drag & drop newsletter editor
Email templates gallery
Email campaign statistic reports with the classic email marketing KPIs
Therefore, the main differences between each email marketing service will lie in the advanced features and pricing, as well as the customer support that they offer.
Transactional emails: advantage Sendinblue and Mailchimp
If you're managing a website that uses transactional emails for time-sensitive information (order and shipping confirmations for eCommerce, appointment or reservation reminder notifications, etc.), then you need to find an email marketing service that offers a platform, plugin, or API for flexible setup of transactional emails through a reliable SMTP server.
Sendinblue and Mailchimp are the two email marketing services in this comparison that offer baseline transactional email functionality.
But, Mailchimp is a bit different because the transactional email functionality is not actually included in the email marketing software platform they provide. You have to pay separately for their transactional email API, which is called Mandrill.
The pricing for Mandrill starts at $20 for every 25,000 emails you send per month, with the unit price decreasing slightly if you send more than 500,000 monthly emails.
On the other hand, Sendinblue's transactional email platform is included as part of the normal email marketing services they provide. That means even free users can send transactional emails as long as they're within the send volume limits.
Learn more about transactional emails: The Complete Marketer's guide to Transactional Emails
SMS marketing (transactional and campaigns): only Sendinblue
SMS marketing can be very useful for sending time-sensitive transactional messages (e.g. shipping updates) or mass marketing campaigns (e.g. a local business looking to get the word out to everyone about a promotional discount).
If you're looking to send marketing text messages, Sendinblue is the only email marketing service that offers this functionality natively in the solution. The pricing is per credit and varies by country, but the credits do not expire and you can compose your messages, set them up to be delivered, and follow the performance all in the same platform as your email marketing.
Mailchimp also offers users the option to use an SMS plugin from Text Marketer that allows their users to send marketing text messages. However, the functionality is limited to bulk campaigns, so you aren't able to use this service for transactional messages.
Similarly, Aweber and Constant Constant do not offer SMS marketing as part of their email marketing service. To set this up, you'll need to use an external partner integration like Ez Texting.
Marketing Automation: advantage Sendinblue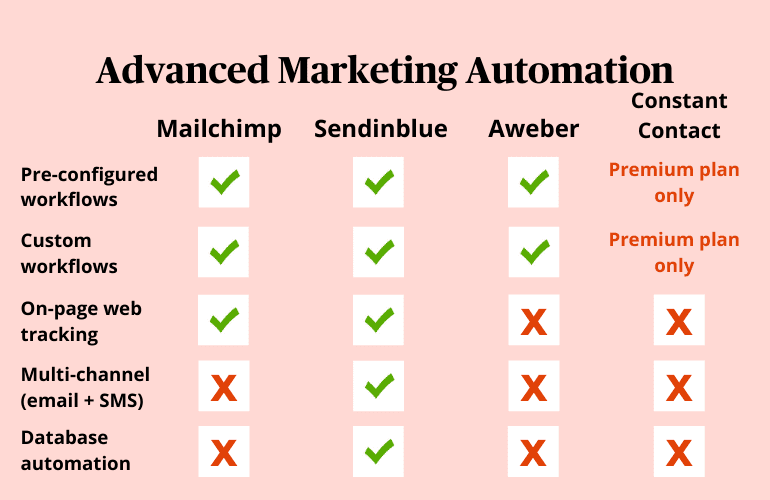 Marketing automation is a functionality that lets you automate certain marketing tasks based on conditions and triggers that you define. For example:
Send a welcome email when someone subscribes
Add a contact to a new list when they visit a certain web page
Increase a contact's lead score when they visit your pricing page
Those are just a few examples, but there any many other things that you can do with marketing automation. It's tool that can help you save countless hours and greatly increase conversions by scaling highly targeted and personalized messages and list segmentation.
Constant Contact is the email marketing service with the most limited marketing automation functionality. The feature is only available for premium account users and consists solely of pre-configured scenarios and basic customization for sending automated emails.
After that, you have Aweber and Mailchimp, both of which offer basic marketing automation functionality in their products. Aweber is similar to Constant Contact in that it only involves basic customization options and the actions are limited to sending emails that you've already created.
Mailchimp is a bit more robust, with options to inject more dynamic content into emails and targeting messages based on on-page behavior.
Sendinblue offers a complete marketing automation tool. It includes on-page web tracking and dynamic content options like Mailchimp, while also providing users more options with the custom workflows that go beyond just sending emails.
For example, you can update attributes in the contact database based on behavior within the workflow, and you can also use global exit conditions to define "conversion goals" to ensure that contacts don't stay in workflows too long if they've already converted.
A/B and A/X Testing: advantage Mailchimp and Aweber
A/B (or A/X) testing is when you try two different ideas at the same time for a small sample of recipients, and then the idea that performed the best in the sample is used for the rest of the contacts.
All 4 email marketing services offer some version of this functionality, though there are some differences.
Constant Contact is the most limited with their A/B testing offer because they have only subject line A/B testing and it's only offered for premium account users.
Sendinblue is similar, offering only email subject line A/B testing at the moment — although the feature is available for all users.
Aweber and Mailchimp are tied for the best offering in this category. Both of these email marketing software offer the option for users to test 3 different variations of a campaign at once, which includes testing subject line, sender name, and email content.
Best free email marketing service? It depends.
The answer to which free email marketing service is better is not as straightforward as you might think. Out of the 4 email service providers we've looked at in this article, only two provide a free plan: Sendinblue and Mailchimp.
While the two plans look rather similar on the surface, they're actually quite different.
Mailchimp offers a free plan for up to 10,000 sends per month, with a daily send limit of 2000. In comparison, Sendinblue's free plan gives 9,000 emails per month, with a daily sending limit of 300.
However, Mailchimp's free plan is limited to 2,000 contacts – and that is across all lists, so if you have the same contact in two lists, it counts as 2 contacts. The moment you have 2,001 contacts, you'll need to upgrade to a paid plan, even if your sending volume is lower than 12,000 emails per month.
Additionally, the base paid plan at Mailchimp is limited to just 500 contacts, so if you have 2,001 contacts, you'll need to pay $29.99 per month. That price quickly increases the more contacts you add to your base, already reaching $55 once you hit 5,000 contacts.
If you're planning to grow your contact base quickly, you might be better off checking out cheaper Mailchimp alternatives.
Sendinblue's free plan is only limited by the volume of emails. We don't charge you per contact stored. This gives you the flexibility to grow your list as large as you want and wait until you're ready to scale up your sending volume to start paying the baseline plan, which starts at $25 for 40,000 emails per month.
Pricing: Comparing the price of entry-level plans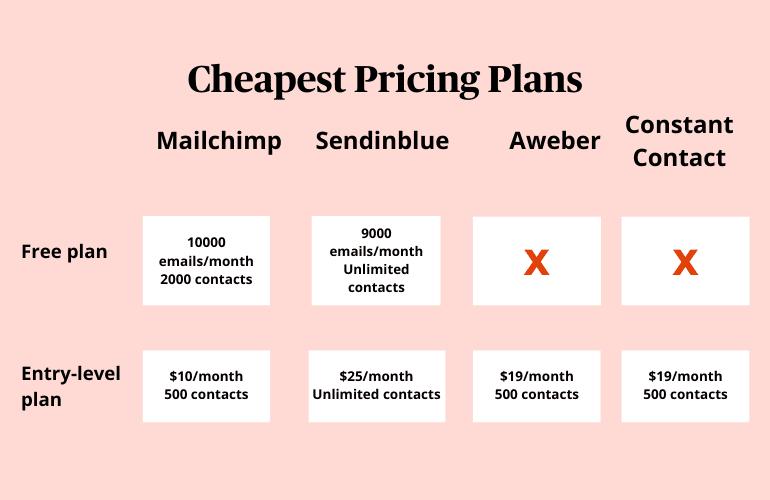 Depending on how you send emails, the best priced email marketing service might be different. Mailchimp, Constant Contact, and Aweber all have a pricing plan that is based on the number of contacts you have in your list.
So, if you're sending a lot of emails (i.e. 10 emails per contact or more) to a small number of contacts, these might be priced more to your liking. But, keep an eye out because Constant Contact charges more for access to certain features!
Meanwhile, Sendinblue has a pricing structure that is more based on what you're actually sending in terms of volume (always allowing an unlimited number of contacts). For the vast majority of businesses, this will be cheaper because you simply pay for what you use.
Mailchimp: A well-known service but pricey
Mailchimp is one of the most well-known brands out there, and probably THE most recognized email marketing service; offering many integrations/plugins, a simple user interface, and a deep set of features.
But, that recognition comes with a pretty steep price tag…
As you increase the number of contacts (or the number of lists, which count as new contacts even if they're comprised of existing contacts), the price you pay for Mailchimp grows very quickly.
For example, if you have 10,000 contacts across all of your lists, you'll have to pay a minimum of $80 per month, no matter how much you're sending.
Additionally, the marketing automation features of Mailchimp can be somewhat limiting, as you can only use it to automate the sending of emails. It's not possible to update data attributes or send SMS messages.
Sendinblue: all-in-one solution for SMBs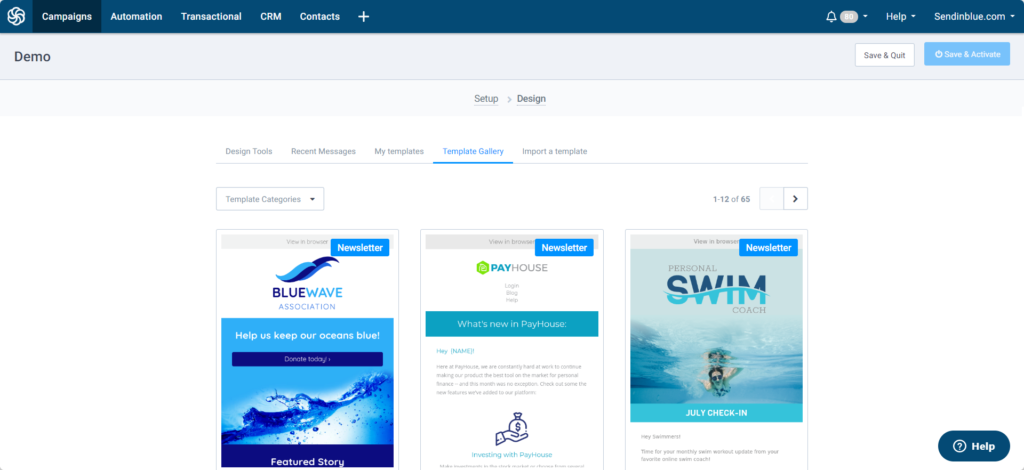 Sendinblue is one of the most powerful, flexible, and intuitive email marketing services out there. The email marketing platform is a one-stop shop for digital marketing tools to make it easy for SMBs to set up and start using:
Email marketing and newsletter creator
SMS marketing
Marketing automation
Transactional emails
Landing pages (premium-only)
One of the clearest ways that Sendinblue is different from other email marketing services is the pricing. It's based only on the volume of emails sent rather than on the number of contacts in your list. The goal is to provide enterprise-level marketing tools to businesses that don't necessarily have an enterprise-level budget.
Our email blast service also has the most robust marketing automation offering, which gives users much more flexibility to customize and connect with other tools.
The interface is intuitive for users of any level, including email templates, pre-made automation scenarios, and more advanced options within the platform or through the powerful API.
Send my next email campaign with Sendinblue >>
Aweber: a legacy email solution for enterprises
Aweber is an email marketing tool that has been around for over 20 years. Like Mailchimp, Aweber bases pricing off of the number of contacts that you have in your database.
They offer everything you would expect from an email marketing service that is built to send email campaigns (rather than transactional emails), and every plan has access to every feature.
The only thing strangely missing is the ability for users to dynamically adjust the content of the message in an email based on certain conditions (e.g. show a photo of a blue shirt if the contact's favorite color is blue).
The marketing automation feature is limited mostly to email automation and adding tags for segmentation, but workflows are only based on actions that contacts take in emails. Unlike Sendinblue, there is no on-page web-tracking that can be integrated into the process.
One thing they stand out on is the A/B testing feature. Like Mailchimp, Aweber has a solid A/B testing feature, allowing users the option to test up to three different emails; which includes all elements like subject line, email content and design, and even sender name.
Constant Contact: overpriced and very limited functionality
Constant Contact is another one of those email marketing tools that has been around for a long time (started in 1996), but hasn't quite kept up with the industry trends and consumer needs.
Similar to Aweber, Constant Contact doesn't offer users the ability to send transactional emails through their platform. The email campaigns platform has all of the standard features (email design editor, email templates, etc.), but advanced features like dynamic content and A/B testing are only available to premium users (called "Email Plus").
Marketing automation is also only available to premium users, and the features is limited to just email automation: no on-page tracking, advanced actions, nor database automation.
The pricing is based on the number of your contacts as well, and the starting point is extremely pricey — with users who have more than 5,000 contacts being required to pay $95 per month for a non-premium account (and $125 for a premium account with access to advanced features).
An email marketing service = a powerful growth tool for your business
We hope this comparison of the best email marketing services has given you a solid understanding of what's available on the market. Now you can make an informed decision on the best email marketing provider to meet your needs.
Of course, you can always try out several different platforms and free tools before making a commitment.
If you're interested in some of the Sendinblue features discussed in this article, why not take Sendinblue for a free test-drive? 👇
Open my free Sendinblue account today >>
For more email marketing tips, sign up to our monthly newsletter and follow us on Twitter.