How to Define Meaningful Email Marketing Goals
Email marketing goals should be campaign-specific, customer-centric, and always focused on driving more engagement. The real value of email marketing is building meaningful relationships with contacts, and your goals should reflect that.
Accomplish all of your email marketing goals in 2018 by optimizing your strategy and focusing on your customers.
Whether your email marketing efforts fell flat in 2017 or picked up steam, there's always room to improve this year! But before you double down on everything you've already been doing, take a step back and plan how you'll succeed.
Set realistic email marketing goals that you can achieve incrementally and build on previous efforts to boost your results.
We've put together a few ideas of goals you can reach for this year.
Our Sendinblue Academy also has an entire video dedicated to email marketing goals:
Ready? Time to get planning!
1. Keep a Clean Email Contact List
Regularly cleaning your email list improves your sender reputation, which is reason enough to devote some time to scrubbing it squeaky clean. However, sending emails to a clean list also ensures that the time you devote to crafting emails won't be a lost cause. That's because your messages will actually land in the inboxes of recipients who want to receive them.
The most effective way to clean your email list is to systematically remove bad email addresses following three key steps:
Remove email addresses that produce a hard bounce. This weeds out fake, outdated, or misspelled email addresses. Luckily for you, Sendinblue does this automatically. 🙂 Make a judgement call on soft bounces – removing addresses that bounce several times in a row is probably a good idea to prevent any damage to your sender reputation.
Purge generic email addresses like info@company.com and contact@company.com from your list to ensure that you're only emailing actual people.
Start using a double opt-in approach to verify that recipients definitely want to receive your emails and that they entered their address in correctly. It's also a great idea to help you maintain opt-in records for the GDPR.
In addition to the steps above, you might also want to consider sending a re-opt-in email if you have an old list of contacts and low engagement numbers. This is a marketing automation workflow that allows you to remove uninterested contacts from your list automatically if they don't "re-opt-in" to your list.

Re-opt-ins may also be necessary for European contacts in light of the GDPR to ensure that you have received positive consent from all of the contacts on your list.
Cleaning your email list will definitely reduce its size, but it will result in a much more engaged audience.
2. Grow Your Email List Sustainably
When it comes to email lists, not all growth is created equal. Still, if you want to be successful in your campaigns, growing your list should be one of the top email marketing goals to increase your reach in this channel.
Utilizing tactics like sweepstakes or giveaways can generate rapid growth. However, this growth is usually followed by large waves of unsubscribes, which can end up hurting both your sender reputation and brand image later on.
Instead of trying to increase your subscriber list as quickly as possible, aim for steady continued growth over time. This type of growth is more sustainable and almost always leads to better subscriber engagement.
Testing out new calls-to-action (CTAs) on your website is a great way to grow your email list in this way. Ensure that the CTA you use is relevant to the content on the page and your business and focus on one or two per page to avoid overwhelming visitors. This will bring in much higher quality subscribers to your list and lead to better engagement overall with your emails.
3. Avoid Spam Filters
It doesn't matter if you have the most spectacular emails ever created if no one ever receives them. Avoid getting your emails automatically filtered out by spam filters by following these simple tips:
Avoid SHOUTING!! Never capitalize entire words in your email subject lines — it comes off as spammy.
On a similar note, you should also use punctuation wisely. Don't include tons of exclamation points or question marks in a row to artificially draw attention… that's not a good look.
Use natural sounding phrases instead of just stuffing subject lines with keywords.
Stay away from spammy words like "free" and "urgent" to avoid having your emails filtered out with offers from Nigerian princes.
Balance text and images in the email body. Emails solely comprised of images are likely to be blocked by email providers.
Minimize links. Including too many links in your email signals to email providers that your email may contain spammy or malicious content.
Taking the time now to strategically think through your email subjects and formats will pay off in the long run when your deliverability improves. In addition to the subject line, there are other best practices for email deliverability that you can look into if you're still having problems with spam filters.
4. Boost your Open Rate
Low open rates are email marketing killers! It's absolutely essential that your subscribers open your emails — otherwise, there is no way for them to see your beautiful email content inside!
Encourage recipients to open your emails by sending fewer emails and timing them appropriately. The more emails you send, the more likely subscribers are to ignore some (or all) of them. Respect your subscribers' time by only sending emails they want to receive in natural increments.
Depending on the nature of your business, this may be every few days, once a week, every couple of weeks, or even once a month. But there's very little reason to email subscribers multiple times a day for the large majority of businesses out there. The time of day when you send emails can also drastically influence your open rate. While popular times of the day for sending email may be mid-day and after dinner, your specific audience will have its own preferred times to receive emails. Testing can help you uncover which times of the day are best.
Trying new things with your emails like using emojis in the subject line is another way to increase email opens. While this isn't something that every audience will appreciate, it's becoming more common and better received among a lot of demographics
Reducing the subject line length is a tactic that many email marketers find effective when it comes to increasing email opens. Fitting the entirety of the subject into the viewable area of the email ensures that the recipient will have a clear picture of what your email is about before opening it. Using a subject line that's too long will cause it to be cut off, confusing and annoying recipients.
When creating a subject line though, be sure to make it relevant to the email content. If you use clickbait tactics to entice readers, they will be disappointed after opening, which can lead to higher unsubscribe rates — or worse, spam complaints!
Including action words is another way increase email opens. Create excitement using verbs like "find," "discover," "earn," and "try" instead of more blasé language. Personalized subject lines combined with these verbs are often a one-two punch when it comes to increasing open rates.
5. Increase Engagement
Getting subscribers to engage with your emails is contingent upon one thing – sending them content that appeals to them.
Using different types of segementation to create smaller, more focused lists is the first step towards increasing engagement. Collecting the right information from subscribers upfront makes this segmentation much easier from the beginning.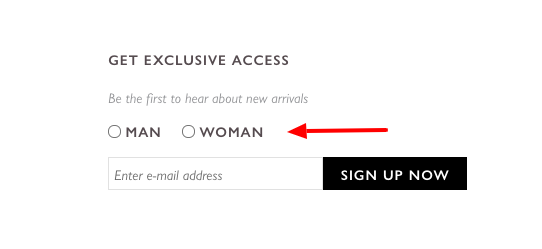 That's why it's always a good idea for you to give new subscribers options — some ideas could be:
Give blog subscribers the ability to choose topics of interest
Let eCommerce contacts choose a gender preference (or preferences) and maybe product categories
Give new contacts options for the desired frequency at which they would like to receive your emails (daily, weekly, monthly, etc.)
This, however, is not always a possibility, which is why most companies automate segmentation as they go based on subscriber actions like email opens, click-throughs, purchases, and more.
Personalizing email content also boosts engagement because it makes subscribers feel like the content they're receiving has been created especially for them. This doesn't mean inserting a name into your email intro and calling it a day though. Rather, you should take the time to personalize your content based on previous purchases, typical engagement patterns, and other variables to craft content that will exceed their expectations.
6. Improve Transactional Emails
While promotional emails and newsletters are valuable email marketing tools, they don't stand alone. Transactional emails like signup confirmations, order confirmations, feedback submissions, and stock notifications offer opportunities to provide stellar customer service.
However, to be more effective, transactional emails must:
Include all of the necessary information. If you're sending an order confirmation, you should always include the details of the order and purchase before you add anything else.
Be recognizable as an extension of your brand. Don't settle for the default transactional emails from your CMS — instead, make them reflect your brand so your customers have a more seamless experience.
Feature promoted content as well. Linking to helpful pages on your website and social media profiles is a good way to increase engagement with other marketing initiatives.
Transactional emails play a pivotal role in any comprehensive email marketing campaign by conveying vital information while also improving brand image. Don't miss out on this bonus opportunity to increase trust in your business and provide a great experience to your customers.
Now that you've got some email marketing goals in mind, it's time to start taking action. Start engaging your customers on a deeper level and see how far you can go!
If you want more content like this, subscribe to our newsletter or follow us on Twitter!