Email marketing for nonprofits is one of the best tactics to get the most value from your marketing strategy without sacrificing your entire budget. Here's why:
Nonprofits are always faced with the challenge of tackling very important and complex problems while maintaining a fraction of the budget that most businesses have at their disposal. If they want to get the word out, gather more support, or increase their outside donations, nonprofits need to prioritize the most effective channels and tactics in order to maximize results.
One channel that is often included in the nonprofit marketing arsenal is email marketing. Thanks to its relatively high ROI, scalability, versatility, and ubiquity, email is the perfect tool for nonprofit marketing strategies.
To better understand the benefits, here are 5 clear reasons why email should be a top priority for every nonprofit:
5 Priceless Benefits of Email Marketing for Nonprofits
High Engagement
The biggest benefit of email marketing for nonprofits is increased engagement.
Email allows nonprofits to keep audiences engaged in a unique way by providing a platform for mission-driven storytelling and progress updates through a medium that is nearly ubiquitous around the world. As a result, nonprofits can align their agendas with supporters' values and goals. The result is increased engagement during fundraising campaigns and continued support for the mission afterward.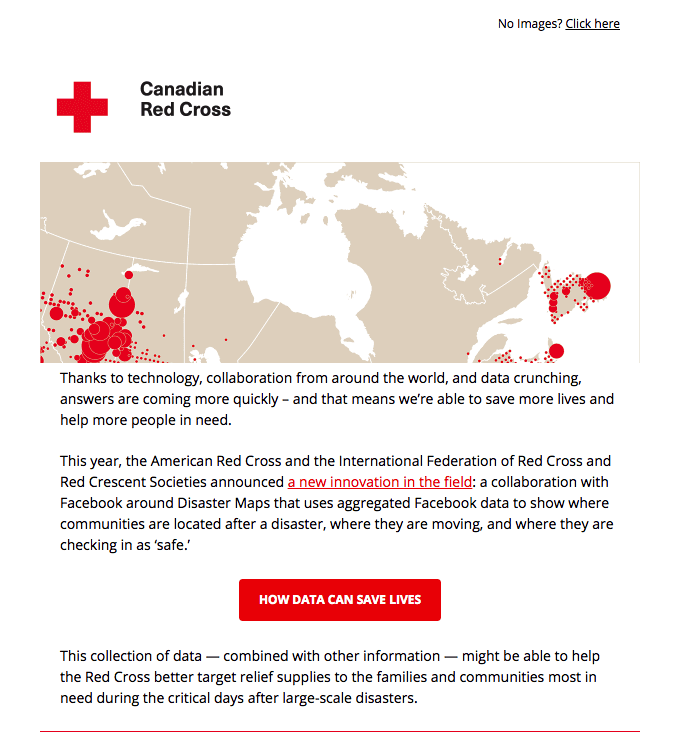 You can see this storytelling in this example from the Canadian Red Cross. They give a brief summary of their initiative using data to locate people who need to be rescued after natural disasters to show subscribers the good work that they're doing. Then, they provide a link to the article that gives supporters more information on the program and reminds them why they support the organization and their mission in the first place.
Clever nonprofits can boost engagement even further by segmenting their email list to target different audiences with more specific communications.
For example, segmentation can be used to separate current donors from future donors, as well as passive supporters from active supporters. Through segmentation, nonprofits can create smaller lists to send very focused emails with more effective calls-to-action. These personalized emails make supporters feel valued, encouraging their ongoing loyal support.
Increased Donations
Email marketing allows nonprofits to increase donations by reducing the barriers to donating.
Email is a more cost-conscious and less intrusive way to ask for donations than direct mail, which makes it far more effective. Including a "donate now" button in your emails is a good way to prompt subscribers to donate and linking it to a simple online donations form makes the whole process much more painless.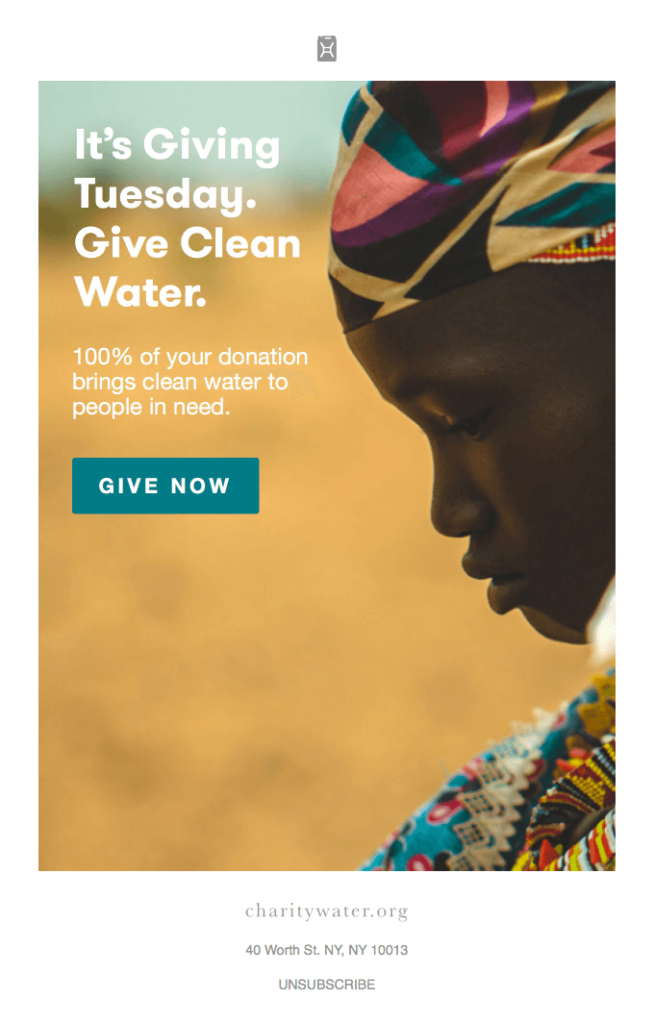 Email marketing also allows for effective follow-up after asking for a donation using marketing automation – either to thank a donor for contributing or to ask again if the request went unanswered.
Additionally, email marketing generates the possibility for increasing donors without doing any extra work because email is so shareable between friends and family. When a subscriber forwards a nonprofit's email to someone else, it expands the email's reach, improving the chances of receiving additional donations.
Better Participation
Keep subscribers up to date with the latest happenings and promote events through email newsletters. Using email marketing to encourage participation in events can boost fundraiser attendance and volunteer signups.
Just like donations, it's easier to sell fundraiser tickets through email than via direct mail or over the phone. Allowing subscribers to RSVP to events through email also provides the potential for integrating a web-based ticketing system like Eventbright for your event.
For rallies and protests, organize crowds ahead of time to equip supporters with the resources to make the event safe for everyone. If you use an SMS messaging service for real-time updates on the go, cross-promote that functionality through emails by prompting subscribers to sign up for texts as well.
Reinforced Credibility
For nonprofits with complicated histories or missions, email marketing provides a way to clarify objectives and rally support. Some nonprofits even use emails to answer supporters' questions and address concerns to improve transparency and build trust.
Spotlighting individual supporters and success stories is another way that nonprofits use email marketing to increase credibility. By focusing on the individual and group benefits of supporting the cause, nonprofits can continue to further their missions.
Boost Support
Get the word out about your nonprofit with email marketing to increase the number of supporters for your cause.
It's much easier for supporters to share an email than a flier or direct mailer with their personal and professional networks. Emails are also unlimited in their expansion potential, meaning that one recipient can share an email with a single close friend or 100 acquaintances.
Integrating social sharing buttons into emails allows subscribers to cast an even wider net to generate further support. Giving recipients a way to share event and donation information to their social networks provides the basis for an even bigger push for support across thousands of connections.
Want more useful marketing tips and hacks? Subscribe to our newsletter in the sidebar and get our top articles delivered to your inbox every month.