As a financial services provider, you need a strategic way to reach your audience, preferably without spending a ton of money on ads. Enter email marketing, a way to communicate with potential and current clients while cultivating trust, adding value, and building authority.
But email marketing is at best a nebulous concept, and at worst, it can seem downright intimidating. For those providing a financial service to consumers, it's important to know the ins and outs of email marketing in order to make the most out of your communications with your customer base.
That's why we've compiled these actionable, game-changing tips for effective email marketing for financial service providers, financial advisors, and financial institutions.
What can email marketing do for financial services?
Effective email marketing is a game changer for the financial services industry. It's a reliable way to foster trust with your audience and keep your brand at the top of consumers' minds.
Email marketing can even save you time and money when done the right way by allowing you to target customers simultaneously while they're spread across the different stages of the buyer's journey.
5 Tips for making the most of email marketing for financial services
The best ways to make the most of financial services email marketing are to conduct multivariate testing, format your emails correctly, and perfect the art of the subject line.
And, when doing financial email marketing, make sure you focus less on conversions and more on building authority and establishing trust while cultivating and segmenting your email lists for maximum effectiveness.
Don't worry if this seems overwhelming at first glance. We'll take a look at each of these practices in further detail in the following sections.
1. Conduct multivariate testing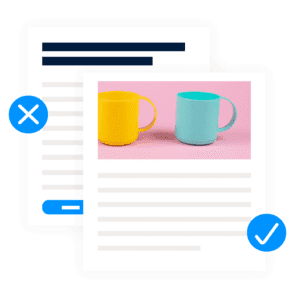 If you're not sure what best practices look like for your emails, conduct multivariate (or A/B) tests to get a good feel for what's working and what's not.
Test things like subject lines, send times, your sending frequency, and even the contents of your email signature. In fact, you should test everything you can to get the most comprehensive picture of the health of your email campaigns.
It may seem tedious to test even the smallest of variables in your emails, but it's worth it to see the effects they could have on your results.
And remember that, while it's easy to get lost in the details of testing and trying to draft the perfect email, it's important to note that there's no such thing, just as there's no such thing as an average reader.
2. Format your emails correctly
Keeping your emails branded with colors, fonts, and content that fit logically with your company's established brand guidelines establishes trust with your audience and gives them a feeling of consistency. When they open your emails, they know what to expect and what the content should look like.
This brand familiarity goes a long way toward establishing your brand as one that's reliable, so make sure you don't skimp on this step. To make it easy on yourself, consider developing an email template to use and reuse so that you're not starting from scratch each time you sit down to send a message for your recipients.
Make sure emails render correctly on all devices
Another best practice includes formatting your emails for each type of device your customers might access them from to help improve your readthrough and open rates.
Test your emails to see what they look like on mobile phones and tablets as well as desktops to make sure you're not overlooking a critical formatting error that will detract from your messaging. Also, when formatting for each device, include white space and bulleted lists so your emails don't contain a suffocating wall of text.
Don't get so bogged down in analyzing metrics and running tests that you lose sight of the forest for the trees. While conversions and click-through rates are important, you shouldn't sacrifice quality in your email marketing strategy to pump these numbers up.
Focus on distributing reliably high-quality and useful information to your audience and your numbers will rise organically.
3. Build authority and establish trust
Before you dive headfirst into asking for a sale, take the time to build up your authority and establish trust between your financial services brand and your current and prospective customers.
Doing this adds value for your readers, instead of you just emailing for the sake of emailing or solely to promote an offering.
Especially in the financial services industry, focusing on fostering relationships with your customers and prospects will pay big dividends, as a foundation of trust goes a long way when you're responsible for the finances of others, so make this a primary focus of yours.
We talk more about building customer trust in our article on digital marketing for financial services.
4. Cultivate and segment your email lists
When establishing and building your email list, focus on the quality of your contacts and not the quantity. To create a more personalized customer experience, segment your lists to make sure everyone receives content that's most relevant for them.
How and why you segment them is up to you, just make sure that you take the time to regularly sort through your lists to keep them clear of inactive subscribers.
For instance, if you have prospective clients who are just starting to check out your brand, you can use email marketing to share relevant information and establish yourself as a thought leader in the financial services field.
And if you've got loyal subscribers who are already familiar with your brand, you can use email marketing to target your messaging to reflect the value of your offerings, advertise new products, and market discounts whenever possible.
Put these differing groups of clients onto the right lists so that your message for them is appropriate for the stage of the buyer's journey they're in.
5. Pay close attention to your subject lines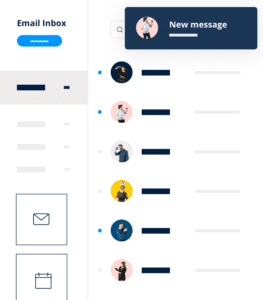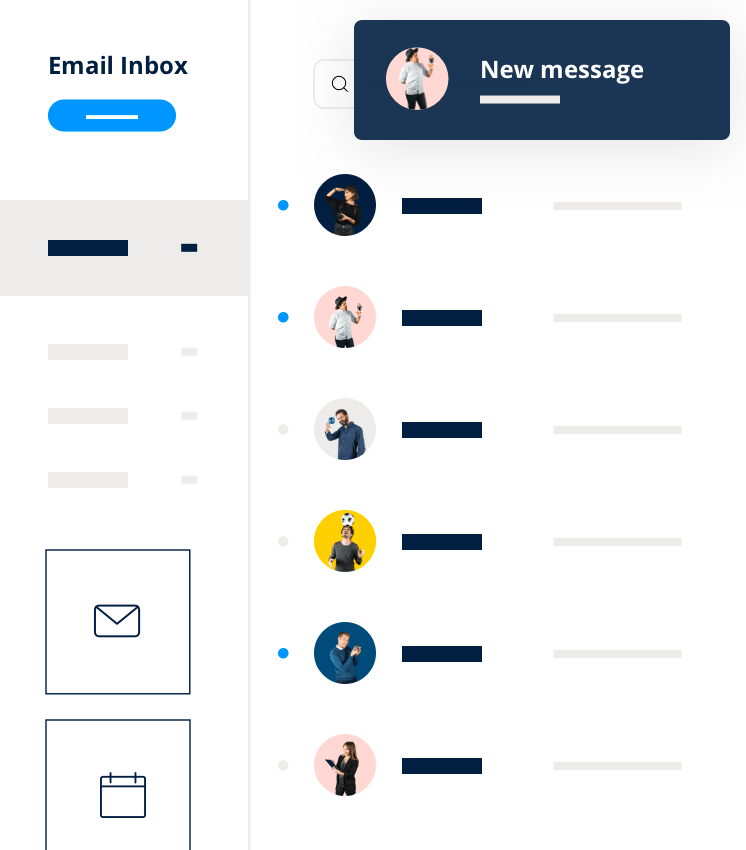 Deceptive subject lines only leave your recipients frustrated with your brand and offerings, so to avoid leaving customers with a bad taste in their mouths, never give in to the temptation to write clickbait.
Be clear and personable with your subject lines and personalize when you can for the best results (but go above and beyond the generic "Hey [FIRST NAME]!" greeting).
This also keeps people from deleting your emails without opening them because they seem like spam or a potential phishing attempt, a big concern in the financial services space (this is yet another reason that consistently branding your emails is so important).
Subject lines aren't a good place for using clever wording unless the meaning of the wordplay is explicitly clear, so write with a focus on precision and clarity. Devote a significant amount of time on the subject line to get it up to par. If it feels like you're spending too much time on it, you're probably doing something right.
Further reading: Email Subject Lines: 8 Tips to Captivate Your Audience in the Inbox
Email marketing for financial services with Sendinblue
When you use these tips, you'll feel confident knowing that you're making the most of the opportunity you have to communicate with, inform, and entertain your audience by email.
Once you've conducted testing, formatted your emails correctly, and nailed that subject line, you're ready to launch an email marketing campaign that puts a spotlight on your financial services offering.
If this all seems like a lot to keep in mind, remember that email marketing doesn't have to be a chore – as long as you choose the right email marketing service.
With Sendinblue's all-in-one digital marketing software, you can dive straight into the world of email marketing, resting assured that you're working with an experienced partner.
Quickly and easily open your free Sendinblue account today and get started making the most of email marketing for your financial services brand. Test it out by sending up to 300 emails a day completely free.
For more marketing tips like these, subscribe to our newsletter and follow us on Twitter.