Reading time about 13 min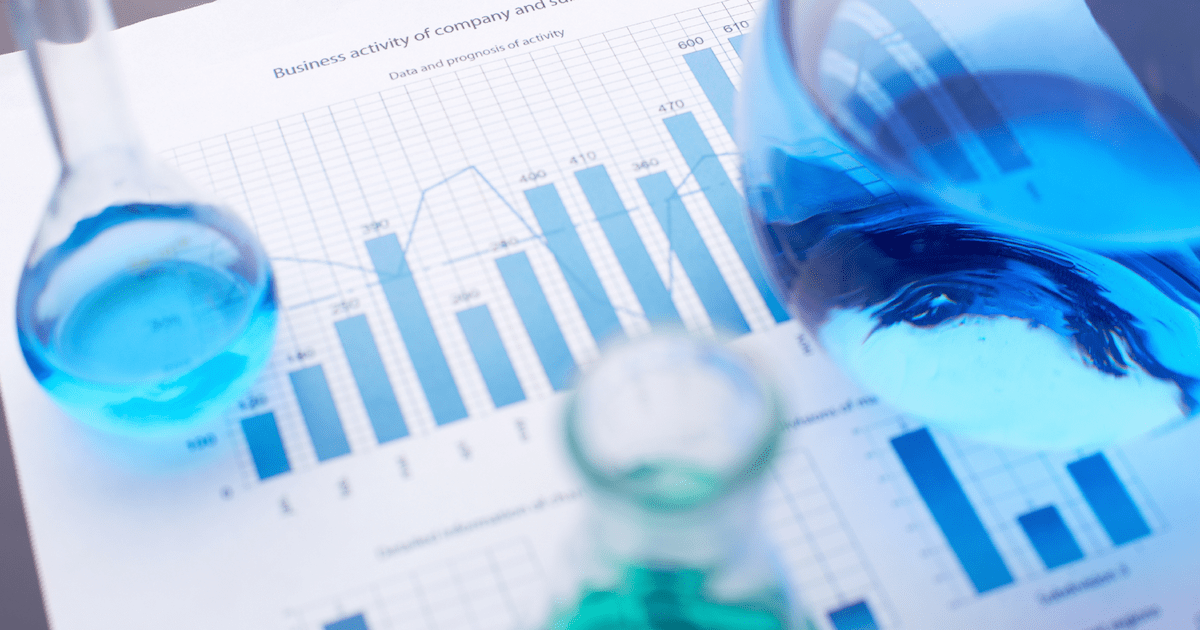 Over the last 10 years, travelers (especially younger generations) have started to shift their preferences from hotels to short-term rentals.
This change is mainly the result of websites like Airbnb and HomeAway making it much easier for hosts to list their home (usually at a lower cost than hotels), and for renters to find them.
In staying at one of these listings instead of a hotel, the travel experience is more authentic because the renter gets to live like a local. It takes the old saying, "when in Rome…" to a whole new level.
But what can we learn from these companies beyond the travel lodging industry?
One thing these companies do very well is communicating with users to make their lives easier.
Seeing as email is one of the best communication channels to communicate with users, it makes sense that these companies have email marketing down to a science.
We decided to do an email marketing case study that takes a deeper look at the strategies of both Airbnb and HomeAway to see what lessons we can learn. But, mostly we just wanted to see which company's email marketing strategy would win in a duel. 🙂
The Contenders
Before we dive deeper — let's introduce the two companies that we will be looking into:
Airbnb
Coming onto the scene in 2008, Airbnb is the company that truly popularized this type of vacation lodging and brought it to the mainstream. By focusing on a community-driven approach, the company has set itself apart from competitors as the most approachable solution.
HomeAway
Launched in 2006, HomeAway has acquired and currently operates through 40 different websites (including the popular VRBO.com). Designed to make it easier for hosts to list their properties, HomeAway has acquired the largest selection of rental listings in the world.
Methodology: How we gathered the emails
In examining the email marketing for both companies, I created three separate accounts for each site. The accounts were used as follows:
1st account: Completed profile and made an identical search for listings using specific dates.
2nd account: Completed profile, searched listings, initiated the booking process, then abandoned cart. After waiting one week, listings were booked on both platforms.
3rd account: Signed up but did not complete the profile (did not upload a photo or fill in the biographical information).
Comparing the Email Marketing Strategies of Airbnb and HomeAway
Now that you're familiar with the companies and methodology, let's take a closer look at their email marketing strategies.
Onboarding & Initial Promotional Emails
Onboarding emails are one of the best ways to engage users and make your product stick.
The goal of onboarding is to guide users through the setup or account creation process and educate them on how to use your product. Typically this is performed through a series of targeted emails that are triggered based on behavior.
In examining the onboarding emails from Airbnb and HomeAway, I created an incomplete account (with no bio or photo) and an account with a completed profile. This was to ensure that their onboarding series didn't fall through the cracks if it was only targeted for incomplete profiles.
Here's how each of the sites performed:
Airbnb Onboarding Emails
For both the complete and incomplete profile accounts, Airbnb sent the same three emails. The first was a transactional email that prompted users to verify their email address.
Then came a welcome email that directed users to the site by encouraging them to search the listings.
After one week, Airbnb followed up with an email that encouraged users to list their home in order to earn some extra cash.
The Good
What I like about these emails (and really all emails from Airbnb) is that they look really good. The design has everything you want:
Minimalistic copy
Clear objective
Fresh colors and a clean design
Airbnb does a great job of keeping these emails very pointed so that the user is never uncertain what they are being called on to do.
The Bad
The onboarding series leaves a lot to be desired. Even when the account profile was incomplete, I was sent the same emails. There was no guidance or prompt to complete the profile.
Airbnb seems to assume (or know?) that users already know what is possible with the platform and don't need any reminders or further education.
Analysis and Lessons Learned
It seems like Airbnb is trying to minimize the number of emails that it sends to new users.
This is likely because they want to use on-site prompts to guide the onboarding process instead. They are using notifications (below) that guide users on-site instead of sending an email series.
Keeping that in mind, Airbnb does a really great job of simplifying the goal of their emails to increase the likelihood that users engage.
By minimizing the number of emails they send in the onboarding series, they can focus on getting people to their site, and let the on-site messaging do the rest.
As an additional note, I thought that it was interesting that they include an email encouraging people to host early on. This is often an afterthought for many users, who just login to Airbnb to find a place to stay. This email is a smart way to grow the listings by reminding users that they can benefit from both sides of the platform.
HomeAway Onboarding Emails
HomeAway takes a bit of a different approach during the onboarding process. They started with an email verification transactional message. After this, they changed things up a bit, but I'll get to that in a minute.
In addition to prompting users to verify their email address, HomeAway's message includes information on their features (albeit in a less than aesthetically pleasing fashion).
After verifying the email address, HomeAway waited over two weeks to send a welcome email. This email encourages users to search the listings, and also included a few other calls-to-action such as downloading their app.
For the account profile that was completed, HomeAway sent a lot of promotional emails (one every 2-3 days) between the email verification message and the welcome email.
Here are a few examples of these emails:
The Good
HomeAway does a nice job of letting users know what is available through the platform. Even in the initial email verification message, they talk about the features of their product and what you can do with it.
The Bad
The email team at HomeAway could probably stand to take a few notes from Airbnb.As you can see above, many of the HomeAway emails are a little cluttered, and they aren't particularly engaging. Although the CTAs are relatively clear, they could do more to focus the purpose so that users are more likely to click through to their site.
Analysis and Lessons Learned
I liked that HomeAway included some more info about what users can get out of the platform in their emails. The problem is that they sent too many promotional emails before their welcome email and ended up cluttering my inbox.They are probably hoping users will engage with these promotional messages so that they can learn what each user is interested.
If that is the case, I like where their heads are at. It is good to learn more about your customers so that you can personalize emails. This personalization can boost engagement with emails and drive more use of your product.
Unfortunately, HomeAway is sending a few too many of these emails, and the messages could be simplified and still achieve the same goal.
Abandoned Cart Follow-up Emails
Next up is the abandoned cart email. These are a staple of any e-commerce site, and even though you may not think it — booking a stay at a listing on these sites is an e-commerce transaction.
The point of these messages is to remind users who were about to make a purchase that they can still do so by returning to the site. Many users just need more time before they make their final decision — and this message is a great way to remind them what they were considering.
Unfortunately, HomeAway did not have an abandoned cart message, so I will just discuss Airbnb's.
Airbnb Abandoned Cart Email
The abandoned cart message from Airbnb came one day after I viewed a listing, clicked "Book," then left the page before completing the transaction.
The email prompted me to take another look at the listing, as well as providing similar alternatives that might be a better fit.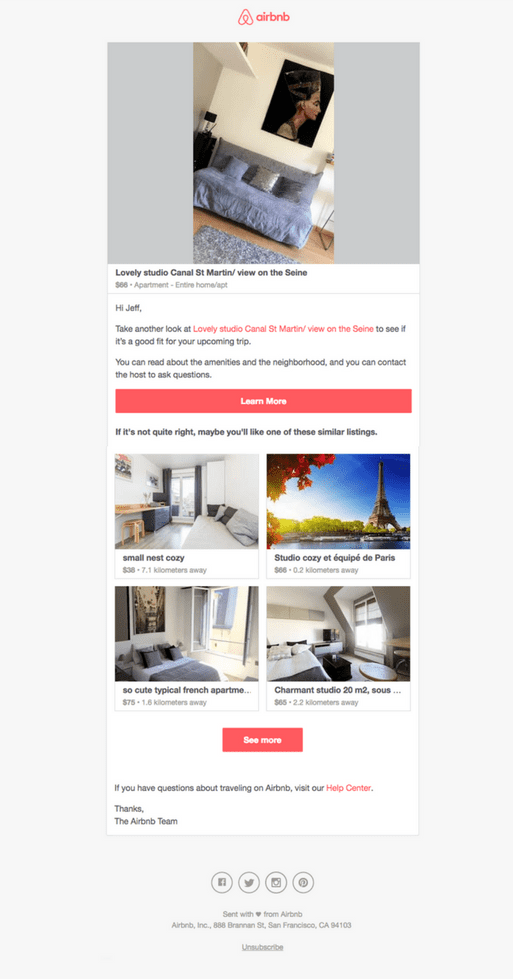 The Good
I love this email. It has everything that I would suggest for an abandoned cart email, and it is delivered in Airbnb's classic style.
Subtle reminder to take another look
Personalized recommendations for similar listings
Simplistic design with a clear call to action (CTA).
Well timed to make sure the opportunity is not lost
The Bad
I am honestly having a hard time finding suggestions for this one. Airbnb really knocked it out of the park!
Analysis and Lessons Learned
There is always value in following up with abandoned transactions on your website. The most important thing to keep in mind is that you have to provide valuable information or the email will mean nothing.
When you provide a reminder, as well as recommendations for similar products, customers are much more likely to revisit your site and take another look.
Transactional Booking Emails
Finally, we have the transactional emails. These are the confirmation messages received after booking a listing.
Ideally, these emails should have the standard booking information, information about the listing, and a method to contact the host for any further questions.
Let's see how our competitors matched up in this round:
Airbnb Transactional Emails
After booking on Airbnb, I received a confirmation email that included all of the information you would want and then some.
Here is what it looks like:
The Good
This email has it all:
Booking receipt details
Details about the listing
Method to contact the host
Recommendations of things to do at the destination
CTA to refer a friend – a great example of taking advantage of transactional emails for marketing objectives.
Users are not likely to have too many unanswered questions once they receive this.
The Bad
The email has A LOT going on inside, which can be bad. Thankfully Airbnb did a good job of organizing the content in a way that is intuitive and not too cluttered.
Analysis and Lessons Learned
This is a pretty great example of how you can take advantage of transactional emails to advance your marketing initiatives and create a better user experience.
Many companies provide the bare minimum for these types of messages, but this email shows that you can do much more than confirm a purchase in a purchase confirmation email.
HomeAway Transactional Emails
HomeAway took a much more reserved approach with their booking confirmation email.
The Good
This email provides a lot of the information that you would want to know about your booking:
Booking receipt details
Cancellation policy
CTA for trip insurance
Link to download the HomeAway app
HomeAway does the right thing here by using the confirmation receipt as a chance to entice users to download their app or purchase trip insurance. This is another good example of how to use space in transactional emails to accomplish marketing objectives.
The Bad
This message is still missing a lot of information. It does not include details about the listing, nor a clear way to contact the host. They do have a link that will bring you to the property information, but it is not easy to find.
Analysis and Lessons Learned
Although there were definitely some positive aspects to this email, HomeAway could do better.
It seems that they prefer to communicate details through the actual platform, as opposed to email. That's not inherently a problem, but they need to do a better job of bringing people back to the site if they want to accomplish this goal.
And the winner of the email marketing case study showdown is…
If it isn't clear already, we chose Airbnb as the winner of this email marketing showdown.
Although HomeAway's emails are not bad, they seem to be an afterthought for the platform. They could make life a lot easier for users by using better design principles and including more relevant information in some of the emails they send out.
Overall, Airbnb had a cleaner design and more relevant details. The objectives for each email were clear and left no confusion as to what they wanted you to do.
Putting it all together
Now that you have seen two giants go head-to-head on their email marketing game, you should have a better idea of what constitutes effective email marketing.
The takeaway lessons from our winner are:
Design emails with a clear objective in mind: If you have too many CTAs or too much content, the purpose of your emails will be lost.
Keep your emails simple: This goes with the point above. Don't clutter your emails with unnecessary information.
Provide value for your customers/users: The more relevant and personalized you can make your emails the better. This increases the likelihood of engagement with your emails and gives the reader a much better experience.
Don't give up valuable real estate (in your emails that is): Even if you are just sending a transactional confirmation message, you can still use this to accomplish other marketing objectives.
Now you are ready to refine your email marketing strategy! Who knows — we might be looking to your business as the next great email marketing example. 🙂
Happy Sending!