What is email list cleaning?
Email list cleaning is the process of regularly updating your email contact list by purging outdated contacts and being responsive to recipient preferences. The result is a clean email list that yields more effective interactions with contacts.
---
Are you in need of some email list cleaning? If you're having trouble with email campaign engagement or deliverability, it could be just what the doctor ordered!
So you've noticed that your email campaigns or newsletters aren't getting the proper amount of engagement — or maybe they're not reaching the inbox at all!
One solution could be cleaning your email contact list to remove contacts who are uninterested, irrelevant, or disengaged.
Manage my email contacts with Sendinblue >>
How does email list cleaning help you?
Periodically cleaning your list will increase the overall engagement rates of marketing emails, which allows businesses to build more meaningful relationships with subscribers.
It's important to give your email list a good scrub every now and then to create a more targeted list of engaged contacts. This lets you focus on the subscribers or customers who really have an interest in your product. You'll be able to create content that satisfies their needs and interests.
And most importantly, you'll have higher conversion rates and a more engaged community, which equates to higher revenue and overall customer satisfaction.
It can also help produce fewer bounces from bad email addresses. Lower bounce rates on your emails improve your sender reputation because it signals to ISPs (Internet Service Providers) that you're committed to respecting recipients' inboxes instead of spamming them. This translates to improved deliverability across your entire subscriber base.
What are the risks of not cleaning your email list?
Some businesses never prune their email lists because they assume that there isn't an additional charge to send an email to one more person, but that's not true.
The cost of not using a clean email list can be: the damage to your sender reputation from email bounces, unsubscribes, and spam complaints. Over time this damage adds up and can negatively affect your ability to reach your entire subscriber base, including your best or most engaged customers.
So, how to clean an email list? Here are 5 ways.
5 simple email list cleaning tactics you need to apply
Now that you know why it's so important to regularly clean your email lists, here are a few of the best tactics you can implement as part of your email list cleaning strategy to improve your email marketing:
1. Ask Questions
If your email list has a low rate of engagement, it's difficult to tell whether your recipients don't care about receiving your content, or whether they enjoy consuming it but don't feel compelled to take further action. One way to segment these audiences is to ask questions. Jumpstart engagement by:
Asking recipients to vote in a poll
Requesting feedback on something you've done
Asking contacts to set communication preferences (preferred frequency, topics of interest, etc.) within the email itself
Offering the ability to easily make feature or product requests
Once engagement rates start to climb, filter out subscribers who still aren't interacting with your emails. (We'll address what to do with these users a little later on.)
2. Send a Re-engagement Email Campaign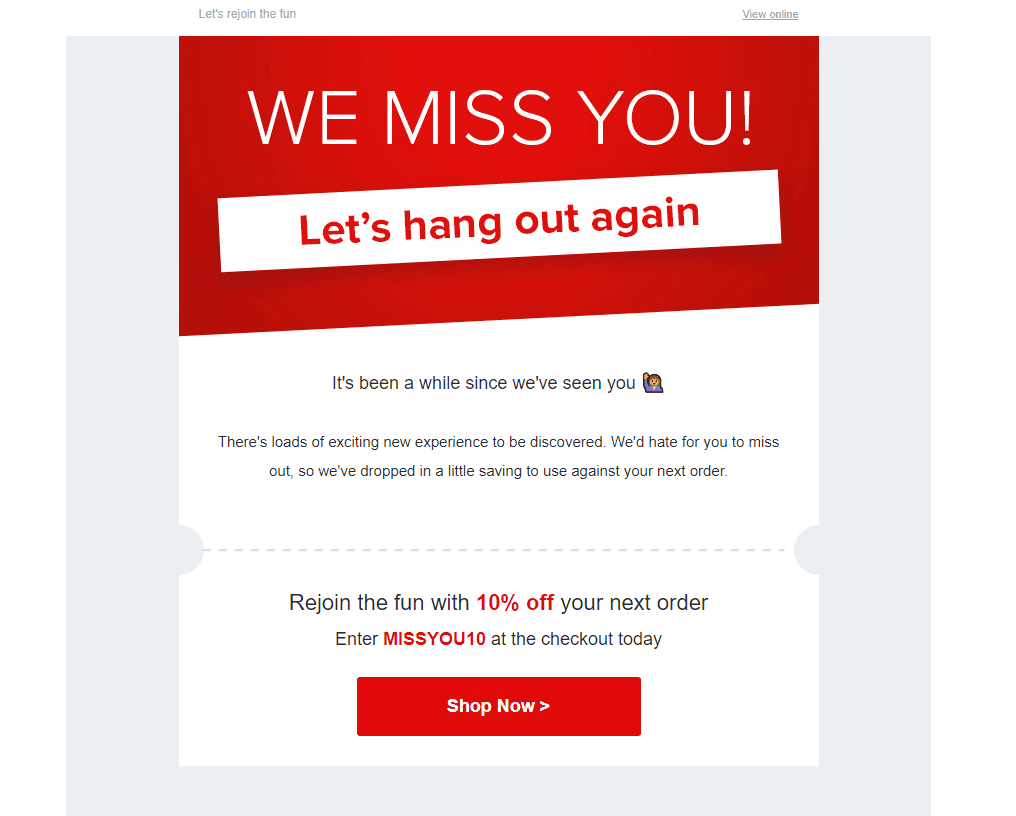 Low engagement doesn't necessarily mean that recipients are uninterested in your business overall – they may just not like the type of content that you're providing. Before you write off recipients that don't usually open your emails or click through to your website, consider what other kinds of content you could provide that might be more appealing.
Unengaged subscribers can sometimes be lured into activity with the right offer, such as:
A free gift or discount
A special perk
Exclusive content
Sometimes, subscribers appreciate your content, but they're just experiencing email fatigue. This is especially common around the holidays when inboxes get filled faster than stockings!
Plan to re-engage with these consumers on other platforms or later on. You can provide your social media profiles to connect with subscribers that would prefer to interact through a different channel other than email. Additionally, you can offer subscribers a way to pause email communications for a bit and then receive them again at a time when they're more interested or less busy.
3. Request Another Opt-In
There's no need to ask your most engaged subscribers to opt into your emails again because their interaction makes it clear that they find value in the emails.
However, your least engaged subscribers may want to go and just haven't taken the time to unsubscribe. This could be because they care so little that they would rather delete them individually than opt out of them altogether or because the process to unsubscribe is too difficult. Do yourself and your unengaged subscribers a favor by sending a re-optin campaign and remove them if they don't re-subscribe.
How do you do this?
Be transparent! Notify "sleeper" subscribers that you've noticed their lack of engagement and let them know that you don't want to clutter their inbox if they're not interested. Ask them if they want to continue to receive emails with a clear call-to-action button that will re-sign them up for future emails.
And if they don't respond?
Give it a week or two, then delete them. You can do this automatically using marketing automation (see step 5).
4. Make it Easy to Unsubscribe
Most countries require you to provide a way for people to unsubscribe from your email communications. But the laws don't necessarily specify how you need to do this, which means there's a lot of variation in how businesses handle this requirement.
Hey, did you know? Sendinblue's email marketing service is fully GDPR compliant and automatically includes an unsubscribe link in all emails. No extra effort required on your part. 🙂
Some businesses intentionally make it difficult to opt out to try to keep subscribers in their list. This usually doesn't go down well.
The worst thing you can do is hide your unsubscribe link or make the opt-out process unnecessarily time-consuming or confusing. If recipients feel like they can't leave, they'll just mark your emails as spam, which counts as a big strike against your sender reputation.
When recipients report your emails, ISPs (Internet Service Providers) lose confidence that your emails are of any value, which means that they may block or filter your emails out for other recipients' inboxes as well.
Many business owners have trouble wrapping their heads around the concept of making it easy for subscribers to leave. After all, you likely spent time and money to attract these consumers, so why would you encourage them to jump ship? The reality is that including an easy-to-find unsubscribe list and a one-step opt-out process won't encourage subscribers to leave if you're giving them a reason to stay — so make it worth their while by providing real value.
If you're offering great email content, you have nothing to fear!
5. Use Marketing Automation
Marketing automation is a great tool for pruning your email list. Efficiently clean your email list by writing rules for automatically removing or segmenting subscribers that meet certain criteria.
Easily purge invalid or outdated email addresses from your list using marketing automation to remove emails that bounce. Set up a rule to remove any addresses that bounce two or more times rather than after a single bounce.
You can also set the rule based on a time limit, e.g. people who haven't opened an email from you in 6 – 12 month. You can do this in Sendinblue by creating a filter using "Between" and setting it for between 365 (or however many days you want to check) and 0 days before today.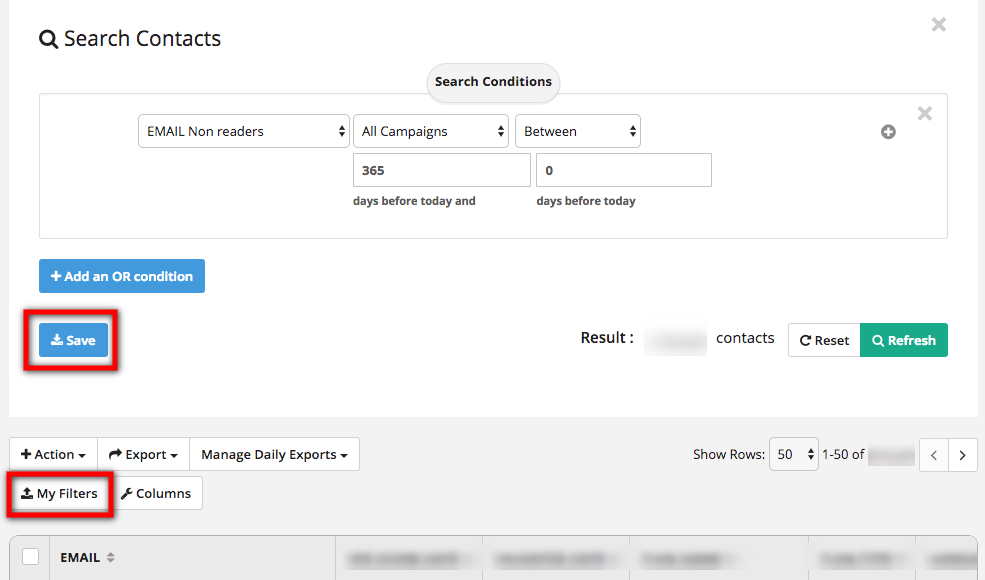 Even valid email addresses for interested consumers can bounce on occasion due to a full inbox or server technical error. Emails that bounce multiple times, however, are a sign that the email is no longer active.
This is especially important for B2B companies because their email lists are primarily comprised of business email addresses, which have far shorter lifespans than personal email addresses due to employee turnover.
Before you set up rules like this, make sure you check to see how your email provider handles different types of bounces and automatic blacklisting. Once you understand this, you can make rules that will fill in any gaps that you think need to be addressed.
Marketing automation can also help you identify low engagement subscribers and then follow the process outlined earlier to re-engage with them. You don't necessarily have to remove these less interested subscribers from your email database either. Instead, you can segment them into a new list and try a different marketing approach to see if it will resonate with them better.
Remember, marketing automation workflows are your best friend when it comes to having clean email lists.
Over to you for some email list scrubbing
Now that you're familiar with the email list cleaning process, it's time to put that knowledge to action and make sure that your list is squeeky clean for the year ahead.
That way, you are sure to see more engagement from contacts and build more quality relationships with customers.
Need a tool to start growing your list and sending email campaigns? Try Sendinblue free for up to 300 emails /day and unlimited contacts!
Open my free Sendinblue account now >>
If you want more content like this, subscribe to our newsletter and follow us on Twitter!