Reading time about 12 min

A 'Thank you for signing up' email gets your subscriber relationship off to a strong start. But welcome email templates are tough to create from scratch. To get you inspired we've pulled together some of the best welcome email examples and show you where to find free welcome email templates.
That moment, when you reach out to someone — only to be ignored.
It's never a good feeling.
Can you imagine doing that to your customers? I know that your answer is no, but you might be doing exactly that.
How?
By not greeting new subscribers with a heartfelt welcome email.
Once subscribers share their email address via your email signup form, the next step is to show them that you appreciate their business by sending them a welcome message.
The real reason you should care about sending a welcome email
First impressions count. If you don't bother with a welcome email, you're missing out on an opportunity to make a good one.
That said, let's define exactly what we mean by welcome email:
What is a welcome email?
A welcome email is an automated message sent to new subscribers or customers to welcome them and provide any interesting content or necessary information to set them up for success.
Take note of the last part of that definition – welcome emails are more than just a welcome message to say thanks for signing up. They're also an opportunity to help customers and subscribers get the most from your business from the very start.
Setting up an effective welcome email is easy. First you create an eye-catching welcome email template that reflects your brand. Then you set up a simple marketing automation workflow so the email is automatically sent to new subscribers.
Where to find the best free welcome email templates?
The good news is that you don't have to be a graphic designer today to create a stunning welcome email template. The internet is full of free email templates resources. Here are a couple of the best ones:
#1. Sendinblue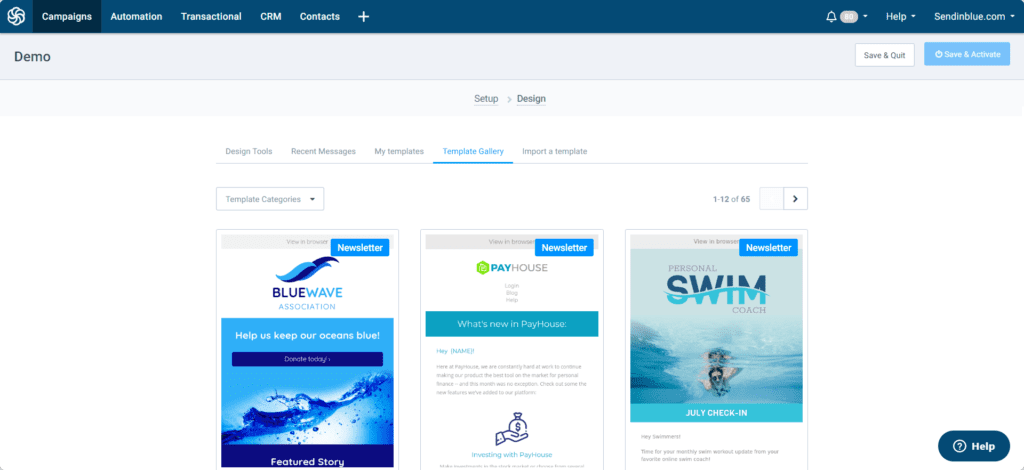 Sendinblue's email marketing software has a collection of beautifully designed email templates for you to choose from. The templates can be easily edited and customized to match your brand using the Sendinblue Drag & Drop email editor.
By creating a free Sendinblue account, you get access to 70+ email templates, the Drag & Drop email editor and a wide range of other features (including marketing automation). You can create a welcome email, set the automation sequence, and send emails up to a limit of 300/day – completely free!
#2. Stripo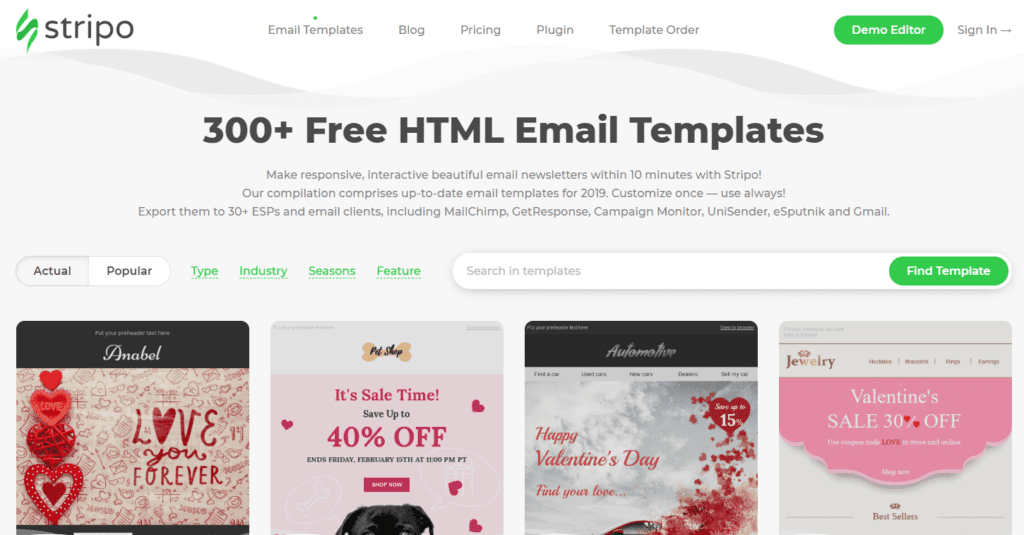 Stripo gives access to over 300 free HTML email templates. What's great about Stripo is that, without any coding skills, you can jazz up your welcome email with cool features like CSS-animated buttons, image rollover effects, and other interactive elements.
Unlike Sendinblue, Stripo isn't an email marketing service so you can't send your welcome email with it. But, what you can do is create your email with Stripo and then export it to Sendinblue for sending. The Stripo free plan allows 4 exports per month to ESPs.
Now that have you your welcome email template, let's choose a welcome message approach and start designing. Here are 9 of the best welcome emails examples to get you inspired.
1. The self-introduction welcome email example
Unless you are a well-known brand, you can use the welcome message to introduce your business to new subscribers.
Start by welcoming them to the family. Introduce your business and show them the perks of being connected to your business.
Just a word of caution: Creating an introduction email doesn't mean focusing entirely on your business.
It's not about you or your business. It's about them.
The best way to connect with your customers is to look at your business through their eyes. Talk about your business, but focus on what's in it for them. Here's a great example of this approach in action from Made In.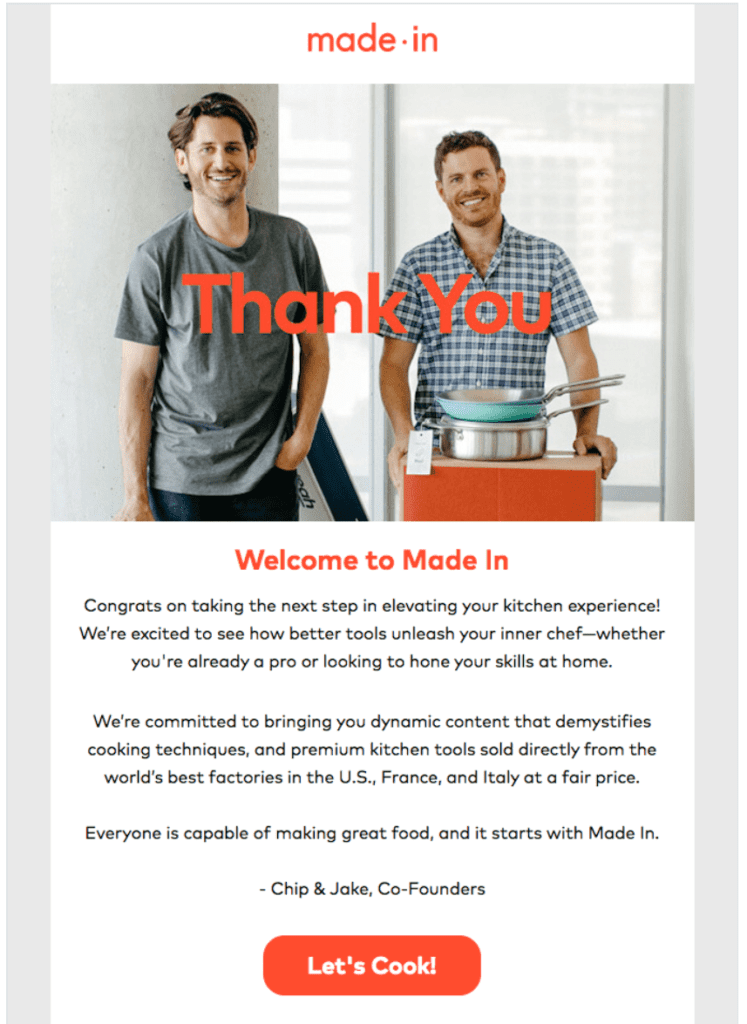 As in the above example, adding a personal photograph of you or your team is also a nice touch. Studies have shown that users ignore the stock images or models but pay attention to real pictures.
Putting a face to your brand creates a sense of proximity between you and the subscriber. This helps build a solid foundation on which to grow your relationship.
2. The personalized message
Personalized email content works. No two ways about it.
Sendinblue's email blast service lets you create personalized email subject lines and email content using contact attributes.
Another way to personalize your welcome emails is to use our web tracking functionality to send a trigger email based on pages visited, etc. If you don't have the data to do this, you can always ask for subscriber preferences up front on the email signup form.
Here's an example of a personalized welcome email from Zapier.

3. The discount & special offer welcome package
Special discount, free shipping, or buy one get one free offers are some of the most sought-after features in marketing emails.
These emails should contain the discount code or instructions on how to claim the offer.
See how True Citrus does it with a simple discount code in their welcome message.
It's better to mention an expiry date or deadline to create some urgency. You want them to act fast and make a purchase (so you can have a better idea of their preferences).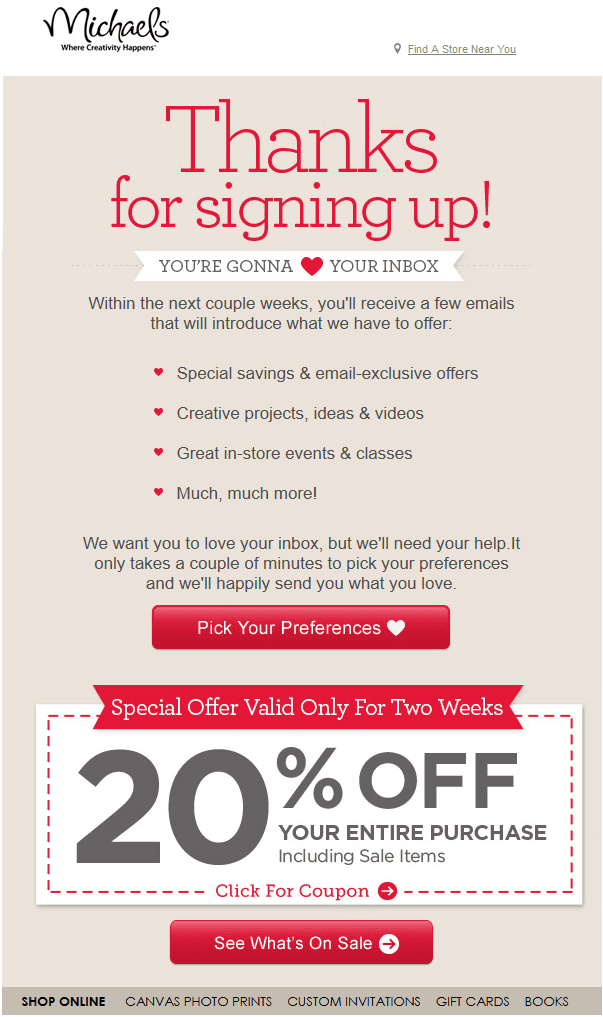 Offering a discount is a great option when you want a double-opt-in or verification from subscribers. Verification emails don't need to be a blunt, boring message with nothing but a link.
Instead, use a prominent heading or banner that highlights the discount or deal that they will get after verification.
4. Onboarding & instructions on getting started
Onboarding emails are great for getting customer set up and using your product quickly. The last thing you want is for them to forget about you, so don't neglect this important step.
Make sure your new customers know what they can do with your product and how to get the most of it.
If you want them to set up account and start using your website, show them how to do it.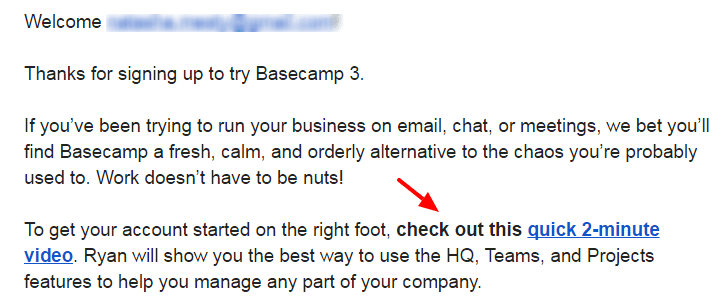 Needless to say, the onboarding message needs to be simple and smooth. You want them to quickly have a feel of your service without annoying them with advanced level configurations.
So, keep it short and simple.
You can also use videos, tutorials, or gifs to create demos. But in most cases, step by step instructions will do.
Don't forget to highlight the advantages too. Reinforce the value and show how your product/service can help them achieve what they are looking for.
Here's the "getting started" welcome email example we send, when someone who signs up for a free trial at Sleeknote.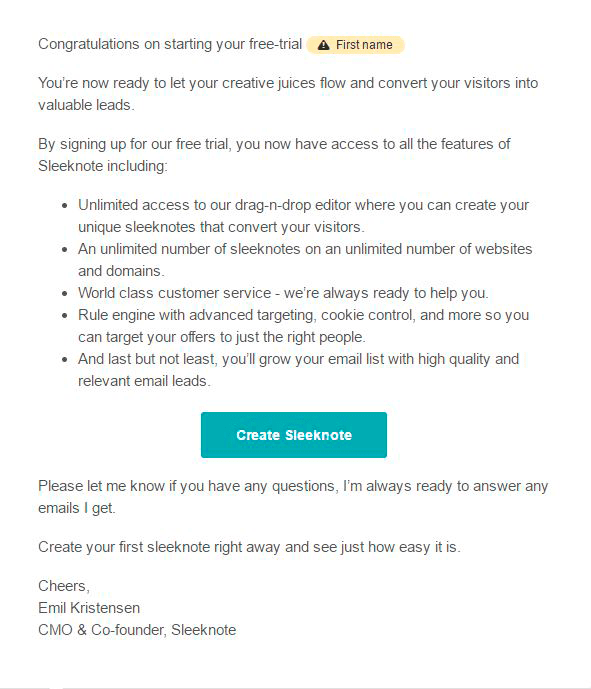 5. The free trial welcome email
When a user signs up for a free trial, the first email will be similar to onboarding message but it will usually be followed by a series of emails.
The follow-ups will gradually introduce and explain the features of your product. You can also throw in some webinars or tutorial videos to engage potential customers. Use welcome messages to convince them to activate or upgrade to a paid plan.
You can either focus on the advantages or disadvantages by showing what they will miss if they don't continue with your service.
But, don't be too pushy and don't make it sound like an ultimatum.
You need to be equally welcoming even if they decide to leave or not upgrade. Tell them that they can take their time and come back later (maybe offer an incentive if they do).
Squarespace do an awesome job with their free trial emails. Check out this one – simple but compelling:
6. Videos & GIFs
Speaking of engagement, there's no content type that engages better than videos or animated GIFs.
Videos have the best engagement and conversion rates on social media or landing pages.
If you're concerned about the video not being played by the email client (because a lot of them don't support embedded videos), you can create the impression of a video by using an image with a Play button as Basecamp does below.
For some other ways to embed video in email check out this article.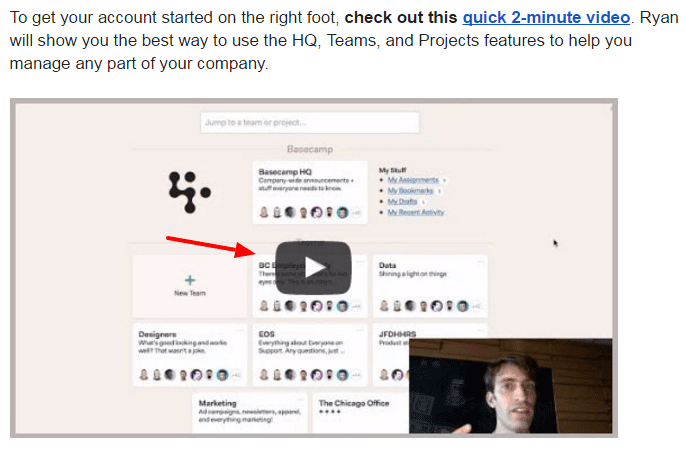 Note that it's just an image. Clicking on the play button will take you to their landing page having the actual video.
If you don't want to use a video, consider using GIFs with just 4 – 5 frames. Even if the animation doesn't play on some email platforms, it will still show the first image.
A welcome email with a video or animated GIF should help grab their attention.
7. The download call-to-action welcome email
Lead magnets or content upgrades like cheat sheets, ebooks, or free templates are often the most commonly used methods for building subscribers lists.
It is also one of those areas where most businesses make mistakes.
When someone signs up to get a free resource, the first email they get has nothing but a link to download.
That is an opportunity missed.
You already have them hooked on something they want. It's time to go one step ahead and take them towards the next step in your funnel.
8. The product catalog
If you are an ecommerce store or local business, you need to put your best foot forward in your welcome message.
You can do it by sharing the best selling or trending products. Or, simply share the product categories like Zappos do in its welcome email.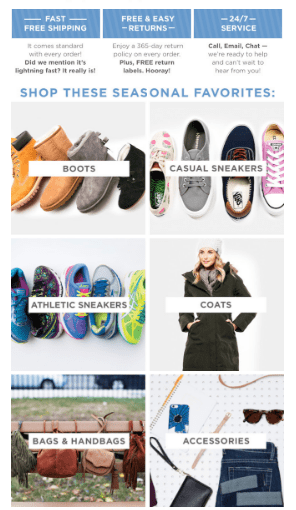 For any other types of websites, it can be a list your most popular posts or resources.
Here's the welcome email example from Ahrefs.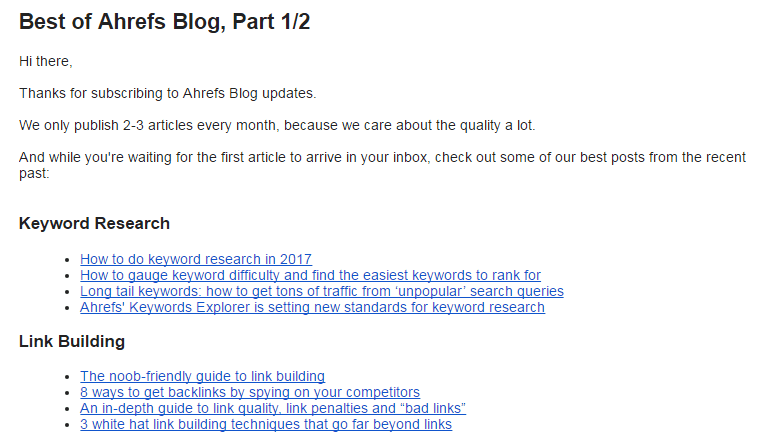 Just don't try to stuff too many different products in the same email or it will result in choice overload.
9. Social proof
Customers like recommendations more than advertisements.
They don't want to be sold to, but they will appreciate recommendations, especially if they are coming from an authority in the niche.
You can use the welcome message to highlight social proof. It can be customer testimonials, user reviews, endorsements, or the number of social fans or followers you have.
In this welcome example Backcountry uses social proof to encourage subscribers to #begoatworthy – a status for adventurous folks to promote on social media.
Social proof helps you build credibility and make you look like an authority on the subject. This'll make subscribers a lot more interested in hearing (and buying) from you.
Over to you to create an awesome welcome email!
These are some of the most efficient welcome emails that eventually turn subscribers into long-term customers and increase your email marketing ROI.
Test the different approaches and find the one that works best for your subscribers.
Best to get started with your welcome messages ASAP. Trust me. It'll all be worth it.
Do you have some welcome email strategies to add to this list? Which one is working (or not working) for you? Let us know in the comments!
For more content like this, subscribe to our newsletter and follow us on Twitter!