Reading time about 21 min

A "thank you for signing up" email starts you off on the right foot with new subscribers and users. But a little extra effort in your first message can go a long way. Welcome emails set the tone for the rest of your communications and the whole of your customer relationships
When people subscribe to your email list, create an account on your website, or start a trial, they need to hear from you. Don't leave them hanging.
Jazz up your email marketing strategy with welcome emails that drive engagement, sales, and loyalty. Find tricks and inspiration to take home in some of the best welcome email examples we've picked out for you.
Welcome Email: Definition
First impressions count. And if you don't bother with a welcome email, you're missing out on an opportunity to make a good one.
While there are lots of different ways your welcome message can achieve this, the basic concept remains the same.
What is a welcome email?
A welcome email is an automated message to new subscribers or customers. Its purpose is to acknowledge their registration and introduce your company. It's often part of a welcome email series that onboards new users, presents your products and services, and fosters further interaction.
You see, welcome emails are more than just a way to say thank you for signing up. They're a chance to show the recipient how they can get the most from your company.
Why Your Brand Needs a Welcome Email: Key Benefits
Welcome emails are the first step to great email communication. Skipping them is like starting a conversation with someone who just walked in your door without greeting them first.
Some of the long-term benefits of good welcoming emails include:
Stronger customer relationships: An authentic "thank you for subscribing" will warm people to your brand and build trust. Welcome emails are the stepping stone for moving users toward a first purchase.
More sales and increased customer retention: Presenting your products or services increases brand awareness, which in turn boosts user engagement and conversion rates.
Better email engagement rates: If your first email impresses, subscribers will likely notice your next emails as well. The positive reactions of opens and clicks will help your email deliverability, meaning your email campaigns will be set up for future success.
If you're still not convinced, a report by Experian found that, compared to bulk promotional mailings, welcome emails:
Get four times more opens, with an average open rate of almost 60%
Generate five times more clicks, with an average click-through rate of over 14%
Bring in eight times more revenue per email
Bonus Tip
Welcome emails can be used for finer segmentation of your email list. In that first email, ask questions about people's interests and needs in order to add them to a more relevant newsletter list.
How to Write a Welcome Email
So what does a welcome email need for the best results?
1. Have a clear subject line
As we'll see below, the best examples of welcome emails invite people to open them. This first interaction signals to the email client that this email sender can be trusted and future emails can also appear in the inbox (and not in the spam folder).
That's why the welcome email subject line should be clear on who sent the email and the fact that the recipient consented to it. A few phrases to play around with are:
Welcome to [company name]. We're happy to have you.
Thanks for joining [brand]!
Thank you for subscribing to [brand] newsletter/registering at [website]
Your account at [website] is ready. Discover how to use it.
The idea is to remind the person that they really did subscribe to your emails. Help them remember your brand so they know you're not cold emailing or faking a previous interaction.
2. Give thanks
Once people have opened your welcome email, the first thing to tell them is, "thanks." After all, they've given you permission to contact them with marketing messages in the future — that's valuable access!
Show appreciation and humbleness for their interest. And keep the salesy calls for later. What's important at this stage is to start winning their trust and building a relationship.
3. Present your brand
One of the main purposes of a welcoming email or series is to familiarize a new subscriber with your products and values. So share company information and how you do things. It's like letting people look around the shop before choosing.
4. Set expectations
With emails, it's important to be transparent so people can make informed consent decisions. It's no use if they subscribe to your emails and later start labeling each one as spam because it's not what they agreed to.
Tell them how often and what type of content they can expect to receive from you now that they're subscribed. Is there going to be an onboarding series? What are the topics you cover in your newsletter? People will be more likely to open and read your emails when they know what's in them.
5. Incentivize to stay subscribed
Naturally, you want new users to stick around and move toward a purchase. Keeping them on your email list and communicating often increases your chances.
So motivate them to stay in the loop with special offers, targeted content, opinion polls, and other exclusive perks.
6. Add a CTA
A CTA encourages the reader to take the next step. What would that be in a welcome email?
Following your brand on social media
Checking out your blog
Taking their free account for a spin
Completing their profile with more information on your website
Discovering your newest products
Any positive interaction starts building up interest in your products.
7. Don't forget an unsubscribe link
Having one is required by law. In addition, people unsubscribing hurt your sender reputation less than people marking your emails as spam when they can't find the unsubscribe button. No use in tricking them!
Sendinblue adds an unsubscribe button in all email templates by default so you don't have to worry about it.
Pro Tip: What should be in a welcome email flow?
Some businesses benefit from a welcome email sequence instead of a single email. SaaS companies can do onboarding to boost adoption. Specialty products sellers can increase satisfaction and decrease returns with educational tips. Service providers can use a welcome email flow to establish thought leadership.
10 of the Best Welcome Email Examples: Templates to Use
1. The self-introduction
You can't assume first-time visitors already know everything about your business. Your welcome email should reinforce your unique selling points to confirm you're the right choice for them.
Just one word of caution — this doesn't mean it should be all about you. Instead, emphasize the benefits for your new contacts.
This welcome email example by TravelSupermarket gets the balance right, presenting the perks customers get from using their services while setting expectations for future emails.
Created with Sendinblue
The email keeps things simple by focusing on getting customers to explore their offers rather than overwhelming them with conflicting calls-to-action (CTAs).
TravelSupermarket then uses a marketing automation workflow to follow up their initial "thank you for subscribing" email with more information. This second part of their welcome series offers other ways to engage with their business, like checking out their blog or following them on social media.
Created with Sendinblue
2. The video greeting
Showing rather than telling your new audience what you have to offer can help increase engagement with your welcome email content.
A short video presenting your business brings it to life in a way that's not possible with text alone. This could be a message from your founder that puts a face to your brand and shares your story, or you could show clips of your product in action.
Alternatively, you can use an animated GIF in your email to get across your brand and its personality. BarkBox does this in its welcome email: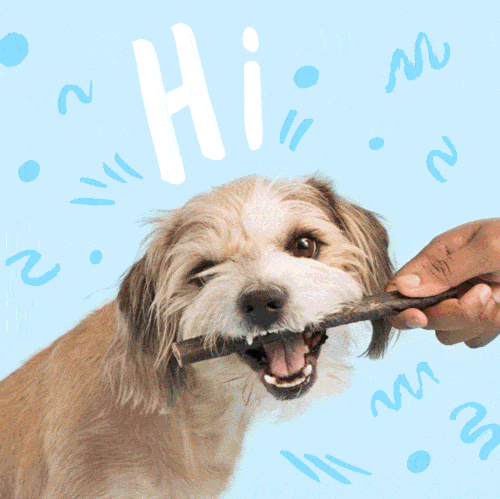 The GIF works hand in hand with the playful email copy to show subscribers what their company's about.
3. The personalized welcome message
To get your introduction just right for each contact, you can adapt the email content based on what you know about them. For example, Zapier tailors their post-registration welcome email to the user's signup method to make it as valuable as possible.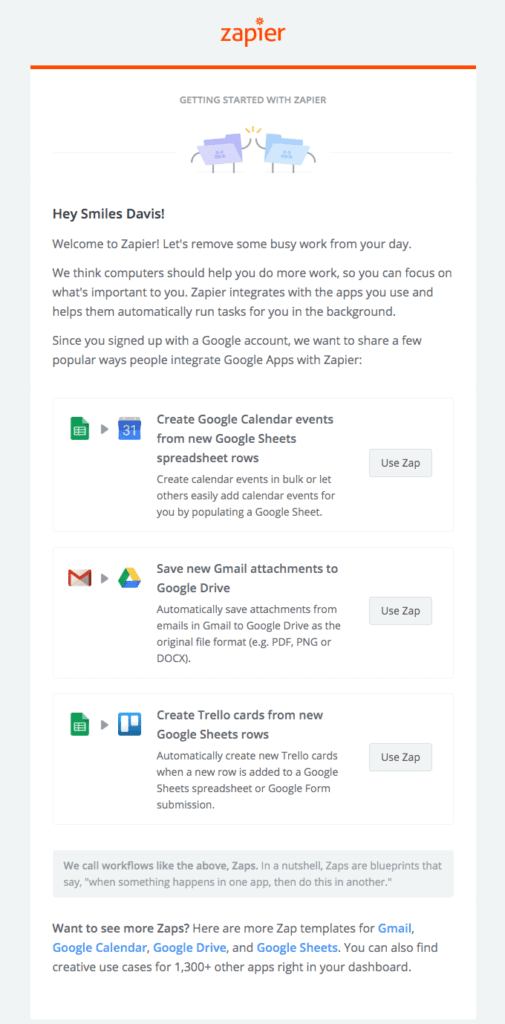 Sendinblue offers personalization tools for sending emails that are unique to the recipient. This can be as simple as adding the contact name to the email body and subject line. Or you can show different content blocks based on criteria such as the subscriber's interests.
To try this tactic for your welcome email, add questions to your email signup form to learn more about subscribers. Then create sub-lists by interest and send them different content in follow-up emails.
4. The get-to-know-you email
If you prefer to keep your subscription form brief, your welcome email itself can also help you get audience insights.
Use it to find out what subscribers are looking for, like the content they're interested in or their preferred email frequency. Not only is this valuable information for your strategy but it also shows your audience you're serious about meeting their needs.
The newsletter welcome message below executes this approach in a simple yet human way:
The copy's conversational tone is inviting and friendly so the reader will be more willing to answer. Meanwhile, the email subject line — "Welcome! 👋 I've got two questions for you!" — attracts attention with an emoji followed by an intriguing statement.
Rather than asking for direct replies, share a link to a profile update form. That way you'll build a better picture of each contact's interests and preferences to help you with email list segmentation.
5. The product showcase
For B2C companies aiming to convert would-be customers, a welcome email is a chance to show off your best items so they can't help but start browsing.
Shine a spotlight on your flagship product or promote top sellers and new arrivals.
For example, take a look at how Perch and Parrow uses this first email to immediately get the subscriber interested in their top product categories. The welcome email template focuses solely on product imagery and clear CTAs inviting people to browse.
In addition, this welcome email is straightforward and aesthetically pleasing — a key advantage for a lifestyle brand. The template is clean, minimalistic, and muted in color to draw in potential customers into the brand's vision.
Welcome email created with Sendinblue
6. The special offer welcome gift
You can further boost sales from your welcome email with incentives like discount coupons or free shipping that double up as a thank you for signing up.
This tactic works well for ecommerce businesses as the email can direct shoppers straight to their online store to redeem the offer. For example, skincare brand Rootanicals created this welcome email template with Sendinblue to share an exclusive discount for new signups.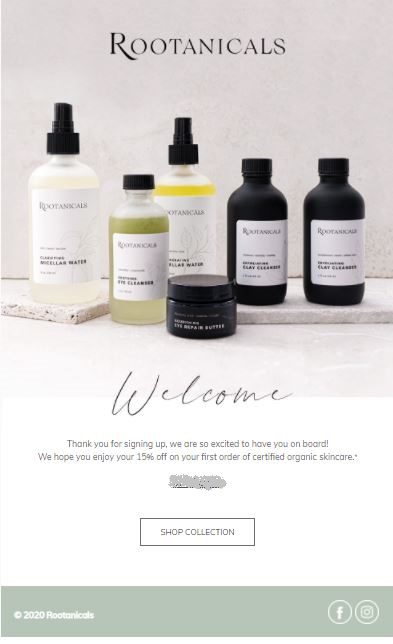 Another trick is to highlight the offer in your welcome email subject line to maximize open rates.
7. The onboarding welcome email
Once a customer has converted, your aim should be to get them up and running with your product as soon as possible. Onboarding emails should give them all the know-how and motivation they need to do so.
Content should focus on educational resources like tutorials and tips that help new users get started and make the most of your product.
For example, B2B company Workona uses Sendinblue Automation to send a series of welcome emails that guide new customers through their software.
The initial email encourages users to take the first steps in getting set up through clear instructions and a helpful GIF. The CTA button then takes them to the product to try it out. Finally, the customer quote adds a nice touch by highlighting the products' benefits.
Created with Sendinblue
The emails that follow use a similar template to introduce the software's different features. Each centers around a customer pain point and shows how Workona's product holds the solution. The subject lines — "Tip 1: Solve tab overload" in the email below — highlight the value inside to keep recipients opening their messages.
Created with Sendinblue
8. The resource delivery email
Lead magnets like cheat sheets, ebooks, or free templates are a great way to get prospective customers onto your email list. But, if your first email contains nothing more than a link to the free resource, you're missing a step.
You've already managed to draw the contact in with something they want. So now it's time to guide them down your funnel through to sale.
One tactic is to share your related content, as in the welcome email example below. This helps further build your business' credibility for prospects by showing your expertise on relevant topics.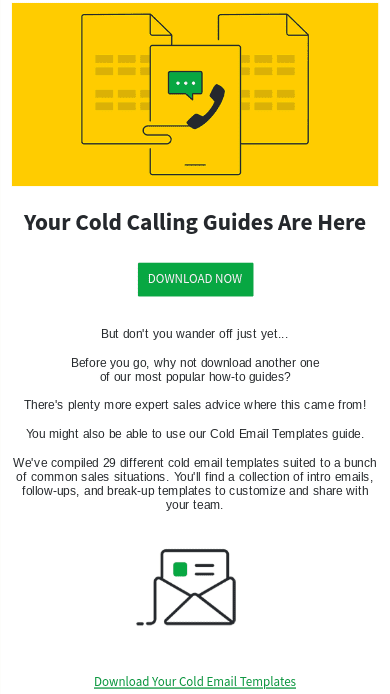 You could also encourage this new audience to discover your product, for example through a free trial or case study. Just be careful not to scare them off by being overly promotional — the key is to offer something valuable that'll keep them engaged until they're ready to convert.
9. The customer seal of approval
Another tactic for winning over new contacts without having to toot your own horn is to let your loyal customers do it for you.
Playing on social proof in your welcome message will reassure email subscribers they've made the right choice with your business and encourage further engagement.
Huckberry's welcome email is a prime example. It instills confidence from the start by referencing their one million-plus fans.
The rest of the email is littered with customer endorsements, from five-star reviews to glowing feedback, that boost the legitimacy of their claims.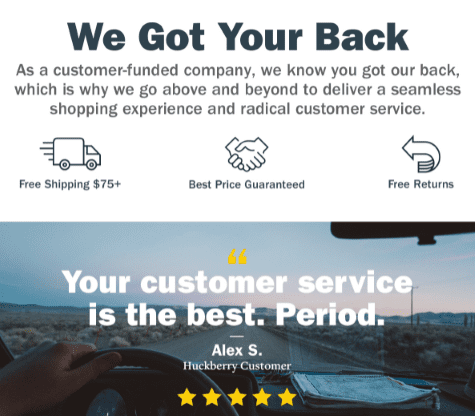 10. The storytelling approach
Long-established companies or family businesses can benefit from telling their brand story in their welcome emails. It's the perfect time and place to share your values, mission, and roots.
The typical audience of such businesses appreciates a bit of history, tradition, and how the modern brand came into being. This is what Stokes Sauces is banking on in their welcome email.
The deep-dive into the company's history and the link to their library of recipes come before the invitation to shop. The storytelling is meant to highlight why the brand is different from the competition and to gain a stable place in the minds of potential customers.
Welcome email created with Sendinblue
Welcome Email Best Practices and Tips
All those examples of welcome messages are truly inspiring, aren't they? Here are some best practices to help you craft the perfect welcome message:
Automate your welcome emails
This way you're making sure each and every new registered user will get their warm welcome. It creates a smooth and pleasant user experience from the start.
Welcome emails are often treated as transactional emails because they're triggered by a certain user action. Learn more about automated emails and email automation software.
Add value with your welcome email
Don't be too pushy from the start. Instead, take the time to introduce your company and how people can get the most out of it.
They've joined your email list — that's a sign of trust! Use the valuable real estate of your first couple of emails to spark further interest before your email campaigns go to being salesy.
Personalize with dynamic content
Even welcome emails — something every contact will receive — can bear a personal touch to make the reader feel valued. It can be their name, their city, a need they shared with you during the signup process, or something else that fits your business.
The best email marketing services make it really easy to insert dynamic content in welcome email templates. That way, emails are customized automatically, saving you time and effort.
Use multi-list subscription forms
This is how you can segment people into relevant email lists according to their selection on the signup form. For example, you can ask how often they want to receive emails from you and create a few newsletters with different frequencies.
Or you can ask about their skin or hair type, style preferences, or time available to send relevant content and offers for these needs. Here's how to do it.
Include your contact details
At this stage, you're still earning people's trust. Including your business physical address, all contact information, and social media profiles isn't just a legal requirement in some countries.
It shows your business is legitimate, accessible, and open to inquiries. If you want people to come, give them the means, right? Welcoming emails are the perfect place for this information.
How to Set Up Your Own Welcome Email Flow
Now that you've seen how it's done, it's your turn to try these tactics on your email subscribers.
Remember, there's no one right way to welcome subscribers — the best approach will vary depending on your business. Let's go over the major steps:
1. Choose your welcome email template
You'll need a tool to create your email template, input the content for your welcome message, and send it automatically after a signup.
Sendinblue
Sendinblue gives you access to 40+ ready-made templates you can customize to match your brand (even on the Free plan). Alternatively, you can create your own with the intuitive drag-and-drop email builder.
Stripo
Stripo offers over 550 free HTML email templates. What's great about Stripo is that, without any coding skills, you can jazz up your welcome email design with cool features like CSS-animated buttons, image rollover effects, and other interactive elements.
Unlike Sendinblue, Stripo isn't an email marketing service so you can't send your welcome email with it. But if you create your email in Stripo you can then export it to Sendinblue for sending. Stripo allows four exports per month on their free plan.
2. Create your automation flow
Sendinblue also offers this feature ready to go — all you need to do is enter when the email is to be sent out after a registration. Of course, if you want to create a welcome series, you can add more steps and triggers, and even A/B test designs.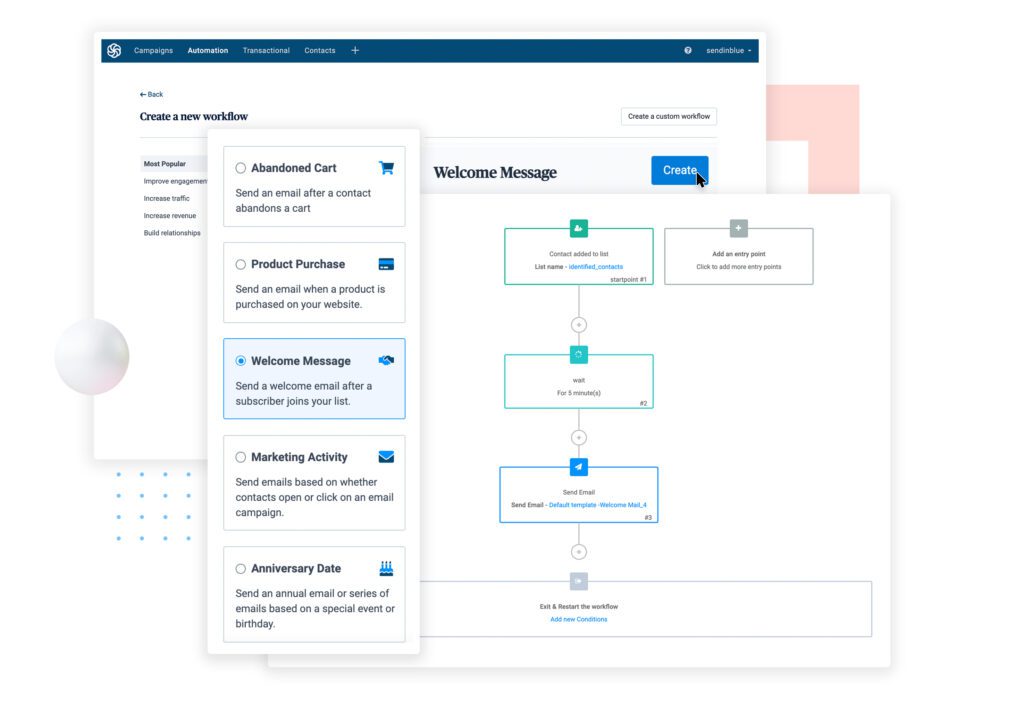 3. Add multi-list option on your signup form
The same flexible drag-and-drop editor lets you create signup forms to collect all the contact info you need for better targeted emails. Add checkboxes for all options you need and let your subscribers decide what they want from you.
With all-in-one marketing platforms like Sendinblue, it's easy to put people on lists by their preferences and later engage them with the right message, all while honoring their permissions.