Reading time about 12 min

Ecommerce marketing lets people know about your online store. It's important for getting eyeballs on your products and making more sales – after all, how are you going to get customers if they don't know you exist?
As well as promoting your ecommerce website and driving people to your store, ecommerce marketing also helps turn customers into loyal advocates that come back time and time again.
Think of it as doing your customers a favor – you're helping them find the products they need.
What Is Ecommerce Marketing?
Ecommerce marketing is a series of tactics or conversion strategies used together to get people to visit your website and buy your products. 
It specifically refers to marketing campaigns and activities that intend to sell a product. Basically, the end result is to get customers to your online store and encourage them to make a purchase.
There is an overlap between generic digital marketing and ecommerce marketing in that the tools, methods, and platforms can be very similar, but it's the end goal that defines whether it can be considered ecommerce marketing or not.
Why You need Ecommerce Marketing
Gain a Competitive Edge
The competition online is much fiercer than in real life because locality doesn't matter as much and there are tons more options. Ecommerce marketing helps you reach your customers before your competitors do.
Let's say you run a florist and you've long been in competition with a rival florist around the corner.
Both of you take your stores online, but you decide to implement ecommerce marketing and your rival doesn't. Instead, they sit back and wait for customers to come to them, whereas you actively promote your store.
Who do you think is going to get more customers? Of course it's going to be you.
Drive Sales
If people don't know about your products, they're not going to buy them.
You already know that people love and need your products because your brick-and-mortar store is doing so well, and ecommerce marketing simply helps you expand your reach to a wider audience.
Find Successful Marketing Methods
Ecommerce online marketing helps you determine which strategies resonate best with your customers so you can keep doing more of the same and continue to grow your business.
Before You Get Started…
To create a successful small business ecommerce marketing strategy, there are a few things you need to know before you start. These elements will help you ensure your message is on point and that you're reaching the right customers in the right places.
Know Your Customers: Who are you targeting? We recommend creating a couple of customer personas that detail the struggles, behaviors, and demographic information of your target buyers. This will help you speak to your customers in the right way and position your marketing to reach them. 
Know Your USP: Understanding what makes your product unique and stand out is important for positioning yourself in the market. Your USP (a.k.a. your Unique Selling Point) will fuel your marketing and ensure your messaging is right. 
5 of the Best Ecommerce Marketing Strategies
Now you're all set to begin, let's dig into the most popular ecommerce digital marketing strategies for small businesses.
1. Email Marketing
What Is Email Marketing?
Email marketing involves building a list of potential customers and engaging with them via email to encourage sales and nurture loyalty. 
This goes beyond transactional emails that simply tell a customer about their order or delivery, and instead has the main aim of building relationships and keeping your business front-of-mind.
Why Email Marketing?
Email marketing is one of the most effective forms of ecommerce marketing because you're landing directly in the inboxes of your audience. This makes your messages hard to miss and creates a more personal relationship with buyers. 
On top of this, research has found that email marketing can generate up to 30 times its initial investment, while the average order value (AOV) from email is 3x higher than social media. 
How to Succeed at Email Marketing
The idea behind email marketing is to capture customer email addresses via your website and regularly keep in touch with people who sign up. You can share offers, discounts, newly launched products, and any stories that you think your subscribers will find interesting.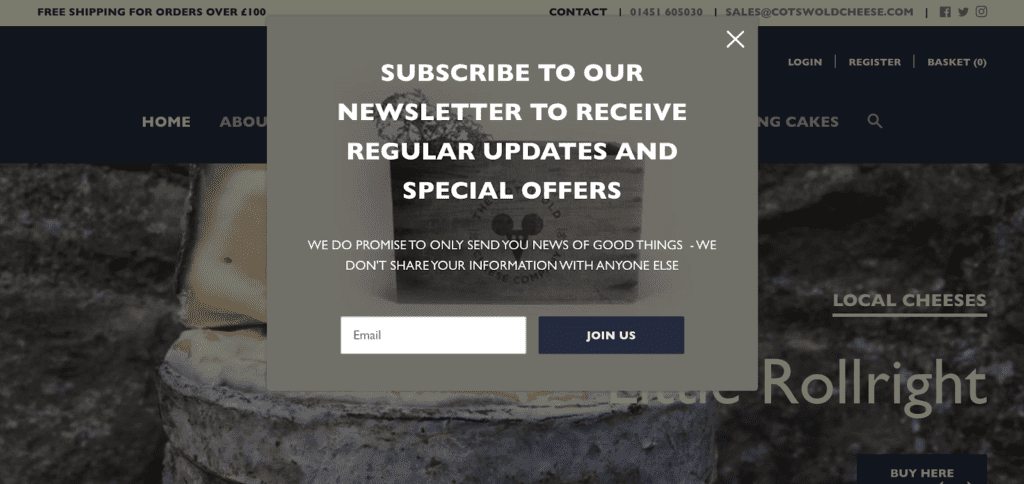 The Cotswold Cheese Company has a pop-up form on their website encouraging people to sign up for their newsletter.
Use an email service like Sendinblue to manage your promotional email campaigns (your discounts, stories, and offers) and your transactional emails from the same place. It has email marketing plugins that integrate with most ecommerce platforms, which means you can easily sync your contacts and customer information.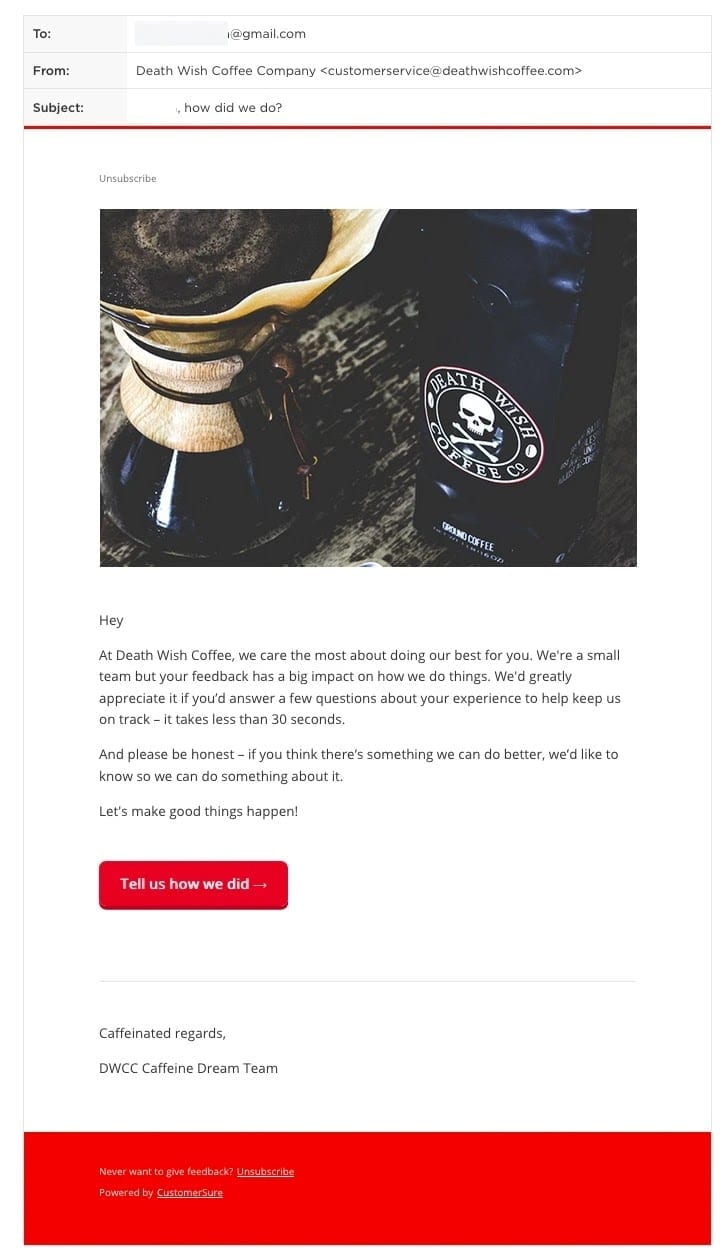 Death Wish Coffee Company regularly sends out emails to their customers to keep the connection going. 
Learn more about managing promotional and transactional emails with a dedicated strategy in this ecommerce email marketing guide.
2. Paid Ads
What Are Paid Ads?
This marketing activity involves paying to have your products show up in the Instagram or Facebook feeds of your ideal customers. Alternatively, you can pay to have them show up on Google searches for phrases that relate to your product or business.
For example, if you sell bottles of Australian Chardonnay, you can pay to have your product show up when someone uses that search term.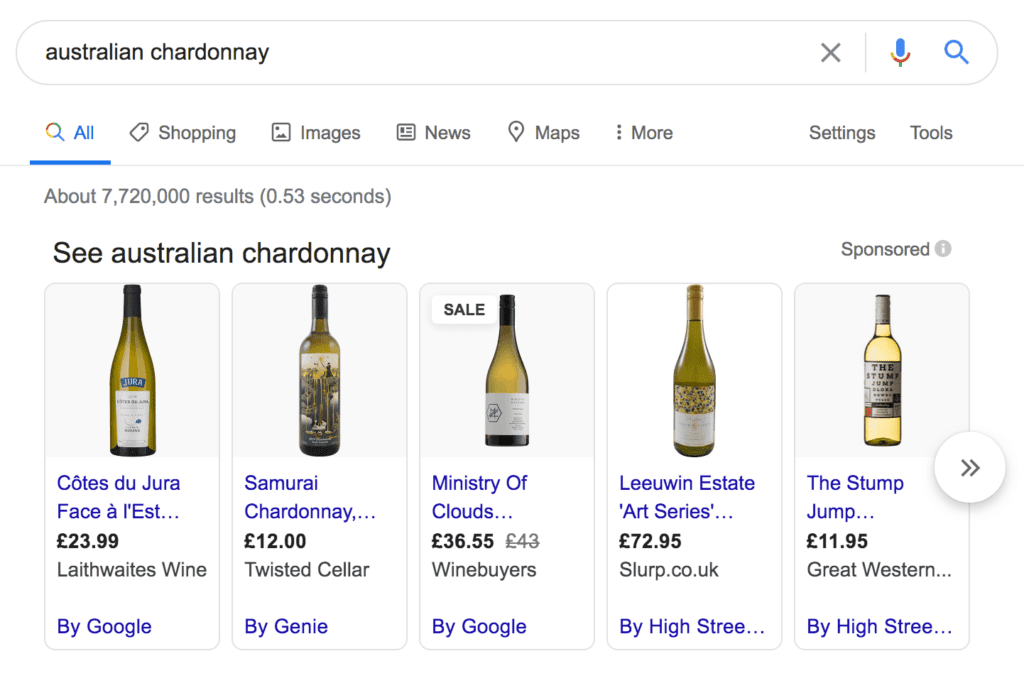 Why Paid Ads?
Paid ads are a great way to reach a wider audience.
The targeting capabilities on Facebook, Instagram, and Google are superb, which means you can get really specific with who you target (this is where your customer personas come in handy).
You can target people who live in a certain area, people who "Like" certain things, and even people who have hit a certain life milestone in the past few months.
Ads do cost money to run, but they can be affordable if you play around with them to get the targeting settings right.
How to Succeed With Paid Ads
Decide whether you want to run social media ads or Google ads (or both)
For Facebook and Instagram, you'll need to decide on a target audience, get a photo of your product for the image, and write some compelling copy to go alongside your ad
For Google, you'll need to choose a search term that you want your product to show up for
To create a Facebook or Instagram ad, use Facebook's Business Manager portal. Here's a good guide
You'll need to sign up for Google Ads to have your products show up on Google. Here's how to get started with that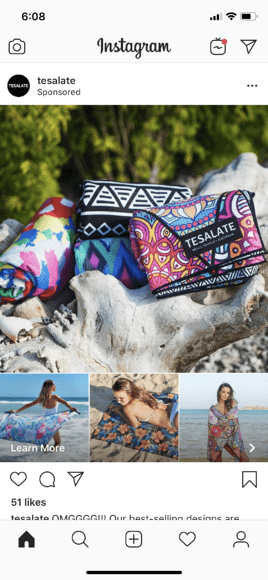 Tesalate runs ads of their products on Instagram, where they show up in the feeds of people they have targeted based on their behavior and demographic information.
3. Social Media Marketing
What Is Social Media Marketing?
This marketing method involves using social channels to promote your products and website organically (that is, you don't have to "pay" to "display"). You can use platforms like Instagram, Facebook, YouTube, Twitter, and LinkedIn to share product updates, photos, and start conversations with your customers.
Why Social Media Marketing?
There's a very high chance your customers are already hanging out on social media.
Showing up organically in their feeds and connecting with them on platforms they're already familiar and comfortable with can quickly build relationships and grow your store's online reach.
How to Succeed With Social Media Marketing
Choose the social channels that are most relevant for your business – for example, if you're a florist, Instagram would be a good place to start as it's inherently a visual channel
Set up your profile on your chosen channels. Be sure to use your logo and brand colors so your customers recognize you
Create a plan for regularly posting. Think about how many times a week you'll post, what kind of content you'll post, and consider mixing things up so you're sharing a cross-section of images, short videos, text updates, and even customer reviews 
Pump Street Chocolate posts a selection of content on their Instagram account, from pictures of their products, to pictures of their products being made and short videos.
4. Influencer Marketing
What Is Influencer Marketing?
Influencer marketing involves reaching out to prominent people in your industry that have followers who would like your products and partnering up with them.
They then share your products with their audience for either a freebie product or payment – the terms will vary for each influencer and the price will be determined by how many followers they have.
Here's a simple guide to the costs involved with influencer marketing. 
Why Influencer Marketing?
Influencers have already built a loyal following of people who listen to what they say. By getting their endorsement, that trust automatically transfers to your store. As a result, you get to build relationships with loyal customers and reach a wider range of people who might not have seen your store otherwise.
How to Succeed With Influencer Marketing
Identify key influencers in your industry. You can run a simple Google search here, or use the search bar on your chosen social platforms – make sure their followers are people who you think would like your products 
Contact your chosen influencers and suggest a partnership of some kind
Decide payment terms. You might offer them a free product, or they might ask for payment.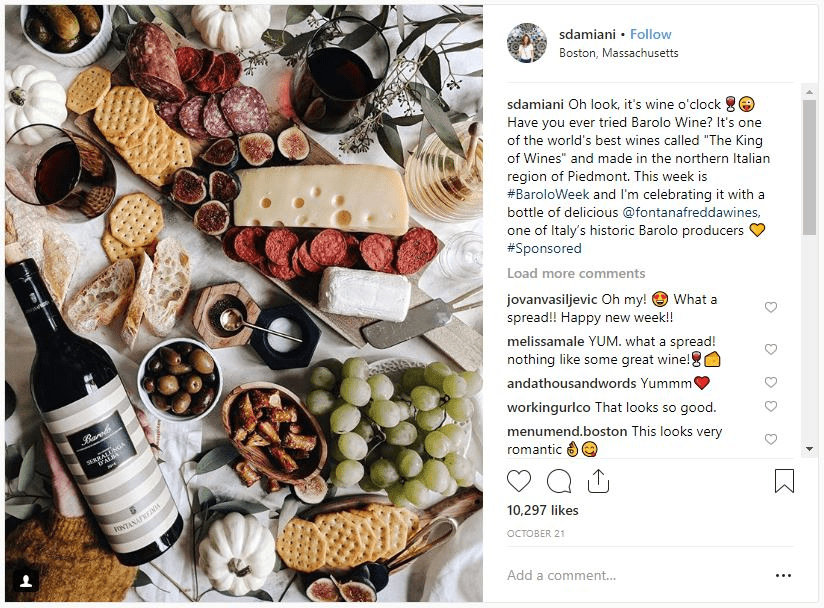 An Instagram user promotes Fontana Fredda Wines on their account.
5. Content Marketing
What Is Content Marketing?
Content marketing involves creating blog posts, articles, videos, and other types of content to share with your audience.
Publishing valuable content that your customers are interested in will bring them to your ecommerce website and encourage them to browse your products.
Why Content Marketing?
Content marketing not only brings potential customers to your ecommerce website, but it also builds trust and widens your reach by providing more ways for people to find your store.
For example, a customer might see your content linked on social media or it might pop up on a Google search leading them to your site.
On top of that, it can help position you as an expert in your industry and is great for SEO (search engine optimization) and getting your store to the top of relevant searches.
How To Succeed With Content Marketing
Brainstorm some content ideas you think your customers might like to see from you (you can even ask them if you want!). For example, if you're a chocolatier, you might want to share some delicious chocolate recipes. If you're a florist, you might want to write about different types of flowers and the care they need
Decide how regularly you're going to share content. Don't overstretch yourself – if you can only commit to one piece of content a month, that's fine! 
Create the content, whether it's blog posts or a video
Share it with your audience. You're going to want people to see your content, so share it on social media and with your email subscribers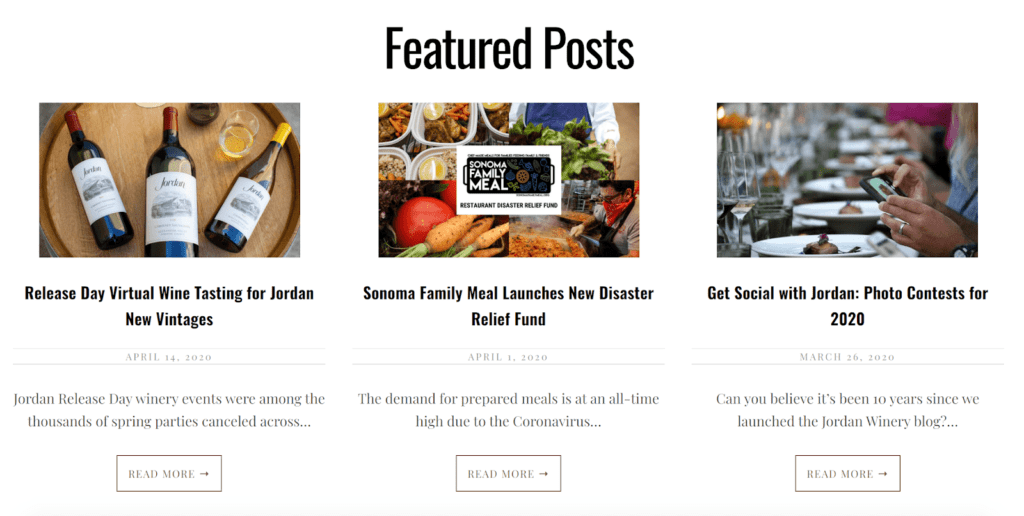 Jordan Winery posts regular content on its blog about the vineyard and other relevant topics.
How to Get Started With Small Business Ecommerce Marketing
Ecommerce marketing doesn't have to be complicated. The best part is, you can customize it to fit your store's customers and needs.
Start by choosing just one or two of the strategies we've discussed here (we wouldn't recommend trying them all at once!) and measure your results.
Are you getting engagement on social media if you're marketing there? Are people reading your blog posts if you're publishing them? Are you getting sales from the emails you send out?
Keep checking in to see what's working and tweak the elements that aren't. Then it's a case of rinsing and repeating until you have an ecommerce marketing strategy that consistently brings you new customers. 
Looking for more ways to improve and grow your ecommerce business?
You might also enjoy: