Reading time about 12 min

When people think of email marketing, they often misevaluate how powerful of a marketing tool it can be when used for ecommerce.
The Direct Marketing Association said in 2015 that businesses make back $38 for every $1 spent on email marketing.
Emails also got higher conversion rate per session than search (2.64%) and social (.48%) combined with a 4.16% rate of conversion for email.
So, if you think email is "old" or "spammy", data shows that you are simply mistaken.
It is easy to be drawn in by all the bells and whistles of the latest digital marketing trends – search engines and social media are prime examples – but, they just do not show results as strong as email marketing.
As an ecommerce entrepreneur, it's imperative for you to jump on the email marketing bandwagon and start increasing your revenue flow.
Approaching this channel with the following tips will help increase the impact of your ecommerce email marketing campaigns that's hard to match with any other form of marketing communication.
21 Ecommerce Email Marketing Tips to Boost Sales
We all know the digital marketplace has transformed the way people go about shopping. But, as you go through these tips you'll notice a lot of these them are going back to the basics of marketing.
Whether you're promoting seasonal sales or rewarding customer loyalty, using traditional marketing best practices will take you a long way.
This works really well with email marketing because you can use the power of technology and analytics to take traditional best practices to the next level. By combining old school and the new school, you can come out on top and beat your competition.
1. Send a Welcome Email
When you enter most stores, a customer service rep will be there to welcome you.
Email marketing subscribers should be done the same way.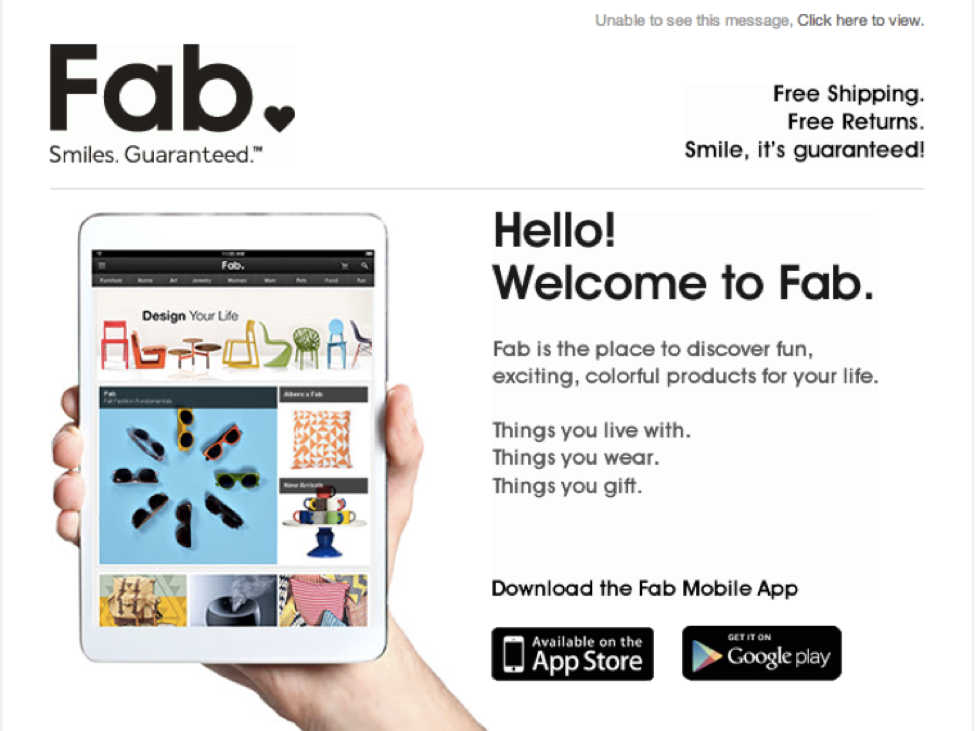 Bonus tip:
The data shows welcome emails have a great ROI for those who send them!
In fact, welcome emails generate about 320% more revenue generated than any other form of promotional email.
2. Treat the Quality of Emails Like a Storefront
The value of creating a visually attractive email cannot be understated.
You wouldn't setup your website with grammatical errors and visual clutter, right? Email marketing campaigns require the same level of clean design and attention to detal.
It's easy to make emails look professional and secure to your subscribers by using drag and drop email builders like the responsive design tool available in Sendinblue.
3. Treat Every Customer in a Way that Makes Sense: Segmentation
If a repeat customer visits a store, the person working the counter treats them differently than someone who is just stopping by to look.
Email marketing allows you to segment your audience in very specific ways and make offers to different types of members of your email list. This inevitable increases engagement, as the content of your emails becomes more relevant.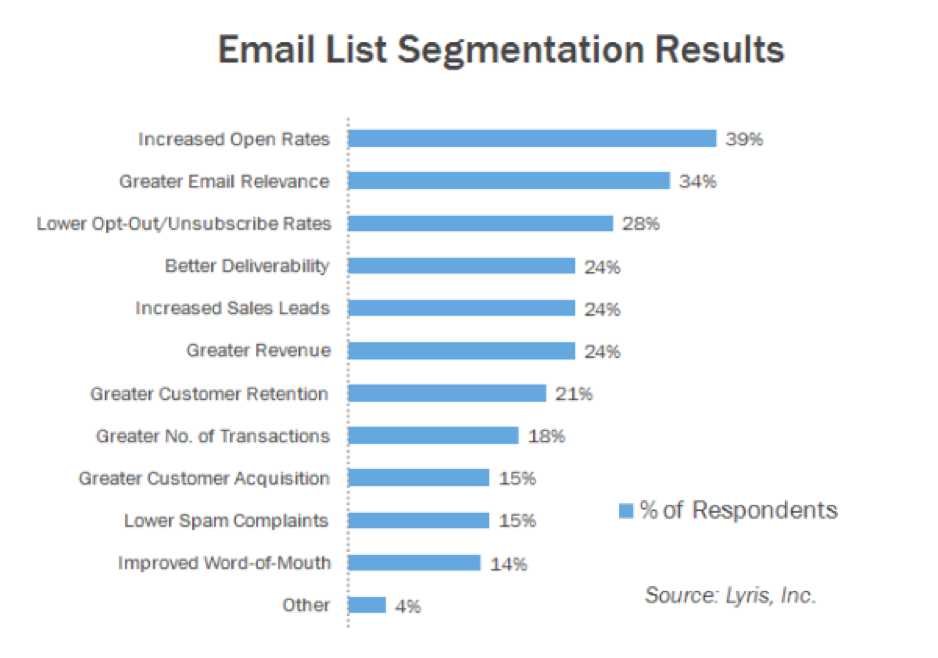 Source: ConversionXL
Some examples of potential list segments:
First-time visitors
Repeat visitor with no orders
Repeat customer with multiple orders
Customer with regular orders
Customers you haven't seen in awhile
Gender preference
Age group
etc.
Design emails to match the needs of each of these segments and you're bound to see better results.
4. Establish Utility First, Worry About Sales Second
No one likes sleazy sales people who treat you like a target instead of a person.
Instead, email marketing campaigns should be like a well-seasoned salesman. They know the value of the product/service, and they know pushing it too hard will get them nowhere.
So, when creating emails worry less about making the sale and more about offering useful information and incentives to customers to help establish a trusting relationship.
This type of loyalty is the kind which leads to sales and repeat customers.
5. Ask People to Join Your List
Before email marketing, many businesses offered newsletters to their current customers.
Now, this all takes place through online newsletters. So, be sure to be aggressive and methodical about getting new and returning customers to sign up for your newsletter.
Do not hide your subscription option at the footer of your website where no one is going to see it unless they're really looking for it.
Instead, consider a pop-up or email opt-in – maybe even with a sales incentive – to get customers on board.
6. Focus on the Quality of Product/Service First
In your email marketing efforts, find ways to insert the value of your product/service.
Do this by adding written content or even a video to explain how their product will change their lives for the better.
Ultimately, people want to buy things that offer a certain value to their lives, so make sure you don't lose sight of that with your promotional efforts.
7. Offer Traditional Promotions
Seasonal sales, free shipping, 50% off, buy-one-get-one, etc. – all traditional in-store promotional methods work just as well online. Email marketing allows you to push these promotions to specific customers to sell more.
8. Inspire Loyalty by Remembering Consistent Customers
In an actual store, you get to know your returning customers.
This helps to inspire loyalty within the customers. Although you won't get to know online customers
as well, there are ways to reward consistent customers. (Hint: Marketing automation can help)
Try things like offering incentives in anniversary or birthday emails and/or their one year anniversary of shopping at your store to keep them coming back to your eStore for more.
9. Track Your Results from the Start
One mistake many online entrepreneurs make is not tracking how well their digital marketing efforts are performing when they hit the ground running.
The earlier you track your data, the easier it is to adjust and improve results.
Using email services like Sendinblue, you can easily track user engagement with your emails and make sure they are interacting with your emails.
10. View Your Marketing as An Experiment: A/B Testing
The extension of the last tip about tracking the results – learning to think on your own when it comes to modifying marketing campaigns. Email marketing A/B testing is a great way to test how different wording, styles, schedules and other variables can impact your bottom line.
Via A/B testing, Barack Obama's team found out that just changing the subject line of a second email generated $2,540,866 million dollars as opposed to $403,600 generated with the first email.Give yourself room to experiment with email marketing tactics and it can make a huge difference at the end of the day.
Give yourself room to experiment with email marketing tactics and it can make a huge difference at the end of the day.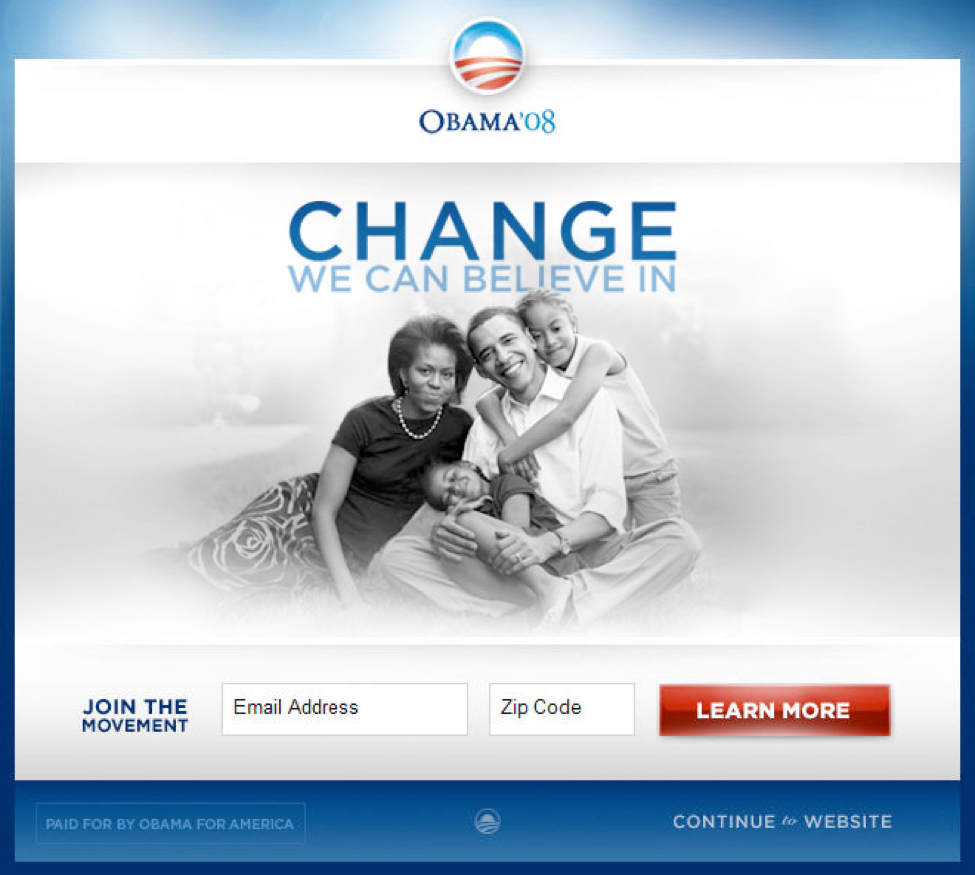 11. Digital Incentives: Grow Your Customer Interaction
Products and services with good reviews are much more likely to convert.
In fact, the marketing team at Argos found that products with reviews had a 10% higher conversion rate than those without.
The benefit to having reviews of products/services is clear, but acquiring those reviews isn't as easy as it may seem.
Use emails to offer discounts or even freebies to your loyal or repeat customers in return for writing reviews. This allows you to move some product while also helping to further establish your online presence.
12. Make Sure Your Emails are Mobile Friendly
Everyone's probably sick and tired of being told to put mobile friendliness first, but the importance of this simple rule can't be stated enough.
In 2016, over 56% of emails were opened by a mobile phone, and there is no indication that this trend will be slowing down in years to come.
We know you wouldn't want to lose half of your potential readers due to a technical glitch that is very simple to solve. To avoid this, choose a reliable responsive design email builder like Sendinblue, or simply make text-based emails to avoid this issue.
13. Marketing Automation
This form of marketing allows ecommerce owners to send out a specific email to users based on an interaction with your website.
You can base it on everything from when they submitted their last order to how much money they spent.
By personalizing your emails this way, you not only draw customers back onto your site, but you also let them know that you care about their business.
14. Abandoned Carts
This is a valuable area to focus on if you want to enhance potentially lost sales on ecommerce stores.
Often, customers will abandon carts not because they don't want to make a purchase, but just because they got distracted by something else.
Setting up an automatic email when there's an abandoned cart can remind customers to come back and complete the transaction when they find the time to do so.
15. Wish-lists
Your customers' wishes can come true, but only if you remind them what their wishes are in the first place.
If a customer is engaged enough to start forming a wish-list on your website for future purchases, chances are they're really interested in what you're offering.
Create an email campaign that reminds the customer specifically of what items they were wishing for so earnestly when browsing your ecommerce website earlier.
16. Bad & Good Reviews
In order to manage your reputation online, it becomes your job to respond to bad and good reviews. It's especially important to engage with this type of customer since they've proven to be an interactive force online.
One way to go about this is by addressing good and bad reviews with email campaigns.
Want to make it up to a bad reviewer? Find a way to replace their product or offer a freebie.
Want to reward a good reviewer? Offer them a discounted product in exchange for another review.
17. Dormant Customers
Dormant customers, who haven't made a purchase in a while, can prove to be a gold mine when targeted with email campaigns.
A case study of Howard's Storage World found that by providing gift card incentives via email, they could increase revenue by $108,000 through the campaign.
Setting up emails to customers who haven't been active for a year or more can be a great way to remind them you're still around! Do not hesitate to reach out.
18. Reliable Delivery
In the digital age, it's important to ensure customers that your processes are reliable.
That means when setting up email marketing campaigns, you have to make sure your welcome messages, order confirmations, shipping notifications, app alerts, and other important emails reach the inbox of intended customers.
Using a service like WooCommerce on WordPress makes automation of emails after purchase a lot easier – by the way, here is an awesome tutorial on how to setup a Woocommerce on WordPress.
If you have a Sendinblue account, you can further personalize the messages for WooCommerce directly from your WooCommerce dashboard.
19. Automate and Personalize Important Transactional Emails
A lot of companies use templates rather than taking the time to personalize emails for shipping, receipts, etc. Set yourself apart from the crowd by adding a small, personal touch.
20. Track the History of Important Messages
Sometimes when running an Ecommerce business, you may run into logistical problems. You need to keep track of the history of important transactional emails to monitor for any potential problems. This will ensure smooth customer service in case any problems arise.
21. Use Email Marketing Services + Tools You Can Trust
Email marketing is a lot for any small business owner to tackle by themselves.
Sometimes it helps to outsource this task or use outside systems to ensure the process goes smoothly.
Consider investing in your business by choosing reliable software and staff to help support your growing your business.
Signing up for an email marketing service and hiring top-notch staff allows you to stay on top of the ever-changing climate of the digital world. It also helps to ensure high-quality email marketing.
Don't Give Up
Any form of marketing takes time for you to see the results. If you continue making an effort, you'll start to see the results.
By following the above tips and staying on top of any future developments, the long-term success of your email marketing campaigns is all but guaranteed.
About the author:
Domantas Gudeliauskas is a content marketing manager at Hostinger. He is head of
Hostinger Tutorials
. He is total WordPress lover and SaaS fan. Coffee aficionado.