Reading time about 14 min

Creating a slick buying experience is key to ecommerce growth. Imagine a world where customers get all the information they need exactly when they need it. And you get to show off your brand personality and build a relationship with each buyer at the same time.
Sounds good, right?
This is where automated ecommerce emails are your friend. These simple but powerful little messages are a fundamental part of ecommerce email marketing. They keep your customers informed about their orders, send visitors to your ecommerce website, and encourage return buyers.
Ecommerce emails go one step further than the emails you might send as part of a marketing campaign and they provide a personal level of communication with your buyers. They also provide a great opportunity for you to encourage more future sales.
Here are the types of ecommerce emails you need along with some ecommerce email examples to show them in action.
1. Welcome Emails
Welcome emails are instantly sent to a customer when they buy something from you, make an account, or sign up for your email list. They create an instant connection with buyers and welcome them to your brand, and they have great stats: on average, their open rates are 4x higher than general emails and their click through rates are 5x higher (source).
Use your welcome emails to set the precedent for future communications with your buyers. Explain to them what they can expect from you and your brand, and sweeten the deal by offering an introductory discount on their first purchase.
This and most other emails you'd want to sent can be automated as triggered emails to save you time and not miss sales.

Clothing brand Mollusk uses their welcome email to do several things:
Welcome new customers
Offer a discount code for their first purchase
Introduce customers to the brand and its backstory
Encourages customers to check out the online shop and browse the brand's product lines
Gets customers used to Mollusk's branding so they recognize emails from them in the future
2. Abandoned Cart Emails
The average abandonment rate for online shopping carts is 69.57%. This means that the vast majority of shoppers fill up their cart and then leave it to gather dust. As a result, you could be missing out on a lot of sales if you don't do anything about it.
There are many reasons shoppers leave their carts without a backwards glance; maybe an unexpected fee was added to the cart; perhaps they were just browsing; or maybe they found a better deal elsewhere.
Whatever the reason, it doesn't have to be the end of the customer's journey with you. Instead, sending one or two abandoned cart emails can recapture their attention and position you as the brand they want to buy from.
Send abandoned cart emails for free with Sendinblue
With Sendinblue's free plan you can send 300 emails/day, store unlimited contacts and create marketing automation workflows for up to 2000 subscribers.
For online retailer Smileycookie.com, an abandoned cart sequence recaptured 29% of their abandoned shopping carts and turned them into sales.
Leverage your abandoned cart emails even more by recommending other similar items and sharing reviews to persuade buyers that you're the brand they need.

Society6's abandoned cart emails not only provide shoppers with a discount if they pick up their cart within 48 hours, but they also share other products for continued shopping inspiration.

Want to learn more about abandoned carts? Check out these resources:
3. Personalized Promotions Emails
Consumers crave personalized interactions with the brands they buy from (source).
In fact, they expect it.
And this can go a lot deeper than recommending products they might like. For example, you can use customer data to share product inspiration with them at key points in their life – like birthdays.
This not only makes customers feel special (which in turn is more likely to ensure they buy from you in the future), but it also deepens your connection and brings in more sales.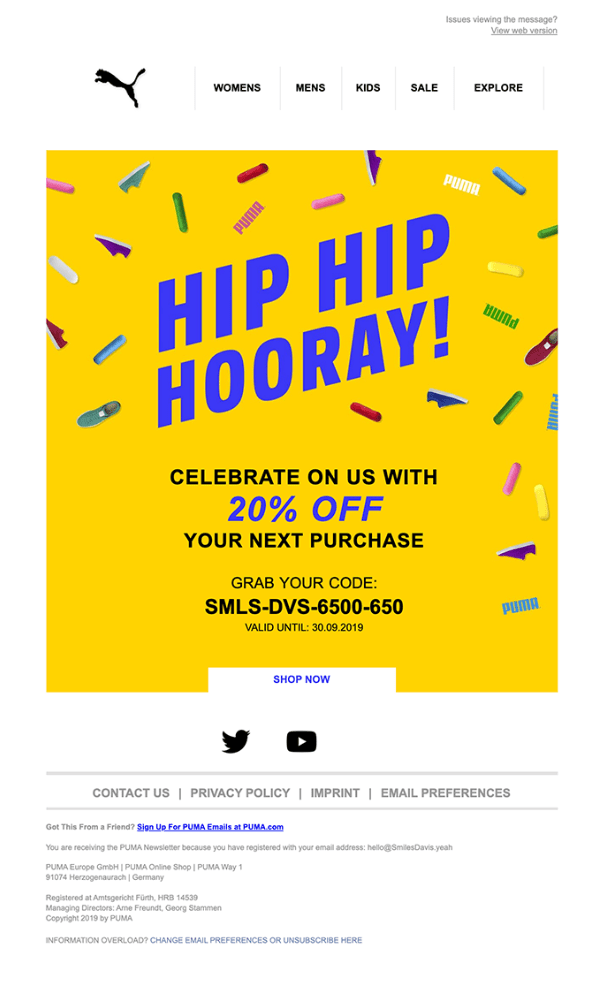 PUMA sends vibrant birthday emails to its customers with a 20% discount for their next purchase.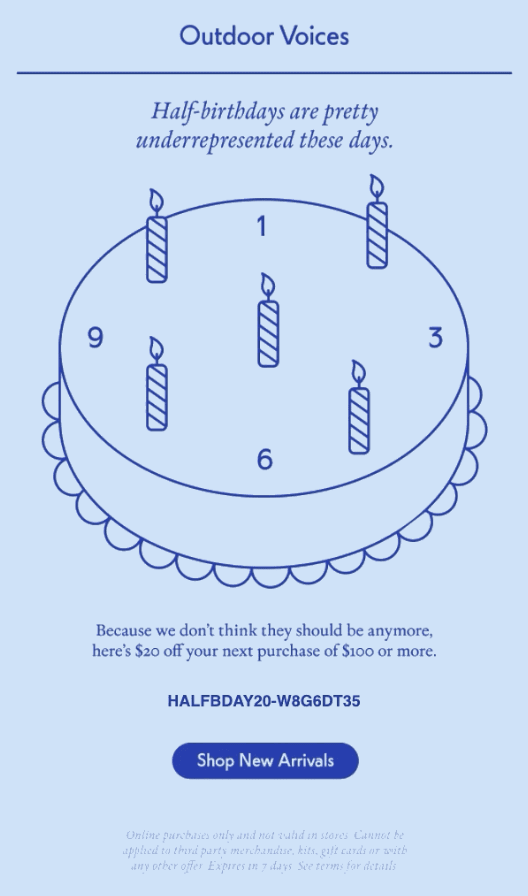 Outdoor Voices goes one step further and sends a personalized email on customers' half birthdays. This unique tactic is quirky and memorable, and encourages shoppers to snap up their half-birthday discount.
4. Recommended Product Suggestions Emails
Customers love to feel like you know them and "get" them, and product recommendation emails are a great way to show this.
Simply send out product suggestions based on previous purchases.
For example, if a customer buys a pair of trainers from you once a year, remind them that their next purchase is coming up. You can also use these ecommerce emails to highlight products other customers have bought and to showcase your best-sellers.

Methodical Coffee shares "crowd favorites" in their emails to show off their best-sellers.
5. Order Confirmation Emails
Order confirmation emails give customers peace of mind. As soon as the confirmation lands in their inbox, they know that their money is in your hands and you're going to sort everything out for them.
This type of email is what you can call a transactional email. It's sent automatically following a transaction.
As well as making customers feel comfortable when they buy from you, order confirmation emails can serve other purposes too. They can provide similar product suggestions to encourage another sale.
For example, if a customer bought two packets of organic tea bags from you, you might suggest they buy your signature teapot in the order confirmation email.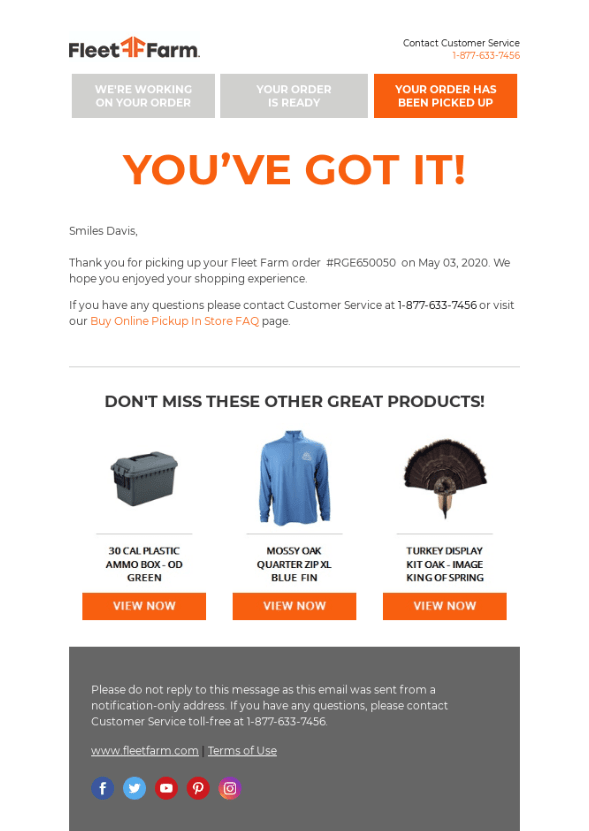 Fleet Farm shares a selection of other products in their confirmation emails.
6. Upsell Emails
Upsell emails give you the chance to highlight products that your buyers might need based on their previous purchases. For example, if they've just bought a pair of shoes from you, why not suggest some socks to go with them?
Upselling customers increases your average order value and generates repeat custom. You can also tap into FOMO with the old "other customers who bought X also bought Y" tactic.
For more ideas how to drive loyalty, check out or guide to post-purchase emails.
7. Thank You Emails
Manners go a long way, and this is true in ecommerce too.
Thanking your customers for making a purchase shows you value them and also provides a more human way of connecting with them.

Allbirds combine their thank you and order confirmation emails and use the space to share more about their brand to deepen customer relationships.
8. Survey or Review Emails
Customer feedback is crucial for growth. It provides incentive and ideas for improving your products and offers an insight into what your customers do and don't like about shopping with you.
Feedback emails invite customers to share their thoughts and opinions. You can do this by sending out a survey or simply encourage customers to leave reviews that you can then share on future product recommendations.

Bellroy's feedback request email invites customers to give them a star rating as well as encourages them to share their stories using a dedicated Instagram hashtag.
9. Product Catalog and Latest Lines Emails
Keep your store front-of-mind by sending regular emails that showcase your latest product lines or a selection of items from your catalog.
Loyal customers will be eager to see your latest releases, and you can always personalize the products you share based on their past purchasing behavior.

Fossil sends out regular emails to its customers that spotlight their new products and lines.
10. Referral Emails
Referrals are still one of the best ways to get new customers. After all, consumers are more likely to listen to a recommendation from their friends and family than buy into polished marketing campaigns (source).
Referral emails encourage customers to share your store and products with their network and get themselves a discount in the process.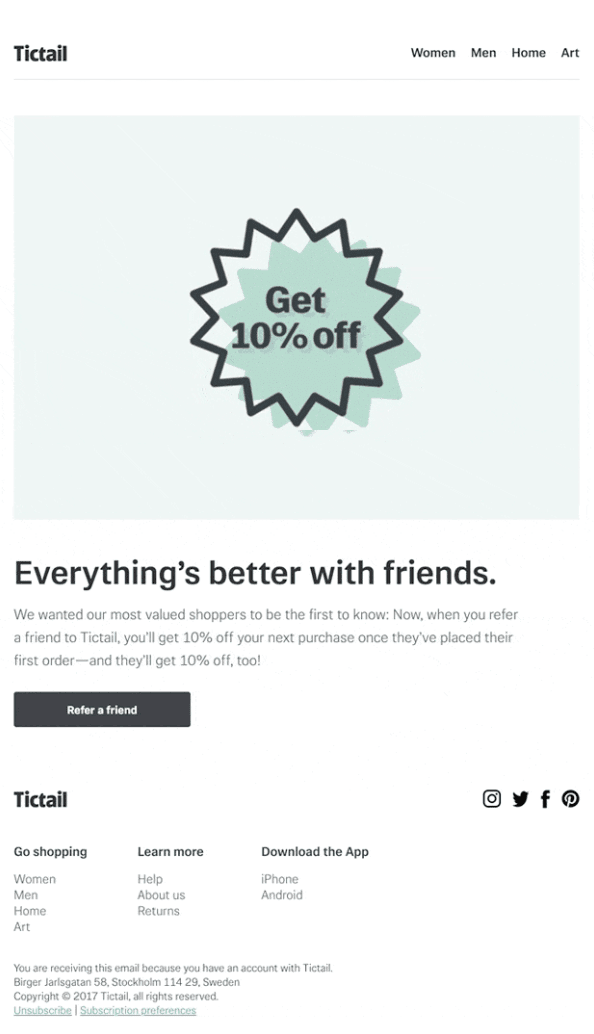 Tictail taps into their most loyal customers and encourages them to refer a friend for a 10% discount.
11. Order Dispatch Emails
Customers are keen to keep track of their orders, and letting them know when their items have been dispatched will keep their comfort levels high. This is a common courtesy for ecommerce brands and doing it continues to build on an already established relationship.
You can dress up your order dispatch emails by sprinkling in some upsell offers, like future product recommendations and add-on items.

Nike sends really simple order dispatch emails to their customers that have a good quality image of the product that's been shipped and the option to track the package status.
Team up with a Sendinblue Solution Partner
Want to take your email marketing to the next level? Our Sendinblue Solution Partners will help you with email design, automation, ecommerce email strategy, and more.
12. Re-Engagement Emails
Customers will come and go – it's a fact of life in the ecommerce world. But you can increase your chances of getting them to come back with a winback email. 
Make your message that much sweeter by offering a discount for their first returning purchase and sharing reviews and user-generated content to tap into FOMO and encourage them to want to be a part of your community.
Your re-engagement emails can also highlight your latest products or provide suggestions based on a customers' past purchases. For example, if they buy a cheese wheel from you every year at Easter, send them a reminder to buy their next one.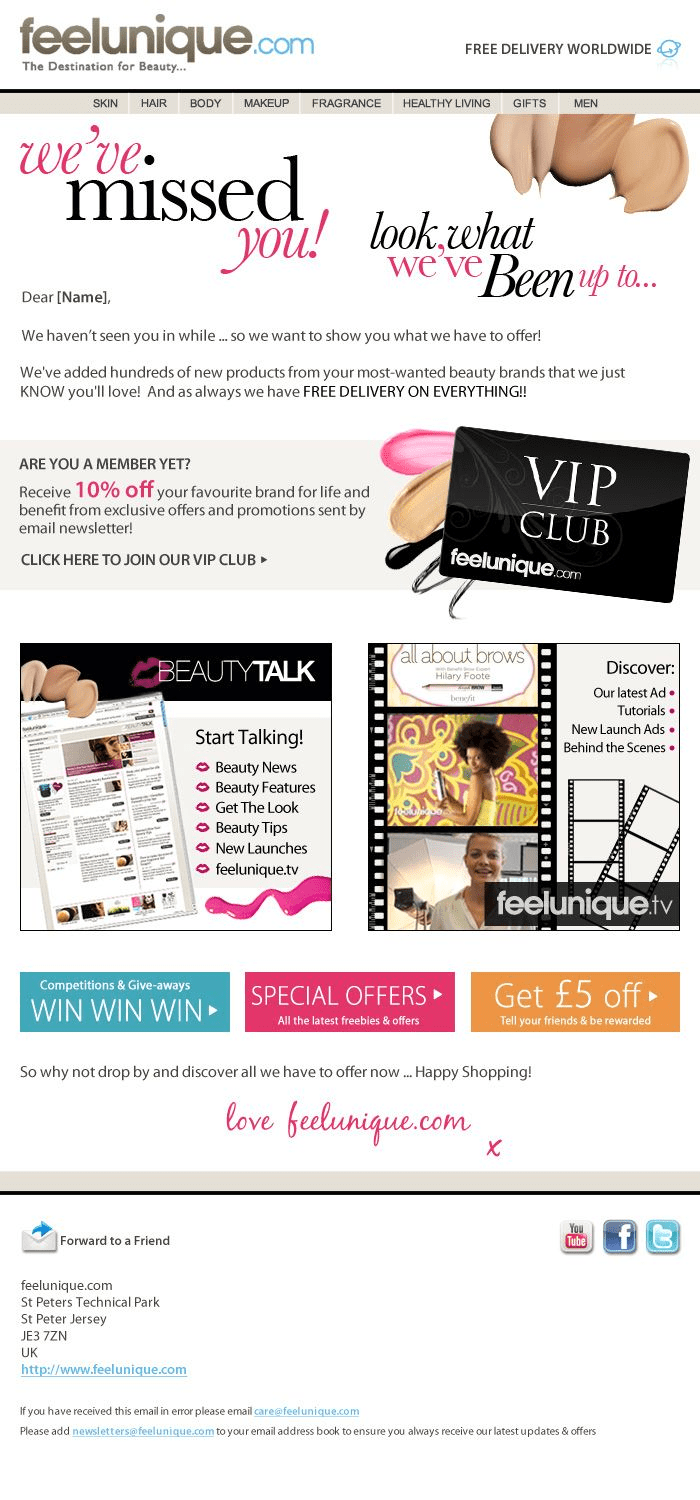 Feel Unique reconnects with past customers by sharing what they've been up to, offering a returning discount, and directing readers to their latest content.
13. New Launch Emails
Customers want to see your new stuff. If they've bought from you before, there's a very high chance they'll buy from you again, and emails that launch your new products are a great way to generate an influx of sales.
Make the most of your launch emails by offering a limited time sale on your latest products and regularly check in with customers to keep them informed about new lines.

Slowdown Studio launched their new line of blankets in an email to customers.
Optimize Your Ecommerce Strategy With Automated Emails
Populating your ecommerce email strategy with automated emails at each stage of the buying cycle will create a smooth shopping experience for your customers. Every time an email from you lands in their inbox, they feel valued and you start to deepen the customer relationship.
As a result, you'll start to grow a loyal following of customers that come back time and time again. What's more, if you optimize each email with product suggestions and recommendations, you'll increase your average order value and your customer lifetime value, both of which will lead to growth and success.
If you don't already have these ecommerce email examples as part of your strategy, now's the time to do so.
For more content like this, sign up to our monthly newsletter and follow us on Twitter.