Using a double opt-in subscription system can improve your email deliverability and the quality of your contact list for better overall email marketing.
In email marketing, there exists an eternal debate to decide which is better: single and double opt-in. While both sides have their pros and cons, it's always going to be up to you, the marketer, to decide which is best for your business.
At Sendinblue, we usually recommend a double opt-in system for growing your list. To show you why we think this system is better, this article will go through the definition, benefits, and a few examples of double opt-ins. Afterward, you can decide whether or not you think this type of subscription system is right for you!
Let's start by defining double opt-in for those who aren't familiar.
What is double opt-in?
Double opt-in is a system for adding new contacts to your email list that involves collecting an email address through a signup form and sending a confirmation email to that address in order to validate the contact information before adding it to the list.
Unlike a single opt-in system, in which subscribers provide their email address through a signup form and are immediately added to an email list, double opt-in systems create an additional layer of protection to prevent fake email addresses or contacts who aren't really that interested in your emails from signing up. Some marketers think this is bad because you're creating too much friction in the signup process, but the result can be a much higher quality list in the end.
Set up double opt-in with Sendinblue for free >>
What are the advantages of using a double opt-in?
1. Acquire more qualified contacts
As we mentioned above, using a double opt-in subscription system guarantees that your list has only valid email addresses. This prevents any issues with contacts making typos in the signup form or bad actors using email addresses that don't belong to them because you have to click confirm in order to be added to the list.
Additionally, if you have contacts that sign up but are only casually interested in your offers, they might not be willing to confirm their subscription. This saves you the pain of having a disengaged subscriber in your list harming your overall email campaign performance.
So even if you miss out on a subscriber, it's actually a good thing in the end because they weren't qualified in the first place.
Double opt-in may seem like adding friction to the email signup process - but the payoff is a much higher quality contact list.
Click To Tweet
2. Avoid any potential issues with the GDPR
Having a GDPR-compliant opt-in process means being able to show proof of consent for each of your contacts that you're keeping in your database.
While this doesn't mean that a double opt-in is required by the GDPR, it can be helpful for showing easy proof that the contact opted-in by clicking to verify their email address. It's also helpful to have the extra level of protection from someone submitting the email address of someone else without their knowledge.
3. Create stronger relationships with new contacts from the very start
With a single opt-in process, the first interaction that you have with your new subscribers is when you send your first regular email campaign or newsletter.
Double opt-ins on the other hand, require you to send an initial transactional email to allow subscribers to verify their contact information. But, nobody ever said this email had to be a plain old boring confirmation email.
Use the confirmation email like a welcome email and leverage the opportunity to showcase your brand in the email design, introduce your business, and even include a nice message welcoming new subscribers. This provides a more personalized experience for the subscriber because they get to know a little bit more about you before receiving one of your regular email campaigns.
4. Improve your email deliverability
In addition to the benefits mentioned above, a double opt-in process will inherently help improve your email deliverability.
This is because your contact list will not contain any hard bounces since contacts were required to verify their address. This prevents you from sending to spam traps or dead email addresses that can hurt your sender reputation.
Double opt-in also ensures that your subscribers really want to receive your emails by adding the extra step to the signup process. That means that they'll be more likely to engage with your emails and less likely to unsubscribe or mark your emails as spam. Both of those things will help continue to ensure good deliverability.
How to set up a double opt-in system?
You can set up a double opt-in email subscription system with Sendinblue in just a few clicks!
Now that you know the benefits, you're probably looking to set up your own double opt-in signup process for your email contacts. Don't worry, we've got you covered!
Please note: Setting up a double opt-in requires the sending of transactional emails. If you haven't been automatically approved for sending transactional emails, you can activate this feature by contacting our customer support team.
To set up a double opt-in in Sendinblue, start by navigating to the "Contacts" tab on the left menu, then click on "Forms." From there, you'll need to select which form you want to use for your double opt-in. You can either select a form that you've already created or start a new one from scratch.
Once you've selected the form you want to use, go down to Settings and select the Double confirmation email option.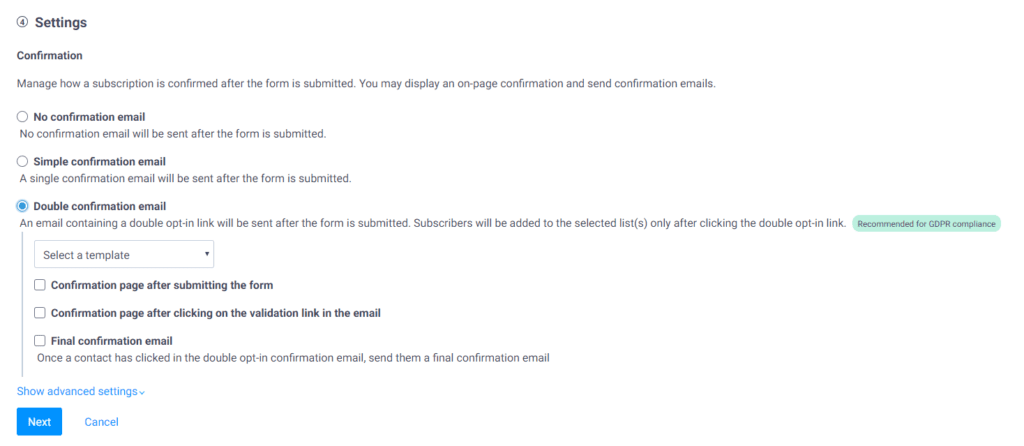 Once you've selected this, you have a few other options that you need to set up:
Choose a template for the confirmation email
Set the URL to which users will be redirected after clicking on the confirmation link
Send a final confirmation email (using a template of your choice)
If you don't want to spend time designing an email for your confirmation message, you can use the default template available in Sendinblue.
Of course, you don't have to use the default template. We always recommend creating something unique and more in line with your branding so that your contacts will get a better feel for who you are.
To do this, navigate to the "Transactional" tab at the top of the Sendinblue platform. Then, click "Templates" in the left-side menu before clicking on the green button on the top right that says "New Template."
From there you can just create your email like normal. Just make sure to add a confirmation button with the double opt-in confirmation link! It should look like this: https://[DOUBLEOPTIN]
After setting up your template, you can go back into your form and assign it to the double opt-in system for that form in the signup settings section.
Double opt-in email examples
Remind subscribers why they signed up
It's always a good idea to restate your value proposition when you send a confirmation email to new subscribers. It reminds them of why they signed up and gives them that extra push if there is any hesitation to confirm their contact information.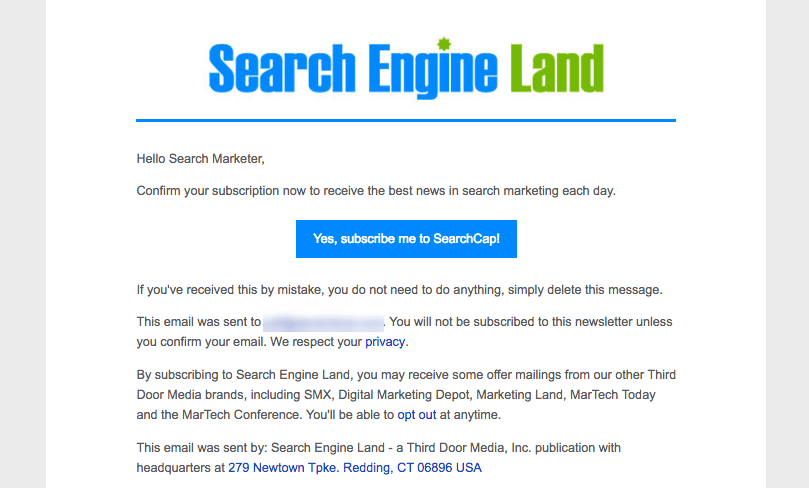 You can see this opt-in email example from Search Engine Land is pretty basic, but the one line above the CTA button is a great example of a simple restatement of the value proposition that reminds users what the value of the subscription really is. In this case, that value is the "best news in search marketing each day."
Increase connections with your business
As we mentioned earlier, your confirmation email doesn't have to be a plain and generic email with just a confirm button and nothing else. It's also a great opportunity to bring your subscribers further into your brand's ecosystem and grow your audience by encouraging engagement on other channels like social media.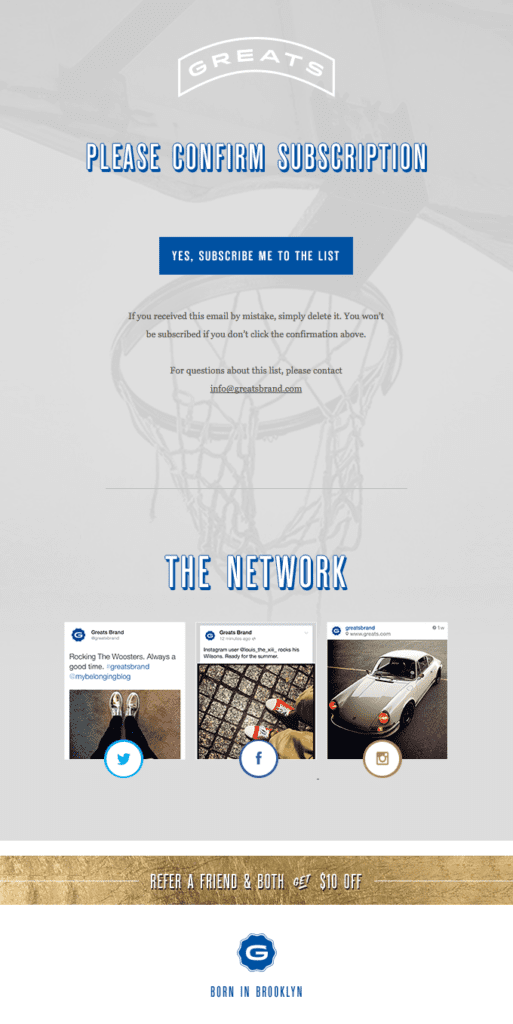 This opt-in email confirmation does a lot to further connect the business with new subscribers and grow their base. That's what makes it such an excellent opt-in email example. Greats include links to visit each of their social media pages, and they also added a CTA at the bottom for their referral program.
Even if the conversion rate is small, including these types of CTAs is a great best practice because there's no risk and big rewards.
It's also a nice touch to include customer service contact information for anyone who might have questions. This is important for people who may have been signed up by someone else, or somehow did so by mistake.
Showcase your brand
So you decide not to do much with your confirmation email in terms of marketing CTAs. That's ok, but it's always important to showcase to your subscribers what you're all about.
If your brand has a unique personality, put it on full display. This will personalize your business to your subscribers and make it easier to build lasting relationships with them.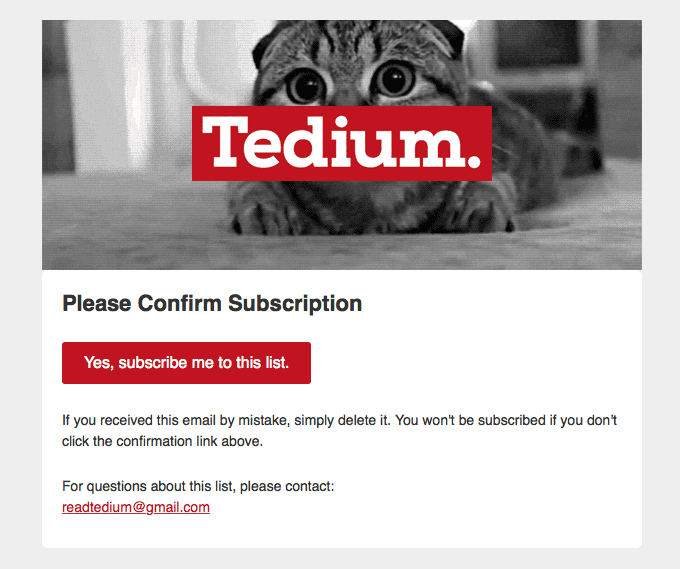 This is a really simple but excellent example of a basic opt-in confirmation email. No bells and whistles, yet still shows great personality with the addition of a cute cat picture at the top.
Although it seems minor, adding this type of content 'humanizes' your brand, ultimately encouraging more confirmations from your new subscribers.
Conclusion
Looking for ways to refine your email marketing strategy? Well, double opt-in should be one of the first places that you start. It allows you to build a more targeted and engaged following for your business. What's more, it's easier to optimize your campaigns for conversions.
So if you haven't already created a double opt-in system for growing your email list, you should probably get on that! 😉
Need a tool to start growing your list and sending email campaigns? Try Sendinblue free for up to 9,000 emails /month and unlimited contacts!
Open my free Sendinblue account now >>
For more marketing tips and advice, follow us on Twitter and sign up to our monthly blog newsletter.