Looking for a way to revamp your marketing strategy but don't know where to start? Or are you overwhelmed by the information out there on digital marketing and need guidance for your financial services brand?
You're not in it alone. There are plenty of challenges associated with digital marketing for financial services, and most of them are common to all brands in the sphere.
Fortunately, we're here to help. We've developed this article to educate you on digital marketing challenges for financial services and to help you get the gears turning so you can make the most of a comprehensive digital marketing strategy.
But why digital marketing?
With its inherent versatility and agility, digital marketing is enough to meet the needs of most industries, including financial services.
It's easier to update and make changes to than traditional marketing mediums, and it facilitates flexibility and personalization in ways that traditional avenues just can't.
Digital marketing is more than just a flash-in-the-pan trend. It's here to stay, and for good reason.
With more options than traditional marketing for things such as aligning with compliance regulations and establishing and maintaining customer trust, it's an impactful way to get your perfectly-tailored and impeccably-timed message across to segmented and cultivated audiences.
Digital marketing challenges for those in the financial services world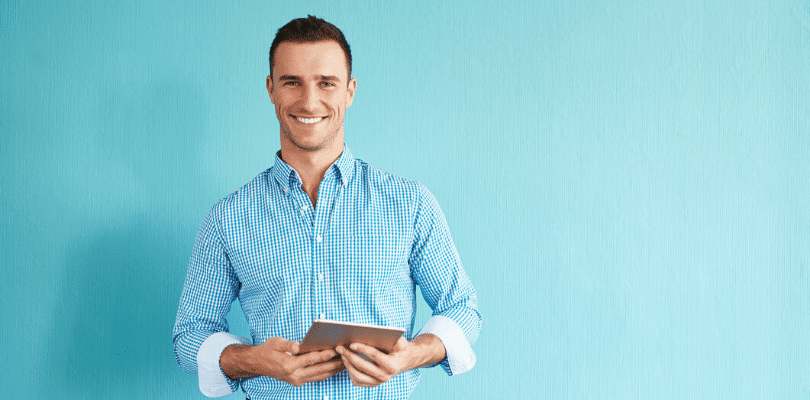 A complicated topic in its own right, digital marketing is made even more cumbersome when coupled with financial services.
Some of the unique challenges faced by digital marketers in the financial services world include navigating the sometimes murky waters of compliance, establishing (and maintaining) customer trust, transitioning to a "digital-first" mindset, and marketing without a cohesive strategy.
Let's take a look at each of these challenges in greater detail along with actionable tips for overcoming them.
Navigating compliance
It's not always easy to stay compliant while operating a customer-focused brand, but when working with sensitive information, such as customer bank account details and other financial information, compliance is a necessary component to any healthy digital marketing strategy.
How you engage with your customers and prospects depends a lot on the specific regulations surrounding your brand, so know what you're tethered to and develop your marketing strategy and materials around that.
Not only does this keep you in-bounds in regards to compliance, but it also goes a long way towards establishing trust and credibility with your customers. We'll talk more about why that's important in a moment, but for now, know that it's critical to your brand's long-term success.
Use rules and regulations to your benefit
Make the most of the opportunities around search engine optimization (SEO) by following rules and regulations.
Fortunately, Google rewards compliant websites with high-quality ratings, so take advantage of this opportunity and capitalize on it by creating compliant pages that add value.
Think in terms of the acronym EAT, which stands for "expertise, authority, and trustworthiness."
Google uses EAT as a page quality metric by which to rank the helpfulness of a web page. It's easy to get wrapped up in identifying keywords and other SEO considerations, but at the end of the day, if your web pages don't align with EAT, the rest of your optimization efforts will be all for naught.
Establishing customer trust
There's nothing more important than the trust of your customers when you're a financial services provider.
Your customers are handing over privileged information and trusting you not to share it or manipulate it in any way, and you must always hold up your end of the bargain.
Foster security while remaining authentic
Along with adhering to compliance, the fastest and easiest way to win trust is through authenticity. But, as we talked about above, it's not always easy to strike the right balance between security and transparency.
In order to create a sense of real authenticity, be social and encourage dialogue.
Customers trust brands that engage with them in a way that's real, so put aside corporate-speak and talk to your customers in a human fashion. You may feel restricted by what you can share on social media, so get creative and think outside the box (while staying in the lines with regards to compliance).
Segment your audience for more relevant messaging
You also can (and should!) compartmentalize your audience by segmenting them based on their place in the buyer's journey.
Segmentation is going to be especially important when it comes to email marketing for financial services.
It ensures that the messages you're sending are aligned with where they're at in terms of engaging with your brand. You don't want to push messages that are geared towards people in the final stages of the buyer's journey if they're just getting acquainted with your brand, as this is quite likely to turn people off and drive them to click the link to unsubscribe.
Transitioning to a "digital-first" marketing perspective
A lot of traditional financial service providers don't think in terms of "digital-first" when marketing, which could be a costly mistake. Face-to-face and print marketing are more likely to be associated with traditional industries, like that of financial institutions, but there's a trend towards adopting digital marketing across the board.
Flip the script and go digital
When you've got a chance to rewrite your marketing strategy (more on that topic below), take it and make the change toward modernizing it. If you've got brick-and-mortar branches, rework your marketing strategy to make your branch marketing support your digital marketing, and not vice-versa.
Marketing without a cohesive strategy
Marketing by the seat of your pants isn't an effective long-term strategy. While it may be tempting to create reactive marketing materials, it's not always sufficient, especially over time. By anticipating market shifts and demands, you can fashion a comprehensive strategy that will allow you to market your brand more effectively.
Develop a comprehensive digital marketing strategy
In order to combat reactive marketing, you should develop a digital marketing strategy to use for steering the development of marketing materials.
Create tools like buyer personas to help you personify your ideal audience, then target your messaging to reach the places where that ideal audience spends time. If it sounds like it's a simple enough approach, it absolutely is, but it makes all the difference in terms of reaching the right people at the right time.
Sendinblue: Your partner in digital marketing for financial services
For those unfamiliar with the digital marketing world, it may be tempting to solely rely on traditional marketing mediums and forego the brave new world that going digital opens up to financial services providers, but that could end up being a costly mistake from a long-term perspective.
Instead, be proactive by developing a marketing strategy, establishing customer trust, remaining compliant, and creating a plan to transition from traditional marketing to digital marketing, and you'll be on the right track for making the most of digital marketing.
Need help getting your digital marketing to rise to the occasion? With Sendinblue, not only do you get an all-in-one digital marketing software, but you get a partner to help you communicate, personalize, and win conversions for your financial services brand.
Get started quickly by opening your free Sendinblue account. You'll be able to test our robust email marketing platform by sending up to 300 emails a day, completely free.
For more content like this, subscribe to our monthly marketing tips newsletter and follow us on Twitter!