Reading time about 11 min

Designing memorable newsletters can be draining when you lack inspiration. Who knows it better than you, right? But you also can't risk sending dull Cyber Monday emails that don't stand a chance at getting clicked.
Come holiday season, your subscribers' inboxes will be flooded with 100s of emails, each contending for their attention. Your challenge: design a campaign that stands out from the rest.
To fuel your creativity, we've put together six emails you can use as inspiration to impress folks on your list. However, before you get the goods, there's a checklist we want you to go through.
A Winning Checklist for Black Friday Cyber Monday Campaigns & Beyond
Follow all these tips to ensure you email the right person and impress them in a way that's unique to them.
Activate your list if you haven't contacted them in a while. It improves email deliverability and gives people a reason to pay attention to your message.
Segment and engage your customers. Let them opt-in to receive Black Friday Cyber Monday (BFCM) emails. And give a VVIP treatment to those who do. Think of special discounts, loyalty points, faster delivery, etc.
Ask which products they want deep discounts on. This will translate to guaranteed sales and give you enough time to stock up your inventory.
Retarget engaged customers so that they don't slip through the cracks. 
Create optimized and responsive emails. 
Go behind-the-scenes. Reveal the effort you put in to deliver top customer experiences. Such sincere snapshots build rapport and trust. 
With that out of our way, now let's get back to learning what some brands have been doing well to make their Cyber Monday emails stick out a mile in the pool of mediocrity. 
Cyber Monday Emails: Why they work and your key takeaways
All these emails have a variety of things working for them. Mix them up to come up with your own striking Cyber Monday emails. Lest you forget—always A/B test.
Levi's' no bells and whistles Cyber Monday announcement
Data shows that for 79% of US consumers free shipping would make them more likely to shop online. And, 96% would shop with a retailer again based on an "easy" or "very easy" return experience. Levi's takes both into account and leads their email with it. One big benefit? It keeps the cart abandonment rate in check. 
The CTAs are straightforward and there aren't any products per se, but this exciting perk alone yields power over customers and makes this Cyber Monday email effective. 
Key takeaways 
Stick to basics—simple design, clear visual hierarchy, and straightforward CTAs.
Focus on free shipping and returns and don't forget to mention it on the product page too.
Offering a site-wide discount code? Add it automatically on the checkout page.
Everlane's agreeable framing
We respond to situations based on how the information is presented to us, something Everlane leverages in their Cyber Monday email. 
First, they surprise their customers with a curiosity-laden subject line— "No sale today. Here's why". This makes customers stop in the tracks and think—wait, what, isn't it Cyber Monday? And what happens next? They click open. 
Then comes the email copy. They explain why there's no sale—their prices are already 50% lower than most retailers, every day of the year. Meaning, their customers get a good deal all year round, and that framing changes everything. 
Plus, they mention their transparent prices side-by-side with the traditional retailers'. Guess who wins from this comparison framing?
Key takeaways: 
Ditch run-of-the-mill email subject lines. 
Don't be afraid to tell your customers—in a non-nasty/agreeable way—why you're better than your competitors. 
Promote gift guides to ease holiday shopping anxiety and increase average order value.
Huckberry's long, nostalgia-evoking email
Pixelated fonts and sepia tones evoke nostalgia and make people want to spend money. Surprised? Well, now you know nostalgia has that effect on people. In that regard, you could say this is a good design decision on Huckberry's part, but they don't bank on nostalgia alone. 
Their email copy is peppered with social proof which enables them to demonstrate the authenticity customers look for. Here's a customer saying that within 30 minutes of wearing the pants he bought another pair because of how comfortable they were. Now if this doesn't convince shoppers to add it to their cart, what will?!
Plus, product descriptions are a good mix of features and benefits. Take, for instance, their copy for Faherty Brand clothing. The implied feature comes from the photo—it's unlike the bulky winter wear. Then comes the explicitly stated benefit—it'll keep you "toasty warm during the cold weather". Both address customer pain points and make a compelling sales pitch.
Finally, let's talk about diversions at the fag end of their Cyber Monday email. Even though the stories have nothing to do with their products, they sync with the theme of nostalgia.
Key takeaways 
Design and copy always go hand-in-hand. 
Balance between implied and explicit benefits.
Don't be afraid to experiment with long emails.
Further reading: 5 Email Design Best Practices for 2020
Old Navy's ingenious use of subhead

Old Navy's Cyber Monday email starts with an attractive 50% off everything announcement. Thrown in the mix is urgency vis-à-vis "last chance" and "ends tonight". Yet none of it triggers panic in customers' minds because of the helpful "where to start" subheader right below. This helps customers overcome choice overwhelm and makes shopping a delightful experience.
Plus, the rest of the email uses more such logical subheads and enough whitespace to prevent any offer from making more noise than it should. 
Key takeaways
Send personalized emails with recommendations that are specific to individuals on your list. It makes them feel valued and increases the likelihood of them buying from you rather than elsewhere. 
Don't be afraid to open up your inventory, but make sure your products are bundled under logical subheadings. 
Use whitespace to make your email scannable. Customers can scroll to the section useful to them instead of running around in circles. 
Want to send beautifully designed, responsive Cyber Monday emails without the hassle? With Sendinblue's Free plan you get access to 25+ free holiday email templates, along with our drag and drop email editor so you can customize them to your brand.
MeUndies' GIF-focused final Cyber Monday call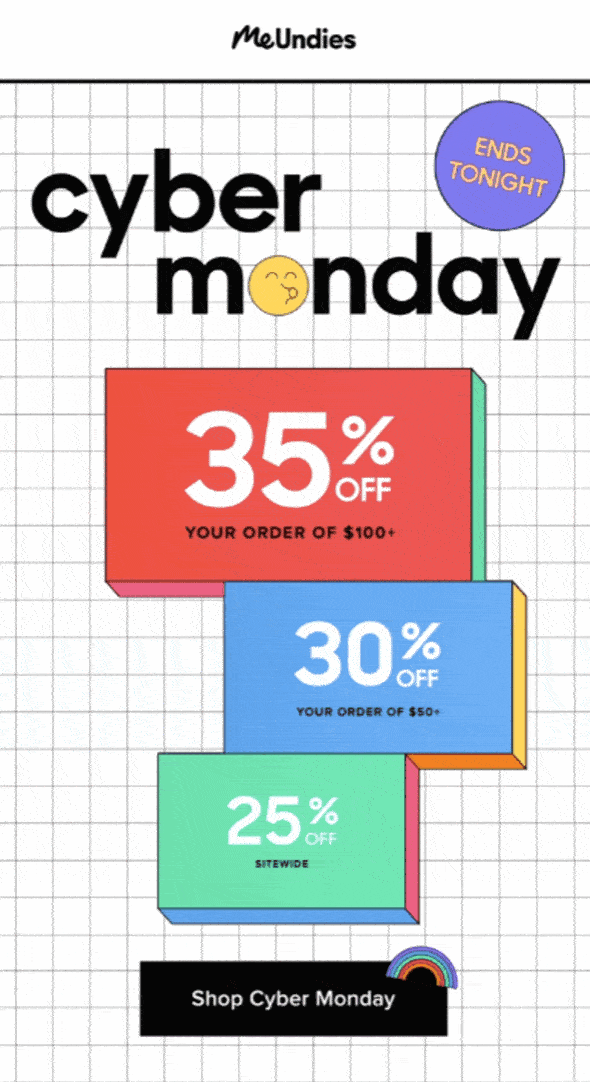 At the heart of their email is a simple announcement—Cyber Monday ends tonight. And tied to it is a simple yet attention-grabbing GIF against the white background. Combined, both the message and the GIF make the impact they should—getting customers to act on the offers.
What also works is minimal to no copy. There's no flashing code or a million words surrounding the GIF or the CTA. Come to think of it, it's rather soothing compared to most urgency-laden emails that nag customers to make a move, or else…you get the drift. 
Design-wise they are on-brand too. The flying kiss emoticon awash with love is MeUndies in their true element. Known to be a fun brand, this email speaks to their audience.
Key takeaways: 
Embrace simplicity. Stick to one CTA to minimize distraction.
Let GIFs do the talking and take the pressure off the CTA. 
Stay true to your brand personality so that customers know it's you knocking on their door.
Huckberry's urgency-packed text-only email
Remember Huckberry's email we analyzed earlier? They followed it up with a last-minute text-only email. The subject line read "3 more" and immediately stood out.
But "3 more" what, right? Exactly what I thought when I saw it lying unread in my inbox. What I did next is what any of you would do too—open it to make suspense go away.
Now about the text-only email. It is short and scannable. To draw attention, top-selling products that never get discounted are hyperlinked. A cursory glance tells that they are available only for a limited period of time which makes people want to avert loss and buy right away.
Again—in their signature-style—they even quote a dialog from The Godfather. This shows they know how to humor their customers with something they'll relate to.
Wait, there's some more. The email ends with a postscript that mentions the flying baby interview. Naturally, the intrigued lot will want to read it. Good for Huckberry because customers might like something while scrolling the entire length of the email.
Key takeaways
Don't overlook text-only emails.
Leverage curiosity in the email copy and subject lines of your Cyber Monday campaigns. 
Leave nothing to chance by writing a compelling email sequence that builds up to your final email. 
Further Reading: 40 Black Friday & Cyber Monday Email Subject Lines to Boost Your Open Rate
Get Set to Send Your Cyber Monday Emails
To recap—the Cyber Monday email examples listed above stand out because each is designed keeping customers' decision-psychology in mind. Follow their lead.
Meanwhile, if you're looking for a platform to send your email campaigns, try Sendinblue. With our intuitive drag and drop builder you can design beautiful email campaigns—no coding knowledge required. All you've got to work on is your Cyber Monday email copy, and you're good to go.
Plus, you can get started with Sendinblue for free and send up to 300 emails a day with unlimited contact storage. Want to send more? Opt for one of our paid plans starting at $25 per month—you can still store as many contacts as you need at no extra cost.