New features, improvements, and bug fixes — Find out all the changes we made in Sendinblue in September 2018!
It's the era of personalization for email marketing, and the team here at Sendinblue is making sure to keep up! Check out the latest developments that make personalizing your campaigns more powerful and easier than ever before!
Dynamic Personalization in Your Email Marketing Campaigns
Our email design editor now lets you conditional display blocks that allow for customized content based on the behavior and attributes of your contacts.
With the new addition of conditional display blocks in Sendinblue's email design-builder, you can do so much more with your email campaigns, like:
Adjust the prices you display based on the recipient's country
Show different products for recipients based on their gender preference
Offer a discount coupon to anyone who hasn't bought anything from you
And so much more!
Conditional display gives you more control over what content your contacts see by giving you the power to dynamically change the contents of your email based on conditions related to data attributes you've saved for customers in your contact database or parameters you've passed from your site.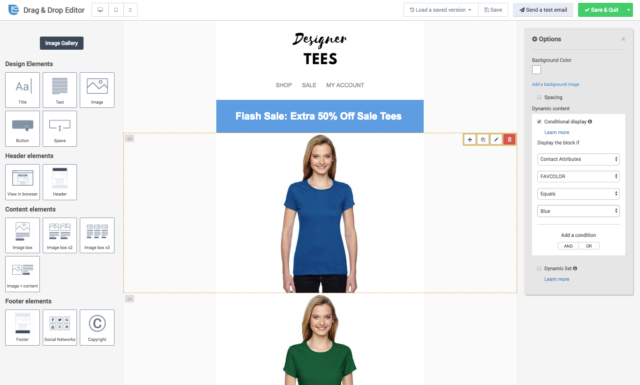 In this example, the display image changes depending on the contact attribute "FAVCOLOR":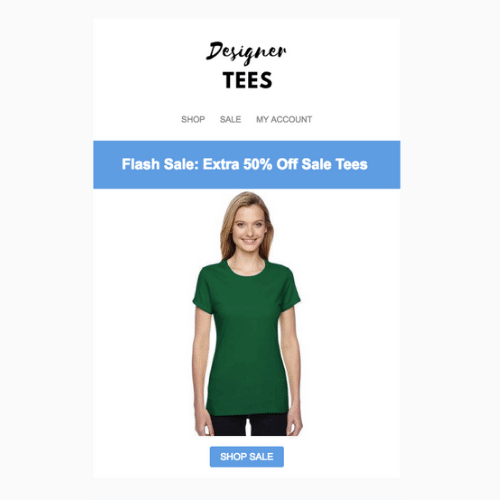 As you've probably guessed, the contact will only see the image of the shirt that corresponds to his/her favorite color saved in your database. Pretty cool, right? 🙂
For more information and details about all of the possibilities of conditional display, take a look at our detailed tutorial:
New drag & drop subscription form editor
Creating an email subscription form for your website has never been easier thanks to our new drag & drop editor!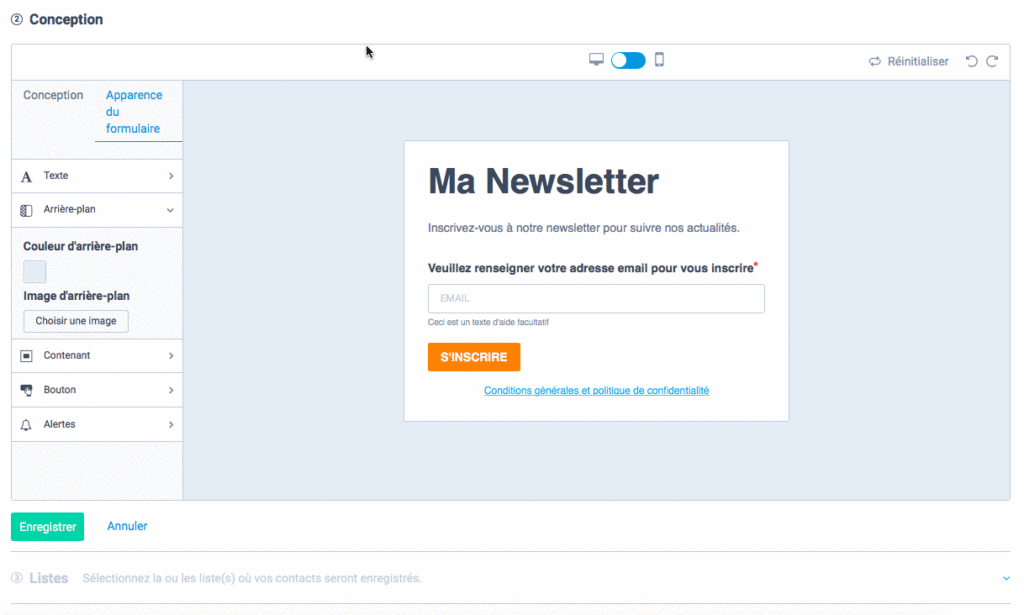 Get ready to unleash your creativity and start collecting more contacts! We have just launched our new and improved drag & drop signup form editor to give you more room to build beautiful, eye-catching forms that will have website visitors subscribing in droves!
Some of the new things you can do include:
Move, duplicate, and customize different blocks (images, text, buttons…)
Add images in the form or in the background
Make the form disappear once it has been submitted
The new editor also makes it even easier to create GDPR-compliant opt-in forms!
UI/UX Improvements
We're constantly looking for new ways to improve Sendinblue's interface and user experience. This month, we made some changes to the Campaigns Dashboard that we hope you'll like:
You can now perform more actions directly from the list of campaigns
Icons allow you to more easily identify the status of campaigns in your list (draft, sent, scheduled, etc.)
Clicking on the title of a campaign brings you directly to the campaign confirmation page