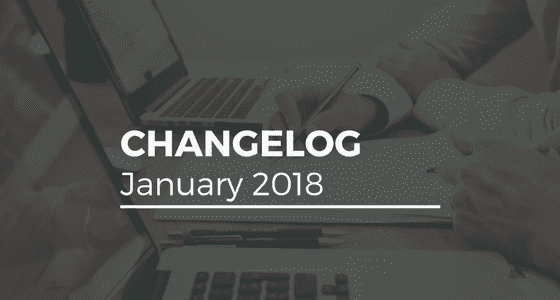 New features, improvements, and bug fixes — Find out all the changes we made in Sendinblue in January.
At Sendinblue, we are constantly working to improve our platform and present you with a tool that answers all of your needs in an intuitive and comprehensive way. To keep you updated, we are starting this monthly changelog blog series in order to give you an easy-to-find list of all of our improvements and changes that we've made to the Sendinblue product over the previous month.
So, without further ado, here are some of the things we did in January to make Sendinblue even better:
Email campaign creation
Improvements to the navigation within the drag and drop email design tool

If you were creating a new email campaign recently, you might have noticed a few updates to the navigation bar in our drag and drop responsive email editor:
Easy access to the function "Load a saved version" to revert to an older version of your campaign
Option to restart your campaign from a blank template of your choosing
Quick access to the template library to easily get additional inspiration for your emails
Creating a new campaign based on another recent campaign design
We have simplified the process of creating a new campaign based on previous campaign designs. Now, you can:
Search for an old campaign by name
Filter old campaigns by status (e.g. Sent campaigns, scheduled, etc.)
The design has been improved to include a preview window showing the name of the campaign, the campaign ID, and a preview image of the campaign itself.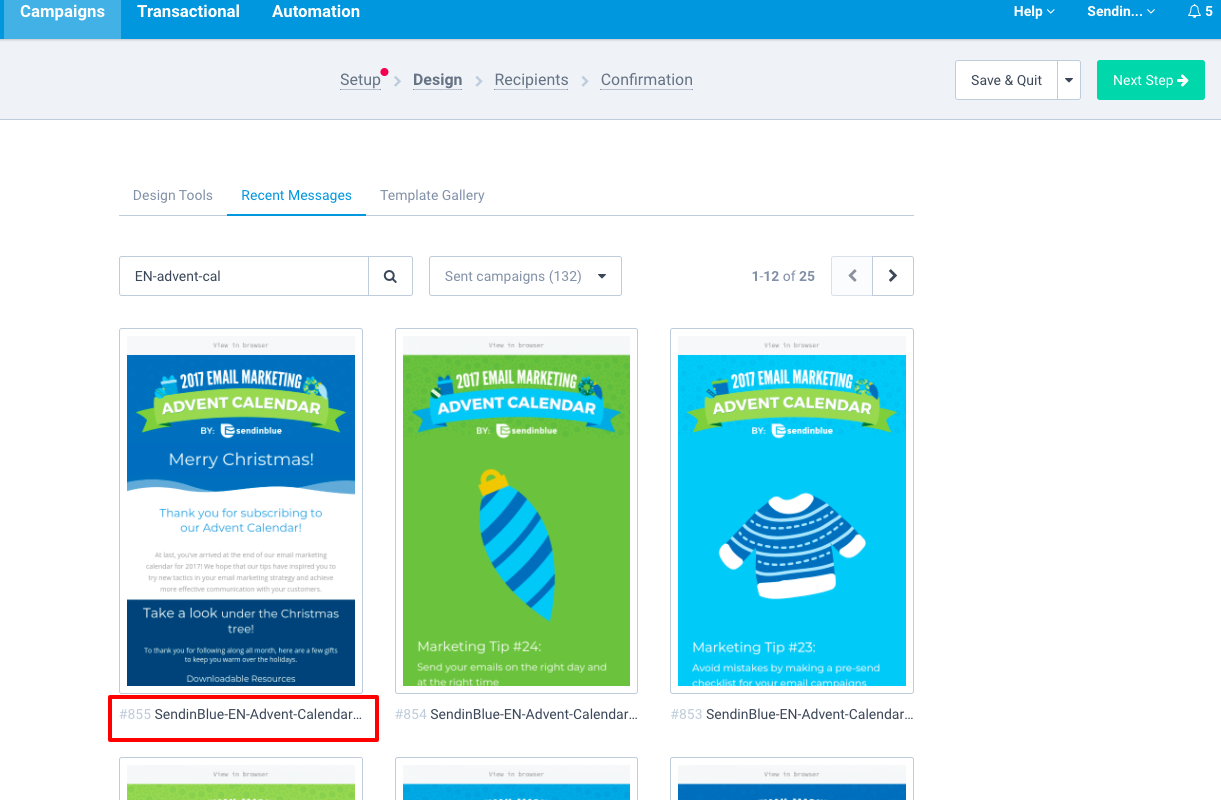 Automatic replacement of personalization tags

We noticed that a select few of our users were using the wrong format for personalization tags for adding contact attributes to a message, especially those importing the HTML for their campaign directly from MailChimp.
Now, when Sendinblue recognizes the presence of incorrect personalization tags, you will receive a warning message and any Mailchimp tags will be automatically converted to Sendinblue tags (e.g. *|UNSUB|* is automatically replaced by [UNSUBSCRIBE]).
Popup confirming the scheduled send time for a campaign
We have also updated the campaign creation process to include a window at the time of scheduling to confirm key details about the campaign, including the date and time, as well as the number of contacts who will receive the campaign. This will help you make sure that everything is right before you send out your email.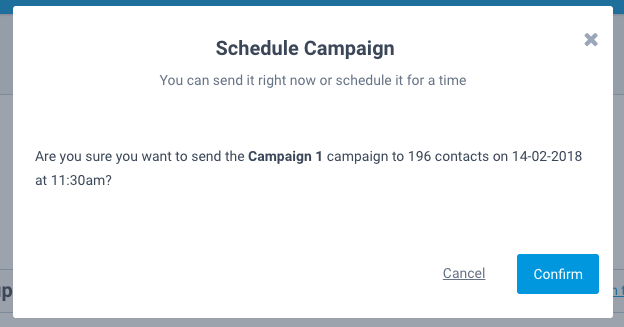 Switching between the rich text editor and the HTML simple text editor
You can now easily switch between the HTML editor and the rich text editor. For example, this allows you to import the HTML content of an email and make quick updates in the rich text editor.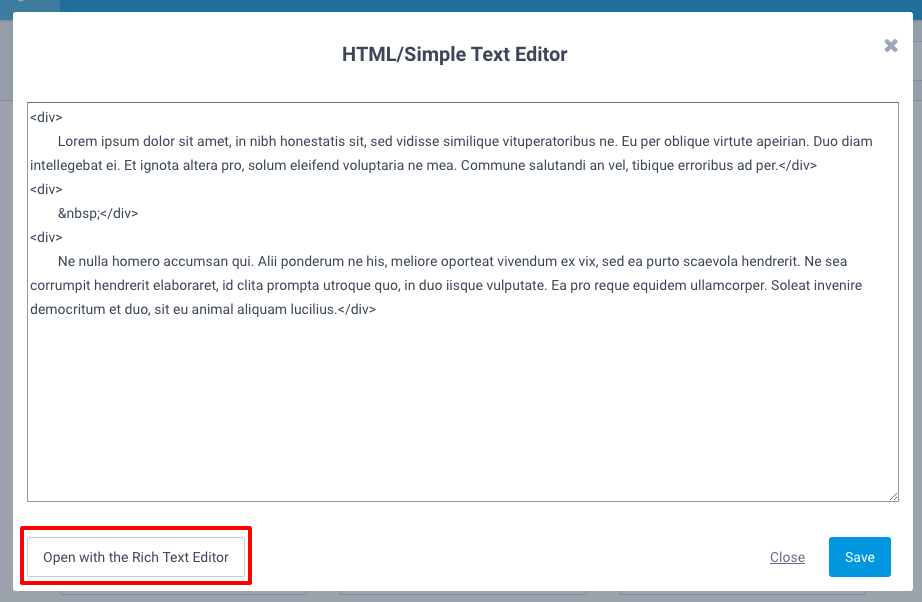 Addition of an "Exclude All" function when selecting recipients for a campaign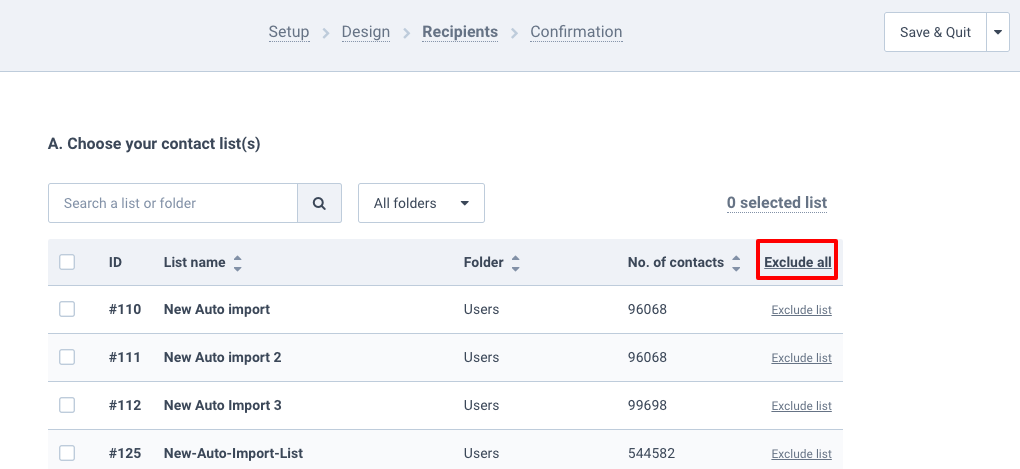 Before sending a campaign, you have to select to which list you would like to send the email. This feature allows you to exclude all lists within an entire folder to make it easier to create the perfect audience. To do this:
Search for the folder containing the lists you want to exclude
Click on "Exclude all"
Continue selecting the lists you would like to include in your audience
Marketing Automation
Updated criteria for the limit of contacts entering marketing automation
The 2000 contact limit for marketing automation (only applicable for free, lite, and essential plans) is now triggered after 2000 unique contacts enter an automation workflow.
That means that if the same contact enters multiple different marketing automation workflows, it will only count once.
We also put a notification into place once you have reached 1800 contacts so that you know when you're approaching your 2000 contact limit.
Marketing Automation is now available in our white label solution
Agencies: you can now offer your clients marketing automation in addition to email marketing using our white label solution. Workflows can be created directly from the "child accounts."
Integrations and plugins
Zoho plugin for Sendinblue
Our friends at Zoho developed a fantastic Sendinblue extension to their CRM that is available from their marketplace.
Zoho users can now:
Sync their Sendinblue and Zoho contacts across both platforms
Send email campaigns from the Sendinblue extension in the Zoho CRM
View email marketing statistics directly from their CRM
See you next month!
We are working hard every day to improve our product and give you more power to grow your business. While we are constantly improving, sometimes our changes go unnoticed. This changelog is meant to keep you up to date on all the latest changes we've made in our product so you can get the most out of your Sendinblue experience.
As we are always looking to make our customers' lives easier, please don't hesitate to send us your suggestions via email or in the comments section below. We will do out best to accommodate your requests and work them into our product roadmap.