New features, improvements, and bug fixes — Find out all the changes we made in Sendinblue in December 2018!
Since we haven't communicated much on the latest developments in our platform in a while (I know you were probably wondering where we've been 😉), we figured we should probably get back on that!
The past few weeks, we've been hard at work making Sendinblue a more powerful tool for our customers. There are some pretty awesome improvements and new features, including the possibility to A/B test your email subject lines.
Email subject line A/B testing
With the email subject line A/B test feature, you can now define two different subject lines that will be sent simultaneously to two samples of your intended recipients. The winning subject line will then be sent to the rest of your contacts, which is guaranteed to help you boost your open rates.

Whenever you create a new email campaign, it's always difficult to decide what the best approach is for your subject line. For example, you might not be sure whether you should use an emoji or not, or whether you should go with something mysterious and intriguing or something more straightforward. With email subject line A/B testing, you don't have to wonder anymore — just let the data make the decision for you!
The idea is simple: when you create a new campaign, choose the "A/B test" tab on the setup page and enter two different subject lines that you want to test.
You'll notice that there's a new step called "Split Rules" that appears a bit further in the campaign creation process after you choose the A/B test option. This is where you will choose how big you want your contact sample to be, which metric you want to measure for your test (click or open rate), and how long you want your test to wait before choosing the winner.
After you've defined all the rules and send the campaign, the subject line that performed the best within your sample group will be delivered to the rest of your recipients. You can check the results to learn more for the next time by visiting your campaign report.
The result: Better open rates for your emails and more insights into your email audience.
Define exit and/or restart conditions for your Marketing Automation workflows
When using the Marketing Automation tool, you can now set up one or several global conditions that will allow contacts to be removed or brought back to the beginning of your workflow.
One of the most obvious utilities of this new feature is to define exit conditions as the goal of your automation workflow.
For example, if you're setting up an abandoned cart workflow, you can send a series of follow-up messages, but if the contact makes a purchase (at anytime), you can stop sending them emails using your global exit condition.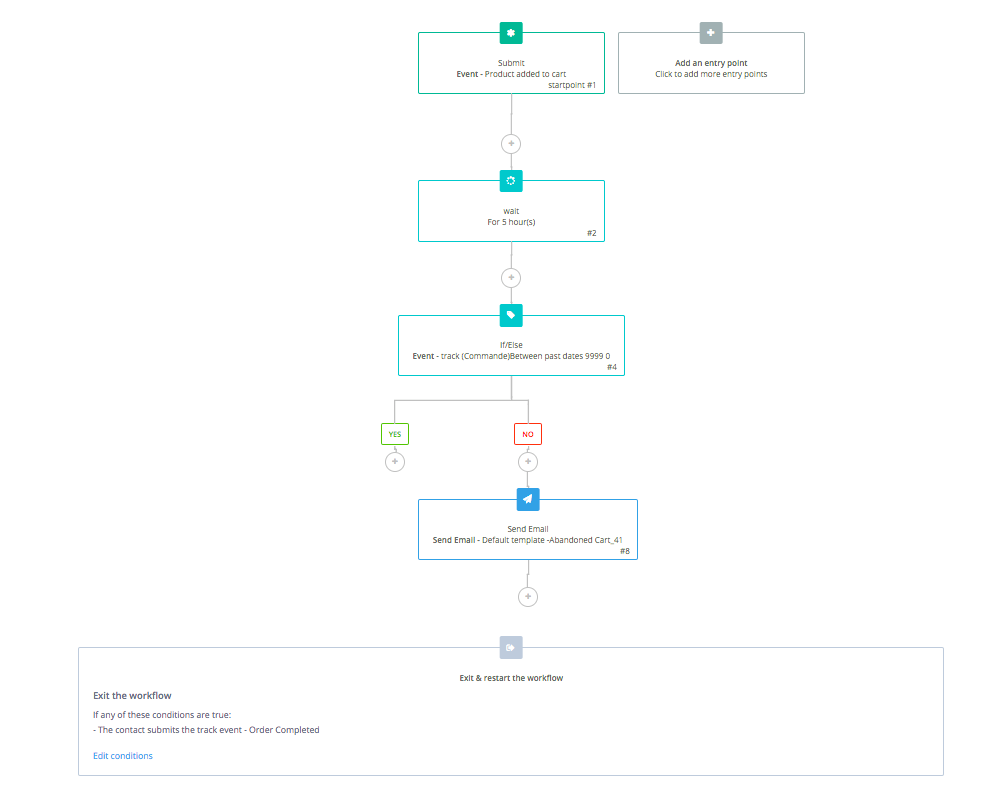 To set this up, all you have to do is click on "Add new conditions" in the box labeled "Exit & restart the workflow" at the bottom of the screen when you're a marketing automation workflow:
Give it a try!
UI / UX Improvements
We're constantly looking for new ways to improve Sendinblue's interface and user experience. Here's what's different since we last talked:
Moving the field for editing the email preheader to the campaign setup page
The email preheader or preview text is the second only to the email subject line in terms of factors that determine whether or not your contacts will open your email campaigns.
It has always been possible to modify the preheader in Sendinblue, but it used to only be accessible from inside the Drag & Drop Editor. We figured it made more sense for our users to define this field in the setup page since this is where the subject line is defined as well.
Clarifying contact import options
After hearing from some of our users, we realized that some of our contact import options, such as the copy/paste option, were not very intuitive or clearly displayed.
Whether you're looking to import your contacts or grow your audience, all of the contact import options have now been centralized on one page that includes explanations for each option: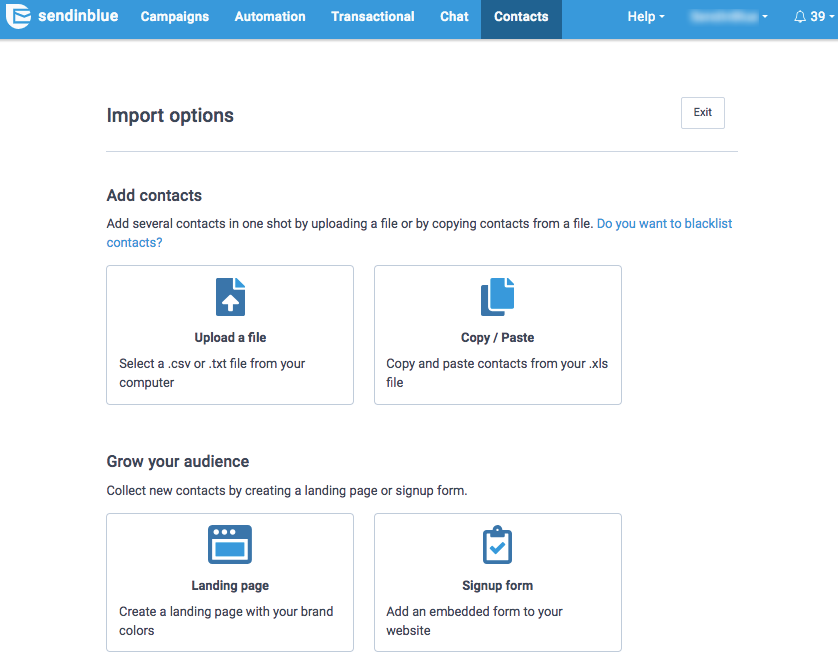 Help us make Sendinblue even better!
At Sendinblue, we love getting feedback and suggestions from our clients. It helps us continue to improve our platform and add more value to our users, so please don't hesitate to reach out to us with any comments or feedback that you have!