New features, improvements, and bug fixes — Find out all the changes we made in Sendinblue in April 2018!
With Spring in full swing, Sendinblue has several new changes and improvements coming into bloom. Learn more about all the hard work from the product team in April on the campaign creation process, UX, plugin updates, and more!
Campaign Creation
Importing contacts into Sendinblue
The process of importing contacts into your Sendinblue account has been completely revamped.
Many of our clients had difficulties importing their contacts into their Sendinblue contact database without first getting help or consulting our help center. We have done an overhaul on this process to make the necessary task of uploading your contacts much easier. Now, you can:
Drag your contact file into the Sendinblue window for easier initiation of the importing process
Paste your contact list without adding data types to each attribute
Create new attributes while you import your contacts
Gmail Apps bug fix
The bug affecting responsive rendering in Gmail Apps has been repaired. To correct this problem on current designs, simply open the template or campaign in the Drag & Drop editor, then save and quit.
Campaign creation process
You are now able to start designing your campaign without having to first choose a sender.
Transactional Emails
Automatic validation for sending transactional emails
Accounts are now automatically validated for sending transactional emails once they are cleared for sending email marketing campaigns. This also means you can start creating marketing automation campaigns and activating them immediately.
Erasing backlog
If you have emails stuck in backlog, you are now able to easily delete these from the horizontal toolbar.
UX
Improved platform navigation
The "Email" menu is now expanded by default to make navigation from the entrance of the platform to your most important tasks more intuitive and accessible.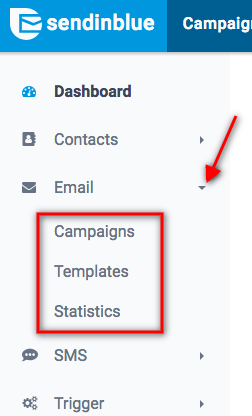 We also added a loading icon to indicate when you are changing pages within the platform.
New data added to the platform
The percentage of emails sent in relation to the total number of intended recipients has been added to campaigns.
Also, each new imported contact record will now include the validation status:
A

grey

flag indicated that the contact is awaiting validation
A

red

flag indicates that the contact has been refused (as well as an explanation on why)
Reviewing campaigns
All campaigns are now viewable in the "Campaigns" tab of the platform, including those not created using the Drag & Drop editor.
It's also easier to access specific campaign reports in accounts with large lists of campaigns. You can now simply open the campaign report directly from the list of campaigns in the "Campaigns" tab.

Plugins
WordPress plugin update
Version 2.9.1 of our the Sendinblue WordPress plugin went live in April. The new version includes fixes for minor bugs that were affecting email senders.
API
Delete contacts with the API
We have added a function to our API documentation that allows for the deletion of a contact using the API. If one of your customers unsubscribes and requests that you delete his or her personal data, this can be already be done through our platform, but it's now also possible to do so with your complementary tools with the API. This functionality will be essential for adhering to the upcoming requirements introduced by the GDPR!