Bootcamp Team aims to provide an alternative way for Dutch people to get in shape by creating a nationwide network of Bootcamp trainers and practitioners.
Founded in the Spring of 2011, Bootcamp Team is a Dutch fitness training membership platform that provides access to outdoor "bootcamp" training sessions.
Bootcamp Team – The Concept
Bootcamp Team gives customers the power to choose their own path to achieve their fitness goals.
The group-oriented outdoor training sessions and dedicated trainers also provide a motivational atmosphere that's designed to build up customers' confidence and fitness levels.
The Problem
One of the most effective tactics that Bootcamp Team used to collect new leads was running Facebook contests. These contests gave potential customers the chance to win a free month subscription to Bootcamp Team.
Although the contests were effective at generating new leads, many of the winners were falling off in the process before attending their first bootcamp training session.
It turns out that many contest winners were expressing interest in Bootcamp Team's offering, but they weren't motivated enough to actually sign up.
Essentially, the problem boiled down to this:
How can we make sure that new leads see important messages that motivate them to sign up so they don't miss out?
How did they find the solution?
The first thing they did was implement some new marketing automation workflows to target the people they wanted to convert more directly.
However, this didn't solve the problem — people were still missing important messages.
The marketing team decided that it might be a good idea to follow up with customers using text messages. SMS campaigns have a much higher open rate, which meant that people would be much less likely to miss important messages and fall off in the process.
After doing some research on various tools that offer SMS marketing as a feature, they found Sendinblue.
"Unlike our old email provider MailChimp, we liked that Sendinblue automation allowed us to send SMS. We like to use SMS in our workflows in case customers fail to open an email. With a nearly 100% open rate, SMS gives us the ability to reach many more customers."
Increase Conversion Rate for New Customers Using SMS and Marketing Automation
After signing up for a Sendinblue account, Bootcamp Team decided to test the waters of the new tool with the creation of two automation workflows.
Workflow 1 – Lead Activation
The first workflow was designed to address the core issue that Bootcamp Team was experiencing: getting new leads to try out their first training session.
Essentially, the workflow is set into motion when a contact is added to a list of leads. Once this happens, the workflow sends an email to the contact with the goal of getting the user to make a purchase.
After waiting a day, the workflow checks to see if the contact opened the email:
If it was opened: The workflow waits one more day to see if the customer made a purchase or not. If they haven't then the workflow will move to the next step of the process — sending an SMS.
If it was not opened: The workflow will move to the next step of the process — sending an SMS.
The workflow continues on like this for a total of 4 steps (1 SMS and 3 emails), after which the contact simply remains on the "leads" list until further notice. However, as soon as a customer makes a purchase they are removed from the workflow and the "leads" email list.
This is good practice because you don't want to keep sending the same messages to contacts who have already opened an earlier message and made a purchase.
Workflow 2 – Get user feedback
Another way that Bootcamp Team has utilized marketing automation is to solicit feedback from customers who have taken advantage of the free training session.
It also rewards customers by offering another discount to keep them coming back for more.
So let's take a look under the hood to see exactly what's going on in this workflow: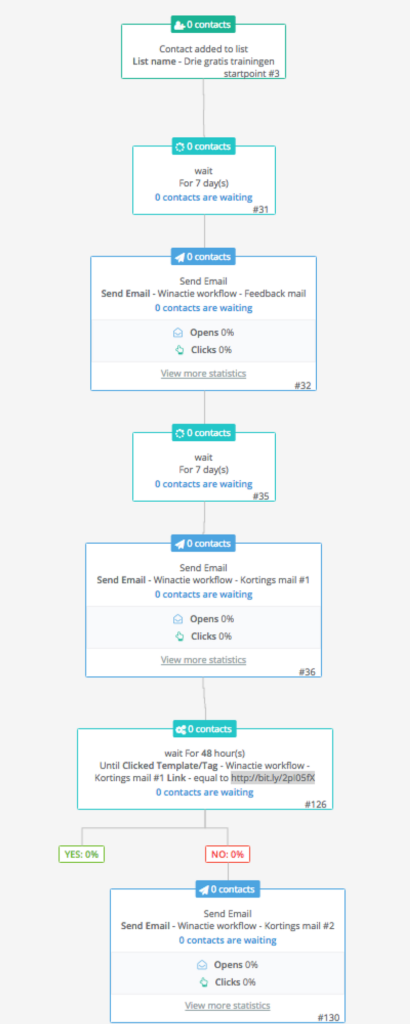 Once the contact is added to the list of customers who used attended their first free training session, the workflow waits one week and then follows up with an email asking for feedback.
The team made sure to avoid using too many images or HTML in the emails to make the request seem even more genuine. This is another great best practice for automation emails. This is because emails that are sent through automation are inherently sent to a single person after an action triggers the workflow. The one-to-one nature makes it necessary to have these emails be highly personalized. You want to avoid seeming disingenuous with too much design in your emails, as this can dilute the actual goal of the email.
After sending the feedback email, Bootcamp Team follows up with a special discount offer for these contacts. If they miss the first email, they follow up with one more reminder about the discount as well.
This a great way to keep customers happy and coming back for more. It's also a great example of how to get valuable feedback from a group of people while your business is still fresh in their minds.
Results
After implementing these workflows, Bootcamp team saw great engagement across all of the workflow messages:
Open rate for emails around 60%
Click-through rate around 25%
Increased conversion rates for all goals
In addition to these improvements, Bootcamp Team was also able to save tons of time.
In fact, marketing automation was so helpful that they are now running over a dozen workflows through Sendinblue. These workflows cover topics including contest winner outreach, payment reminders, and even sending special discount emails.
Bringing it all together
After implementing marketing automation workflows that included SMS, Bootcamp Team noticed a substantial improvement in conversions. Customers were much less likely to miss a message if it came via text message as opposed to just email marketing
Automation workflows turned out to be exactly the solution that Bootcamp Team was looking for to make their lives easier and improve their conversion rate.
"Depending on the complexity, we have found Sendinblue automation workflows to be very easy to setup and manage."
For Bootcamp Team, marketing automation has become synonymous with saved time and increased productivity.
Want to learn more about marketing automation?
Check out these additional articles: