Thanksgiving is just a couple of weeks away, which can only mean one thing — and I'm not talking about turkey and the Macy's parade. Thanksgiving means Black Friday (and its nerdier cousin Cyber Monday) are coming up too. So, it's time to get your Black Friday emails ready to go!
Black Friday and Cyber Monday are the biggest sales of the year. In fact, it is projected that the 2019 Black Friday online spending will be more than $12 billion. That's why it's super important that you get your email strategy just right so that you can hit that holiday sales jackpot.
Send Black Friday emails with Sendinblue >>
If you're looking for inspiration on how your Black Friday emails should look, you've come to the right place. Here are 8 of the best Black Friday emails to help jumpstart your holiday marketing.
8 Black Friday Email Examples to Jumpstart Your Holiday Marketing
Petco
Petco does a good job getting straight to the point without wasting the reader's' time. They have the important discounts and dates in large font at the top of the email. This layout, coupled with the black background and white font color to contrast, makes the email very easy to decipher.
Another great element of this email is the focus on bringing customers into a real store. Petco understands that most of their customers are walk-ins and so they included the local ads and a store locator. This is a fantastic best practice for any brick and mortar retail store.
And, I would be remiss if I didn't call out those cute dogs decked out in Xmas costumes — after all, who doesn't like animals in costumes?!
Key Takeaways:
Keep the important information front and center
Use CTAs to drive online readers to retail locations
Include doggos in Xmas costumes
Herschel Supply Co.
Just like in the previous email example from Petco, Herschel gets straight to the point with the most important information its customers need for their Black Friday shopping.
The bold font coupled with a minimalistic black-and-white design is highly effective in bringing the reader's attention to the CTA.
Key Takeaways:
"Less is more" – use a minimalistic design to highlight important information
Choose a text structure and spacing that enhances the email's readability
Simple = effective
Forever 21
Using a scratch card design, Forever 21 reveals discounts subscribers will earn if they shop with them. This clever design approach builds anticipation when revealing their discounts and ensures that subscribers will come back and read the next email.
Another interesting aspect of this campaign was the customer service phone number included at the bottom. They're not afraid of answering any questions from their subscribers, and having a phone line adds an excellent layer of humanity that will definitely keep their customers happy.
Key Takeaways:
Use a clever design to entice your readers into opening your other emails
Be transparent and don't be afraid to put yourself out there for your customers
Huckberry
Huckberry's holiday email campaign is robust, yet reflects who they are as a company. The whole campaign centers around 30 days of giveaways, including prizes like a Casper mattress that are consistent with their audience's interests and their own brand standards.
This is important because it shows that they know their readers and will actually entice them to make a purchase and enter the contest.
The added line of poetry for the Casper mattress sweepstakes is a very nice touch because it really shows the type of company they are.
This approach works for their holiday email campaign because it creates an incentive for their subscribers to make purchases and check their email for daily giveaways.
Key Takeaways:
Utilize something familiar during your businesses' holiday email marketing campaign, an Advent Calendar is one example
Outline what's important about your email campaign theme and how it relates to your company
Don't be afraid to show some personality (like including some poetry in your emails)
REI

Storytelling has always been one REI's marketing strengths and this is a great example of that in action.
While not promoting any of their products directly, REI has opted (no pun intended) to promote a lifestyle with the #optoutside campaign. By getting subscribers to do activities that are complementary to their offerings and having their customers share pictures of their adventures, REI is encouraging customer engagement on a more personal level.
This aligns with one of REI's mission of being a "connected community shaping the future of the outdoors". With millennial consumers becoming more value-driven than price-driven when it comes to brand loyalty, this is a very powerful marketing tactic.
Key Takeaways:
Reinforce your company values
Promote a lifestyle that is complementary to your brand
Provide social proof to attract more engagement
Ben Sherman & Billabong
Ben Sherman and Billabong both get kudos for creating Black Friday emails that are appealing to the eye and reflect the company's brand.
An email explaining the last day for holiday shipping (Ben Sherman) and creating a calendar of important dates (Billabong) are both effective ways to encourage readers to take action. Both create a sense of urgency that get customers into a deadline mentality and make a purchase.
Key Takeaways:
Create a sense of urgency
List final shipping and sales dates to set customer expectations
The Hobbit Shop
"There is nothing like looking, if you want to find something. You certainly usually find something."
I couldn't help but use a Hobbit quote for this email campaign because it's a fitting demonstration of showing your subscribers what you have to offer.
You don't need to have brand power like the Hobbit to show off all your products. Presenting all the products that are available to purchase is a great way to make sure consumers don't miss out on any gifts they might want to buy.
Key Takeaways:
Show off your products
Create a CTA that ties in multiple product purchases
Promote products that are well reviewed or popular
More resources to take your Black Friday emails to the next level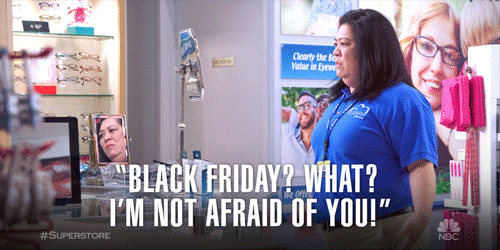 To get the most out of your Black Friday email campaigns, check out these resources :
And if email marketing isn't on your to-do list this year, take the time to understand why holiday eCommerce email marketing can grow your sales — you won't regret it!
For more content like this, subscribe to our newsletter below and follow us on Twitter!