Birthdays are always special…even if it means we're getting older?…Okay, debatable. But it's special when someone takes the time to wish us a happy one!
That's why sending a birthday email is a great tool for increasing positive thoughts and customer loyalty. Using birthday emails is an effective way to show that you care about your customers by giving them a gift on their special day.
When my marketing game is on, I can rake in some serious sales with birthday emails. In this article, I will cover birthday email best practices and how you can use these messages to better connect with your audience to drive sales for your business.
What is a birthday email?
A birthday email is an automated marketing email sent on a customer's birthday. The message usually highlights the socially uplifting occasion but is truly designed to increase customer retention and word of mouth marketing, while also encouraging recipients to return to a site and make a purchase.
Birthday emails need to be friendly, delightful, and warm.
Total Wine & More hits the mark on this point! Take a look at their example below. Along with the warm copy expressing the birthday wish at the bottom of the email, the link to the 'Berry Bubbly Recipe' is a nice touch that encourages further engagement, and gets the recipient to want to share with a friend: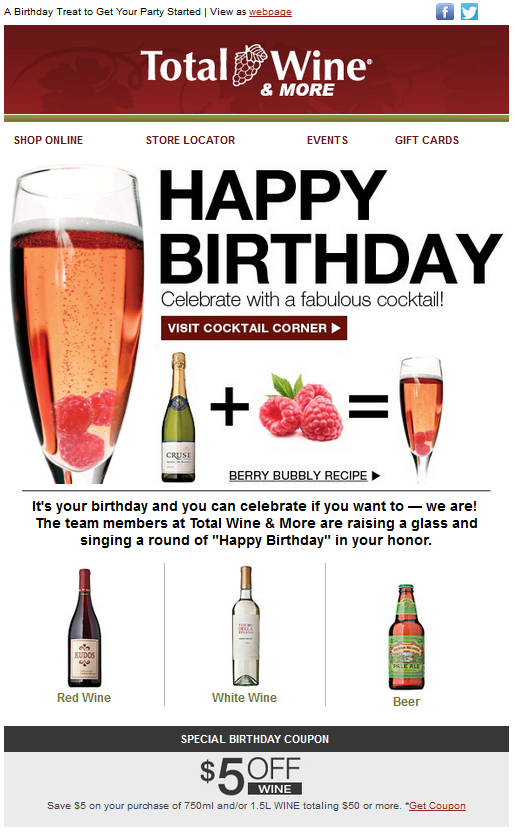 Total Wine and More didn't forget that birthday coupon either! Including that discount creates a strong incentive for the customer to visit the store and make a purchase.
You can even take this one step further by showing an expiration date on the birthday coupon code. This creates urgency, increasing the likelihood that the birthday email recipient will use their coupon code.
Why are birthday emails so important?
Now that you know what a birthday email is, you might still be wondering what all the hype surrounding birthday emails is about.
Sent with the help of a marketing automation tool, birthday emails are one of the simplest automation workflows that you can set up. Because of their timing and the nature of the content, these automated emails generate a TON of engagement. According to Experian, birthday emails are high performing campaigns that produce:
A 481% higher transaction rate than promotional emails.
A 342% higher revenue per email than promotional emails.
A 179% higher unique click rates than promotional emails.
Amazing numbers, right?
This is why as email marketers, we have to take advantage of this opportunity. A birthday email is a perfect occasion to:
Delight your customers – When we get pampered with niceties and gifts in the form of discounts and free deliveries, we love it, don't we? Your customers will love it, too – especially, on their special day!
Drive up conversion rates – A customer's buying temperature is already high, and it's the time to make that unplanned purchase. Give them a reason!
Re-engage inactive subscribers – They may have become immune to your frequent discounts and offers. So send them a non-routine, personalized, and totally unusual email to entice them to buy once again. Check out this one from Lee's:

Create brand loyalty – When a company takes time to wish a customer a happy birthday, it creates a good feeling, and in many cases generates loyal customers.
Tips for optimizing your birthday email strategy
You should now have a better idea of how useful birthday emails can be in building customer loyalty and driving sales. Now let's go over some tips to make sure that you're ready to start sending your own birthday emails.
Create an email design that pops out
Your design should not only go with your brand personality but also make you stand out from the rest. Don't forget to highlight the highest converting product images in the email body to make it irresistible. Take a look at Chanel's email: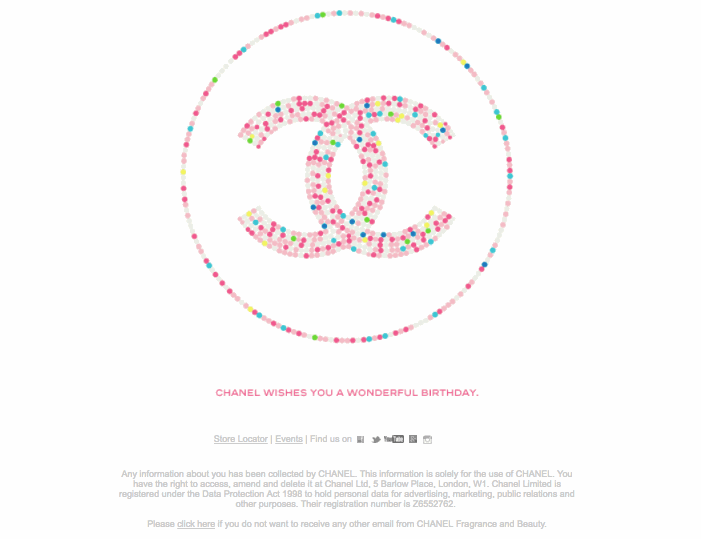 A picture is worth a thousand words, isn't it? Chanel's graphic communicates just that. The email comes with Chanel's infamous logo, creating a simple design that gets straight to the point: here is our brand, and here is our wish!
Here's another effective design from Joy that marks the occasion: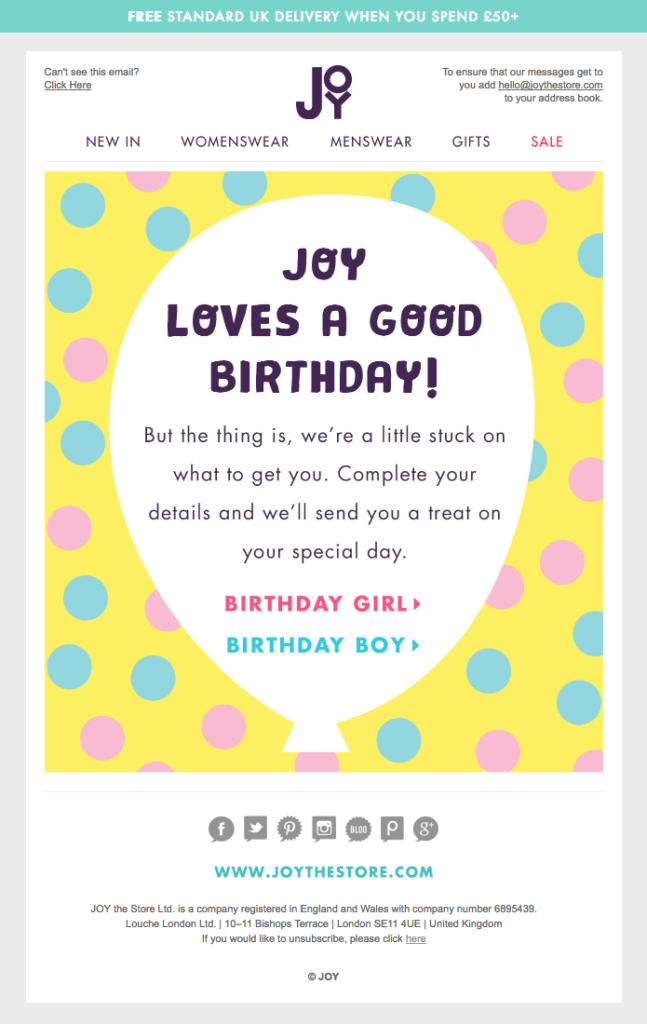 Though the design does not match the apparel company's branding, the focus is more on the common birthday celebration theme of colorful balloons. Notice how the writing is inside the body of the white balloon against the backdrop of the polka dots? This design does a great job at mirroring the company's name, 'Joy.'
Write a 'cool' birthday email…
Can anyone write a cool email? Technically, yes. Well, maybe not so much if you are Oracle or IBM. But, regardless of what type of business you do, your email should showcase your brand personality to better connect with your customers.
Feel free to get intimate with your customer. Create an intriguing email subject line that piques the reader's interest. Keep the tone informal and, don't forget to personalize it.
Subject lines like these work well:
An important birthday is coming up!
A special gift for your birthday
We want to celebrate your birthday too!
Make a wish!
A special gift of 20% off for your birthday
If you phone it in with your subject line, you run the risk of having your message be ignored. But, by appealing to your customer's curiosity in the subject line using examples like those above, you can increase engagement rates and sales.
A prominent CTA is a must.
This is ultra important in a birthday email. If you are looking to include that '10% discount' or 'Flat $50 off your next purchase', make sure to make it as prominent and attractive as possible.
The call to action (CTA) must always be visually appealing. Use bold color combinations that are hard to miss. Take a look at the one by Boden below, see how the discount is set in bold red? The 'Shop Now' call to action example is quite prominent, too: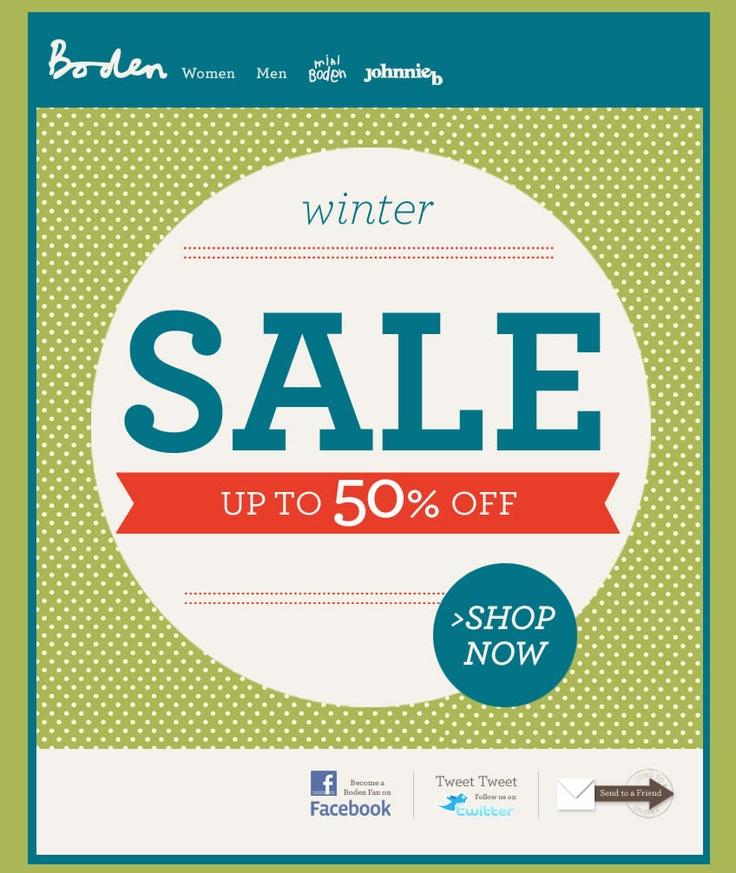 To conclude…
You are not the only company who will be wishing a happy birthday to your customer on that day. Email volume was up 18 percent year over year in 2017, so you can bet your last dollar that she will be getting another 10 emails from other businesses.
Remember, the best birthday email is one that looks beautiful, speaks differently, and seduces the customer into making a buying decision.
Yet, above everything else, a birthday email must be caring and sentimental. It should make the recipient feel special. It is their birthday, after all, right?
Happy birthday emailing to you!
About the author:
Anna Kosuv: Storyteller. Mixing business, creativity & psychology for a living. Sales and marketing automation enthusiast powered by psychedelic music and vintage finds. Anna calls Toronto her home, but is always finding her next big adventure. Her secret? Just do it!