Reading time about 11 min

Looking for ways to do free email marketing? We've curated a list of completely free tools and resources that'll cover all your essential email marketing needs. If you're a small business or blogger wanting to launch your first newsletter on a budget, this is the perfect combination of tools for you.
When first starting out, it can be difficult to find cheap email marketing tools that fit your small (or nonexistent) budget.
At Sendinblue, we want to help out all the beginners and new businesses who are just getting their marketing off the ground. That's why we offer our email marketing service free to users who send up to 9,000 emails per month (300 per day).
In this article you'll discover Sendinblue's Free Plan in detail. We'll also show you where to find the best free email marketing tools and resources including:
By the end, you'll have everything you need to start sending free email campaigns!
Sendinblue: Your free email marketing service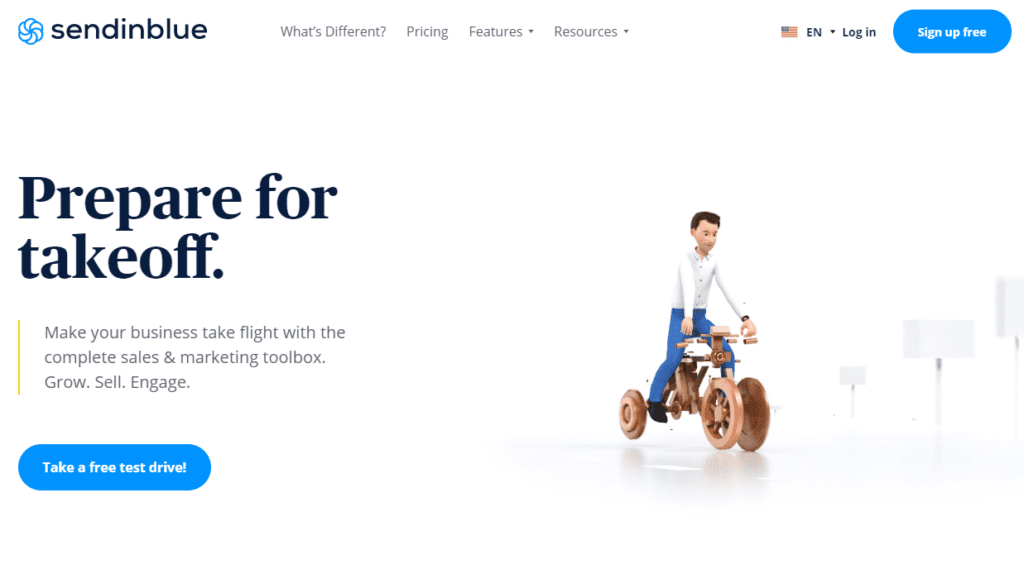 Sendinblue allows you to send up to 9,000 emails per month (300 per day) for free.
When compared to free plans/trials offered by other email marketing providers, this one has a number of standout advantages:
It's unlimited in duration (you can stay on it as long as necessary)
Lets you upload an unlimited number of contacts (not the case for all email marketing providers out there)
Give full access to all core email marketing features (more details further down)
Features included with Sendinblue's Free Plan
At Sendinblue, it's our goal to support entrepreneurs, startups, SMBs, bloggers, and anyone else hoping to send awesome marketing emails without breaking the bank.
Here are just some of the features you can access with our Free Plan:
Drag and drop responsive design email editor
Email template library
Unlimited contacts and advanced segmentation possibilities
Email signup forms that can be placed anywhere on your website
Email campaign reporting and analytics
Email automation for up to 2000 contacts
Sendinblue is an ideal free email marketing service when you're just getting started. Why not take it for a test-drive? 👇
Sign me up to Sendinblue's Free Plan >>
If your list grows fast and you need to send more emails, you can easily switch to one of our paid plans which start at $25 for 40,000 emails/month.
Now let's look at other free email marketing tools you can use alongside Sendinblue.
Where to find: Free email templates
In addition to Sendinblue's template gallery, many other email marketing communities across the internet provide free email templates. Just to name a few:
Stripo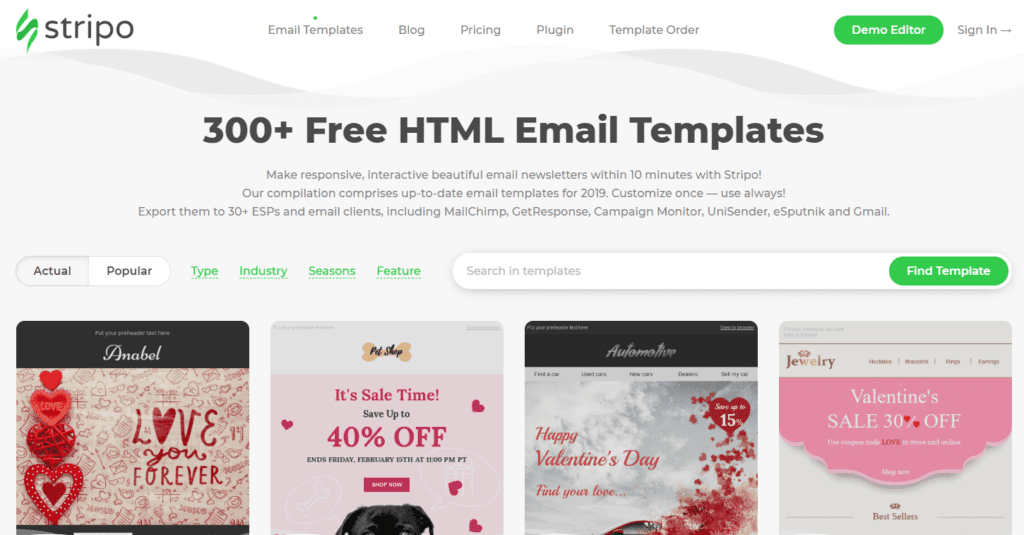 Stripo gives you access to over 300 beautifully designed free HTML email templates. What's great about Stripo is that, without any coding skills, you can jazz up your email with cool features like CSS-animated buttons, image rollover effects, and other interactive elements.
Create your email with Stripo and then export it to Sendinblue for sending. The Stripo free plan allows 4 exports per month to ESPs (Email Service Providers).
BEE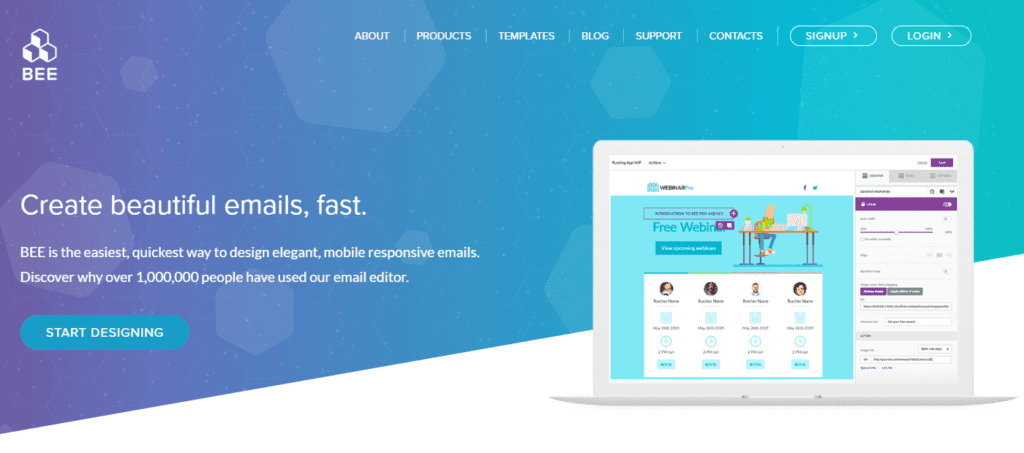 BEEFree lets you access over 200 free professionally designed email templates. Edit your mobile-responsive template using the BEE email editor. Then simply download a ZIP file containing the email HTML to be sent from your ESP later on.
Upgrade to BEEPro and you'll be able to save time by exporting templates directly to your ESP. As a Sendinblue user, this will be very easy for you thanks to BEE's Sendinblue integration.
Where to find: Free email coding and design resources
Sendinblue's drag and drop email design tool already allows you to create responsive HTML emails without having to code. That said, we've added a few tools to this list for people who prefer to work "under the hood" and code their own emails.
Foundation

Foundation by Zurb is one of the biggest open source projects in the world. Foundation for Emails helps you build responsive email templates that look great in any email client, any device.
Zurb's goal is to simplify the email coding process by getting away from complex table markup. It focuses instead on simplified layouts and components that are specifically tailored to work with email clients like Outlook and Gmail.
They've got 11 customizable email templates to help you get started.
Litmus Scope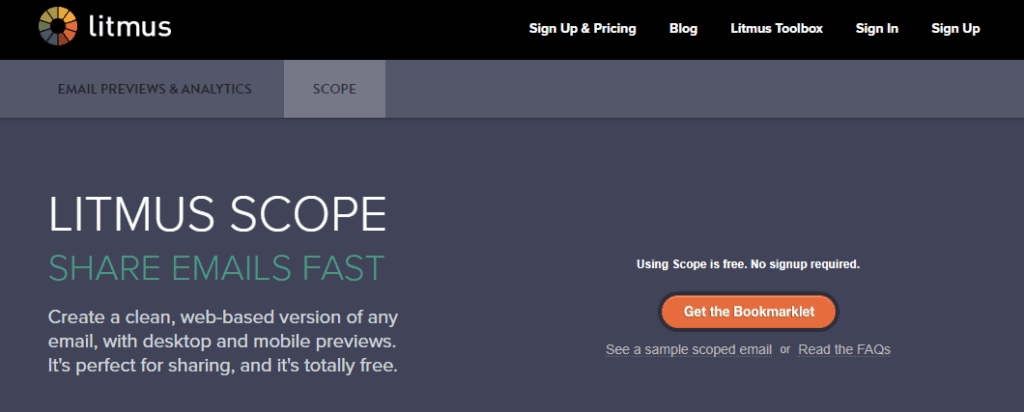 Litmus Scope is a seriously magical tool!
It allows you to take any email from your inbox in order to share, see how it looks on different devices, and even access and edit the source code!
Remember all those times you saw a competitor's email and wanted to copy one of their ideas? Scope lets you do just that!
Webresizer

Images that are too large can sometimes have a negative effect on your deliverability. Webresizer solves this problem by compressing images to reduce the file size of your images without losing any quality.
Before uploading your email images to the email editor, it's always a good idea to have them compressed using this tool to ensure that they are optimized for deliverability and speed.
Where to find: Free email examples & inspiration
Reallygoodemails

Reallygoodemails is one of our favorite sites for email inspiration. Not only can you browse a massive selection of real-life email examples in a ton of different categories, you can also view and copy the HTML code for each email.
What's equally insightful is the accessibility analysis for each email. This tells you how accessible the email is to people with visual and hearing impairments. You can even listen to screenreader recordings and read the transcript of an email. Go check out this feature – it can be quite an eye-opener!
Pinterest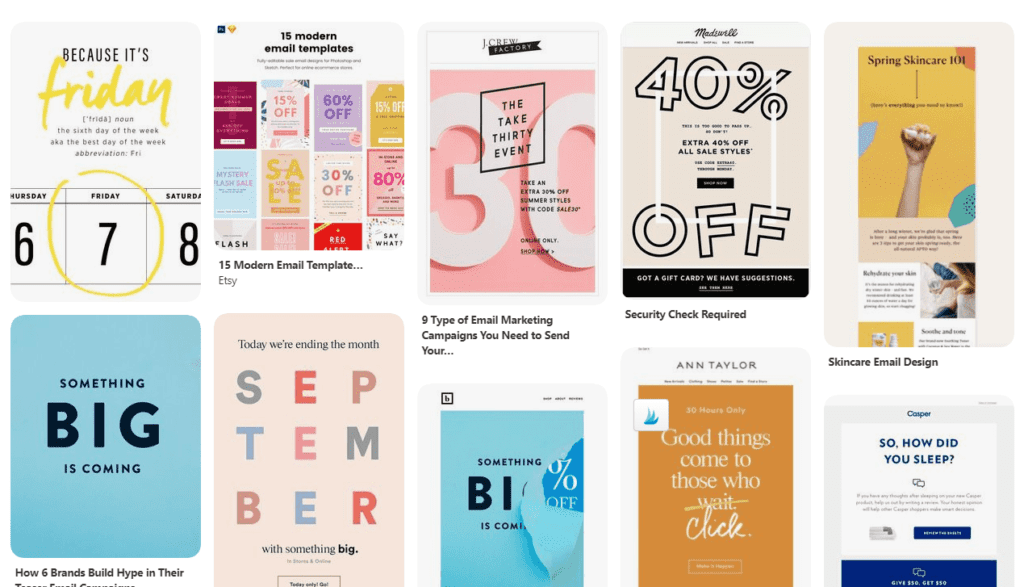 Pinterest – it's not just home interiors and fashion inspiration on there. There's also a wealth of email marketing examples to inspire your next campaign.
If you don't believe us just go have a look for yourself. Oh, and while you're there, follow the Sendinblue Pinterest for a daily feed of marketing tips. 😉
Where to find: Free email images
Pikwizard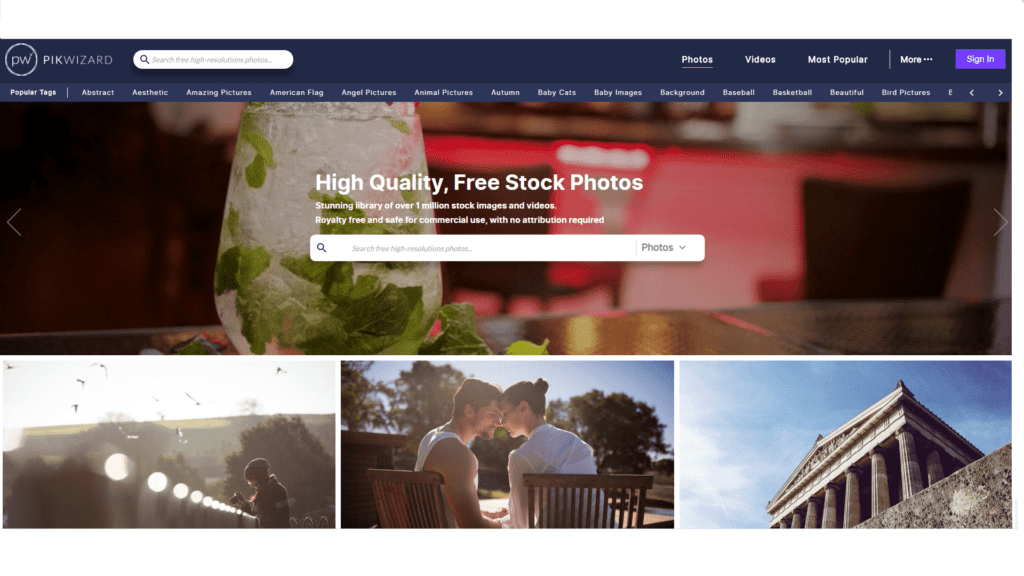 Pikwizard is an outstanding resource that features over 100,000 high-quality images and videos. You can take each image and edit on the graphic design tool, Design Wizard.
What's great about Pikwizard is that it has lots of images of people, which is not always the case on free stock photo sites.
Freeimages

Freeimages lets you choose from over 300, 000 royalty-free images. Plenty of choice when it comes to finding a captivating hero image for your next email campaign.
Unsplash

Unsplash is another awesome resource for high-quality images that are completely free to download. Choose from a collection of stunning images in every possible category. Just make sure you give credit to the orignal creator 🙂
Where to find: Free email testing tools
There are several free tools available that can help you improve your deliverability and check the reputation of your IP, domain, and sending address across different email clients (Gmail, Outlook, Yahoo, etc.).
Here are a few of our favorites:
Mail Tester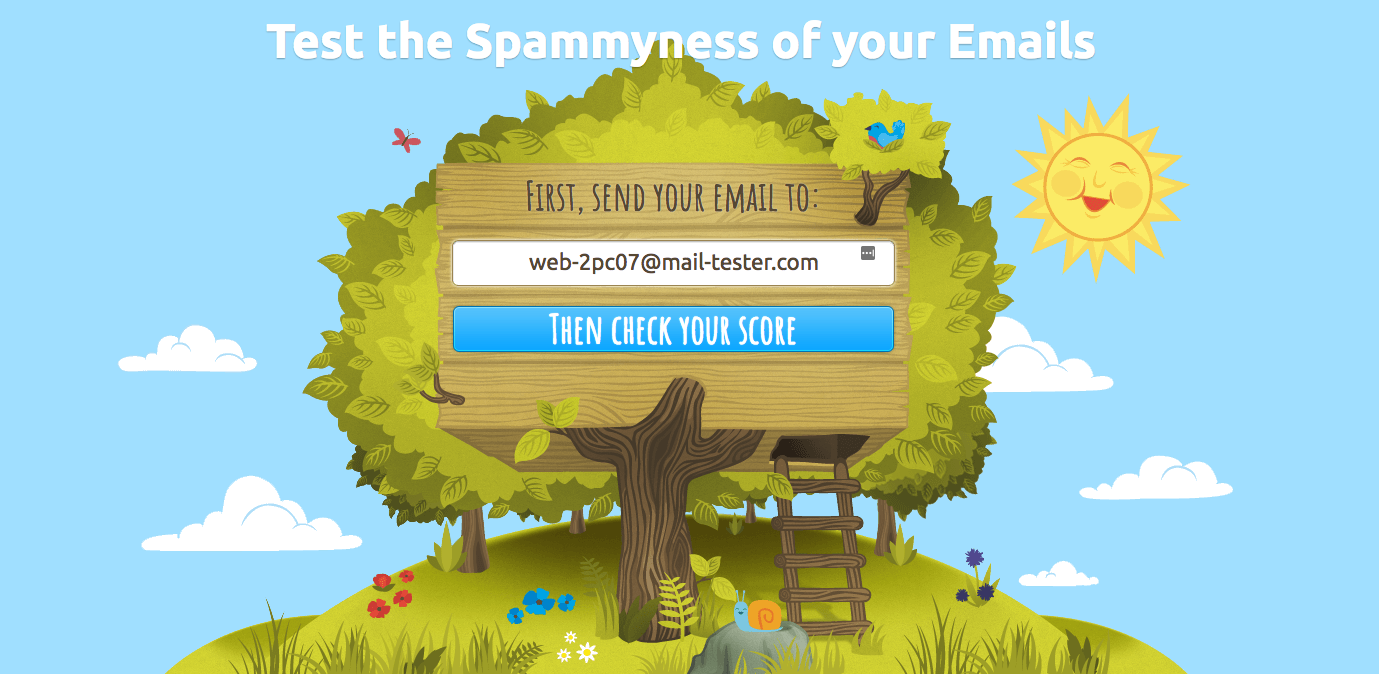 This tool lets you test the spam score of your email before you send them. It does this by bassing your message through 25 anti-spam filters, checking to see if the content of your email or your sender score puts you at risk of being marked as spam.
It also checks a number of other aspects that affect deliverability, such as errors in your HTML code, the presence of spam words, etc.
Needless to say, this tool is awesome!
Sender Score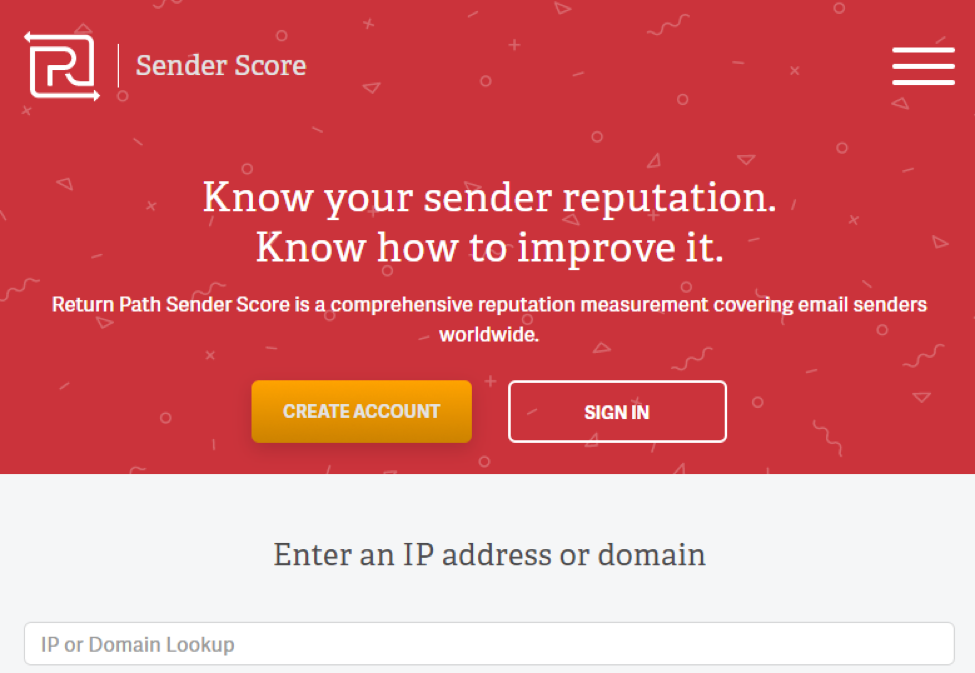 Sender score is a metric created by Return Path that calculates the reputation of your IP among different email clients. This tool is useful for finding out whether or not your IP is referenced on one of the blacklists used by anti-spam filters.
When should you move from free email marketing to paid?
Just starting out? It's probably best to start your sending your first campaigns using the free tools discussed in this article.
However, you'll need to invest in a paid email marketing service once your list grows and your sending needs evolve.
Many ESPs price their offerings progressively according to the volume of contacts in your list, in addition to the volume you send each month.
Sendinblue is different in that we only charge based on volume, so you only need to upgrade once your sending has reached a high enough volume – we don't charge you extra for growing your list.
As mentioned earlier in this post, Sendinblue is free for up to 9,000 emails per month. After that, you are able to select one of our paid offerings that include more features and larger sending volume limits:
Free
Lite
Essential
Premium
$0 per month
$25 per month
$39 per month
$66 per month

9,000 emails per month
Unlimited Contacts

40,000 emails per month
No daily sending limit

60,000 emails per month
Remove Sendinblue logo
Advanced Statistics

120,000 emails per month
Marketing Automation illimité
Enjoyed this article? For more content like this, subscribe to our newsletter and follow us on Twitter!