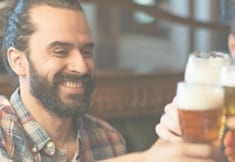 When your event checklist includes a great plan for email promotions, it's a double win! Not only will your efforts produce an audience for your event, you'll also build connections for future email campaigns.
Event Email Marketing Checklist
Engage your subscribers by informing them about what's happening at your physical location or even virtual events that you're hosting. When you find that they respond to event info, keep that momentum going by searching out relevant industry or community events to include in your campaigns.
We've assembled a handy event email checklist and paired it with some creative ideas for sharing events of interest to get you started!
Publicizing Your Own Events
When publicizing events, deliver emails that contain all of the important details guests need to know to attend:
Who is hosting the event and who will be present
When the event is occurring
Why they should attend (What are the benefits of attending?)
Where the event will take place (include a map if possible)
How to attend (just showing up, buying a ticket, RSVPing via email, etc.)
Additional helpful information including directions, parking location, etc.
These "who, what, where, why, and when" details are important for both in-person and virtual events.
For example, let's assume you operate a specialty cheese shop and you want to promote an upcoming tasting event. Your details might look something like this:
Gourmet Cheese Tasting at Say Cheese
Friday, Dec. 18 from 7-9 p.m.
Over 40 types of world cheeses will be featured for sampling and 200+ varieties will be available for purchase
Try cheeses from smoky to sweet to stinky with other local foodies and perhaps find a new favorite!
Light appetizers and drinks will also be provided
All attendees will have a chance to win a gift basket valued at $100 that's sure to please any turophile (cheese lover)
Buy your ticket now ($28 per person or $50 per couple) and you'll receive a coupon for $5 off your next purchase (make this a hotlinked CTA!)
54 NE Main Street Seattle, WA 98104
Click here for directions and parking information
Infuse your brand personality and always close your email with a strong call-to-action (CTA) to motivate subscribers to take part!
Sharing Other Events of Interest
Using email marketing to promote your own events is great, but (let's face it) your company probably isn't going to be hosting awesome events all the time! If your subscribers find events tasty, consider sending them the scoop on happenings in your area every month. Keeping with our "Say Cheese" shop example, you could promote other local food events and area wine tastings as well. (Depending on how much cheese your audience eats, you may also want to provide info for gastroenterologists in the area – just kidding!)
Consider what other interests your audience has to identify new types of events to share. For example, your cheese connoisseur audience might also be interested in live music lineups, craft beer festivals, art exhibits, gourmet travel, and so on. Use any demographic data that you have to find other great opportunities for your subscribers. You can even ask people to submit their favorite local events for inclusion on your email calendar. Becoming a trusted source of event information makes your emails more valuable, encouraging your subscribers to open all the different types of messages that you send!
Remember: promoting someone else's events can win you major brownie points with those friendly companies and organizations. In turn, it may earn some natural advocates for your business! This means that the next time you have an event of your own to promote, they may be willing to help spread the word about your event to an even wider audience.
Using an Email Marketing Service
Regardless of the type of event you're announcing, using email marketing software can make your job a whole lot easier. The right email marketing service will allow you to easily:
Add Subscribers – At events, collect email addresses from attendees and automatically add them to your email list.
Segment Your List – Breaking up your email list by preferences, behavior, and acquisition source will increase the likelihood that the emails you send will be well-received in the future.
Promote Events – Use professionally designed templates to create compelling emails with consistent branding.
Follow Up With Attendees – Setting up trigger emails for attendees is a great way to ensure that people remember that your event is coming up. Ideally, you'll want to have one trigger email confirming event registration and another email reminding stragglers to RSVP. Then, you'll want to have a separate trigger email as the event draws closer to let people know that they still have time to reserve their spot. If you use SMS marketing, this is a great place to tie your email marketing in with your SMS efforts by texting a reminder on the day of the event.
Track Important Email Metrics – Tracking how your event-related emails are received is important to help shape your marketing efforts moving forward.
The next time your company hosts or sponsors an event, use these tips to deliver email promotions that will help you fill the room (and ensure all that awesome cheese is eaten). Even if you don't have any events planned in the near future, find some of interest for your target demographic, add them to your email marketing, and track the response. Promoting events through email marketing can help you attract additional subscribers and better engage your existing audience.
Don't have a free email marketing account yet? Sign up today!
Happy Sending!