Reading time about 10 min

If your inbox looks like most, it's packed with coupons, engaging newsletters, and the occasional family email.
And, if you're like most, you scan your inbox and only open a select few. The one from your sister sure. But what about those marketing ones?
Those have to try harder.
They need to capture the reader's attention, aka, stand out in the crowded inbox. They also need to be intriguing enough to entice someone to open them.
Which means they need scroll-stopping email subject lines.
Email subject line examples like the ones below can help inspire you. Divided by categories like Welcome, surveys, e-commerce, and others, let them spur ideas for your own catchy email subject lines.
Welcome Email Subject Line Examples
1. "Welcome to Blinkest!" – Blinkest
Described as "key ideas from top nonfiction in just 15 minutes," the Blinkist subscriber is curious and time-starved. This email subject line works because it's short, to the point, and the new subscriber expects it. Inside is a link to "Discover new titles," which also appeals to the reader's curiosity.
2. "Welcome! Here's your discount code" – Tattly
Tattly offers peel and stick "tattoos" for their subscribers, and they give a discount code for the order with their welcome email. If I were looking for fun "tattoos" like a Floral Lion or Space Explorers, I'd be excited to use my discount, and the direct email subject line inspires me to put it to use.
3. "Welcome to NordVPN" – Nord VPN
As privacy concerns encourage more people to investigate personal encryption services, VPN's are becoming popular. The simple and straightforward subject line stands out in the inbox, and the accompanying email tells me precisely what to do next (download the app.)
Welcome emails don't need incredibly catchy email subject lines because they're sent right away, and people who've just ordered or subscribed expect it. So, welcome to X can work well. Though if you're offering a discount code, it's good to include mention of that to remind new customers.
Ecommerce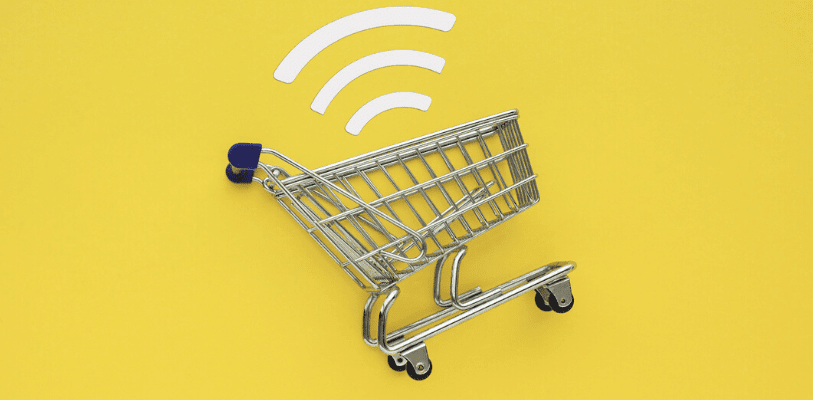 4. "The best options for grocery delivery" – Wirecutter
Wirecutter is a shopping guide owned by the NYTimes. It's a great email subject line works because of its relevancy sent right after people found themselves newly homebound due to Covid-19.
5. "We are committed to delivering for you" – Fed Ex
Sent at the beginning of the Covid-19 crisis, the delivery company shared they were still working and how they were adapting to the new protocol. This is a good email subject line because it would alleviate any customer concerns about whether or not they could continue using the delivery service.
6. "We found price drops for an item you Droplisted" – Honey
Honey is a clothing retailer with a fresh option. Shoppers can request notification when something drops in price by adding it to a "drop listed" option. This is a great email subject line example because it's highly relevant.
Learn more about email marketing for ecommerce in this guide.
Onboarding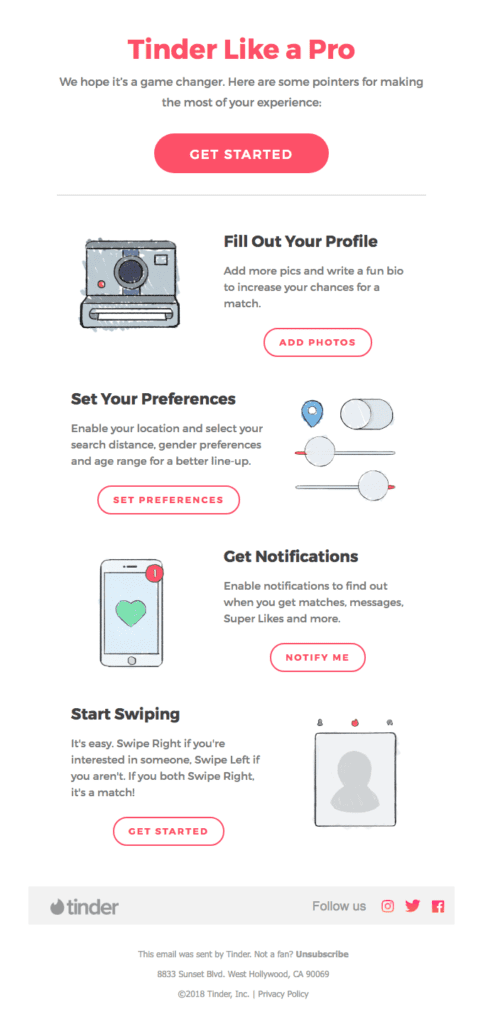 Onboarding email example from Tinder (source)
It's one thing to download an app; it's another to become a user of that app. Good onboarding emails like the one from Tinder above help your new potential user get the most out of your app. Here are some of the best email subject lines for onboarding new users.
7. "Get Started with Paste" – Paste
Paste is an app designed to help you make pitch decks easier. The accompanying email reminds you of why you signed up and how to start using it.
8. "You'll be amazed at all the features" – Road Scholar
This educational travel company sends this onboarding email a few days after someone signs up. It shows you how to set up your account, use the search tool, and see special offers. It's a catchy email subject line that appeals to the curious recipient eager to book a trip.
9. "Stop losing your receipts" – Quickbooks
The financial tool used by millions has lots of resources to help users become more organized in their financial lives. The email subject line example will catch the attention of any user who needs help keeping track of receipts.
10. "Unlock even more benefits." – The New Yorker
New subscribers of the magazine can enjoy more than the venerable weekly appearing in their mailbox. They can also subscribe to one of four online newsletters, get an online version of the crossword puzzle, and join The Radio Hour podcast.
Each of these email subject line examples work because they keep the recipient in mind.
Need help writing email subject lines? Check out our 7-step process for writing email subject lines.
Reactivation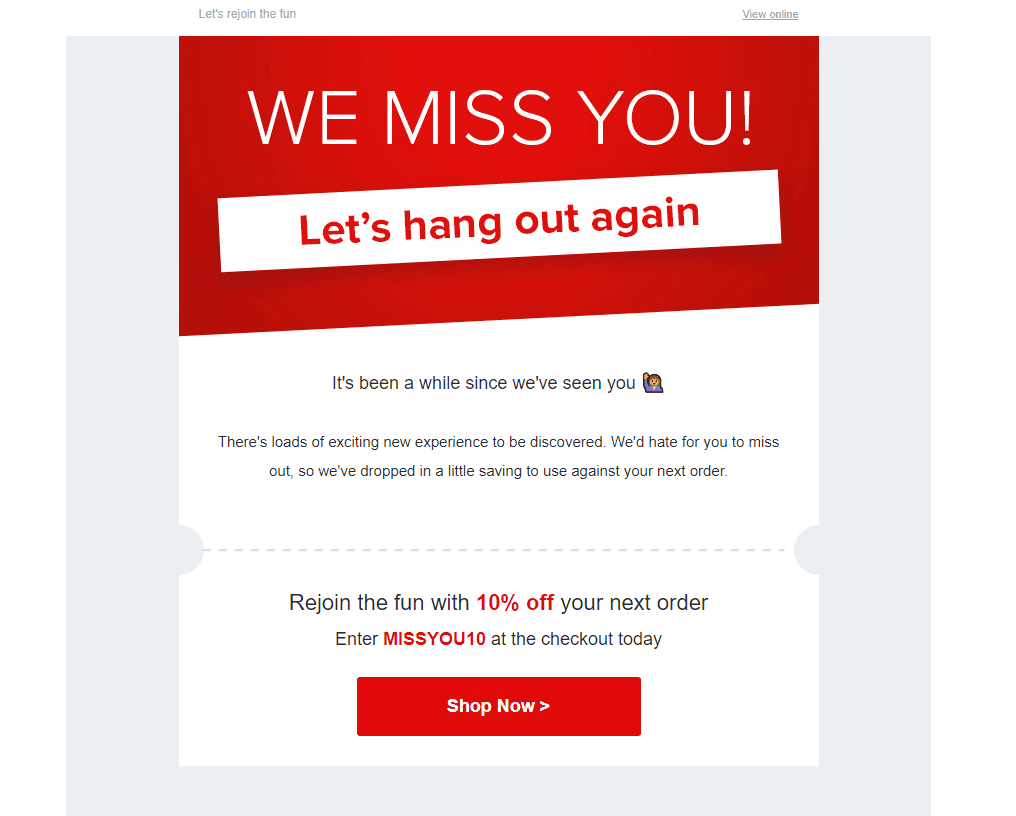 Reactivation email example
Sometimes subscribers stop paying attention and opening your emails. One way to re-engage them is with reactivation emails. 
11. "Top suggestions for Papa" – Netflix
The entertainment giant sent this email showcasing some of their highly watched shows. Red "play" buttons are embedded in the email, making it easy to start viewing right away.
12. "Final call: $60 off a year of CLEAR" – CLEAR
CLEAR is a touchless ID verification technology that allows users entry via airports, sports, and entertainment venues. It's membership-based. The email subject line works because it has a direct call to action in the email designed for a response.
13. "You've earned 10 Cocoa Beans" – Love Cocoa
Anyone who loves chocolate is bound to love free chocolate. This email subject line stands out because it hints at good stuff to come.
14. "A project your family won't forget" – Thumbtack
Thumbtack is a bidding site matching customers with service providers. This email entices with the chance to create family memories. There's an illustration of a treehouse under a summer sky with the letters "Build a treehouse." This graphic gets right to the point, and if I need professional help? Thumbtack is there.
Product Update/New Feature Emails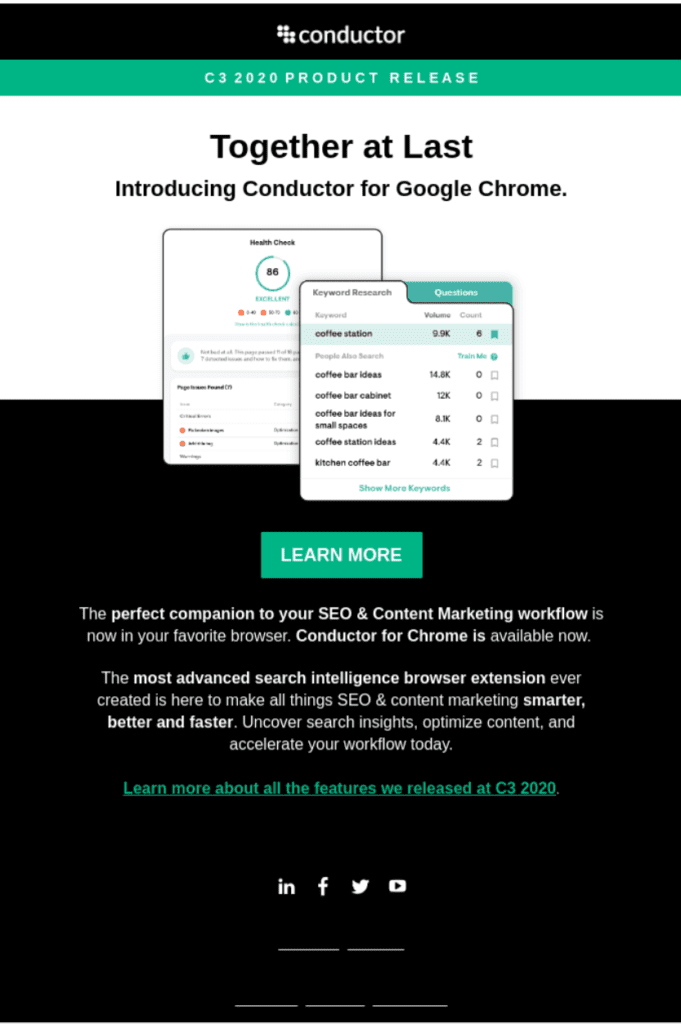 Example of a product update email from Conductor
15. "The Expandables are here" – Away
Away is a luggage brand targeting well-traveled millennials. Their customers requested soft-sided "expandable" luggage, and the brand complied. This email subject line announces the arrival of loyal customers.
16. "Big Olive Oil" – Wonder Valley
Listening to your customers is always a good idea. With this olive oil company, customers requested a large bottle of olive oil, so Wonder Valley designed one twice the size of the old. It's made extra special due to the limited edition and an artist-designed label.
17. "Public Launch: Jira integration" – Avocode
Coders need a way to help their team members understand where bugs are in the code and how to replicate them. Avocode offers a collaboration tool that integrates with the programming language Jira. This email subject line works because it has a specific focus—programmers who need a good Jira integration.
18. "The New Mint. Smart. Sleek. Personalized." – Mint
Apps always optimize for improvement, making sense to let your subscribers know when something is new. The budgeting app Mint lets their subscribers know it's sleeker and has a more personalized element which encourages them to engage.
Thank You Emails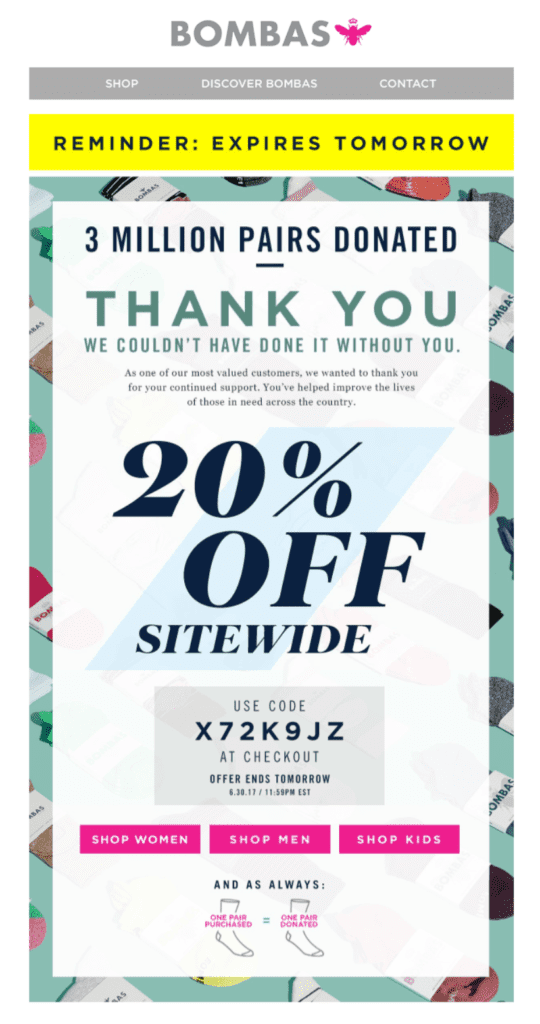 Thank you email example from Bombas (source)
19. "Thanks for subscribing to the Shopify blog" – Shopify
The e-commerce giant sends an informative thank you email that explains while it's a great time to launch an online store, there's also a lot that goes into having a successful store, and they can help.
20. "You just backed Bossy Bakers is getting a storefront" – Kickstarter
The crowdfunding site offers a thank you email that thanks donors for contributing to the new venture and describes what they get for their donation. That way, the donor feels appreciated for their gift.
21. "Thank you for your Order Email Design from Warby Parker" – Warby Parker
The popular eyeglasses manufacturer sends a thank you email that also serves as a confirmation detailing their order complete with pictures. That way, shoppers feel relieved that their order is correct and in process.
Survey
People love sharing their opinion, and customer surveys are an easy way to find out what they really think. Here are three examples of great email subject lines for surveys.
22. "How was your order with My Ivy Thai?" – Yelp
This email is designed to find out if the delivery service is timely. The email subject line is short and the point. When recipients open it, it only has four choices for an automatic press of a button.
23. "We want to hear from you! ✈️" – Uber
Emojis stand out in the inbox anyway and relevance is also based on timeliness. This means a recent Uber customer is bound to notice an email from the ridesharing company and likely open it.
24. "Help us make Food52 your favorite place to be." – Food52
Online communities only thrive if their audience is engaged. This survey taps into their audience to ask them what type of content they want more of – recipes, videos, or other types of content. This way, they know what else to create.
Create your own awesome email subject lines
There you are, 24 of the best email subject lines around. Whether you're sending newsletters, welcome emails, e-commerce, or for any other purpose, relevance is essential. Each of these great email subject lines came from Really Good Emails.
If you're looking for an email marketing service, try Sendinblue. Our free plan lets you send up to 300 emails a day.
For more content like this, sign up to our newsletter and follow us on Twitter.