Reading time about 11 min

Email marketing platforms make sending emails to your subscribers a breeze. But how do you know which one to go for? To aid you in your decision-making, we've rounded up some of the best.
Equipped with advanced features and useful automations, email marketing services have everything you need to grow your mailing list, engage with subscribers, and build customer relationships.
The difficulty lies in choosing the best email marketing platform form for you. There are tons of options out there and it can get overwhelming trying to sift through everything they offer.
To help you out, we've compiled a list of the best email marketing platforms for small businesses.
The Best Email Marketing Platforms for small businesses
1. Sendinblue
Sendinblue is much more than just an email marketing platform. It also provides users with a complete sales and marketing toolkit. Every feature slots together to build an entire marketing strategy from start to finish.
The platform offers powerful email marketing features like advanced automations, laser-focused segmentation, and A/B testing. The intuitive drag and drop design tool and selection of fully responsive email templates mean you can easily create beautiful emails.
Not only this but Sendinblue also offers SMS marketing features, a chat box to connect with customers in real-time, and everything you need to create conversion-powered transactional emails.
Communication and personalization is the name of the game with Sendinblue. The platform paves the way for you to nurture deep relationships with customers and turn one-time buyers into loyal fans.
Price: the free version lets you send up to 300 emails a day and store an unlimited number of subscribers. After that, prices start at $25 per month for the Lite plan.
2. Mailchimp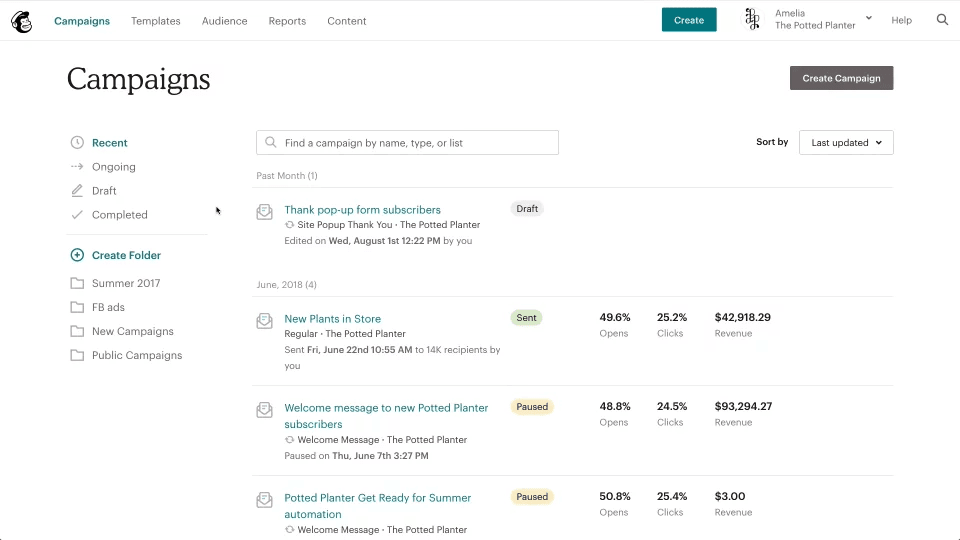 Mailchimp is fully equipped with all the features you need to run slick email marketing campaigns. Premade professional templates let you create beautiful emails in minutes, while data-backed landing pages and signup forms help you populate your email list with the right people.
Digging deeper, Mailchimp has advanced automations that help you create seamless workflows for different customers. The segmentation capabilities let you tailor your sequences to resonate better with subscribers.
Mailchimp's simple interface and drag and drop email builder makes it easy for email marketing newbies to get their head around complicated features.
Price: there is a free plan for up to 2,000 subscribers. After that, prices start at $9.99.
3. ConvertKit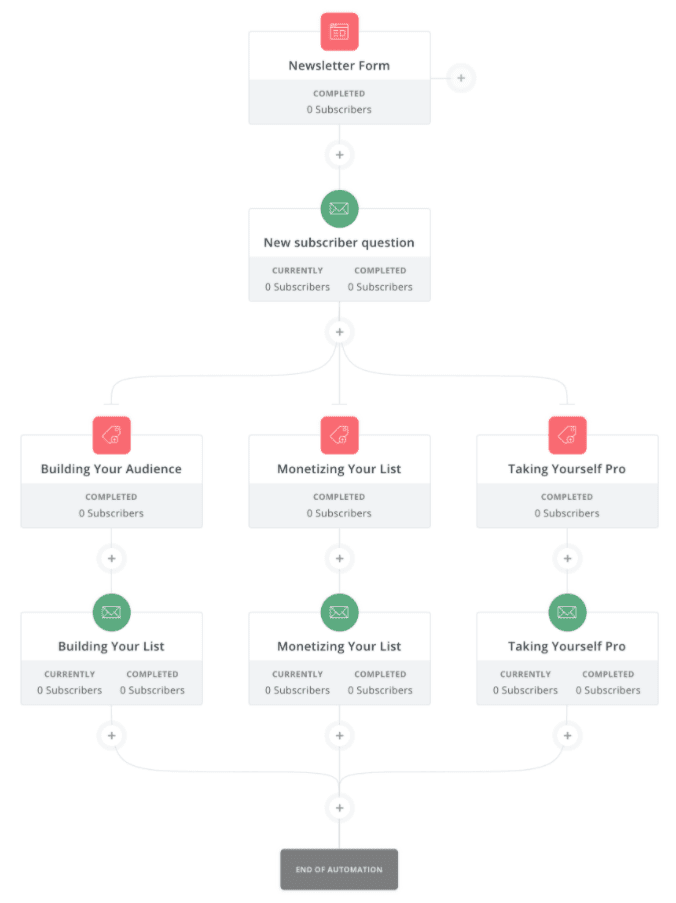 Built for creatives, ConvertKit provides a visual way to set up email sequences that are powered by subscriber behavior. Suggested automations help you map out campaigns, while the workflow editor shows you what your sequences look like in action and makes it easy to alter the route subscribers take.
ConvertKit also features sequence suggestions that mean you don't have to write your emails from scratch. Instead, you can use the ready-made templates to spark ideas that will ensure you connect with your customers.
Use the tags and segmentation capabilities to build targeted lists and tap into the range of premade landing pages and signup forms specifically designed to increase conversions.
Price: the free plan lets you have up to 1,000 subscribers. After that, prices start at $29 per month.
4. Aweber
Aweber makes it easy to create complex campaigns with a drag and drop editor and an AI-powered design assistant that automatically builds amazingly on-brand emails.
There are also powerful automation features to run your campaigns on autopilot, while the campaign marketplace offers tried and tested premade campaigns. You can import these to your dashboard and customize them to your brand messaging and target customer, instead of having to create campaigns from scratch.
Tagging and personalization are key parts of Aweber's process, making it easy to connect with individual customers at scale.
Price: there is a free plan for up to 500 subscribers. After that, prices start at $19 per month for the pro version. 
5. Drip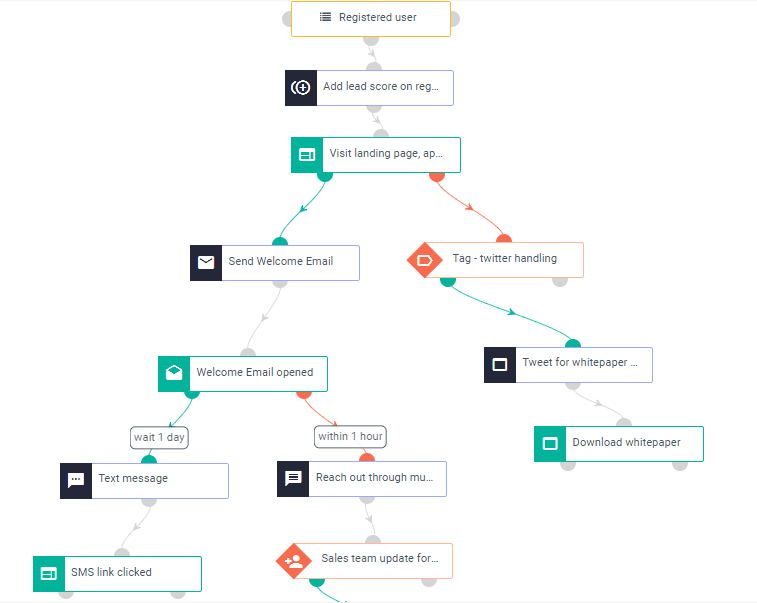 Drip is a fully integrated ecommerce marketing solution with an in-built email marketing service. With a heavy focus on transactional email campaigns and all the cogs involved in running an ecommerce business, Drip's toolbox of features helps drive revenue.
As well as powerful email automation features that let you personalize, tag, and run campaigns on autopilot, there are also advanced insights providing an overview of your ecommerce marketing.
Plus, Drip offers optimization suggestions for all of your campaigns to ensure they're performing at their best. It uses clear-cut revenue analytics to drive future decision making and ensure all your strategies are data-backed.
Price: prices start at $19 per month for up to 500 subscribers.
6. Constant Contact
Again, Constant Contact is a fully-equipped marketing toolbox that offers much more than just email marketing. Its email marketing service comes with a free email template builder that lets you create and store branded emails in a matter of minutes. Each template is mobile-optimized and designed for success.
There is also a drag and drop email editor where you can create your own templates too. Track your success with real-time reporting and advanced analytics, and tap into the automation features to run campaigns in the background.
As well as an email marketing service, with Constant Contact you can build websites from scratch, set up an online store, and run Facebook and Instagram ads.
Price: prices start at $20 per month for up to 500 subscribers.
7. GetResponse
GetResponse provides small businesses with a suite of marketing features, from a fully-equipped email marketing platform to premade landing pages and even the ability to run webinars.
Its email marketing service has a library of professionally designed email templates, while the drag and drop editor makes it easy to transform your emails into beautifully branded messages.
Send automated follow-up emails to keep subscribers in the loop, trigger campaigns based on customer behavior, and segment your list to send highly targeted emails and increase engagement rates. Personalization capabilities let you create unique emails for individual customers at scale.
Price: prices start at $15 per month for up to 1,000 subscribers.
8. Keap
Keap is all about conversions. The suite of email marketing tools has been specifically designed to help you capture leads with premade landing pages, as well as strategic signup forms and advanced segmentation to automatically add new subscribers.
Along with automation capabilities that take subscribers on their own unique journey, Keap sends customized (and personalized) messages based on their past interactions with your brand.
The Campaign Builder lets you tag new leads, assign specific tasks, and send off emails based on actions, behavior, and interests.
Price: Keap isn't the cheapest option around – prices start at $79 a month, but you can opt in for a free trial to see if you like the platform and its features.
9. ActiveCampaign
ActiveCampaign's email marketing service is just one feature of its overall marketing capabilities. It goes one step further than simply automating campaigns – instead it enhances the entire customer experience from start to finish with a range of powerful tools.
The automation map and goals let you plan your campaigns in advance based on real-time insights, while dynamic and predictive content ensures you're sending the right message to the right people at the right time.
On top of this, split-testing lets you measure the performance of every single email segmentation so you can nurture individual subscribers based on their past behavior.
Price: prices start at $15 per month for up to 500 subscribers
10. Campaign Monitor
Campaign Monitor presents a range of simple and easy-to-use email marketing features that help beginners grow their lists.
A library of responsive templates means you can choose a look for your emails based on your brand and what you offer. The visual journey designer lets you drag and drop each email into a sequence with automated cues based on subscriber behavior and past interactions.
Premade landing pages and signup forms make it quick and easy to start building your email list, while segmentation capabilities allow you to reach different customers with different needs.
Price: prices start at $9 per month for up to 500 subscribers.
11. Ontraport
Ontraport is an email marketing tool, CRM, and SMS marketing platform all in one. The advanced capabilities mean you can build out your marketing strategy from scratch, pulling in different elements and customizing them as you go.
The smart selection of premade email templates gets you started in no time at all, while the professionally designed landing pages and signup forms help you convert more website visitors.
Ontraport even lets you create, launch, and manage a membership site so you can start up a recurring revenue stream from the get-go.
Price: because it is a fully-integrated marketing tool, Ontraport isn't cheap. Prices start at $79 per month for up to 1,000 subscribers, however there is a free trial option.
12. Zoho Campaigns
Zoho Campaigns has everything you need from an email marketing platform. Like the other options listed here, it comes equipped with a range of beautiful email templates that you can customize through the intuitive editor. Powerful automation features also let you "set and forget" your email campaigns.
On top of this, you can access real-time analytics to track email performance and tap into the segmentation capabilities to connect with different customers in the right way.
Price: with the free plan you can send 12,000 emails per month to up to 2,000 contacts. After that, prices start from £24 per year.
Find the Best Email Marketing Platforms for You
Choosing the best email marketing platform for you is important. The key is to ensure the service you choose has everything you need, whether that's powerful segmentation capabilities, a visual sequence editor, or a suite of ready-made email templates that you can quickly edit to fit your branding.
It can take a while to find the best fit for you, so it's worth looking around and digging into the features of each option until you find the right one.