Reading time about 12 min

Staying in touch with your ecommerce customers is crucial if you want to encourage future sales and turn shoppers into loyal fans. The easiest way to do this is through email marketing.
Think about it: you get to land directly in your customers' safe space (a.k.a. their inbox) to deliver the exact message they need at just the right time.
Sending exclusive offers, personalized transactional emails, and notes about launches and new products will keep you front-of-mind and ensure you're the go-to brand for your lovely customers.
If you run a Shopify store, you might be wondering what's the best email marketing for Shopify store owners.
With so many different email marketing tools to choose from, we've rounded up the best ones to drive your ecommerce email strategy.
These 15 Shopify email marketing plugins and tools let you easily send messages to shoppers, creating a seamless transition between sales and communication.
The best email marketing plugins for Shopify
1. Sendinblue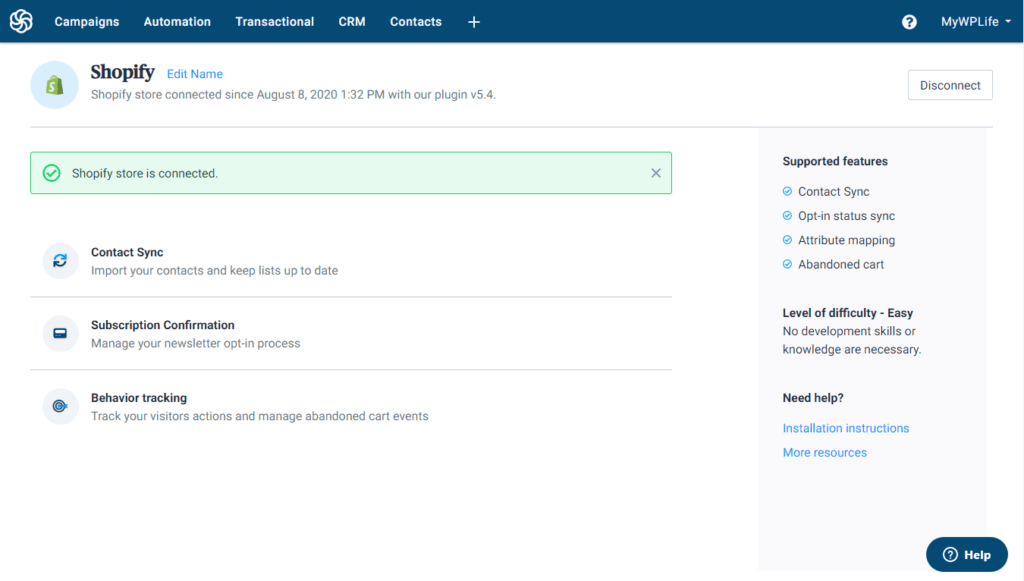 Sendinblue's email plugin for Shopify lets you sync your contacts and orders to serve shoppers with high-converting email campaigns. The built-in editor creates professional-looking responsive emails. Grow your email list with custom signup forms to be embedded on different pages of your ecommerce site.
As well as emails, the Sendinblue integration has deep segmentation capabilities, the option to create targeted SMS campaigns to boost retention rates and a customer CRM.
What's more, advanced analytics dig into customer behavior to aid personalized sequences that speak directly to each individual customer. These email sequences can be fully automated using if/then/else logic through Sendinblue's marketing automation suite.

Apart from email marketing campaigns, you can also send all your transactional emails over Sendinblue's SMTP server (order confirmations, delivery notifications, password resets). These time-sensitive emails are essential for the success of your ecommerce business.
Price: The Sendinblue Shopify plugin is free to download and use. Sendinblue's free plan includes unlimited subscriber storage and 300 emails a day. Pricing for paid plans starts at $25 for 10,000 emails.
2. Klaviyo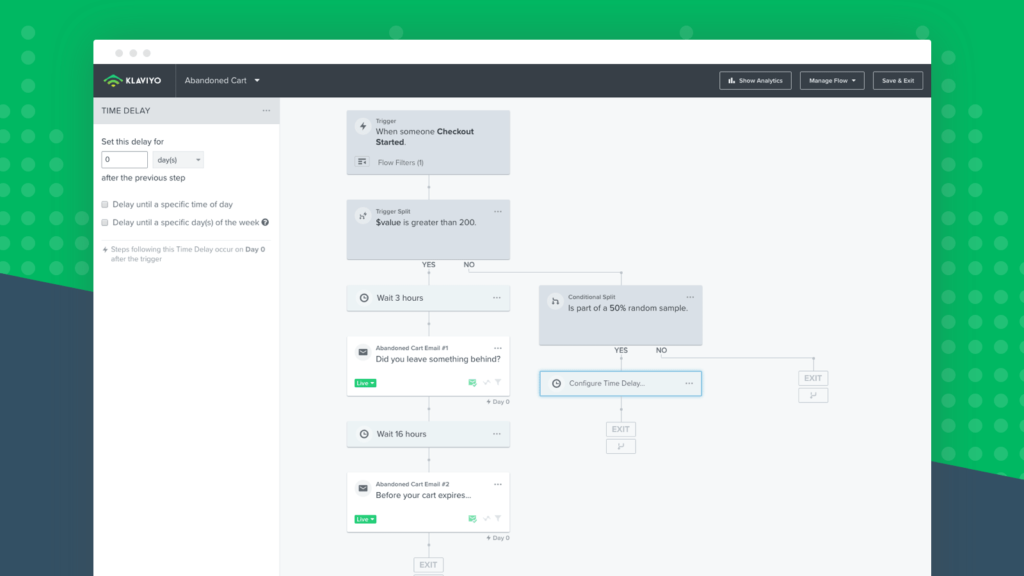 Klaviyo is all about implementing personalized marketing campaigns driven by email. Through its dynamic data-collection functionality, it collects and stores relevant information about your buyers and uses this to segment them and deliver unique experiences.
Created especially for ecommerce stores, the Klaviyo-Shopify integration can drive engagement throughout the sales cycle. Not only does it automatically send the right message at the right time, but it also provides ecommerce marketers with data to predict churn rates and target your best buyers.
Pricing: Prices for the Klaviyo-Shopify integration start at $350 per month for up to 15,000 subscribers.
3. Drip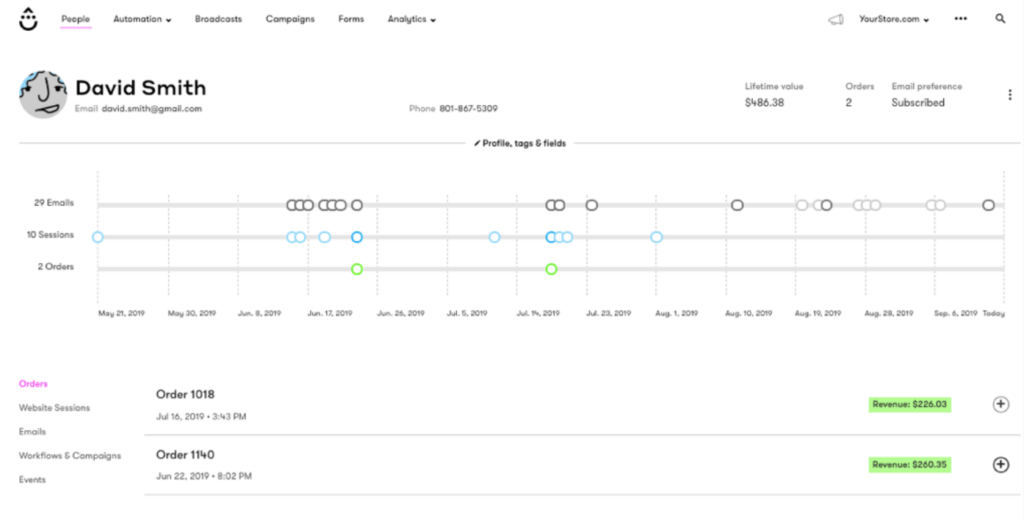 Drip takes the endless data points Shopify collects and puts them to use through personalized customer experiences.
You can learn what types of email drive the most engagement and tap into the workflow feature to tailor each individual customer journey.
Personalized product recommendations allow you to understand your buyers better and forge deeper connections with them, while the in-built visual email builder comes complete with pre-made templates that are geared towards conversions.
Price: After a 14-day free trial, it costs $19 per month to use the integration.
4. Omnisend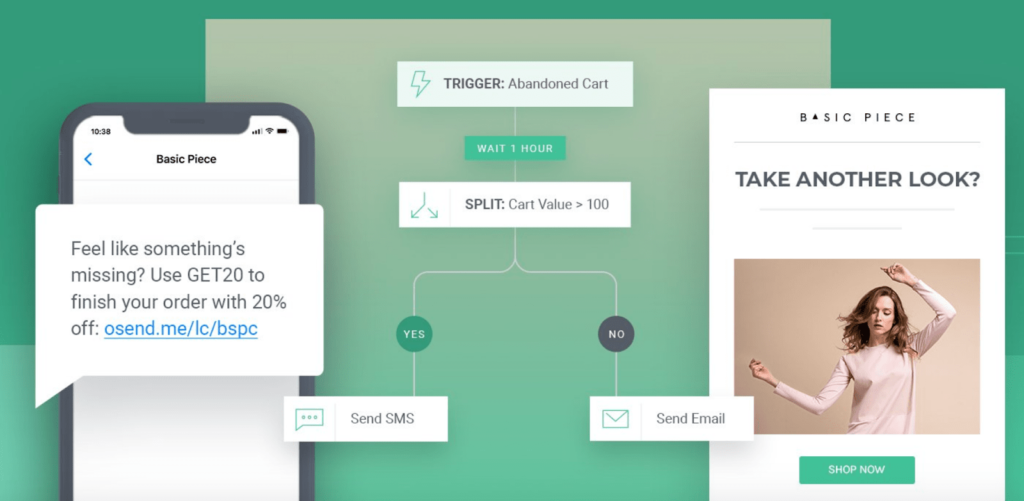 Another app featured among the best email marketing for Shopify is Omnisend.
Omnisend puts the power back into sellers' hands through effective omnichannel marketing campaigns that are driven directly from your Shopify store.
Through advanced data synchronisation, Omnisend collects and organises customer information and uses it to segment like-minded shoppers.
From there, the email automation workflows make it easy to create personalized sequences populated with unique product recommendations and experiences based on shoppers' past buying behavior. You can also combine email marketing campaigns with SMS marketing to create a robust multi-channel strategy on autopilot.
Price: The Omnisend-Shopify integration is free to install. A 14-day free trial offers 15,000 emails and paid plans start at $16 based on the number of subscribers.
5. Privy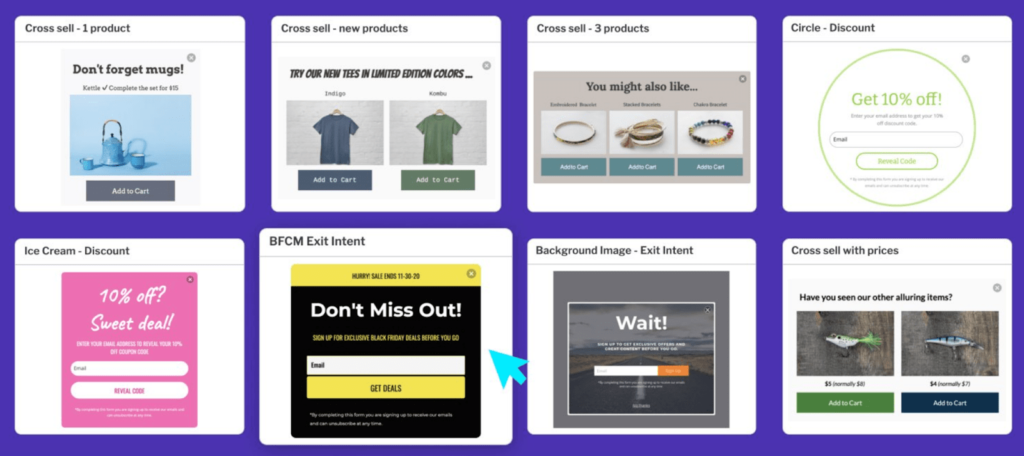 Privy is the king of exit pop-ups, which are crucial for growing your email list. Sellers can choose from a selection of proven pop-ups and turn subscribers into long-term customers through automated email campaigns. You can create personalized abandoned cart emails and post-purchase communications, as well as offer incentives to increase customer lifetime value.
Like the other integrations here, Privy also powers SMS and cross-sell campaigns to boost the average amount spent on each order.
Price: Privy is free to install and $13 a month to leverage their email marketing capabilities for 1000 mailable contacts.
6. Marsello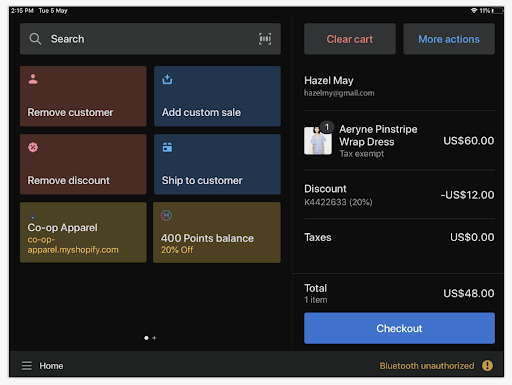 Marsello offers a suite of tools that are geared towards capturing more customers and nurturing them into long-term buyers. Set-and-forget email sequences deliver timely messages to customers, while robust SMS campaigns and personalized product recommendations reach customers who are already in buy-mode.
As well as email and SMS campaigns, Marsello also helps sellers create successful referral programs that automatically reward points to their most loyal customers directly through their Shopify store.
Price: Marsello is free to install with paid plans starting at $49 a month depending on the number of subscribers you have.
7. Spently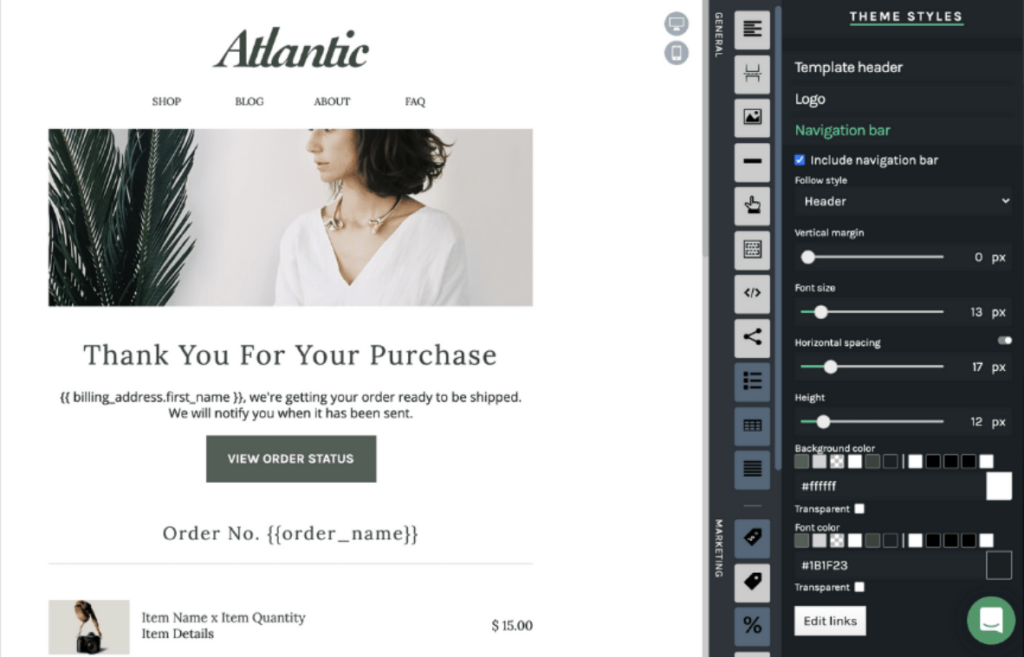 While Spently specialises in beautiful email templates, its other features also help you grow your store and encourage more sales. Customized notifications send buyers the right message at the right time, while upsell options increase your average order value.
Abandoned cart emails are a major part of any ecommerce email marketing strategy, and Spently knows this.
Sellers are able to supercharge their most-opened emails (such as order confirmations and shipping updates) to match their branding and share social proof. There's also the option to send smart product recommendations and dynamic discounts, too.
Price: Spently is free to install and use if you have less that 50 orders a month. After that, it's $99.99 a month for up to 500 orders.
8. Jilt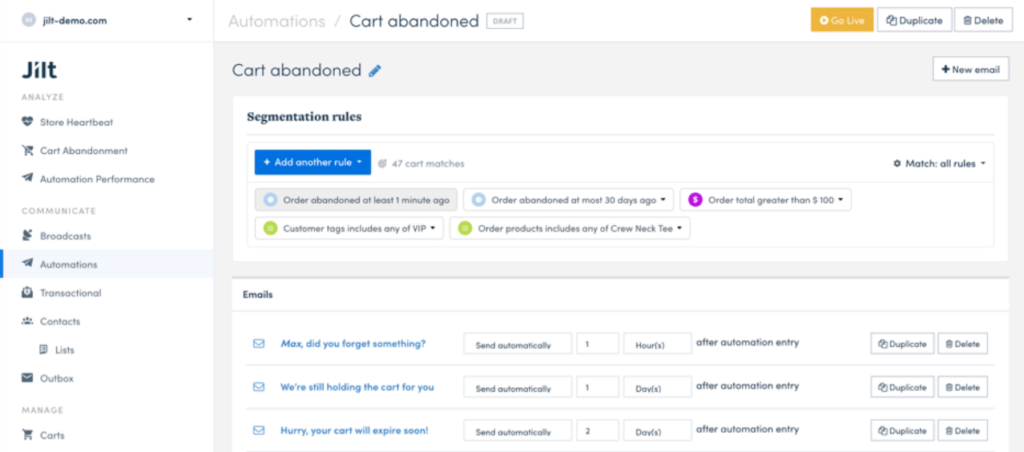 The Jilt integration offers all the usual email marketing perks, from automated emails to abandoned cart templates and welcome emails for new customers.
There are plenty of different kinds of email templates to choose from, whether you want to request a review from a past customer or offer personalized product recommendations.
Jilt's visual email designer is easy-to-use, making it simple for even the most design-challenged sellers to create beautiful emails. You can also access advanced metrics to get an insight into your order conversion rate and the revenue generated from each email.
Price: Jilt is free to use for up to 300 active contacts. After that, it's $29 a month based on the number of subscribers you have.
9. Constant Contact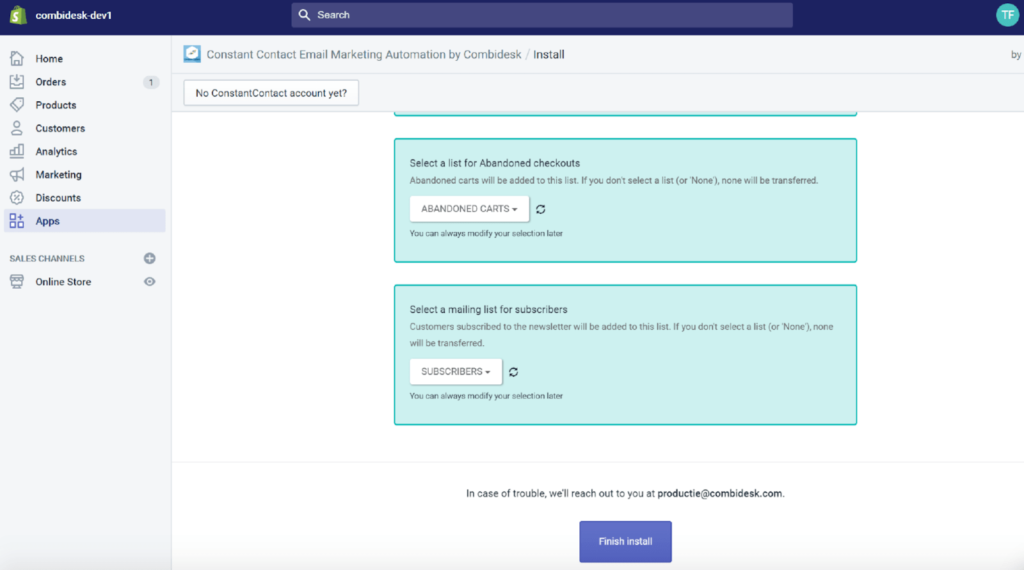 Another good choice for Shopify email marketing is Constant Contact.
Synchronise your list of customers from Shopify and send emails based on their life circumstances – is it their birthday? Send them a birthday discount!
The drag-and-drop editor lets you customise and build email templates from scratch to match your branding, while powerful automation features can send welcome sequences to new customers and all the key transactional emails throughout the sales cycle.
Constant Contact is best known for its segmentation capabilities. Sellers can quickly create relevant marketing campaigns based on their customers' unique wants and needs.
Price: The Constant Contact integration costs $5 a month to use. Prices then start at $20 a month for 500 email subscribers.
10. Campaign Monitor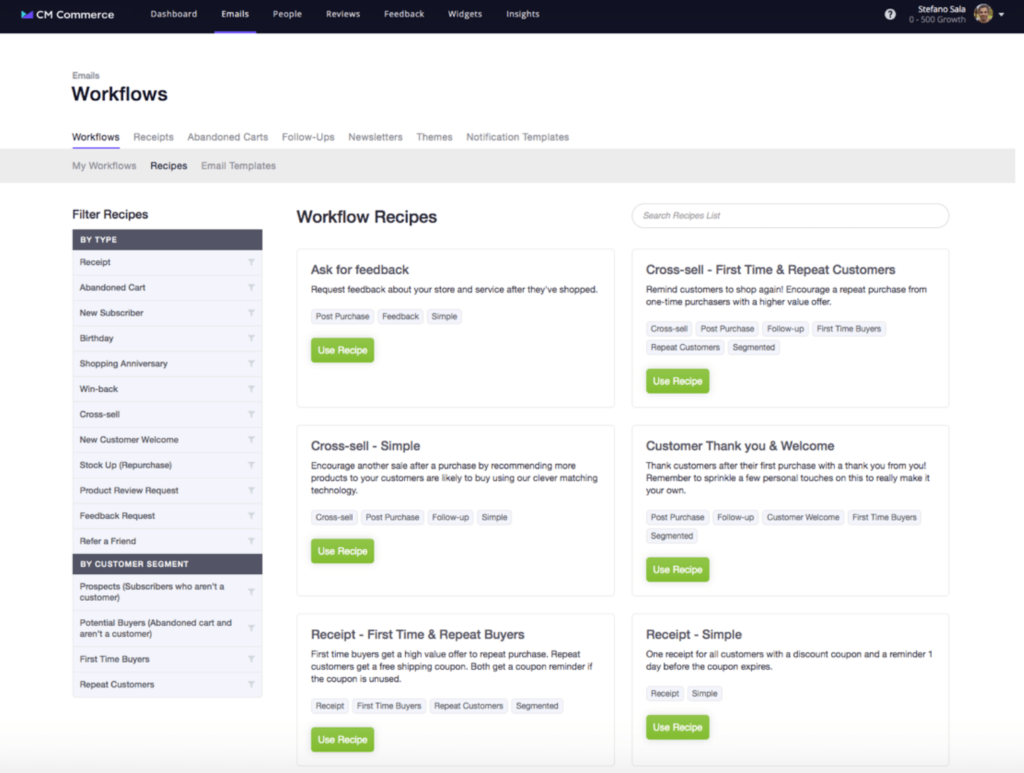 Campaign Monitor's email marketing for Shopify runs robust segmented campaigns to ensure customers get the right information when they need it.
Sellers can turn each message into a personal interaction with their customers through personalized recommendations, branded abandoned cart emails, and follow-up notes.
Campaign Monitor's review capture feature is pretty neat too, as it helps you build trust by collecting and showcasing reviews throughout your email campaigns for added social proof.
Price: Campaign Monitor is free to install. Prices then start from $9 a month for 5000 emails to 500 customers.
11. MailerLite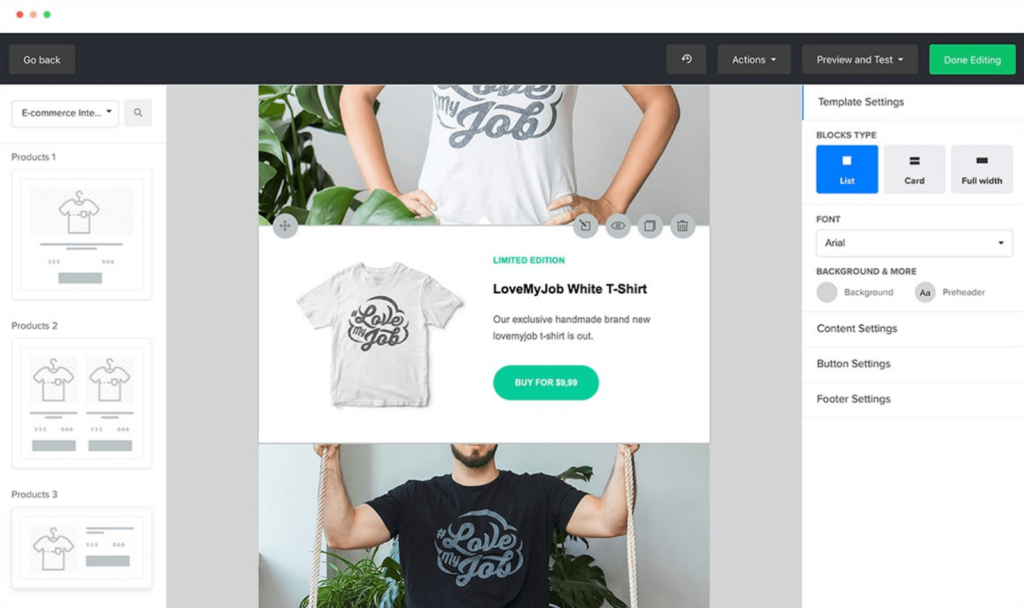 Sync up customer data from Shopify with MailerLite and use the platform's robust segmentation capabilities to create unique journeys for each and every customer.
Through in-depth purchase history, you can serve personalized product recommendations and emails triggered by recent buys.
There's also an intuitive custom pop-up builder that helps you grow your subscriber list, while the professional-looking templates make it easy to design and send compelling messages.
Price: The MailerLite integration is free to install and use. They offer a free plan for up to 1000 subscribers and paid plans starting at $10 depending on the number of email sends/subscribers.
12. ActiveCampaign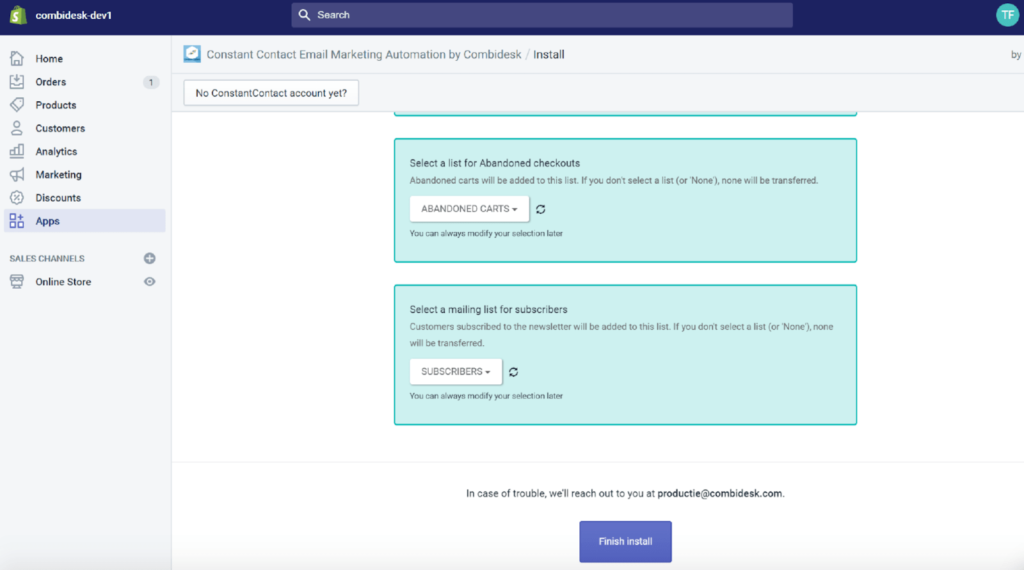 Create personalized marketing automation workflows with ActiveCampaign to nurture existing customers and turn subscribers into life-long buyers.
Sellers can easily add in upsell and cross-sell options to shoppers before and after they make a purchase, and the review capture feature collects and displays social proof in all the right places.
There are plenty of email templates to choose from, including promotional offers, abandoned carts, and shipping information that you can customise to fit your branding and your buyers' unique needs.
Price: After a 14-day free trial, prices for the email marketing platform start at $15 a month for 500 contacts (billed monthly).
13. SmartrMail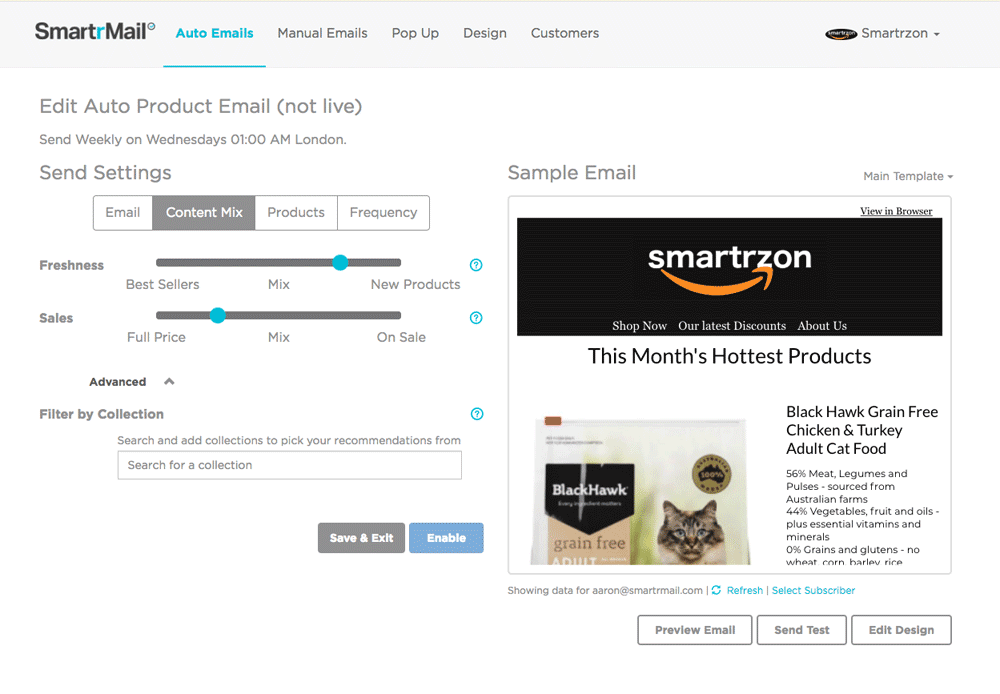 Populate the sales cycle with personalized emails based on customer data, including order follow up emails, engaging abandoned cart emails, and relationship-building thank you emails.
The drag-and-drop email builder makes it easy to add products to your email newsletters with just one click – the tool actually generates a template based on your store's theme.
Price: SmartrMail is free to use for up to 1,000 subscribers. After that, prices start from $19 a month.
14. Consistent Cart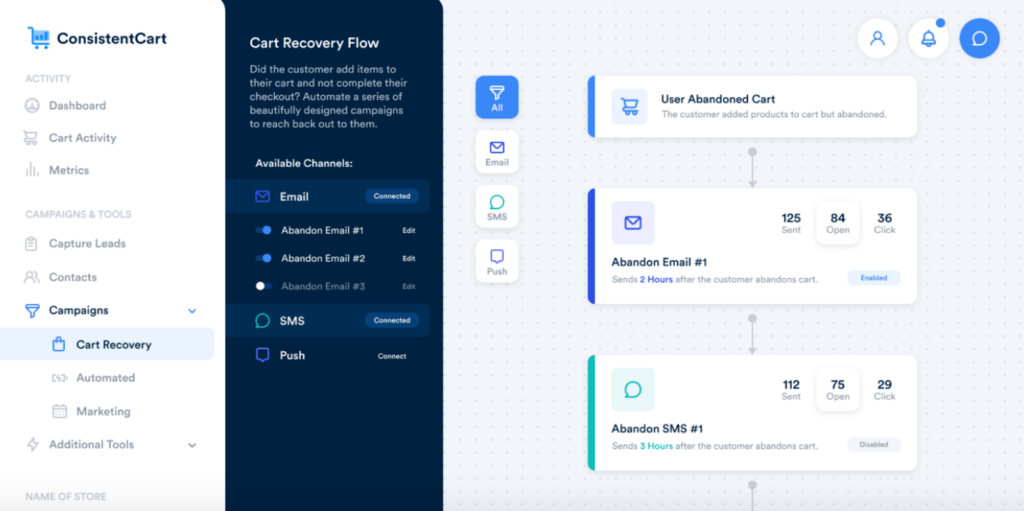 Consistent Cart is all about making the most of your transactional emails to sell more and nurture existing customers.
Built-in automation capabilities let you scale your cart recovery efforts through engaging abandoned cart emails jam-packed with social proof and personalized messaging.
Other features of this email marketing app for Shopify include customisable email templates and SMS and push notifications to deliver the right message at the right time.
Price: Consistent Cart is free to install. After that, prices start from $29 a month.
15. MailMunch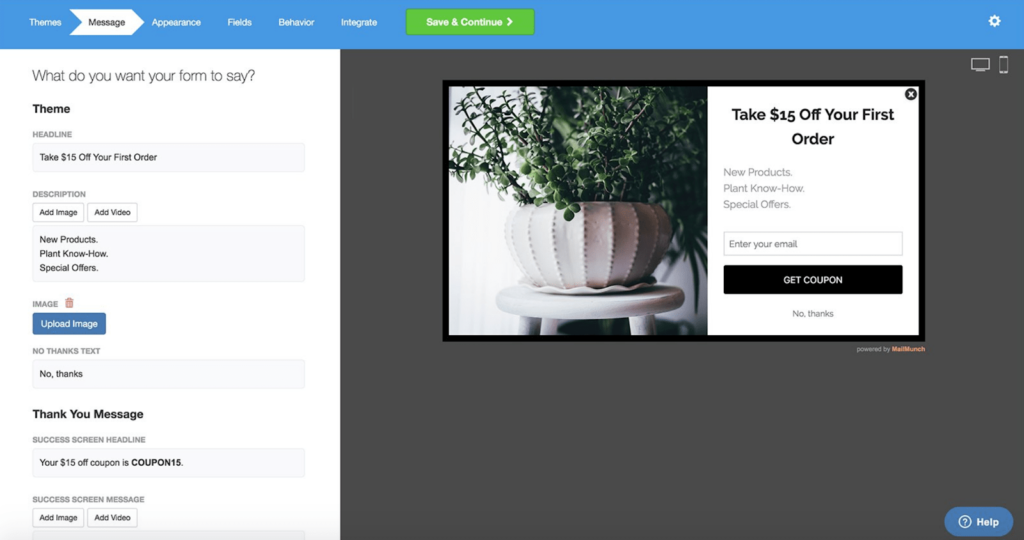 MailMunch email marketing for Shopify provides both list-growing features, like high-converting popups and exit intent subscriber forms, as well as automated and personalized emails.
Send product recommendations, create post-purchase engagement campaigns, and nurture buyers with reviews and social content.
Through the timely popups, you can offer customers tempting offers and coupon codes to convert buyers who may be on the fence.
Price: MailMunch is free to install and use.
The Best Email Marketing Apps for Shopify
These Shopify email marketing plugins allow sellers to set and forget powerful email sequences that boost customer loyalty and increase revenue.
Through robust segmentation capabilities, personalized product recommendations, and easy-to-build templates, these apps provide the best email marketing for Shopify store owners.