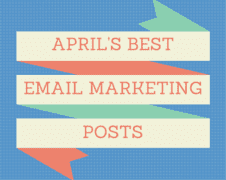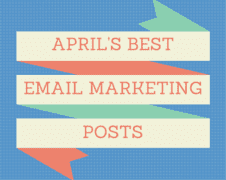 We thrive on great content and devour insightful email marketing articles faster than the Cookie Monster in a Mrs. Fields store! April flew by in a flash and now boom: May is here.
While our team has been busy serving up customer happiness, we still made time to read and so I want to take a minute and share some of our top picks with you. If you missed any of March's best email marketing articles we shared last month, they're definitely worth checking out.
As a bonus, the sites featuring the posts we picked deliver useful content consistently so you may want to browse around and see what else they've published. (We've also provided the URLs for each website so that you can easily add them to your RSS feed.) Enjoy!
4 Ways to Start Delighting Your Subscribers
In this post, Jim Davidson explains that your most active email subscribers can often get overlooked in the race to convert lower performing segments into top performers. He advises that, instead of always trying to get non-openers to open emails and one-time buyers to become loyal customers, good email marketers should give something back to their biggest fans. He says:
"Remember, these subscribers are paying attention to what you send them. Based on their engagement, you can assume that they have liked what you have sent them so far. Why not step up your game by dazzling and delighting them with some extra special attention? Here are four ways to charm your active subscribers by building on your brand voice, communication strategies, and promotional offerings."
And, he offers these tips on how to delight your subscribers:
Sweeten the Offer – "Even if you have a formal loyalty program, consider offering your most active subscribers a special discount in addition to a current offer."
Boost the Bonus – "Give your loyalty program a jolt of energy by adding a few extra points to the loyalty accounts and sending an email notification sharing the good news."
Sneak Peeks – "The next time you are planning a major product release or prepping a seasonal shift in inventory, send your best subscribers a sneak peek."
Make it Personal – "During the holidays, retailers flood inboxes with messages touting charitable giving, a few words of thanks from the CEO, and other warm fuzzies, but these sentiments should not be limited to Q4. Send a note of thanks or share how your company makes the world a better place."
ClickZ offers a broad range of marketing resources, but the email marketing posts are our faves (for obvious reasons!).
My 4 Tips for Small Business Email Marketing Success
Email marketing expert, Paula Chiocchi, uses her industry experience to provide her top email tips for small businesses. She advises businesses to:
1. Consider the Consequences of Bad Data – "Bad email addresses will lead to poor campaign results and even worse ROI. Many marketers even accept this premise as the cost of doing business in the digital age. What they don't know is the consequences of bad data quality can be extremely severe: their company's outgoing email campaigns can actually be shut down due to spam and the influence of data watch dogs."
2. Be Cautious when Casting a Wider Net – "There are many shady vendors willing to significantly undercut their competition, but they don't tell you their accuracy rates are only 70 or 60 percent — or even significantly lower."
3. The Devil is in the Details – "If your target audience uses mostly ISP email addresses, make sure the email marketing tools and resources you're using can effectively reach these customers and prospects."
4. Segment for Success – "The better you can drill down, the better you'll be able to reach out to the right subscriber at the right time with the right offer."
It's no secret that we pride ourselves on being an upstanding email service provider supporting all the best practices she talked about. And her points made me want to stand in the rain outside her window holding a boombox over my head to show my love. To get all of the facts and figures that back up Paula's advice, check out her original post  on the Business 2 Community site. This website offered another useful post on a simple design idea which is our next suggested read.
Above the Fold Still Critical for B2B Email Design
Howard Sewell tackles the concept of email design and explains that, just like in print or web design, placing important information at the top of an email is the best way to ensure that it will be read by email recipients (and subsequently resonate with your audience). He reminds us that:
"It's estimated that, in an era of information overload, the average person receives anywhere between 3,000 and 20,000 advertising messages a day. A typical business user receives more than 100 email messages alone daily, many of us much more."
Check out the rest of his post to see what other advice he has to share.
Both Howard's and Paula's posts can be found on Business 2 Community (or B2C) which brings together a whole bunch of well-seasoned marketing experts to offer a wide array of marketing advice that's sure to help you across multiple platforms.
2 Ways to Unite Social Media and Email Marketing and Double your Conversions
Nicole Kroese explains that most companies use social media and also email marketing but they fail to tie them together and the result is that neither is as effective as they could be. She provides great insight on how companies can integrate the two, which include asking for social shares in emails, and socially retargeting prospects. For more details on how to accomplish this, read Nicole's post on how to unite the two in its entirety.
There's a whole lot to like about LikeableLocal (which is good because otherwise they'd probably have to change their name). They're upbeat, positive, and extremely helpful. Visit them for more good reads because (bonus!) they published the best April Fool's Day pranks of 2015 which are pretty awesome (especially #4)!
I hope you've enjoyed this month's sampling of hits from the email marketing parade. Check back soon for more resources on how you can boost your campaigns to the next level! Happy Sending!
PS – Have great articles to add to the mix? Share 'em in the comments!